Virtual conference tackles complexities of hybrid working
Experts and business leaders point to strategies for successful corporate transformation
Talks and panel sessions discuss new technologies and policies that can boost productivity and employee well-being
[Sponsored article]
The Covid-19 pandemic has accelerated the move to all things digital. Workspaces are no exception, with Asia set to experience another surge in hybrid working. Some countries in the region are taking advantage of the growth in digital adoption to promote flexi-work arrangements; Singapore's government, for example, is offering a SG$2,000 Work-Life Grant for every local worker on flexi-work terms.
How might companies transform their infrastructure and policies for a successful transition to this new era of working? 
March's EPOS Virtual Conference brought together experts and business leaders for a discussion about the future of work – but it also offered valuable insights into navigating the complexities of hybrid work.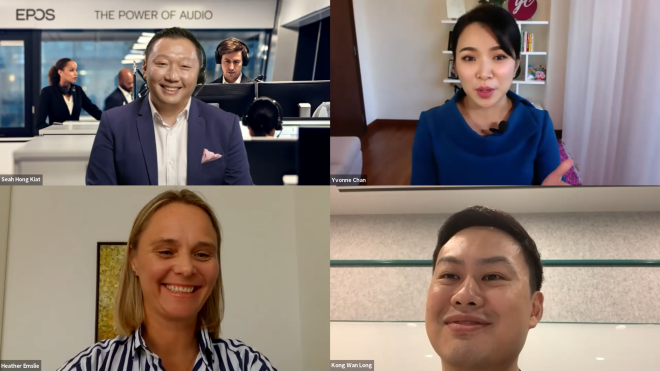 "The next generation of employees may never know what it is like to step into cramped public transport and work from an overcrowded office space," said Seah Hong Kiat, Vice President, Enterprise Solutions APAC EPOS. "Instead, they will expect seamless connection and communication from wherever they work, to wherever hybrid work takes you."
Citing key findings by EPOS, Seah noted that some 95 percent of today's workforce admit that their concentration and efficiency at work has suffered due to audio technology setbacks. But there are solutions: artificial intelligence can filter out background noise to highlight the human voice and improve a user's audio experience, he said. 
More than remote working
Google takes pride in its unorthodox workspaces, using multiple zones and hubs for different purposes, from social networking to quiet areas for individuals. For the tech giant, hybrid working means a lot more than remote working: it also involves facilitating conversation and collaboration over distances. That's according to Heather Emslie, APAC Director, Google Workspace.
Emslie said Google is looking into building-in new features that give its employees the flexibility to black-out times in their work diary when they need to do other things. 
While remote work is the new reality, Kong Wan Long, Co-founder & Chief Commercial Officer of co-working space provider JustCo said physical workspace is still relevant, adding that despite Covid-19, JustCo has seen enquiries in the Singaporean market return to 85 percent of pre-pandemic rates.
To save costs, some companies have started preparing for the long-term implementation of hybrid work with a "core-flex" strategy, allowing them to keep their core business units in their office premises while allowing access for all employees on a flexible basis.
"Traditionally, businesses were less receptive towards the concept of hybrid work and co-working space," said Kong. "Thanks to Covid-19, more businesses appreciate the value of this model, including improved cost efficiency, productivity and flexibility."
The idea is also welcomed by employees. A recent survey by The Straits Times stated eight out of 10 workers in Singapore prefer WFH or flexi-work arrangements. 
However, said Kong, there is no one-size-fits-all approach. To embrace hybrid work, he believes companies should look at the departments within the organisation and come up with the right mix of "flex-and-core" components that could maximise utilisation of their office space.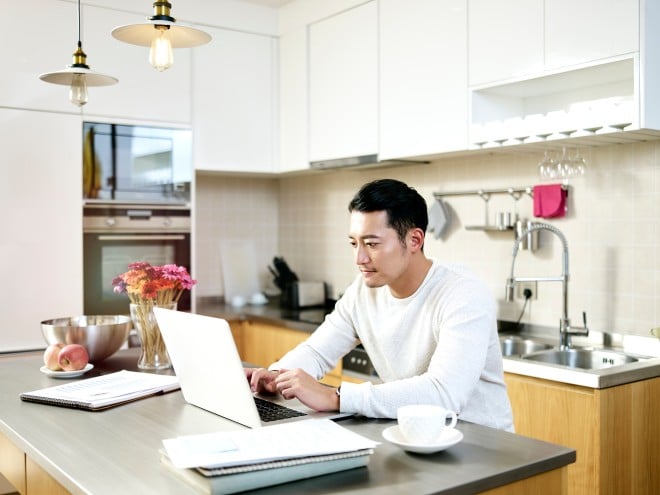 Employees transition
Though flexi-work policies were with us long before Covid-19, the pandemic has undoubtedly accelerated the pace of transition to hybrid work. Dr Ethan Lim, Head, Clinical & Wellness, Medical Director, Cigna Singapore cautioned that work-from-home (WFH) could have severe impacts on employees' physical and mental well-being. 
"The WFH situation is not something the human body and mind is adapted to," he said. "Many people are facing a huge amount of stress and that level of stress is beyond a mental level; it is also being seen at the physical level, such as weight gain and weight loss."
Some companies have started looking into their employees' digital well-being. Citing research by her own organisation, Marla Arnall, Asia Consulting Leader of Mercer noted that 43 percent of employers in Asia are already expanding their digital well-being offerings, if not looking at them.
When organisations implement a holistic digital well-being programme, said Arnall, the focus is often on employees who are unwell or at risk of being unwell. Instead, she urged employers to bring an entirely new range of care options to the well-being spectrum, embracing all levels of health and fitness.
"Digital is about creating options. It's not a shift away from the physical to purely a digital environment," she said. "I think having that social connection is still going to be important and employees' individual preferences should still dictate where and how they access care and support."
According to Professor Lily Kong, President of Singapore Management University, upskilling is also crucial to the workplace revolution. Noting the acceleration of the rate of digital transformation brought about by Covid-19, Kong highlighted the importance of reskilling employees at all levels, from leadership to operations. 
"The digital transformation of business processes is extremely real," she said. "The predictable tasks, the repetitive tasks that were done by people on the shop floor are now replaced with automated systems. But all the new skills on demand under the new normal can still be trained and taught. Universities can play a role in that."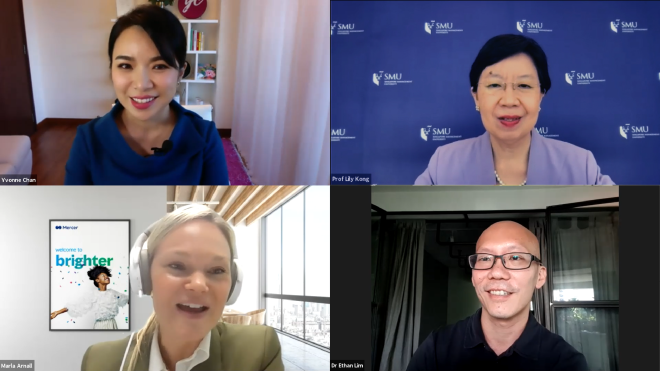 Win-win situation? 
Asked if a hybrid model can create a win-win situation for both employers and employees, Mercer's Arnall said she sees the potential but stressed new policies need to be in place. 
"I think there is a win-win for everyone but the current model is not sustainable. We need to shift to an environment where we acknowledge that the pandemic or the effects of the pandemic have been disproportionate for particular segments of the population."
"We need to remember that there are diverging populations coming out of this and make sure that we have policies, programmes and practices that are going to support them in a new hybrid environment."
Kong echoed Arnall by highlighting the need to accept the fact there is no one-size-fits-all solution. She said if an organisation is able to find balance, there will be a win-win situation. 
"It is a difficult journey; we are not there yet," she concluded.