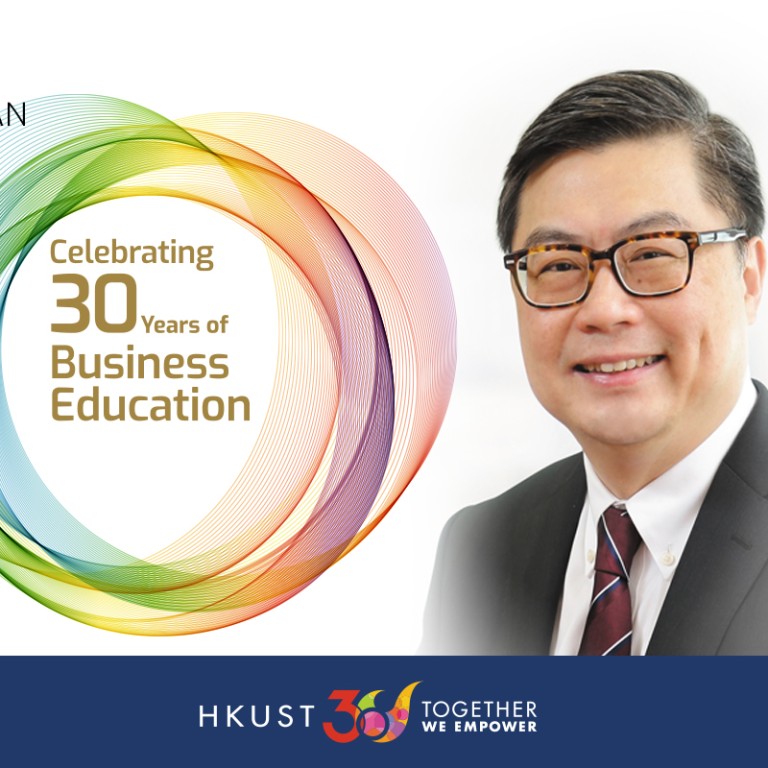 Celebrating 30 Years of Business Education
Paid Post:
HKUST Business School
[The content of this article has been produced by our advertising partner.]
Welcome to the special anniversary issue of the HKUST Business School Magazine. It has been 30 years since we first opened our doors, and what an incredible journey it has been. We may be a young university, but our story still packs a punch! Since our founding in 1991, we have demonstrated courage, ingenuity and perseverance in pursuing our vision. HKUST's founding leaders had to overcome a unique set of challenges to establish Hong Kong's third university during a time when the city's economy was undergoing major changes. It is an incredible milestone for us to celebrate the three decades of business education and research excellence which has enabled us to build a strong reputation globally.
Our achievements are certainly worthy of mention and celebration. Through the good times and the bad, and through all the uncertainties, our School has remained steadfast in our mission to take business education to the next level. This we did by innovating, and by forging strong relationships with our partners. We have achieved a lot, and we want to mark our anniversary with the publication of this special edition to revisit the stories and accomplishments of the last 30 years.
Turning the pages, we first hear from our founding President, Professor WOO Chia-wei, who tells the story of how HKUST got off the ground. Then, our new President Professor Nancy IP shares her vision for elevating HKUST's standing as an academic and research powerhouse, while business leaders Dr. Hans Michael JEBSEN and Dr. William FUNG provide insight into why partnerships with the business community are important for business education. Former Financial Secretary and former Chairman of the Education Commission Antony LEUNG recounts how he led the reform of Hong Kong's educational system.
Then we turn to our global standardization bodies, the AACSB and the EFMD, to learn more about international alliances and business education quality assurance. Finally, we hear from three Deans of the School, past and present, who talk about the successes which helped the school grow, and their visions for its future development.
We do not stop there. Talking about the array of courses from undergraduate to doctorate levels, our faculty, staff and students share their experiences of a first-rate business education, and how that has helped them to reach individual milestones and carve out individual experiences. We also peek into how our research initiatives have been advancing intellectual frontiers in new areas like fintech, green finance, family business, and business case studies.
Through these articles, we hope you can experience our exciting journey, reflect on how far we've come, and learn about the way we want to move forward. I am confident that these insights will illuminate the Business School's path towards a bright future of new possibilities in driving excellence, pursuing innovation, and forging new partnerships.
Professor TAM Kar Yan
Dean