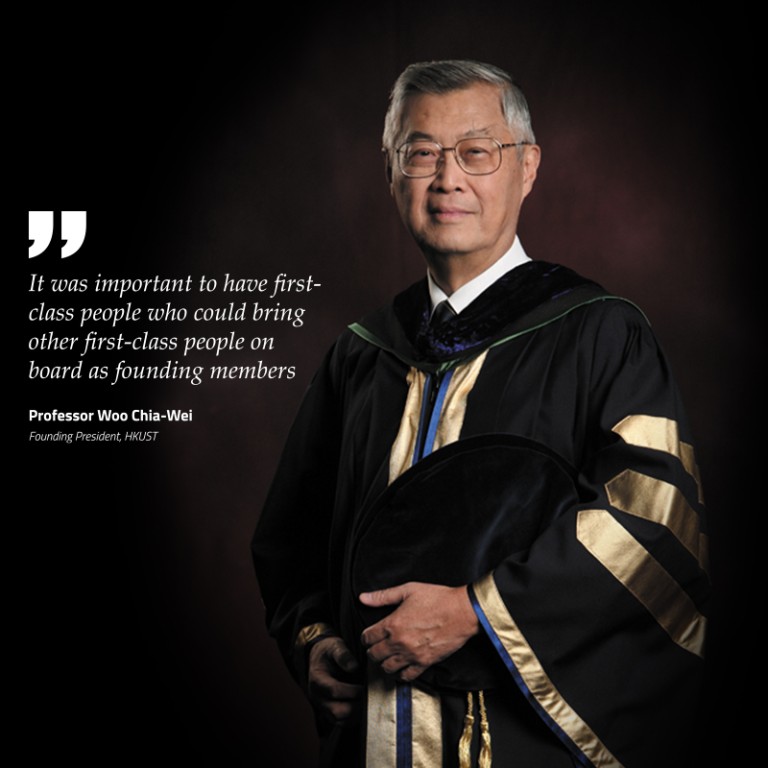 Paid Post:
HKUST Business School
[The content of this article has been produced by our advertising partner.]
Against all the odds, Professor Woo Chia-Wei and his colleagues established a remarkable university in Hong Kong. Here, Professor Woo talks about the founding of HKUST.
It takes vision, a strong conviction and an iron will to build an institution that can stand the test of time and achieve global fame on its own terms. But that's what HKUST has achieved. The University had to face and overcome many obstacles which stood in the way of its success. It is a story of what can happen when great minds come together to do great things.
At a time when Hong Kong faced political uncertainty and an exodus of talent due to concerns about the city's political transition in 1997, a group of academics were willing to go against the tide and build something remarkable for Hong Kong. Professor WOO Chia-Wei, the founding President of HKUST, and his colleagues wanted to establish a research-oriented institution that was home to top scholars and world-class facilities in science and technology and the humanities and social sciences, as well as the first research-oriented business school in Hong Kong, Greater China, and indeed all of Asia.
This was no small feat. But if anyone was going to make it happen, it was Professor Woo. He was known for getting things done, and he was often described as possessing the ability to move mountains to build Hong Kong's own "miracle university".
"When we heard that Hong Kong was going to start a new university, some of my friends in the academic community became very interested. We were established professors at top international universities, but we wanted to do more; we wanted to contribute to the mother country and to international cooperation", Professor Woo remembers.
Finding great minds
In the late 1980s, the Hong Kong Government was considering opening a new university to cater to the rising demand for university graduates in a knowledge economy that was increasingly based on science and technology and services.
Professor Woo had already become famous as the first ethnic Chinese to lead a major American university, the San Francisco State University. But a sense of duty pulled him back to his childhood home. Professor Woo began to encourage some of the best minds to join him on his mission. In a city that was already home to two established tertiary institutions, he knew there would be challenges, and he knew that finding the right people would be key.
"Once you have top academic leaders, things happen. It was important to have first-class people who could bring other first-class people on board as founding members," Professor Woo says. "We wanted people who were strong in knowledge, people who had experience as academic administrators such as department heads. We wanted people who had 'heart': devotion based on idealism."
With a commitment to make HKUST one of the best universities in Asia, Professor Woo began to court potential candidates by selling them his vision and commitment. Together, they faced the challenges that confronted the establishment of the University, from finding the right expertise to rolling out a programme plan based on an American rather than Hong Kong's traditional British model. They decided to build a campus that could cater to all the specialty needs.
The founding members worked hard, and in 1991, the university opened its doors three years earlier than planned. Some of the world's leading scientists and researchers had signed on. During the very first year, 100 professors came on board, to meet the target of growing to nearly 400 professors and 7000 students within six years.
A homegrown EMBA
The success of the University can be credited to the fact that the academic giants who came on board early on were all visionaries in their own right. Professor CHAN Yuk Shee joined when the University was in its earliest years.
He was appointed the founding Dean of the School of Business and Management in 1993, and he saw a growing need for locally honed top business researchers and senior managers in the region. In addition to quickly and successfully building a research-oriented business school, Professor Chan foresaw the value of a homegrown, world-class EMBA program, and he sought the help of a brilliant professor, Steven DEKREY, to launch the Kellogg-HKUST Executive MBA (EMBA) program in 1998.
This was unlike anything else that had come before. It consisted of a partnership between two unique schools on two continents, and offered a unique learning experience. It was a roaring success, and the programme became a model for other universities in the region and around the world. Over the years, it helped put the University on the global map by consistently snagging the very top spots in the Financial Times Global EMBA Rankings.
"One problem with Hong Kong's business community at the time was that if they needed to hire consultants, they went overseas to engage consulting firms. But there was no reason why they shouldn't fill those needs locally," says Professor Woo. "The community wanted world-class business researchers and managers, and I felt it was our duty to provide the community with both."
With its strong focus on research and innovation, the University's founding members were acutely aware that to make an impact on Hong Kong, HKUST needed to apply its strength in science and technology. But Professor Woo also wanted to integrate science and technology with the study of humanities and social sciences, so as to create broad-based thought leaders to serve the community.
Fostering Innovation
"I feel that innovation and entrepreneurial spirit can't be successfully taught as a classroom subject. It's important for students to have a strong foundation in liberal arts education that broadens their knowledge base, expands their horizons, and frees them beyond narrow academic specialties," Professor Woo says. "They would be able to think creatively, express themselves well, and communicate their ideas clearly. Coupled with real-life practice, they would become innovative entrepreneurs and leaders who can make sound, logical decisions and build successful enterprises."
The University also had something else that made it hugely attractive. Its diverse background meant that faculty staff and students came from every corner of the globe, and an extensive international network elevated it to global recognition.
The Business School
The HKUST School of Business and Management, aka HKUST Business School, was one of the original schools established at HKUST, and has achieved global recognition for its research and teaching, as well as its innovative programs. The School partners with leading business schools from around the world, such as Northwestern University's Kellogg School of Management, New York University's Stern School of Business, and Bocconi University in Italy. It has around 140 global exchange partners at the undergraduate level, and around 80 exchange partners at the MBA level. This is in line with Professor Woo and the founding faculty's vision to build a university that would be a gateway to Asia and a connector to the rest of the world. It has become a place where partnerships can be forged between Asian and leading business schools around the world to foster real breakthroughs in international business education.
The HKUST Business School is accredited by the Association to Advance Collegiate Schools of Business (AACSB) and the European Quality Improvement System (EQUIS). It is the first business school in Asia to have instantly achieved both of these accreditations. Looking to the future, Professor Woo knows that the School will not rest on its laurels. In fact, the School continues to roll out new research areas and teaching programs as the region's firsts, including most prominently fintech.