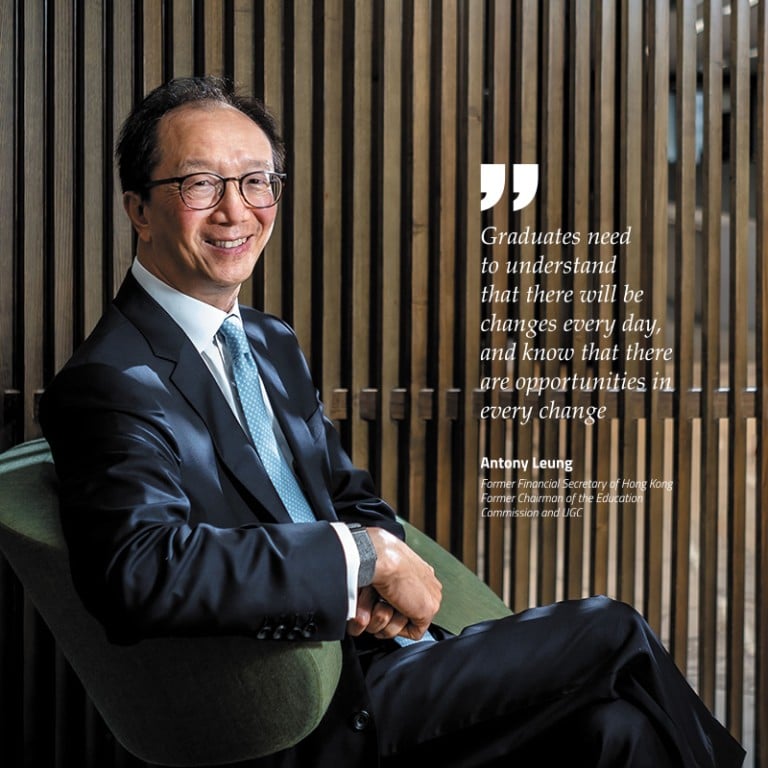 Paid Post:
HKUST Business School
[The content of this article has been produced by our advertising partner.]
Antony Leung, former Financial Secretary, and former Chairman of the Education Commission and UGC, thinks that the future of education in Hong Kong is bright, and business education needs to focus on helping students prepare for an increasingly VUCA world.
When it comes to education reform in Hong Kong, Antony Leung, Chairman of the Nan Fung Group, has one wish. Leung hopes that Hong Kong will maintain its leading position as a provider of high-quality education, not just for Hong Kong but also for China and the rest of the world.
Leung has experienced a rich and vibrant career. He started at Citicorp, and rose through the ranks to take senior management positions at international firms such as J.P. Morgan and Blackstone. He has always been active in public service, and in 2001 became the Financial Secretary of Hong Kong. Prior to this, Leung was responsible for educational reform as Chairman of the Education Commission from 1998 to 2001.
The early 1990s was a significant time for Hong Kong universities, because the government decided to expand education by seeking to double the intake of students within five years to meet the rising needs of society. Leung was Chairman of the University Grants Committee (UGC) at the time, and viewed this as an opportunity to raise the bar for university education across the board in the city.
Updating the education system
Under his leadership, the Education Commission launched a comprehensive reform program in January 1999. During the first few years after the establishment of the SAR, a blueprint was rolled out to update Hong Kong's education system, with a focus on the development of a knowledge-based society. Leung used funding as a means to kickstart this initiative.
"When I started working at the UGC in 1990, university rankings weren't as prevalent, and research was not emphasized," Leung says. "The old funding model was based on historic numbers, along with new programs that the Government wanted universities to take on, and inflation. But we decided to add a competitive element to it."
The UGC did this in two ways. Firstly, research funding was increased and the allocation process was made more competitive. Grants were given based on how well a university was doing in terms of its research quality, rather than on its historic growth and inflation. Secondly, the UGC introduced indicators to rate the quality of the teaching and learning, and the total funding was based on these indicators.
Raising Hong Kong's profile
By introducing these elements, Leung was able to set his plan in motion, and he began to raise the profile of Hong Kong's universities.
"The universities couldn't just do what they were doing, assuming that if they didn't make a mistake, they would get the same funding," he says. "They had to perform and improve the quality of the teaching and learning, and the research. I believed that this would be good for Hong Kong."
Leung was right. Given a mission to excel, Hong Kong universities began steadily climbing the ranks, and HKUST was part of that phenomenon. HKUST now performs well in many global university rankings. Last year, HKUST ranked 27th out 1,000 universities, and came second in the world's Top 50 Universities Under 50 ranked by QS. Including HKUST, Hong Kong has five universities that are ranked global Top 100. Few other cities in the world can claim the same position.
Leung's ideas on how to dish out the funding brought out the best at each of Hong Kong's universities, spurring them to deliver the high-quality education he believes is a social responsibility they have towards Hong Kong and the rest of the world.
"Hong Kong is an intersection of the East and the West, and we combine the best of both worlds," he says. "Now we see a future that is one world two systems, I hope that Hong Kong can view it as an opportunity to bridge the two systems, rather than as a threat. We have the chance to make sure that both sides understand each other better. Through interaction, and the research at our universities, we can enrich both systems so that the world can become one world again."
While these may seem like lofty goals, Leung believes that there are a few things that universities and governments can do to help move things along. He believes that world leaders need a platform on which they can share their views and collaborate, and he thinks that Hong Kong, with its excellent higher education institutions, is an ideal place for such collaboration. Secondly, the financial support, and the policy support, of the Government is a crucial means of facilitating the freedom to exchange information. Any future reforms should keep these factors in mind, he says.
The purpose of education
Leung thinks that the world is increasingly VUCA (volatile, uncertain, complex and ambiguous). So, what is the purpose of higher education within this context? He thinks that today's business leaders need to constantly learning and thinking, and prepare for change. "I think career planning is pointless, as we don't know what careers there will be, or will have, in ten years' time," he says. "Graduates need to understand that there will be changes every day, and know that there are opportunities in every change."
With this in mind, Leung says that the best planning that students can do today is to prepare themselves for new opportunities. That will pay off later. "As business leaders, we need skills to predict what opportunities are around the next corner, and figure out how to seize them," he says.
Accordingly, business education at higher education institutions needs to focus on helping students to develop their strategic skills as much as their technical skills. That way, they will have the ability to anticipate what is around the corner, and will be able to think out of the box to solve some of the complex problems facing businesses today. "You need to be intellectually curious, have the ability to learn continuously, and be ready to change. How do you react in a crisis when things are not going well?" he says. Also, business education should instill in the students' mind that they should strive to do well and do good in everything they do. Making money is important, but the more important goal is to do good to humankind.