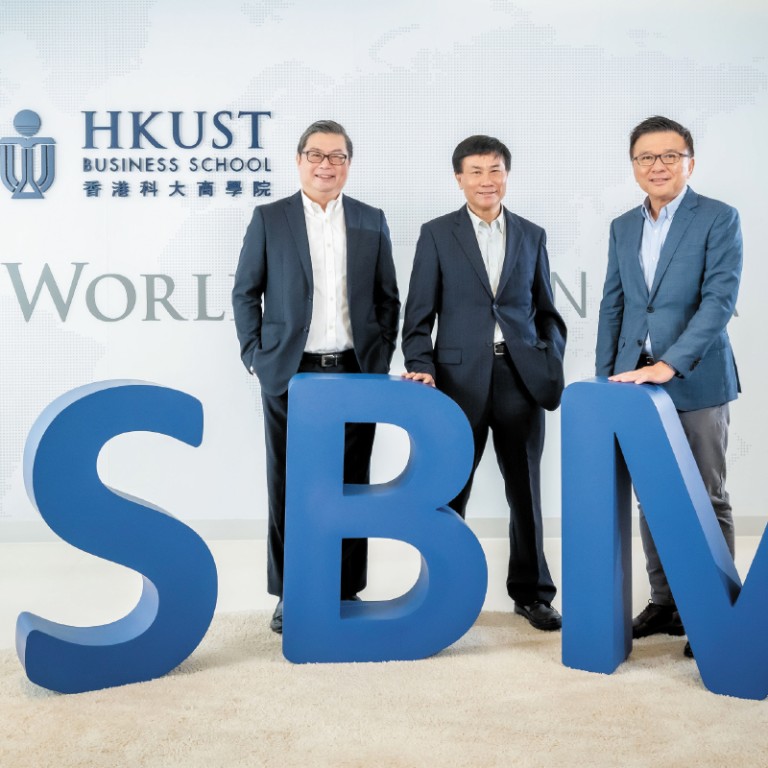 Paid Post:
HKUST Business School
[The content of this article has been produced by our advertising partner.]
Deans of the HKUST Business School, past and present, reflect on many years of achievement.
In this special edition of the HKUST Business School Magazine, we speak to two of our past deans and our current dean to find out how the past and the present are set to shape the future of the HKUST Business School (the School). The three academic leaders share their views on how the School can continue to scale new heights.
Professor KC CHAN joined HKUST in 1993, and was instrumental in positioning the School on the world stage, where it became recognized as a leader in management and research. Under his leadership, the Kellogg-HKUST EMBA program was ranked as one of the top ten performers globally, and HKUST celebrated this achievement at a reception at Government House.
Professor Leonard CHENG was appointed the third dean in 2009, and rode the many waves of the financial crisis that hit the region beginning with the Asian Financial Crisis in 1997. This gave him the opportunity to use academic knowledge and skills to address real-life financial issues. Through contributions to many important economic policy analyses of his own and faculty members under his leadership, the School gained even wider community recognition and support.
Professor TAM Kar Yan joined HKUST in 1992 and was appointed dean in 2016. He was Dean of Students and Associate Provost before returning to the Business School. Under his leadership, the School has grown from strength to strength, maintaining leading position in Asia according to prestigious rankings such as the UT (Dallas) Top 100 Business School Research Rankings. Well- known for his pioneering research in fintech, he plays a very active role in a number of public services.
What does business education mean to you?
KC Chan: Education is really the most important part of the enterprise of the School. Business education means that we want students to be educated in the liberal education mode, so that they are thoroughly exposed to different disciplines and ideas, and build up a good perspective on the world and humanity around us. But since we are a business school, we must also be relevant to the business world. This means that when we're blending in the humanities elements of education, we must also try to apply them in the context of the business world, economics and finance to create an environment for students to be creative and self-propelled learners.
Leonard Cheng: Business education is a good preparation for a career, for business and for non-profit organizations including the government. I believe that when business education is properly delivered, it enables our graduates to be responsible glocal (i.e.,combination of global and local considerations) citizens, with their feet firmly on the ground. That's what distinguishes business majors from other majors. They know about the reality so when they think about issues, they can be pragmatic and realistic.
Tam Kar Yan: Business is an integral part of society, so every citizen of society should know something about business. Business isn't just about following a particular career, it's about how different people come together and work together to achieve a shared vision and objective. It applies to commercial and non-commercial settings. So this is more of a general education for the citizens of a society.
How can business education contribute to our future?
KC Chan: When I reflect on the difference between the economy now and 30 years ago, there's a big difference. The economy is different, most economic growth is generated by technology, new companies, new economic models, and sustainability. It raises new issues and challenges for us. But new challenges also mean new economic opportunities, and the School can help to tackle these opportunities, manage the change in technology and the corporate landscape, and give rise to individual entrepreneurs.
Leonard Cheng: When it comes to sustainability, the people who can help the most to make it happen are business leaders. Without them, it's just all talk. Changing the mentality of business leaders is therefore important. They need to think about issues beyond just making money, and to include tech and innovation as an important part of the solution. But most importantly, we need behavioral change starting with business leaders and educators.
By creating an awareness and a sense of duty and commitment, along with curiosity and creativity, they can come together to create new solutions to face the challenges of our world.
Tam Kar Yan: There are many challenges facing society today. The UN has put forward societal goals for us to achieve, whether it's sustainability, poverty, health or well-being. In the past, business education focused on professional development, but to address these grand challenges, which are interdisciplinary in nature, business education now needs to go beyond traditional business schools to work with scientists, engineers, and social scientists, to come up with solutions. We need to reach out to other disciplines to explore research interests and teaching and learning experiences that span different disciplines. We also need to reach out to the community.
How can the HKUST Business School take a lead?
KC Chan: Technology as an economic engine for the future growth of the economy could change the business model for the future. The challenge for the School will be how to face these new challenges. Of course, if you asked an engineer about technology, they would have an engineering solution. But the School has a mission to put all of this to work so that you can change human behavior, change the economic equation and change the business enterprise's mission. We are the big integrator that takes technology and puts it into a workable solution. The way business schools can take the lead is by having good leadership to break the boundaries of research and knowledge creation, and to bring it into the classroom in order to integrate it into society. They then become the proponents of change.
Leonard Cheng: It all must start with a sense of awareness in business leaders and business educators. They have a responsibility to make it happen in the economic sphere. An awareness, a sense of duty and commitment, if we can get all these elements together, then with curiosity and creativity will come new solutions to meet the challenges of the world. So, I envision that the School will continue to be an eminent business educator turning out business leaders to lead the business world. The School will also be a thought leader addressing the evolving challenges of the world through the research of its faculty members and its PhD students. I truly believe that when great minds meet, wonderful things happen.
Tam Kar Yan: We want to be a thought leader. To do this, I believe that we need to attract talent to join the school. Whether it's talented faculty members or students, once we have a pool of great talent, good things happen. It's difficult to accurately predict the future, but a university is a unique place with lots of good ideas that happen at the ground level. That's how they pop up. It's not top down, so I very much embrace this idea. If you get the best talent, they will do great things. It's also important that they come from a diverse background. Just like when we joined 30 years ago, we came from different backgrounds and disciplines. We worked on our own intellectual interests with passion, and this culture has become an important factor that propels the School to excel.
What makes the HKUST Business School unique?
KC Chan: What's exciting about HKUST is that it was created to have only three schools: science, engineering and business. It's very unique! The business school is about a third of the university enrollment and that is amazing! That really gives the HKUST Business School a unique opportunity to collaborate, to learn and to drive some interdisciplinary research with other departments. This isn't easy to find at other universities.
Leonard Cheng: Even going back to the beginning, the HKUST Business School had something special. Both faculty and students were risk takers. We have continued undiminished our desire to try new things. So, the willingness to take risks and to work with each other is really in our DNA. Then there are also the top talents at the School. There are top program administrators like Professor Steven Dekrey, who helped to shepherd the first EMBA program in Asia with distinction. The School is lucky to have people like Professor Dekrey.
 Tam Kar Yan: The School has a very good platform and capacity to continue to grow, and we will continue to offer more innovative programs. We are proud to have achieved many firsts! We were the first to launch a digital MBA program in Hong Kong targeting senior executives in the region. We invested in a virtual classroom infrastructure to deliver this program. We also have new programs that address the challenges of society. We just launched Hong Kong's first undergraduate degree in sustainable and green finance. And in another first in Hong Kong, we started dual degree programs, so that in five years' time students can get two degrees, one from the business school and the other in engineering. In terms of program innovation, we partnered with University of Southern California in the US and Bocconi University in Italy, so that over the course of four years, students spend one year on each campus, and in the final year they can choose a campus to finish off their studies. This is a chance to spend one year living and studying on one continent, and at the end of it all, to receive three diplomas, one from each institution. This is unique and requires the strong support and commitment from these institutions.
What has been your most memorable experience at the School?
KC Chan: My most exciting moment was when I was in my office waiting to hear the results of our EMBA ranking. Steven Dekrey came into my office, grabbed me and showed me the ranking. We featured prominently on a big page and ranked really high in the Financial Times ranking. We ranked eighth. I was so happy, and we took so many photos and called a celebration. We had worked so hard to achieve that. EMBA was our crown jewel, and this was beyond our expectations.
Leonard Cheng: I always remember my interactions with my bilingual EMBA students. I was very close to this program, and I remember we had some celebrations on Hainan Island, in Sanya. We went swimming all day, and as the party continued, the students asked me to do a belly dance performance. So, I did! In my swimsuit! The students loved it.
Tam Kar Yan: My most memorable experiences have been with my undergraduate students. Because we get so many international students in Hong Kong, we wanted to find a way to interact with them. So we decided to have a cooking competition, and the students had to cook a dish relating to their culture. All the professors joined in. It was so much fun.