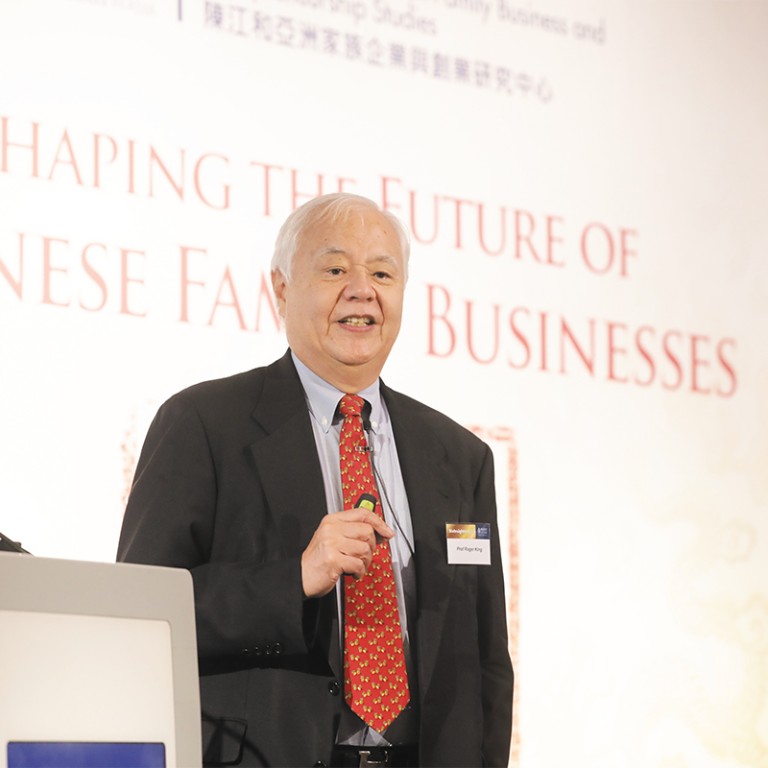 Advancing Asian Family Business Resear
Paid Post:
HKUST Business School
[The content of this article has been produced by our advertising partner.]
The Roger King Center for Asian Family Business and Family Office enables academics, practitioners, and policymakers to gain a deeper understanding of Asian family businesses
Asia has experienced a steep rise in wealth during in recent decades. Consequently, many Asian family businesses are examining not only how to sustain their business but also how to preserve their wealth while transferring their family values and legacies to the next generation.
The School's Roger King Center for Asian Family Business and Family Office* was designed as a premier research and teaching center focused on Asia family business and family office. "Asia is becoming more dominant in the world. More family businesses in the region are looking to set up and operate a family office to achieve their long-term goals," says Professor Roger King, the Center's Senior Advisor.
Professor King says that while there are many studies of Western businesses, and the family office sector is quite mature in North America and Europe, Western experience may not necessarily be applicable to Asia. "Western culture emphasizes individualism, whereas Asians operate on a more collective basis," he says.
For this reason, the Center is a valuable development for business education. It stands out because of its research focus on ethnic Chinese family businesses and strong connections in the region. According to the Center's Director, Professor Winnie Peng, as one of the most active research institutes in the region, the Center has in recent years expanded its focus to both family business and family office, with the latter growing in popularity among wealthy families in Asia.
"In Hong Kong, nearly 70% of listed firms are familyowned, while in Mainland China, family businesses contribute over 60% of GDP, surpassing other parts of the world in wealth creation in recent years. With more billionaires in Asia come greater needs to pass on family wealth and values efficiently and maintain harmony within the family, leading to a dramatic rise in family offices in the past decade. The challenges in conducting academic research on this sector stem from the private and confidential nature of family businesses and family offices. We hope to take advantage of the School's strengths and connections to support the growth of this sector in the region through high-quality practical research and talent development," she says. 
"While focusing on Chinese businesses, we are also eager to learn from other ethnic groups as well. One of our ongoing research projects compares Chinese, Indian and Jewish diaspora family businesses," she adds. "And by serving on the Board of the International Family Enterprise Research Academy, the world's largest association of family business researchers, we hope to do more collaborative research and promote our Asian research to the global audience."
As the Center advances its mission to become the world's leading research institution for Asian family business and family office, it has helped promote a better understanding of family businesses in the region, while helping them preserve wealth and legacies via family offices over the generations.
* To better reflect its research focus on family office, the Center changed to its present name from Tanoto Center for Asian Family Business and Entrepreneurship Studies in September 2022. The School and the Center are grateful for the support of Tanoto Foundation in the past 10 years.