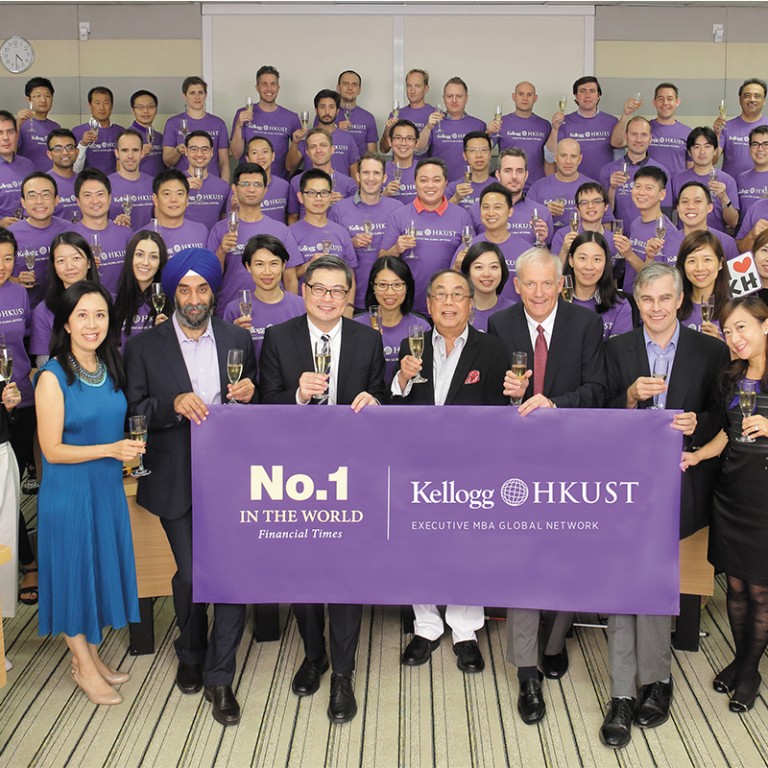 A World-Class Experience for High-Flyers
The Kellogg-HKUST Executive MBA
Paid Post:
HKUST Business School
[The content of this article has been produced by our advertising partner.]
The Kellogg-HKUST Executive MBA is a one-of-a-kind program that delivers the best in business education for executives and business leaders. Ranked number one in the world ten times by Financial Times, the Kellogg-HKUST Executive MBA program is a unique partnership between the Kellogg School of Management at Northwestern University in the US, and HKUST. The unique selling point is that the curriculum marries Western perspectives to Asian insights.
The program is tailor-made for senior executives who have held leadership positions in their organizations. It aims to help business leaders understand the challenges they face within a global context. Boasting a strong alumni network, it offers a unique opportunity for executives to encounter like-minded high-achievers, and to mix with students from extremely diverse backgrounds, industries and countries. The network also allows students to share business and investment opportunities while making connections that can result in commercial collaborations and new business alliances.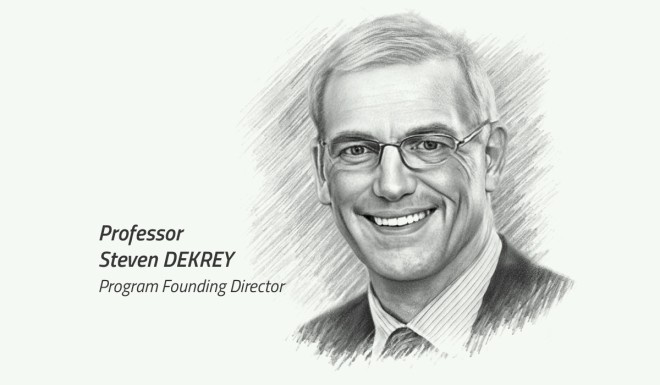 Steven DEKREY, Program Founding Director:
On student experience
"The most memorable experience for most of our students is the strong bonding among classmates. As leaders, students are often on their own and unable to share their work or personal issues openly. Here at our program, students share inside and outside of the classroom, where we build trust among classmates with social activities, group work, and the residential component. In addition to classmates, our students always have a few faculty and staff that they develop lasting relations with and they will keep in future contact.
Applause goes to our partner Kellogg for including the livein weeks for all partners at Kellogg in Chicago. This global experience enhances our students connections and cultural exposure. During our program, we have live-in weekends back to back which is efficient for both students flying in and Kellogg faculty coming from Chicago. For the many who do the global electives, the international exposure is also lifechanging."
On the program's formula for success
"Having really powerful, well-placed classmates is of great value to the learning experience. Since the program's commencement, we have always looked for senior people who were ambitious and intent on advancing their careers, and who valued further education. We ended up always admitting very senior students. This senior student admissions policy has greatly helped us in the Financial Times EMBA ranking. During the past 15 years, we have been ranked number one 10 times. We now have over 1,400 alumni spread all over the world, which helps promote the program and continues to attract top students. We also have world-class staff here, second to none. The ranking history reveals many of our outstanding achievements."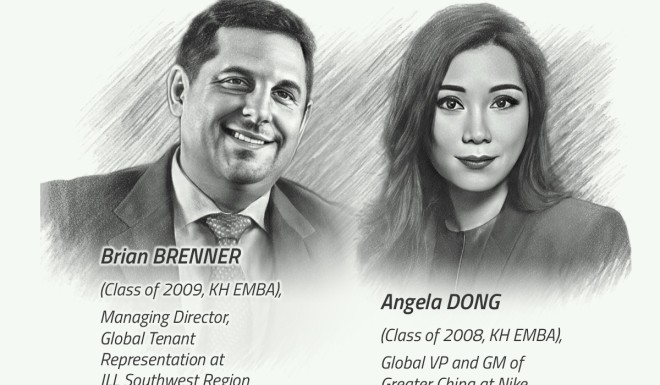 Brian BRENNER, (Class of 2009, KH EMBA), Managing Director, Global Tenant Representation at JLL Southwest Region:
"The structure of the Kellogg-HKUST EMBA program worked very well for me and my family. The fact that classes were not on every weekend and did not have week-long blocks helped me to manage reasonably well. I was glad to be in a very good study team and a class of experts that thoroughly covered pretty much every subject level. Together, we were able to identify the key learning points and made sure everyone had a decent chance to succeed."
Angela DONG, (Class of 2008, KH EMBA), Global VP and GM of Greater China at Nike:
"I am always impressed by how powerful the alumni network is. It was inspirational to see how friendships have turned into business partnerships and people from different perspectives got together to generate the most innovative ideas. These are truly connections which last a lifetime."