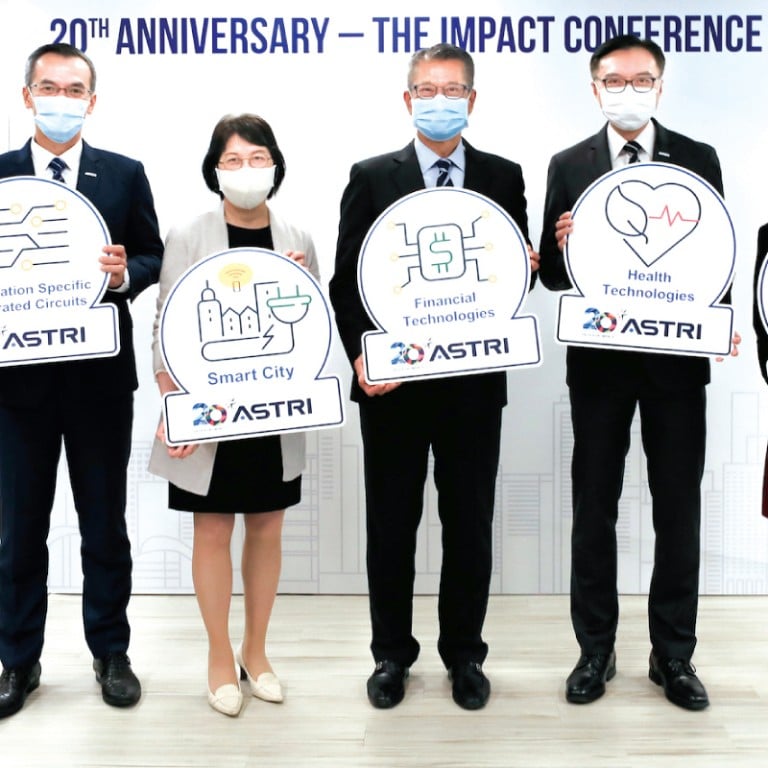 From 5G to FinTech, Health Tech to SMEs, ASTRI's IMPACT Conference 2020 explores the technology of the future
●    Hong Kong's largest R&D centre hosts virtual event celebrating 20th anniversary featuring keynote speeches and panel discussions
●    Financial Secretary Paul Chan reiterates government's commitment to innovation and technology in opening remarks
 
[Sponsored Article]
The Hong Kong Applied Science and Technology Research Institute (ASTRI) on November 11 hosted the IMPACT Conference 2020, a full-day virtual event exploring the future of technology and commemorating the institute's 20th anniversary.
The event included keynote addresses and panel discussions, uniting government officials, corporate leaders, tech entrepreneurs, as well as university and think tank representatives, to explore the future through innovation, sustainability and government policy. It examined how ASTRI's applied technologies have made a positive impact on society.
Following a welcome note by ASTRI chairman Sunny Lee on the institute's key achievements in its 20-year history,
Financial Secretary Paul Chan reiterated
the government's support for innovation and technology, especially during the testing time of Covid-19.   
"In the past three years, the government has devoted over HK$100 billion to a great variety of I&T programmes and initiatives. They range from infrastructure provision and R&D to investment funding and talent development," Chan said. 
Aside from the HK$300 billion funding support that helps businesses and individuals get through the pandemic, Chan noted the government is also funding public sector R&D trials on Covid-19 prevention and control under the Public Sector Trial Scheme.
"More than 60 projects have been approved, with funding exceeding HK$102 million. The trials have begun and I'm hopeful the wider adoption of technology in the public sector will lead to more business opportunities for our technology companies," Chan said.
ASTRI CEO Hugh Chow said: "When it comes to applied research in Hong Kong, ASTRI is the eldest child of a big family of research institutes. It is well supported by the government, within a vibrant and growing technology ecosystem."   
ASTRI will continue to devote time and energy towards developing applications for smart cities, fintech, health tech, intelligent manufacturing, as well as application specific integrated circuits (ASIC). The on-road testing of
ASTRI's cellular vehicle-to-everything (C-V2X) technology
will soon be conducted in Sha Tin District. The technology will make our commutes more efficient and our roads safer.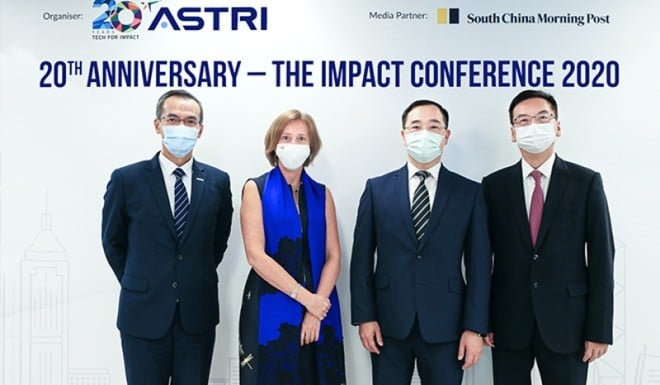 ASTRI has recently published a white paper titled
"Alternative Credit Scoring of Micro-, Small and Medium-sized Enterprises (MSMEs)
", which outlines how fintech can be adopted to collect and utilise alternative data to evaluate borrowers' creditworthiness. It will offer a vital lifeline to the MSMEs that make up almost 98 percent of Hong Kong's businesses.   
Science would not advance without the development of new technologies. On the other hand, scientific discoveries are vital to new technology development,
said Prof Lap Chee Tsui
, founding president of The Academy of Science of Hong Kong, on the topic "Advance through Collaboration".   
"Innovation is part of the formula. It's not something that can be taught and can only be acquired through experiments by observing how things are done from different areas of work... Collaboration is based on sharing and trust," Tsui said, urging scientists and researchers alike to be totally open to collaboration.   
On smart cities and transport,
Dr Jacob Kam, CEO of the MTR Corporation (MTRC), gave a keynote speech
on how digital technologies will transform the way commuters use the region's transport network.    
The rail operator has four technology categories: construction, property, customer, and railway technologies. Kam envisions that fully automated vehicles (AVs) could act as a first-mile/last-mile connection to mass public transport modes. For those who prefer walking to the nearest MTR station, augmented reality (AR) navigation will direct you via augmented arrows and signs.   
Passengers who need to travel further afield can check the train schedule, seating availability or book advance tickets through their smartphone. Some of these technologies are being developed by ASTRI for the MTRC. 
"Health technology is indispensable in this crisis. In the post-Covid 19 world, a highly digitalised healthcare will be the new normal. Technology will be widely adopted and it's going to transform the patient's experience." 
5G and IoT will make hospitals smarter, allowing greater awareness of the medical devices, equipment, clinicians, staff and patients. Automation will also further develop our healthcare ecosystem.
Lam added that virtual reality (VR) simulation and other adaptive digital learning methods are increasingly being used in surgeon and nursing training programmes to ensure students are practice ready. Covid-19 underscores the value of these digital training tools that supplement a hands-on experience.