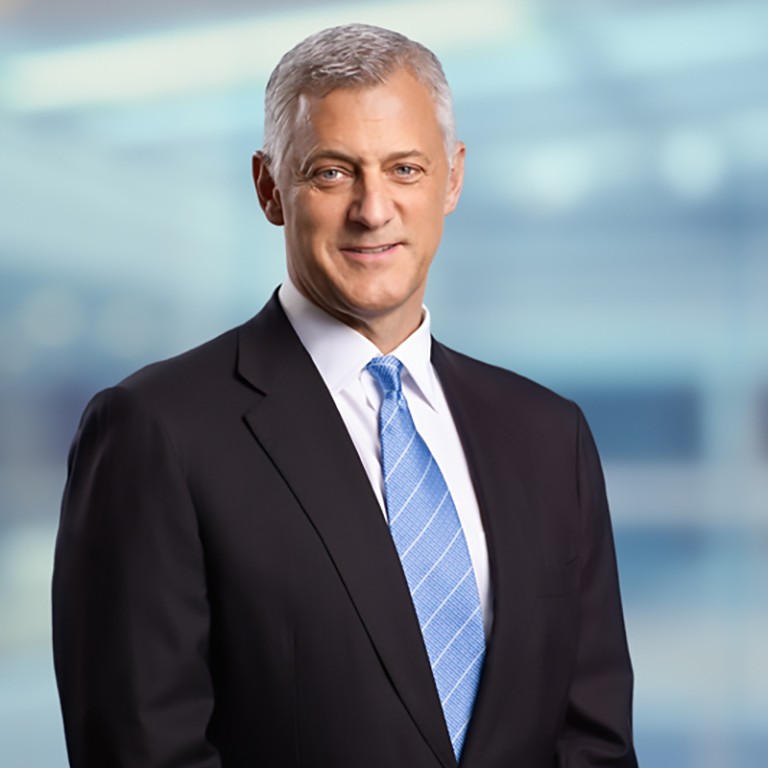 Standard Chartered plays "super-connector" role in Belt and Road: Group Chief Executive
Paid Post:
Standard Chartered Hong Kong
[Sponsored Article]
As a leading bank in the Belt and Road countries and contracting capabilities to Asia, the Middle East and Africa, senior executives of Standard Chartered (StanChart) who attended the fifth Belt and Road Summit, of which the bank was a sponsor, said StanChart is well positioned to play the role of "super connector" for companies, investors and governments taking part in the Belt and Road Initiative (BRI). 
"With our global presence, we consider ourselves to be the centre of the BRI, especially in Hong Kong, which is a key hub, as well as other developing markets where we operate. The theme of Belt and Road is about connections and at Standard Chartered, that's what we always try to do," said Bill Winters, Group Chief Executive of StanChart. "Hong Kong is where we pull [different players] together."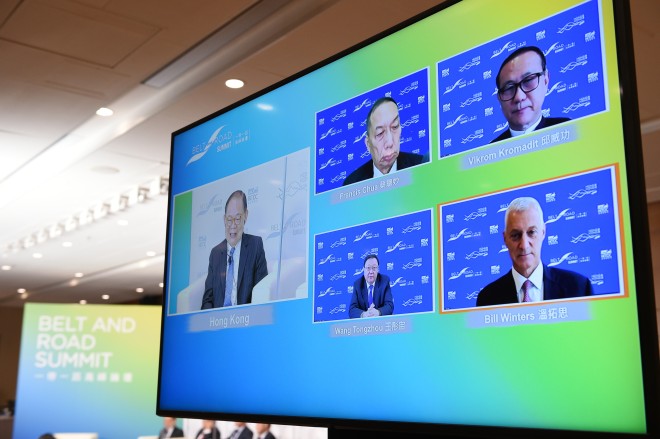 The Greater Bay Area (GBA), including Hong Kong as the hub, provides a lot of opportunities that support financial and business co-operations between companies and investors venturing abroad, Winters explained. "This region is clearly a launchpad for the BRI. There's a lot Hong Kong can do to facilitate the agenda across the Belt and Road markets." 
But with travel and social distancing restrictions, the pandemic has made it more difficult to carry out due diligence on projects, conduct negotiations, and process through government planning systems. Despite delays, the project pipeline is strong, he said, and that bodes well for resumption of development activity in the years to come. 
Sustainability has long been a core part of StanChart's strategy, he said: "Belt and Road represents an opportunity of a lifetime. Sustainability is at the front of each investment we make. The ultimate objective of Belt and Road projects is not only to facilitate commerce and trade but also to improve the lives of people and local communities. Many of these projects can be done fundamentally sustainably." 
The BRI is core to StanChart's growth strategy. In 2017, the bank committed additional financing for Belt and Road projects of at least US$20 billion by 2020 and was involved in more than 50 Belt and Road deals worth more than US$10 billion across a range of products and services. While committed to the BRI, the bank is also supporting its markets, especially emerging ones, to contribute to the UN's Sustainable Development Goals (SDGs), having committed to facilitating and financing US$35 billion worth of cleantech and renewables between 2020 and 2025.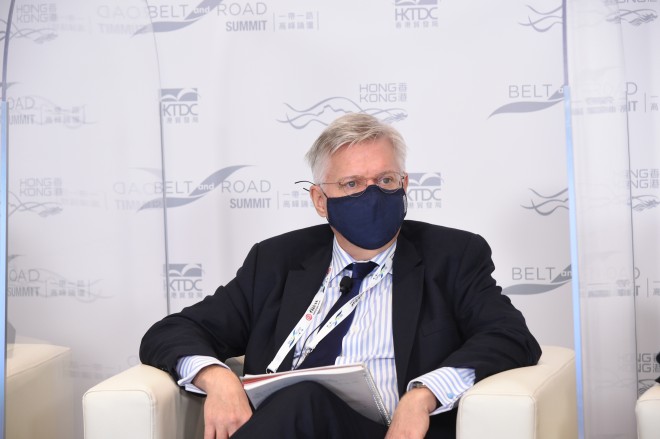 Winters is chair of the Taskforce on Scaling Voluntary Carbon Markets, sponsored by the Institute of International Finance (IIF). The Taskforce itself is comprised of more than 40 leaders from six continents with backgrounds across the carbon market value chain. The Taskforce aims at identifying the infrastructure solutions necessary to scale voluntary carbon markets. The goal is to achieve a large, transparent, verifiable and robust voluntary carbon market. 
"Sustainability, technology and digitalisation have been on the agenda in the past few years and will continue to be so moving forward. But this year we're all concerned about the impact of the global health pandemic on the BRI. But once we get through the pandemic, I believe investment and development activities will pick up robustly," said Peter Burnett, managing director of StanChart in Hong Kong and chairman of the British Chamber of Commerce in Hong Kong. 
He said the BRI can play an important role in strengthening multilateral co-operations. "Since the launch of the BRI in 2013, I think the objective has been made clear now. It's to create prosperity through infrastructure and encourage trade."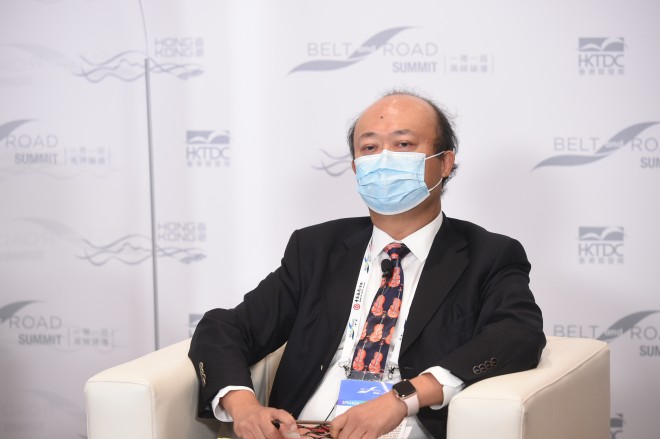 Since then, major Chinese multilateral initiatives have been implemented to drive co-ordination and collaboration. For example, the Asian Infrastructure Investment Bank (AIIB) was approved for implementation at the 18th Party Congress in 2012. Last year, there was a much greater focus on international co-operations. "The exploration is like crossing the river by feeling the stones," he said. 
With the gradual rollout of 5G networks, Burnett believes the Greater Bay Area (GBA), including Hong Kong, will be turned into smart cities that will improve people's quality of life. "We also need to integrate smart cities into the Belt and Road projects the same way." There are a few components smart cities consist of, including 5G infrastructure, big data and artificial intelligence (AI), as well as the Internet of Things (IoTs). These components are what make the cities smart and efficient, he explained. 
On what role Hong Kong can play in face of competitions from other neighbouring cities, he said Hong Kong has done extremely well in aggregating, allocating and pricing capital, and knows well how to manage risks. The best example is the success of the Hong Kong stock market in terms of attracting IPOs and global capital. 
StanChart has long been a strategic partner for Chinese firms looking to invest abroad, said Peter Wong, executive director of structured solutions development, transaction banking at StanChart in Hong Kong and an executive board member of the Treasury Markets Association chaired by the HKMA, at a thematic breakout forum hosted by the Hong Kong Insurance Authority (HKIA). 
In 2016, the Hong Kong government introduced new corporate treasury centre (CTC) policy offering preferential tax treatment to qualifying CTCs in Hong Kong. "We are seeing more and more Chinese firms set up their CTCs in Hong Kong," said Wong, who is also a member of the TMA Corporate Treasury Development Working Group. 
"An increasing number of Chinese firms are adopting in-house banking solution from the bank to pool overseas cash reserves in their CTC and perform 'on-behalf-of' payment and receipt, netting of currency exposure and 'T+0' liquidity flow across time zones. We co-create solutions with BRI clients combining advisory, financing, escrow services and product application specific to their needs."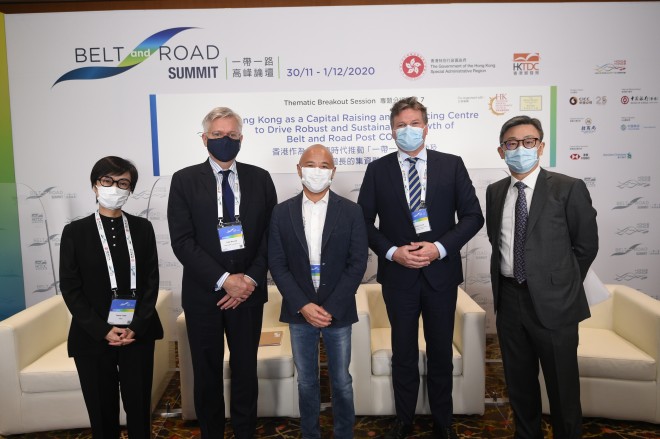 StanChart was a Premier Silver Sponsor of the Belt and Road Summit 2020. Held as a virtual conference for the first time, the Summit was organised by the HKSAR Government and Hong Kong Trade Development Council (HKTDC), with keynote speeches and panel discussions staged on 30 November and 1 December. 

This content has been created under the direction of an advertiser. It contains no editorial input or review from the South China Morning Post (SCMP), nor does it reflect the position of, or the editorial standards used by, the SCMP. The advertiser has paid for and approved the content.