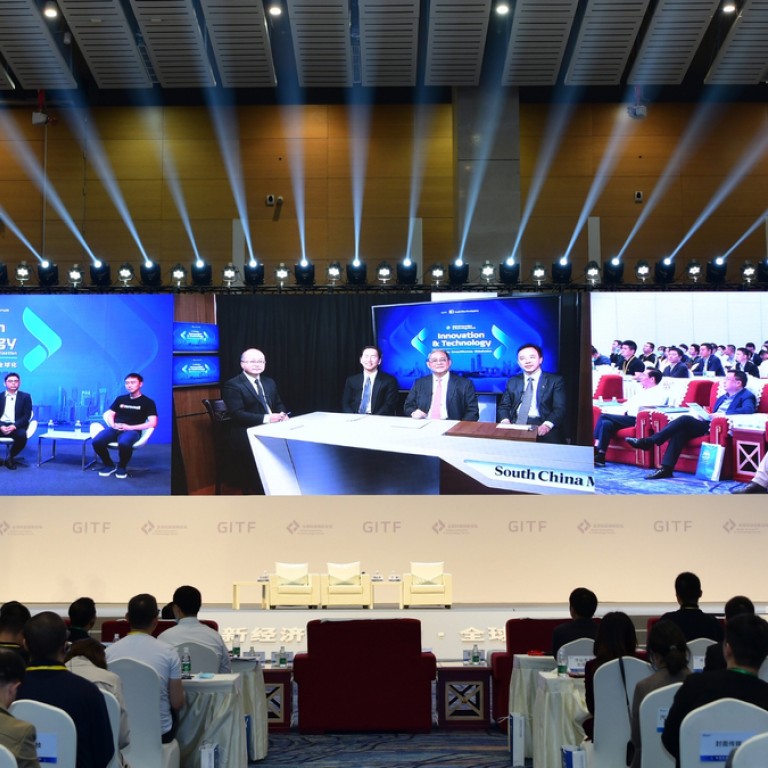 Forum redefines new economy
Luminaries from around the region share their insights on the new economy, competitiveness and globalization post-pandemic in an online forum streamed from Chengdu, Hong Kong and Singapore
Paid Post:
Global Innovation & Technology Forum
[Sponsored Article]
Covid-19 is both a crisis and an opportunity to move towards a new economy as the global pandemic measures have accelerated the growth of digital technology.
However, as global economies seek to bounce back from the crisis, it's time to step up efforts to nurture innovation, and leverage partnerships and hubs like Chengdu, Hong Kong and Singapore, said experts at the inaugural Global Innovation and Technology Forum.
"The people of the world cannot afford deglobalisation without suffering downgrades in their living standards," C.Y. Leung, vice-chairman, National Committee of the Chinese People's Political Consultative Conference, and former chief executive, Government of the Hong Kong Special Administrative Region, said during his keynote speech.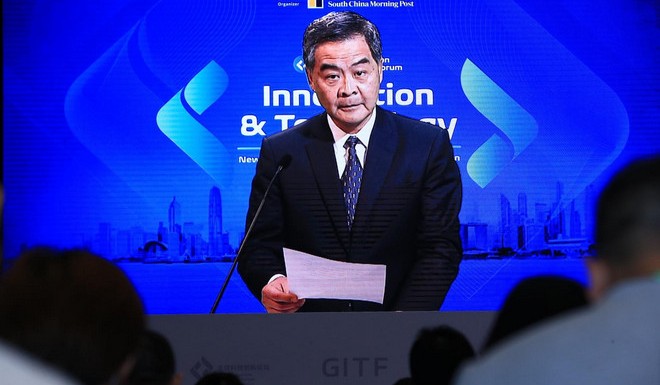 "While the world recognizes that the next phase of economic growth will be driven by innovation and technology, by comparison to – for example –trade, the globalisation of innovation and technology has been constrained," he remarked.
He reckoned that there are political, legal and policy barriers which in turn restrict economic and social development. To address this, he urged the world to break down national silos and facilitate better international collaboration on a global scale.
Covid-19 and the new normal 
Hit hard by the Covid-19 pandemic, the International Monetary Fund said emerging Asian economies are the only region with anticipated GDP growth – albeit by a mere one per cent – in 2020, while the rest of the world has negative growth.
Another keynote speaker, Dr Beh Swan Gin, chairman, Singapore Economic Development Board, Singapore Government, said that the economic impact of measures to contain Covid-19 has led to rising nationalism in many countries and is tempting some to raise barriers to investment and trade.
He said: "Supply chains that were disrupted were the ones with a single source. And the risks from having a single source are the same whether the source is overseas or in one's own country.
The best form of resilience has always been diversification. Covid-19 is thus an important reminder that we must not take for granted our rules-based global trading system. "
However, he added that the reality is that Covid-19 is actually reinforcing the importance of keeping borders open so that essential goods and services can flow unimpeded. Take Singapore, for example, where business expenditure on R&D (BERD) now constitutes close to 61 per cent of the gross expenditure on R&D (GERD) in 2018.
As he put it: "The economic outlook for the near term is uncertain and recovery will take time. It is our shared interest to not give up on free trade. We must invest the time and effort to update, reform and strengthen the multilateral trading system so that it will also benefit our children's and grandchildren's generations."
The new Go West development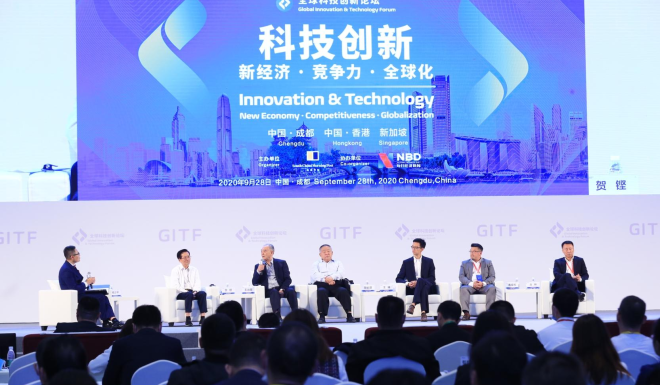 As China's focus switches to responding to the implications of a post-coronavirus world and self-reliance on economy and technology, regional coordination, combined with the intelligent deployment of technology and innovations, has become an essential tool to restore confidence in business.
In the post-Covid-19 era, the strategic role of the country's western regions is more important than ever. During 2009-2019, Southwest China's GDP recorded cumulative growth of 259 per cent, outpacing all other regions.
Against the backdrop of the new Go West development plan, Chengdu – the provincial capital of Sichuan – has quickly emerged as an up-and-coming technology hub, expanding its innovation economy to sectors such as consumer electronics products, biotech and life science R&D, and others. In 2019, Chengdu was named China's best-performing manufacturing city by independent think tank the Milken Institute.
The last keynote speaker, Mr Hanmin Zhou, standing committee member, CPPCC, and vice-chairman, Shanghai Committee of CPPCC, said: "The technological revolution is taking off rapidly and the digital economy has become a selfsustaining industry of national economic development. In China, over 100 million individuals are working in research, development and innovation. Such revolution presents unprecedented opportunities to our future."
Hong Kong and the GBA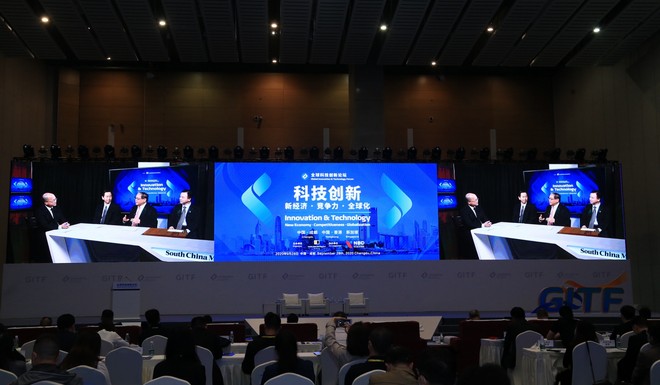 Fuelled by two new financial markets – a Nasdaq-like stock exchange in Macau and a carbon futures exchange in Guangzhou – in the Greater Bay Area (GBA), the region has the potential to become Asia's largest financial market.
Given its advanced financial system, Hong Kong ranks third among global financial centres with some US$10 trillion of transactions in 2019. Its abundant capital is favourable to tech startups and innovations for fundraising and exits but the city's high costs also present challenges especially to seedstage start-ups.
R&D expenditure remains relatively low compared to other hubs. How should Hong Kong leverage the GBA initiative to advance the city's innovation landscape?
"What we're looking at is a new integration of technology. We are using the GBA's digital manufacturing to fit into ourglobal network, and to create the next global, digitised supply chain of the future," says Dr Victor Fung, group chairman, Fung Group.
Mr Bernard Charnwut Chan, GBS, JP, non-official convenor,  HKSAR Government Executive Council, thinks that the GBA has presented opportunities for Hong Kong and its GBA counterpart to work closely together.
According to Fung, the Greater Bay Area today forms one of the best test markets in the world. He pointed out that the GBA economy, estimated at US$1.5 trillion – about the size of South Korea's – has 70 million technologically enabled, demanding consumers. "The key is not so much technology but the application of technology and the commercialisation of technology," he added.
Professor Xiang Zhang, president and vice-chancellor, University of Hong Kong, believes that Hong Kong has a unique position founded on the essentials of an innovative ecosystem. That includes highquality capital, the rule of law, and an enabling financial system with capital that spurs innovation.
Speaking at the economy showcase session, Mr Albert Wong Hak-keung, CEO, Hong Kong Science and Technology Parks, which has over 700 graduates from its incubation programmes, thinks that Hong Kong is putting a lot of resources into technology but the challenge it faces, despite its good base of research and development investment, is how to convert scientists into innovators and ultimately entrepreneurs.
Still, he is optimistic about the future. He said: "Although you may think of Hong Kong as a place for financial, logistics, tourism, Hong Kong is actually putting a lot of resources into technology innovation because we believe that we have the background, the base, and also the potential to develop into an innovative technology hub."
Singapore: the making of world's most open economy
Singapore is highly popular as a hub for innovation and entrepreneurship in Asia. Last year the Lion City was named the world's most open and competitive economy by the World Economic Forum's Global Competitiveness Report.
With one of the most developed start-up ecosystems in Asia, Singapore is home to four unicorns – Grab, SEA, Lazada and Razer – with an estimate of US$20 billion market value combined.
There is a highly proactive scene of government funding, and privately funded accelerators and incubators focused on innovation.
As part of the Association of Southeast Asian Nations (Asean), Singapore has the access to the region's rapidly exploding digital economy, which is estimated to add US$1 trillion to Asean GDP in the next decade.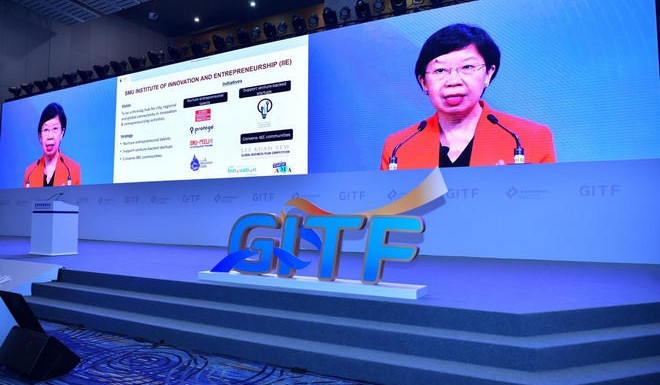 Professor Lily Kong, president of Singapore Management University, believes that the university has an important role to play.
She explains how the university takes pride in being a thriving hub for city, regional and global connectivity in innovation and entrepreneurship activities. 
Through university-industry collaboration and otherinitiatives, the university has been nurturing promising entrepreneurial talents, and supporting bold venture-backed start-ups. The SMU-X, an experiential learning programme in partnership between the SMU and the industry, is a prime example.
Kong's insights align with the real experience of her fellow panellist Mr Lucas Ngoo, cofounder of Carousell. The internet start-up has deep roots in the National University of Singapore.
To date, the start-up has expanded its footprint beyond Singapore to Malaysia. Indonesia, Vietnam, the Philippines and other countries.
He feels fortunate to be among the handful of earlier start-ups in a place called Block 71 – a formerly declining industrial estate transformed into a vibrant environment with relatively affordable rent – which is now home to many successful start-ups.
While the geopolitical uncertainty between the United States and China is a concern for many countries, Mr Ku Kay-mok, managing partner, Southeast Asia, Gobi Partners, thinks that Singapore has a niche it is wellplaced to fill. In his opinion,
Singapore could be a hub for Chinese technology companies to export their innovations to the rest of the world.
As he said: "How do you leverage on Chinese original technology and combine it with Western software applications?
This is an important role that Singapore can do to help China."
The future of new economy
Referencing the South China Morning Post's China internet Report 2020, Joey Liu, lead author of SCMP Research, gave a presentation on new trends in the mainland's new economy.
Launched in July this year, the report offers major trends shaping the world's biggest digital community and essential insights on challenges facing China's technology-led industrial transformation in its drive to be a global leader for innovation.
Initiated by Chengdu city, the emerging tech capital in West China, organised by the Post and co-organised by National Business Daily, the inaugural Global Innovation and Technology Forum was viewed by a global audience of over 190,000. The event was powered by the Morning Studio, the award-winning creative arm of the Post.
Themed "New Economy, Competitiveness, Globalisation", the forum programme included keynote speeches, economy showcases, panel discussions and a presentation by the Post on New Economy.
The event also featured prominent speakers that included Li Zhaoxing, former minister, Ministry of Foreign Affairs of the People's Republic of China; member of the CPC Central Committee, among others.
Elsie Cheung, COO of the Post, said: "We are honoured to have top leaders from Hong Kong, Chengdu and Singapore to engage in dialogue for the first time at such level and scale livestreamed to the global audience.
The event highlights opportunities for business and investment by expanding the dialogue on innovation."