Chinachem conference explores how public and private sectors can foster sustainable development together
Co-organised with Hong Kong Green Building Council, the hybrid conference brought together heavyweight speakers and more than 1,700 attendees
Chinachem's annual sustainability conference explores how public and private sectors can collaborate on decarbonisation
[Sponsored article]
The Chinachem Group Sustainability Conference was held on October 24 at the Nina Hotel Tsuen Wan West, with the theme: Creating Social Impact on the Zero Carbon Journey in Hong Kong.
This year's conference was attended by more than 1,700 people who joined either in person or online. Attendees gained valuable insights into decarbonisation strategies, and practical project experiences were shared by experts from the public, academic, financial, and building and construction sectors.
In her opening address as guest of honour at the conference, Hong Kong's Secretary for Development Bernadette Linn said: "Climate change is an issue we have to overcome, and it is one which no one can tackle by isolated efforts, but by the commitment and collaborative efforts of many industry stakeholders in the move towards a sustainable environment."
Wong Kam-sing, former Secretary for the Environment, reiterated that message, adding that climate change is an enduring issue, and the Paris Agreement on tackling the problem was an important step towards mitigating it.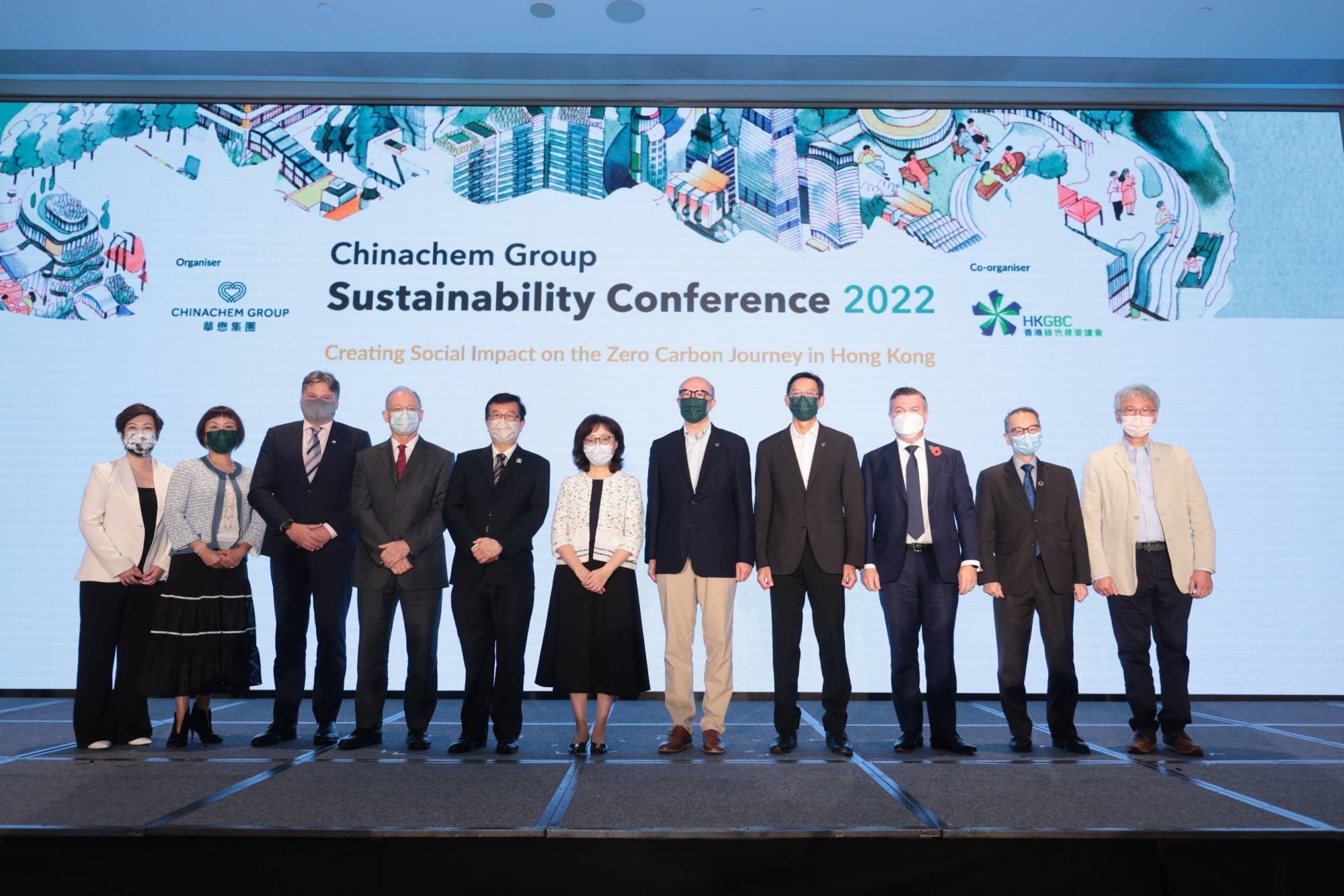 Modular construction reduces carbon footprint in Hong Kong developments
Chinachem Group's Tonkin Street project is the first private high-rise residential project in Hong Kong to use the modular integrated construction (MiC) method, which can significantly improve the quality, safety and sustainability performance of construction work, according to Linn.
The Tonkin Street project is a joint venture redevelopment project between the Urban Renewal Authority (URA) and the Chinachem Group.
"We're excited to learn that the Chinachem Group is planning the second MiC project, of which the number of flats will be 10 times that of the Tonkin Street project. I hope to see many more MiC projects from the private sector to come," Linn says.
MiC as a method of construction allows buildings to be built in sections and assembled on-site so that no extra time is wasted, said Donald Choi, executive director and CEO of the Chinachem Group. The benefits of this technique also include its ability to address issues such as Hong Kong's ageing workforce and labour shortage, while improving site safety and reducing carbon emissions during construction.
"Equally important is that we can improve building quality and reduce defects substantially since we have better control over the quality of the prefabricated modules in the factory," Choi says.
In this year's policy address, the government said it would build more "light public housing" with MiC, and promote the use of the Design for Manufacture and Assembly (DfMA) approach, including MiC, in future Hong Kong Housing Authority projects.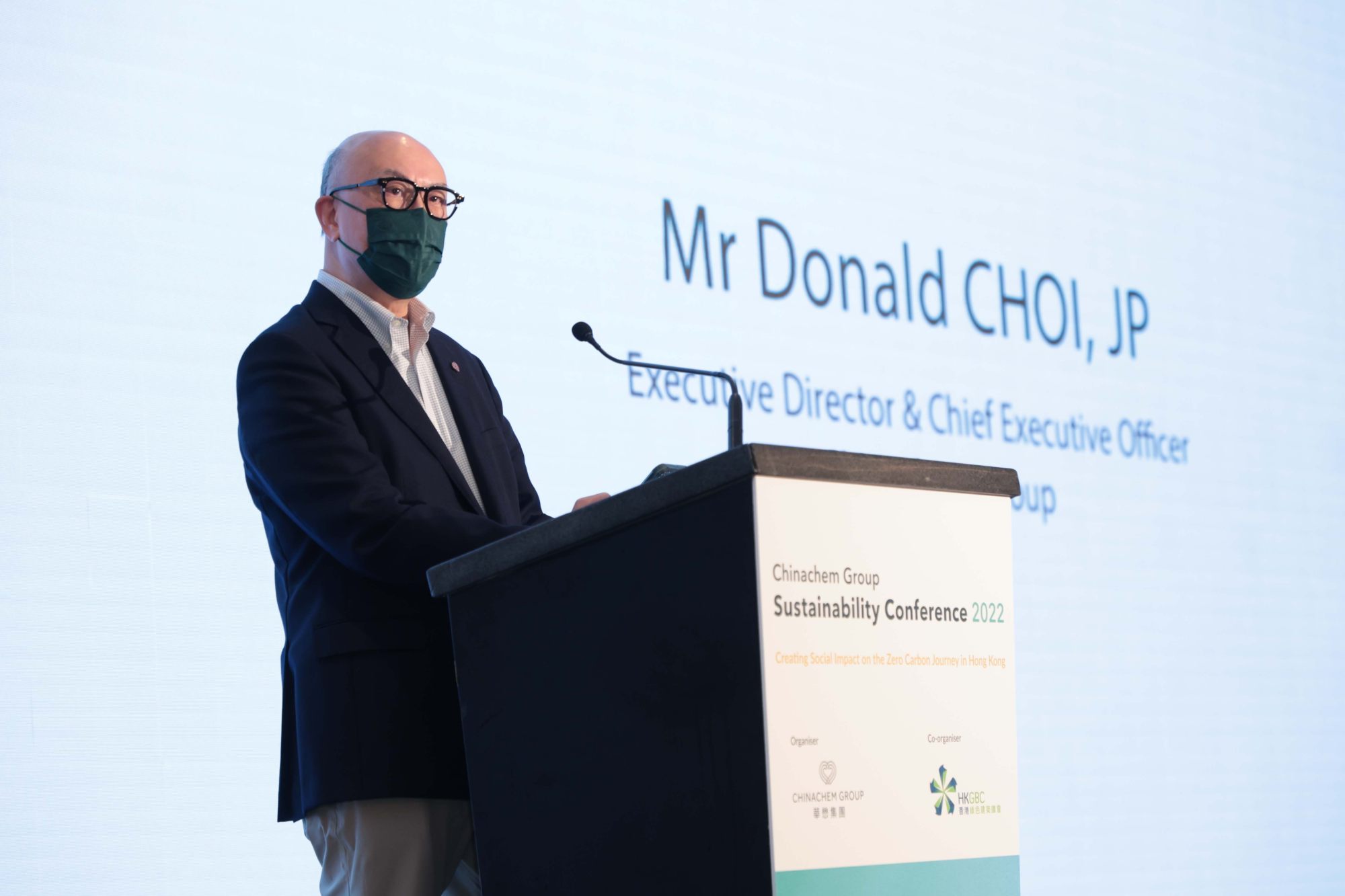 Choi said he welcomes the government's renewed commitment to increasing public housing supply and promoting the use of MiC. But to eliminate a potential bottleneck in production and assembly capacity, he expects more investment to be made to expand the prefab module manufacturing and logistics facilities in the Greater Bay Area.
To bring a positive impact to society that puts people, prosperity and the planet on an equal footing, Chinachem instils a humanistic design into PropTech to foster a better community environment.
The group's views were echoed by Kevin O'Brien, chief executive of Gammon Construction, at the conference. He shared details about his company's MiC projects, including Chinachem Group's Tonkin Street project and a university student hostel at Whitehead in Ma On Shan.
Similarly, Rocco Yim, executive director of Rocco Design Architects and the architect behind the Hong Kong Palace Museum, said the building – which features a unique spatial design that creates a sense of discovery as visitors ascend to different levels of galleries – also includes sustainable features, with a focus on natural light and serenity to improve the environment.
Giving historic buildings a new lease of life
Wan Chai is a historic district, rich in Hong Kong's East-meets-West culture. In the past, the Urban Renewal Authority (URA) has undertaken various revitalisation projects here, including the Wan Chai Market, Lee Tung Street, Woo Cheong Pawn Shop and Wedding City, according to Eric Poon, an executive director of the URA.
During his talk, Poon explained the challenges of historic building preservation – ranging from legal titles to compliance with building standards and construction constraints. He highlighted the importance of stakeholder engagement for a revitalisation project to be successful, and cited the 618 Shanghai Street and Central Market projects as good examples of this.
Central Market is an iconic redevelopment and revitalisation project, with Chinachem serving as the building's operator. Following an extensive public engagement exercise conducted from 2009 to 2011, Chinachem Group's vision is to make it a "playground for all", welcoming people from all walks of life.
Since opening last year, Chinachem Group has hosted or organised more than 700 events in partnership with different organisations, including a miniature exhibition held in June this year, according to Choi. It also serves as a testing ground for start-ups to try out their solutions. The initiative has not only preserved the collective memory of old Hong Kong, but also breathed new life into the community through vibrant new experiences.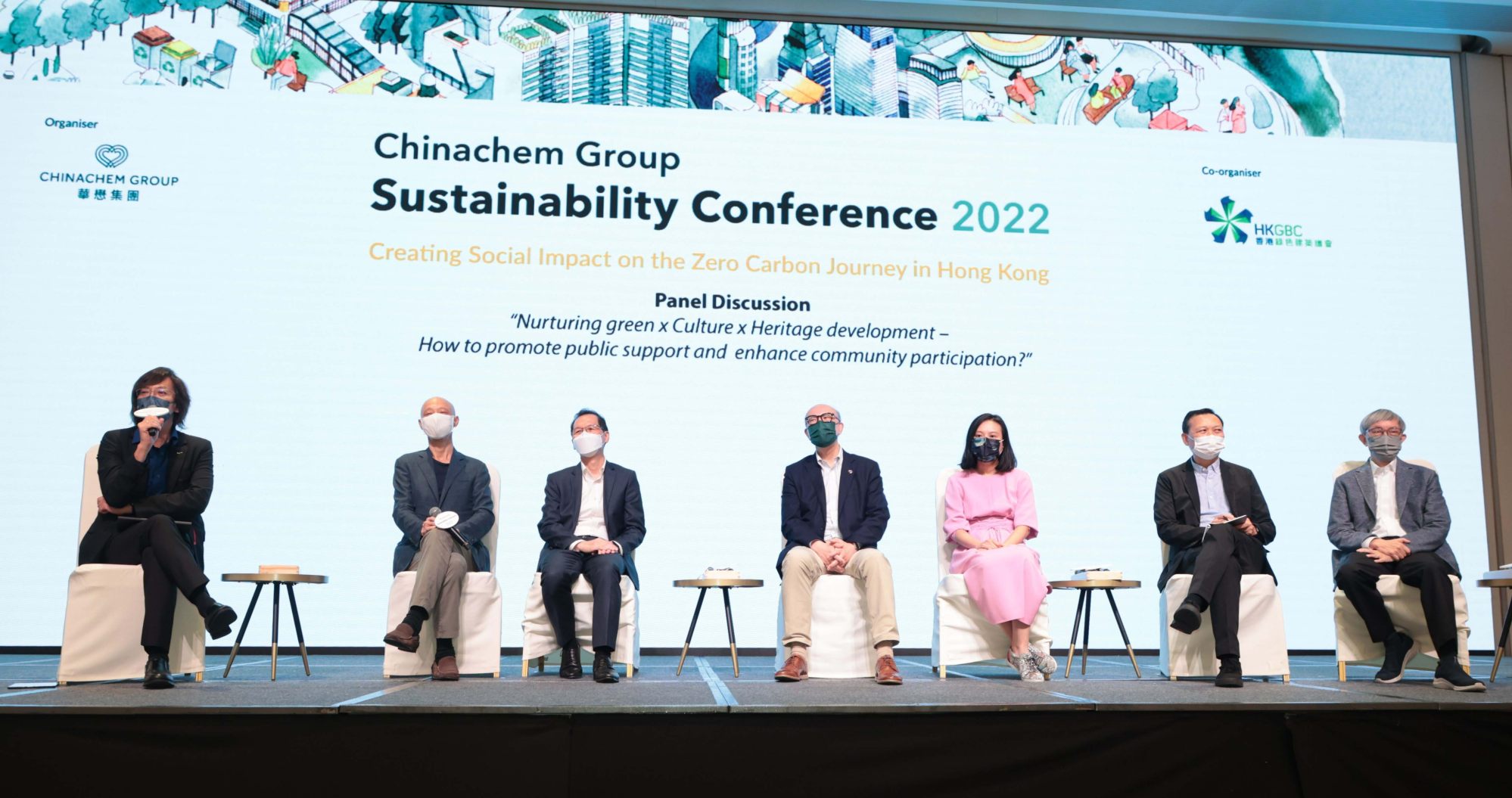 Promotion of eco-tourism
Despite the ongoing development of new urban areas, the preservation of Hong Kong's countryside is also important. According to Stephen Tang, many of Hong Kong's old rural villages hold cultural and historic value, and are worth revitalising to promote eco-tourism. Tang is head of the Countryside Conservation Office (COO), which was set up in 2017 to coordinate conservation projects that promote the sustainable development of remote countryside areas.
Since then, the COO has undertaken a series of projects to enhance countryside revitalisation in Lai Chi Wo, followed by ecological conservation works in Sha Lo Tung.
Eco-tourism in Hong Kong has its limits because of the lack of access to clean toilets, restaurants and places to stay. Therefore, the improvement works done by the COO include liaising with other government departments to issue licences for guest houses and restaurants, and the building of an Eco-smart toilet in Lai Chi Wo Village to showcase how smart technology and eco-friendly design can be integrated to achieve net-zero emissions.
As an eco-tourism destination, the Lai Chi Wo village features a story room, funded by Chinachem. It focuses on four themes of Hakka village life: daily life, wedding rituals, traditional medicine and Hakka folk songs that bring the colourful Hakka culture to life.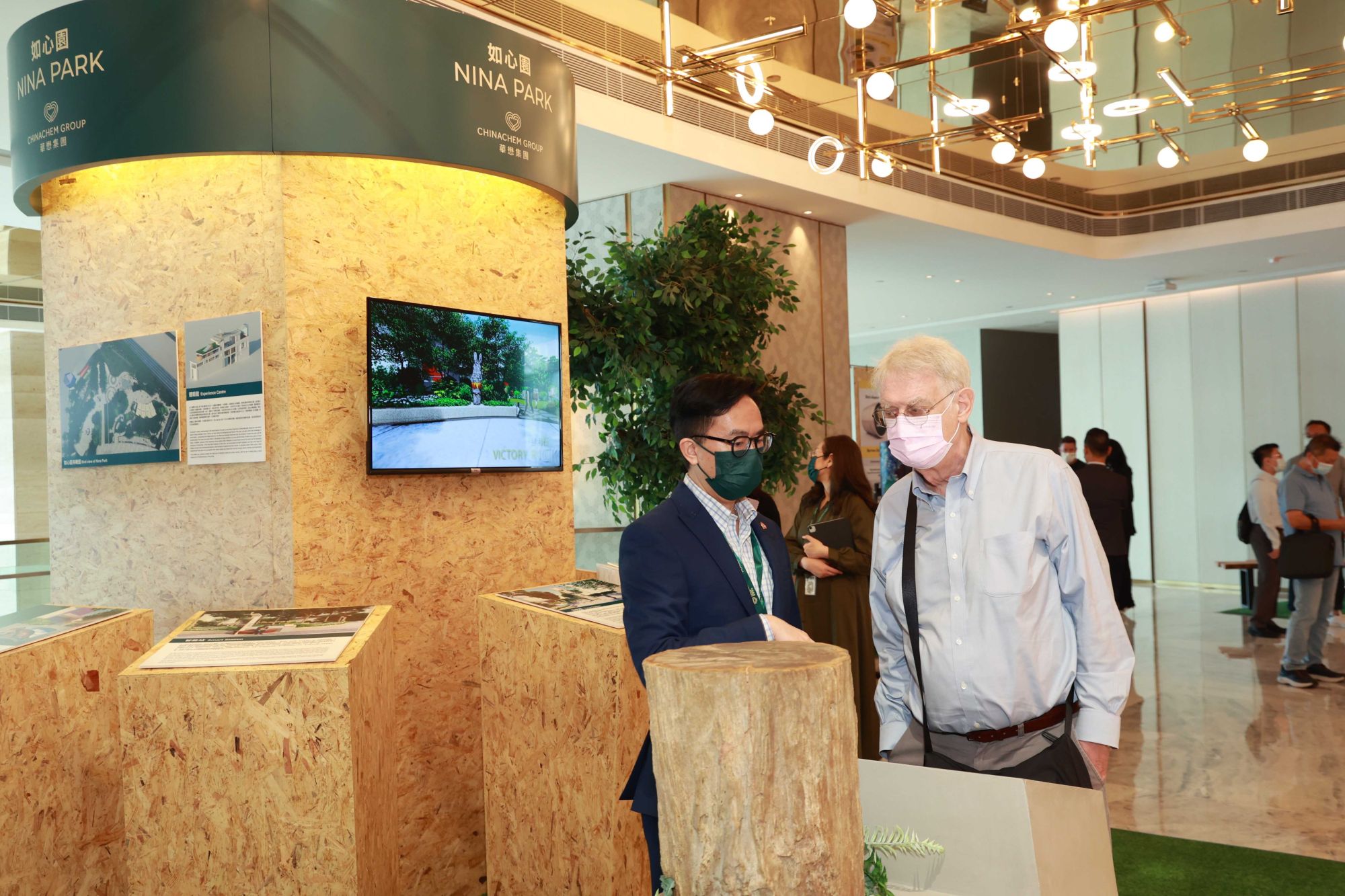 Embarking on a zero-carbon journey
In his closing remarks at the conference, Cheung Hau-wai, chairman of the Hong Kong Green Building Council, said: "The conference has provided a valuable opportunity for many leaders and experts in the green building industry, construction, green finance and heritage conservation sector to gather for a common goal."
He said in order to create a social impact on the zero-carbon journey, it was necessary for everyone to examine how society's different sectors could impact the environment – from the building's life cycle from design, construction and regeneration, to countryside conservation and its interplay with urban development.
Chinachem's Choi remarked that the group had formulated a sustainability framework and road map, including short-, medium- and long-term goals, based on the United Nations Sustainable Development Goals (UNSDGs). The group has also established the CCG3050+ with an ambitious carbon reduction target to cut the group's carbon emissions by more than 50 per cent by 2030 compared with the base year of 2020.
"With these said and done, we want to show the private sector that every business and organisation can play a part in addressing climate change, reducing carbon emissions and creating a more liveable environment for the community," Choi said.