Thailand Eyed as Top Pick for Regional and International HQs
Paid Post:
Thailand Board of Investment
[Sponsored Article]
As Toyota Motor Corp grew to become the world's biggest vehicle manufacturer with operations in more than 170 countries, Thailand was always more than just another market.
Since becoming one of the Japanese automaker's first export destinations with an order for 117 fire trucks in the 1950s, the relationship between Toyota and Thailand has expanded far beyond the borders of Southeast Asia's second largest economy.
Today, Thailand is not only a major manufacturer of Toyota cars and trucks, but is also home to the company's Asian headquarters, overseeing engineering and manufacturing operations in around 20 countries that in 2019 accounted for sales of more than 1.1 million vehicles, or 12 percent of the company's global output. 
Alongside three other regional hubs servicing North America, Europe and China, Toyota Daihatsu Engineering and Manufacturing Co., or TDEM, as Toyota's regional headquarters for Asia is known, is "critically important" to the car maker's global operations, TDEM Executive Vice President Pras Ganesh said in an interview.
Toyota is far from the only corporate leviathan to choose Thailand as a base for international operations. The world's largest food and beverage company, Swiss-based Nestlé SA, is another. So, too, is Huawei Technologies Co., Ltd., China's number one telecoms company and owner of the world's largest portfolio of 5G patents.
U.S. energy major Exxon Mobil Corp., Europe's leading tiremaker, Michelin, the Japanese company that invented instant noodles, Nissin Foods, and BRAND's Suntory, a unit of the world's third largest spirits manufacturer, are among other heavyweights that have also chosen Thailand as their regional headquarters.
Indeed, such is Thailand's attraction that since 2015, 329 multinational companies have taken advantage of incentives offered by the Thailand Board of Investment to make the country their international hub for all or part of Asia and, in some cases, beyond. 
TDEM, Toyota's regional engineering and manufacturing headquarters for Asia, is a prime example, overseeing a region with a population of more than two billion. In addition to the 10 Southeast Asian countries that make up the ASEAN economic grouping – a market of 674 million consumers -- TDEM supervises Toyota's operations in some 10 other countries, including India (1.4 billion) and Pakistan (217 million).  
Based in Samutprakarn just outside Bangkok, TDEM's 2,400 employees, including a strong research and development team, also provide support services to Toyota units as far afield as South Africa, Brazil and Argentina. Toyota vehicles made in Thailand are even exported to the company's home market, Japan.
Asked to explain Toyota's decision to give Thailand such a key role in its global business, Executive Vice President Ganesh points to a heady combination of government support, geographical location, world class connectivity, logistics that include the rapidly expanding Laem Chabang port, and good universities that turn out a highly educated and engaged local talent pool. 
Thailand, he adds, also offers a welcoming environment for expatriate executives. "There are things like schooling, lifestyle, shops and health care that are excellent in quality and service," Ganesh says. "Thailand is an appropriate country and Bangkok a perfect city for a company considering to set-up a regional headquarters."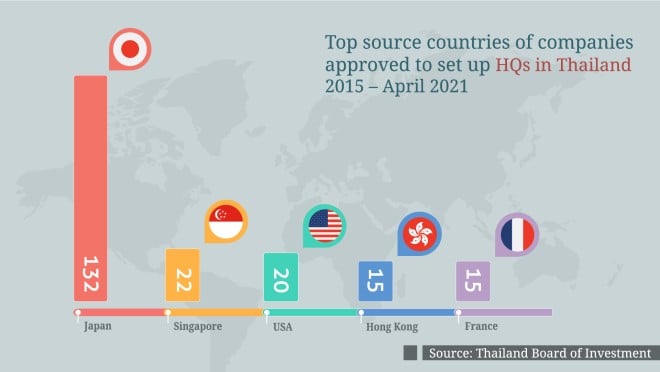 Thailand certainly has a proven track record working with foreign investors to create highly successful regional and global businesses. Over the past 30 years, government strategies and BOI privileges have helped develop Thailand into the world's 11th largest automaker and 13th biggest electrical and electronics manufacturer, according to the International Organization of Motor Vehicle Manufacturers and Thailand's Electrical and Electronics Institute, and a major player in the petrochemical industry. 
Leveraging on its bountiful agricultural advantages, Thailand also has become one of the world's most important food exporters. Similarly, its high quality, reasonably priced health system has provided a springboard to develop the country into an international medical hub.
Many of the companies that have already embraced Thailand as a regional HQ reflect both those existing strengths and future prospects. BOI data shows that in the past five years, 25 percent of them are in the automotive and electrical and electronics fields, with the food, technology and medical services sectors also prominent.
China's Huawei says it wants to be part of Thailand's digital future and regional ambitions. The tech giant first opened a representative office in Thailand 22 years ago and established its ASEAN headquarters there in 2016. In 2017, Huawei established an open lab in Thailand and in 2019, it launched the region's first 5G test bed in Thailand's high tech Eastern Economic Corridor (EEC). Today, it employs 3,200 people in Thailand – 88 percent of them local hires -- and has opened a Huawei ASEAN Academy in the EEC that aims to train 30,000 more digital workers within the next three years.
In a presentation to an investment webinar in March, Huawei Technologies (Thailand) Chief Executive Officer Abel Deng described the Kingdom as the most advanced country in ASEAN in terms of rolling out 5G technology. 
He also predicted that up to 70 percent of Thai companies would migrate to the cloud within three years and noted Huawei was about to open its third cloud data center to help the country meet its goals. That investment, he added, was paying off. "Cloud services last year in Thailand were the best in the Huawei ecosystem globally in 140 markets," Mr Deng said. "We have a great business and investment climate here."
Companies seeking to locate their regional or global headquarters in Thailand can qualify for government-awarded privileges if they are classified as an international business center, or IBC. This refers to a company incorporated in Thailand that provides managerial and technical support or financial management services to its associated enterprises, whether located in Thailand or overseas.
If approved, the Thailand Board of Investment and Revenue Department can offer a suite of incentives that include reduction in corporate and personal income taxes, exemption of import duty on machinery for R&D and training purposes and so-called smart visas that streamline immigration formalities for key talent.
Over the past 30 years, food and beverage giant Nestlé has worked closely with the BOI as it has grown its business 10-fold while opening seven factories in the Greater Bangkok area and setting up a regional headquarters named Nestlé Indochina to oversee its operations in neighboring Myanmar, Cambodia and Laos as well as Thailand. The company also exports to more than 50 other countries, including its home base of Europe.
"The one-stop service offered by the BOI is superb," says Nestlé Indochina Corporate Affairs Director Nophadol Siwabutr. "Most of our big factories were built with their help."
Nophadol says Nestlé's confidence in Thailand as a regional headquarters is reflected in an ongoing $150 million investment in three factories manufacturing UHT (ultra-high- temperature-treated) beverages, ice cream and pet food – a sharp increase on previous annual spending despite the Covid pandemic. In total, Nestlé Indochina employs 3,500 people and ranks among the more important of the 130 countries and regions in which the parent company manufactures or sells its products, he adds.
A 35-year Nestlé veteran, Nophadol says the Indochina business has no problem attracting top talent. "And the quality is getting better," he says. He is also encouraged by the diversity of the expat and local management team.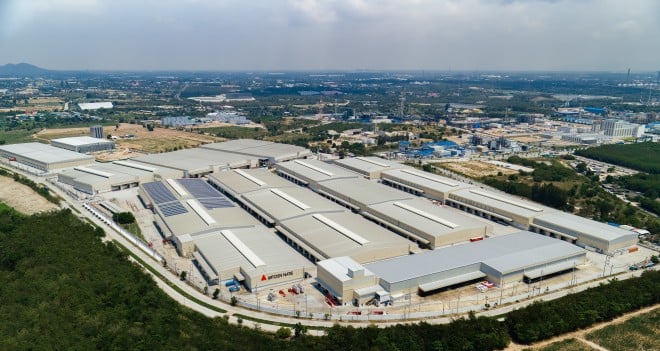 Even foreign companies that don't use Thailand as an international base say their Thai businesses are benefiting from the trend. Katoen Natie, a global logistics company based in Antwerp, Belgium, moved into Thailand 23 years ago to service one customer and today operates 425,000 square meters of warehouse space serving 40 major multinationals.
"When you look around Southeast Asia, the infrastructure here really is the best," says Katoen Natie Thailand Managing Director Arnaud Derbaudrenghien. "You see top standard ports that handle tremendous volumes, are well connected by road and the government is now investing heavily in rail. Companies moving to Thailand to have regional headquarters find it very beneficial. You can really see they don't regret their choice. You get great connectivity by sea and inland transport."
Back at Toyota's Asian headquarters, Executive Vice President Ganesh reflects on his company's experience as a case study for other multinationals considering Thailand as their regional base. "It shows that Thailand is definitely the place from which you can cover a broad region," he says. "Our employees here have become very global in scope and focus."
Learn more about Investment in Thailand
here