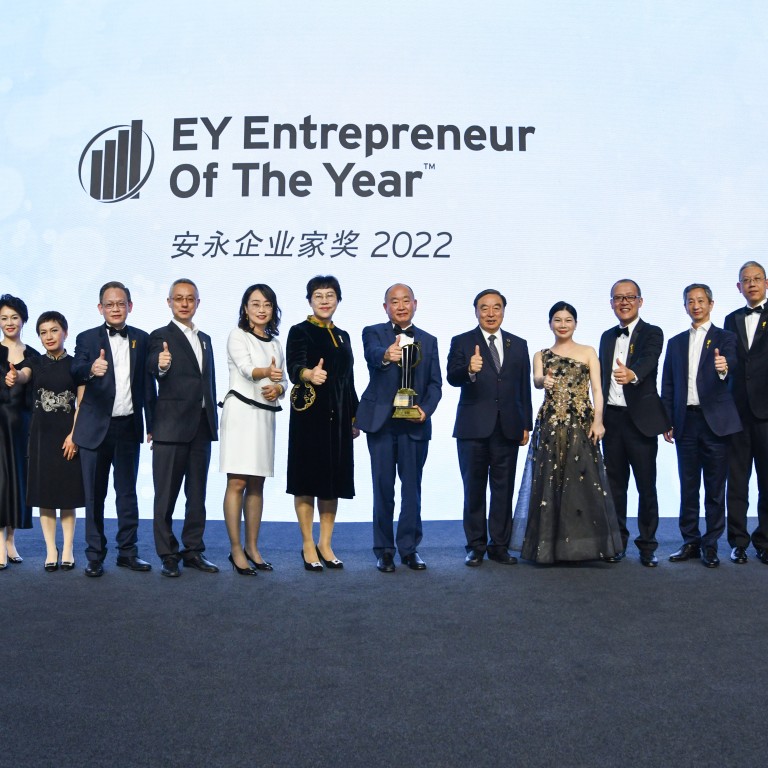 Entrepreneurs honoured for enhancing vitality through innovation
The prestigious EY Entrepreneur of the Year (EOY) Awards 2022 celebrates the spirit, wisdom and success of Chinese entrepreneurs at a time when China embarks on a journey to build a modern socialist economy
[The content of this article has been produced by our advertising partner.]
Ten visionary entrepreneurs from Chinese mainland and Hong Kong/Macau have been rewarded for their exceptional contributions to establish a collaborative, efficient, and seamless innovation ecosystem in this year's EOY Awards programme. Among the winners, two were named winners for Chinese mainland and Hong Kong/Macau respectively.
Under the theme of "Unleash vitality; Embrace innovation", this year's accolade is particularly significant as China has recently mapped out the blueprint to achieve its second centenary goals at the 20th National Congress of the Communist Party of China in October. The roadmap has reinforced the objectives of the current 14th Five Year Plan (2021-25) which put emphasis on innovations and low-carbon as the core of the country's economic development. 
The EOY Awards programme is one of the world's most prestigious business awards. Since its launch in 1986, the programme has grown to more than 145 cities in 60 countries and regions, recognising more than a thousand of the most successful and innovative entrepreneurs around the world. The programme was launched in 2006 in Chinese mainland, Hong Kong and Macau and has since become an esteemed accolade in the region.
"For the past 17 years, the EOY Awards programme has centred on the new features and requirements of China's development, with the aim of fostering the growth in the country and sharing the success stories of Chinese entrepreneurs. Through this programme, we examine the essence of entrepreneurship, recognise the contribution made by entrepreneurs and to encourage them to play a bigger part in the economic and social development," said Jack Chan, EY China Chairman and Greater China Regional Managing Partner, at the EOY awards ceremony held earlier in Shenzhen.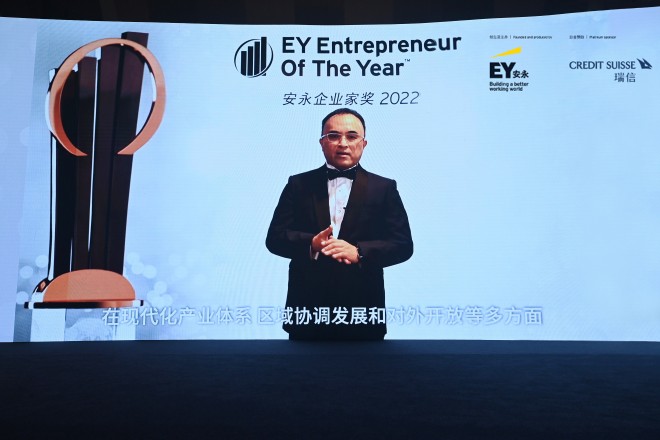 Chan said in China, a new development paradigm is fast taking shape, fuelling high-quality growth as well as the emergence and application of innovative technologies; and that a strong foundation is laid for Chinese enterprises to leapfrog their growth into a much broader space.
Michael Bi, EOY 2022 award Co-chairman and EY Greater China Markets Managing Partner, said China's economy is steadily and confidently progressing toward high-quality development. "Entrepreneurs embrace a new mission of becoming leaders in innovation, not only transforming their enterprises into innovation powerhouses, but also proactively strengthening collaboration, streamlining industrial supply chains and injecting vitality into China's high-quality economic development."
Bi's view is shared by William Huang, EOY 2022 award Co-chairman and EY China South Managing Partner. "Over the years, the awards programme has remained committed to identifying and recognising the most successful and innovative entrepreneurs. By honouring their successes, we hope to inspire more entrepreneurs to scale new heights," he added.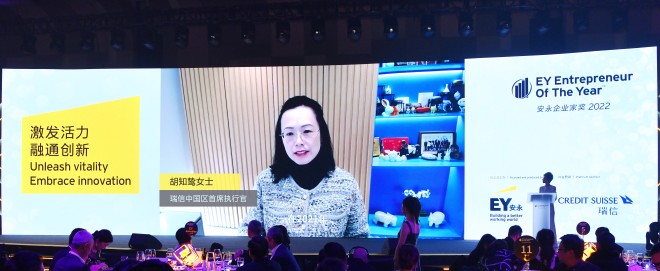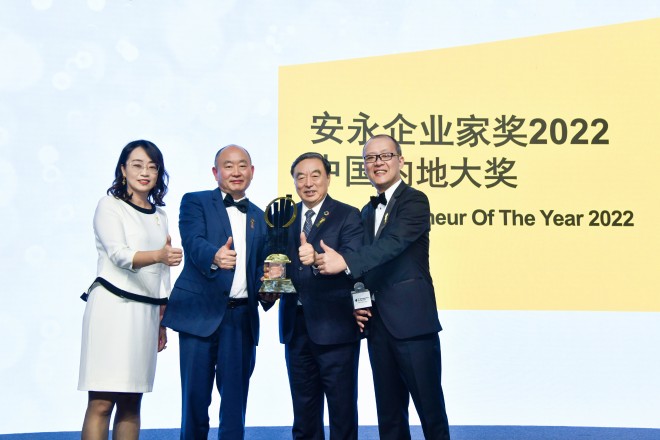 Winners of this year's EOY Awards resemble a cross section of the country's innovations-led industries. Among the 10 recipients, four come from the Technology category. Annie Qiu , Global CEO of Guangdong Dongfang Precision Science and Technology, was honoured for developing his company into a leader in holistic intelligent manufacturing solutions for packaging and printing equipment; Rong Xiuli, Chairperson of Vanchip (Tianjin) Technology, for specialising in high-performance 2G to 5G radio frequency (RF) front-end chip product solutions; Hui Wang, Chairman and Founder of ACM Research (Shanghai), for integrating various functions into semiconductor cleaning technology and equipment; and Zhou Kang, Co-founder and Chairman of the CNISP Group, for offering value-added services such as data centres and content distribution. 
From the Health Sciences and Wellness category, Du Jinhao, Chairman of Shanghai Allist Pharmaceuticals, was awarded for developing best-in-class medicines for tumour treatment; Yan Jianya, Executive Director, Chairman of the Board and CEO of Giant Biogene Holding, for focusing on functional skincare products, medical dressings, and special medical products; and Danny Yeung, CEO and Co-founder of Prenetics Global, for specialising in genetic and diagnostic testing.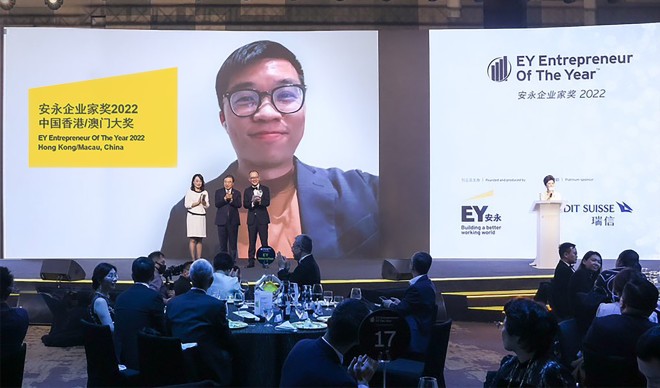 From the Consumer Products category, Wesley Ng, Co-founder and CEO of CASETiFY, was credited for turning phone cases into a global tech accessories industry; from the Industrial Product category, Shen Genlian, Chairperson and Founder of Sichuan Huanlong New Material, for building China's largest natural colour bamboo fibre research and development base; and from the Services category, Steven Lam, Co-CEO and Executive Director, Co-founder of GOGOX, was praised for creating Asia's first logistic platform to facilitate the transportation of freight and goods. 
Among the 10 winners, Hui Wang of ACM Research (Shanghai) was named winner for Chinese mainland and Steven Lam of GOGOX was named winner for Hong Kong/Macau. The two winners were recognised in particular for their entrepreneurial spirit, determination and innovation in steering industrial changes and enterprises transformation in the new era, bringing vitality to high-quality economic development.
Commenting on this year's EOY Awards winners, Chan said they stand out for their ability to seize opportunities and their courage to take on challenges in a complex market landscape. "They are dedicated to achieving technological breakthroughs, strengthening their competitive edge and contributing to the country's innovation-driven development strategy. They are the leaders in the industrial ecology that is driving integrated development as an integral part of China's modern industrial system." 
EOY winners are chosen by an independent judging panel which comprises leaders from industrial, business and financial sectors, well-respected figures from the community and previous award winners.