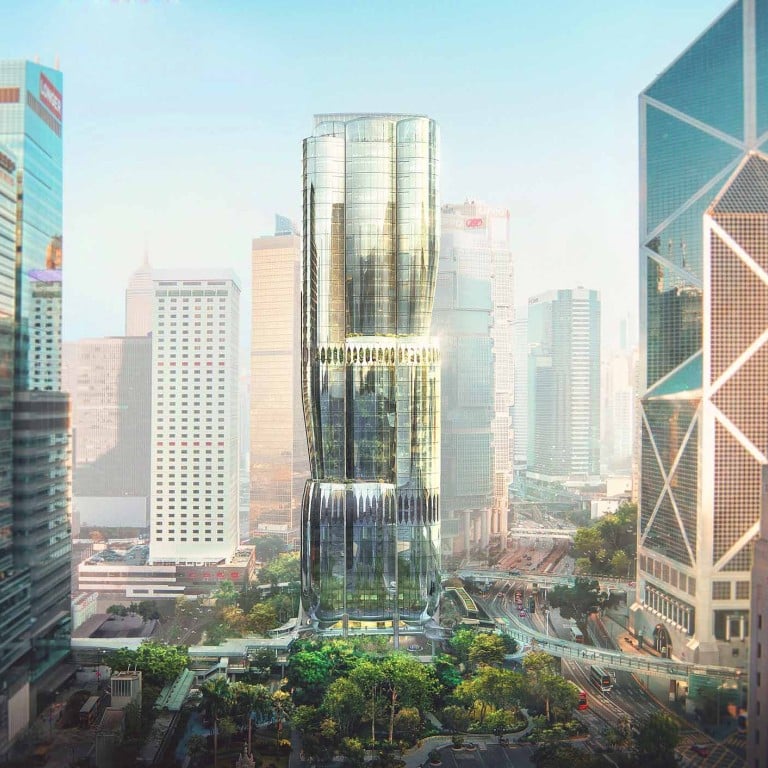 See how Henderson Land takes ESG betterment into the future
[Sponsored Article]
Its industry-first partnership programme that engages both corporate tenants and their employees will raise the bar when they move into Henderson Land's flagship commercial development in Central, set for completion in 2023.
Advancing sustainability
With investors and regulators increasing priority on environmental, social and governance (ESG) issues and the COVID-19 pandemic reinforcing the importance of these matters, companies are responding to the growing demands with enhanced measures in this area.
Hong Kong-listed Henderson Land Development Company Limited's newly launched "Landlord-Individual-Tenant (LIT) ESG Partnership Programme" for The Henderson, the 465,000-square-foot super Grade-A office tower in Central designed by the world-renowned Zaha Hadid Architects, will make the industry sit up and take notice.
The programme is a three-way collaboration that incentivises tenants and their employees to pursue sustainability goals and participate in ESG-positive efforts using rewards. Furthermore, participating tenants can effectively track, analyse, and quantify their ESG performance via The Henderson's next-generation big data and intelligent management platform for ESG reporting.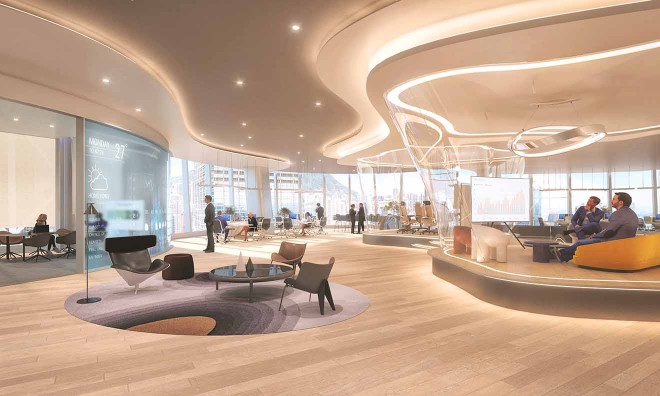 To Henderson Land, this pioneering initiative harnessing smart and innovative technologies reflects the Group's commitment to advancing sustainability and driving a collective lifestyle change towards ESG betterment. "Sustainability is fundamental to building a better and more liveable future for all," Chairman Dr Martin Lee Ka-shing explains. "We hope to realise a smart, sustainable workplace of the future at The Henderson through this all-round ESG Partnership Programme, which reaffirms the Group's aspiration to reshape the current ESG landscape in the property sector and champion industry-leading sustainable practices."
Taking a great stride forward
This Programme sets itself apart because it brings both tenants and their employees into the picture, rather than just one party, as in current industry practice. Participants can easily track and manage their ESG-positive actions and contributions through the "Smart Office" mobile app. This one-stop platform leverages bespoke big data systems and records tenants' overall ESG performance.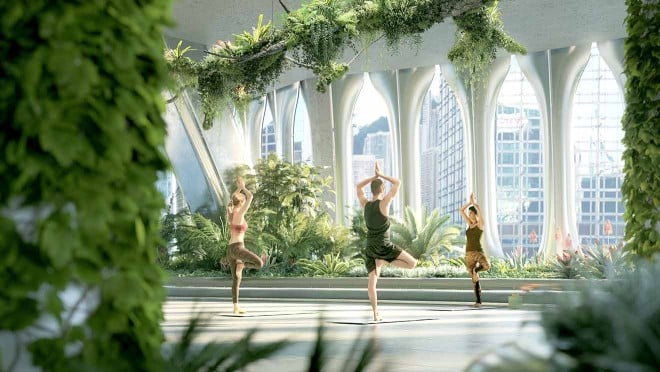 Their efforts will be evaluated by four key drivers - Carbon Neutrality, Health and Wellbeing, Partnership for Good, and Integrated Culture, with participants rewarded with "HEND COINS" upon reaching specific sustainability milestones. The redeemable tokens benefit all participants directly, incentivising both tenants and their employees to up their ESG game and embark on a shared sustainability journey at The Henderson together.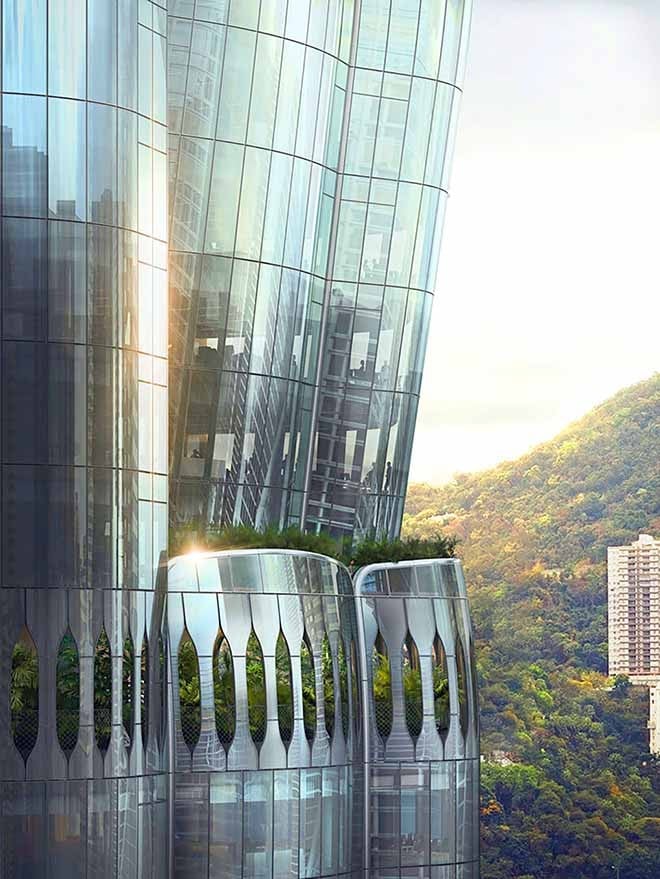 Located adjacent to Hong Kong Park and Chater Garden, The Henderson is set to become "an icon amongst icons" for its cutting-edge building design with a sculptural glass façade (a first for Hong Kong) that looks like a flower bud about to blossom, and its sustainable construction technologies. The development has already received numerous prestigious awards, including the Grand Award (New Buildings Category: Projects Under Construction and/or Design - Commercial) at Green Building Award 2021.
The achievements bode well for The Henderson with its vision to become a smart, sustainable workplace for the future. One where world-class and like-minded business pioneers and leaders, such as anchor tenant Christie's auction house, craft their future. The industry-first (LIT) ESG Partnership Programme, with its all-embracing ecosystem, will prove to be a big draw for others considering a move to this architectural landmark with sustainability and innovation at its core.
Providing crucial data for ESG reporting
Publicly-listed corporates should also bear in mind that the Programme's crucial data will help them determine their best ESG strategy. The Henderson's data management system is powered by the state-of-the-art Digital Twin technology that creates a virtual smart building "twin" of the physical property. Through its advanced IT infrastructural support, integrated Building Information Modelling (BIM) and Facility Management System (FM Portal), the system enables a full spectrum of crucial data covering 12 ESG aspects, including energy, carbon and waste management, to be mapped out in real-time and provided to tenants.
They can make use of this comprehensive data pool that is essential not only to local and international ESG sustainability assessments such as the Hang Seng Corporate Sustainability Index (HSSUS), the Dow Jones Sustainability Indices (DJSI) and the MSCI ESG Indexes, but also to ESG reporting disclosures, such as Hong Kong Exchanges and Clearing Limited (HKEX) ESG Reporting, the Global Reporting Initiative (GRI) and the Task Force on Climate-related Financial Disclosures (TCFD).
Companies that perform well in ESG terms are going to outperform their competitors. And the workplace is a good starting point to integrate ESG into their operations and strategy. The Henderson is a win/win proposition for those seeking a premium address in the Central Business District.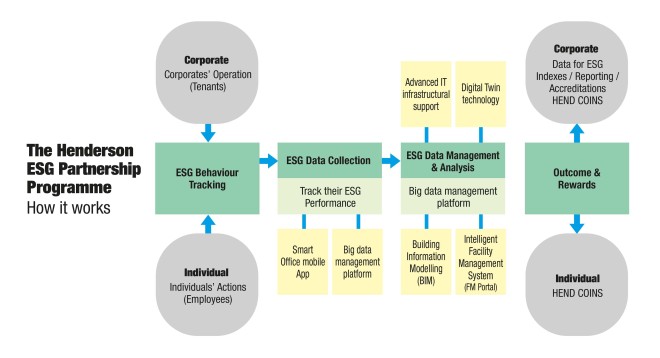 This content has been created under the direction of an advertiser. It contains no editorial input or review from the South China Morning Post (SCMP), nor does it reflect the position of, or the editorial standards used by, the SCMP. The advertiser has paid for and approved the content.