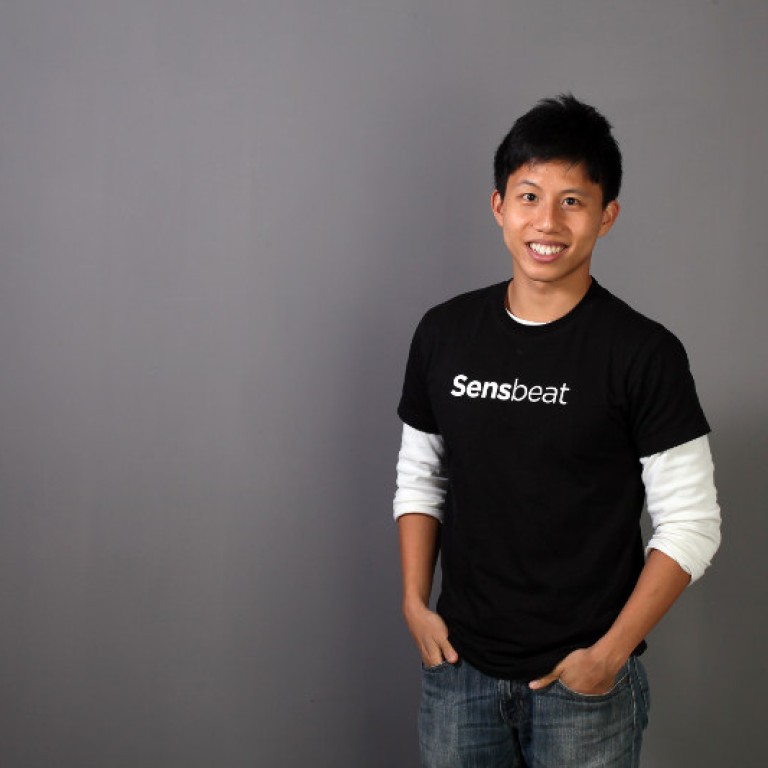 HKUST helped Sensbeat CEO launch a successful business
Walt Disney once said that "All our dreams can come true if we have the courage to pursue them." That is certainly true of the young graduates from the Hong Kong University of Science and Technology (HKUST), who founded Sensbeat in 2014.
"Act fast when opportunities come. Don't wait a second longer," says Leo Wong Lu Yeung, the 25-year-old co-founder and CEO of Sensbeat. Wong raised US$1 million from six local and overseas investors in just two years to build a social networking platform, now marketed as omv (which means "oh my video"). On omv, users can share videos and emotions associated with the music they are listening to.
The story began in 2013, when Wong was staying in Spain on an exchange programme during his third-year of business studies at HKUST. Wong had some sentimental feelings after listening to an English song while visiting Switzerland for a holiday during the trip. He wanted to share his feelings about the music with friends over the internet, but there was no way of doing it.  
"We have Facebook and Twitter to share messages, and Instagram to share photos. But there is no way to express the emotions we have that are associated with music. At that moment, I became passionate about creating an app that could express this," he says.
After returning to Hong Kong, Wong began to look for a partner who was able to write the necessary code. He met Ben Chan, who was studying computer science and business at HKUST. Later they were joined by Conrad Lo, a finance student at HKUST. The trio decided to launch a start-up to develop and market Wong's idea. They named the company Sensbeat.
"Music inspires a thousand pictures, and expresses the feelings in our hearts," says Wong. "A song is always changing, as the situation, and the feelings, of the listener make it a different experience for everyone. We offer a platform to share a 'beat', like a tweet in Twitter, on the app and on social media. It leverages the power of music, and connects people through a universal language."
To plug themselves into the word of business, the team decided to enter some international competitions. They were judged the champions of the Hong Kong Young Entrepreneur Challenge in 2013, and won the Grand Prize (International Category) in the Ignite Entrepreneurship Challenge, which took place in Brunei same year. Sensbeat was also chosen as one of the globally "Top 5 Most Innovative Apps" in GMIC, the largest mobile internet conference in Asia, in 2014. It was the youngest team to be chosen from Hong Kong, and the youngest team from all of Asia.
The company gained international recognition through these events, and was consequently exposed to professionals and investors around the world. As a result, they were able to secure a funding of US$1 million from investors impressed by their creativity, enthusiasm, and persistence. The global outreach broadened their horizons, and allowed them to learn from top-notch entrepreneurs.
Shortly afterwards, the three co-founders were joined by two other HKUST students, Vincent Wong and Roy Tang, and Calvin Chan, a student at Chinese University.
"We rebranded the app as omv, and it will officially launch in January 2016," says Wong. "We're targeting users aged between 13 and 25 in Hong Kong and the mainland at first, as Chinese songs and lyrics are most touching of all."
The initial version allowed users to associate songs with photos, but the omv app allows them to pair a song with a self-made video. The video can be easily imported to the mobile app, and added to a clip from a pop song. The app features a wide selection of preset songs, each lasting 20 to 30 seconds. Users choose their favorite songs, and lyrics show on the video to reflect their feelings. The video can then be exported for sharing on the platform.
Earlier in 2015, Sensbeat was the youngest team to be admitted to the Plug and Play accelerator in Silicon Valley. Wong says they have learned a lot from the experience, and also received support and encouragement during the process.
Wong also praises the support he got from HKUST. "If I hadn't been at HKUST, none of this would have happened," he says. "The university equipped me with a global mindset and made me think in an international way. I met teachers and students from different parts of world, and they triggered my passion, and gave me the courage to be an innovator. The overseas exchange trip helped me to see how wide the world really is."
"HKUST also has the highest number of business students out of all universities in Hong Kong and that allows me to get to know, and learn from, the best business talents," adds Wong.
Wong appreciates the professional opinions about business management, marketing and promotion his lecturers shared with him at HKUST. They also referred him to various entrepreneurs for additional learning and networking purposes, he says. The HKUST library provided Wong with a knowledge base for setting up Sensbeat, and the campus provided the founders with a place to meet before they set up their Sheung Wan office. Sensbeat is also the "youngest" offsite company at the Cyberport incubator.
Wong says that his view of life also helped make him a successful entrepreneur. "There are uncertainties when you start a company, but every bump in the road makes you grow, and that process makes you stronger every day," he notes. "Only when you are happy with what you are doing can you produce something people really love. Be determined, do something exciting, and make a positive impact."
The most important factor in success, adds Wong, is good health. "Plenty of exercise and sleep enable me to relax, stay confident, and keep on the ball," he says.