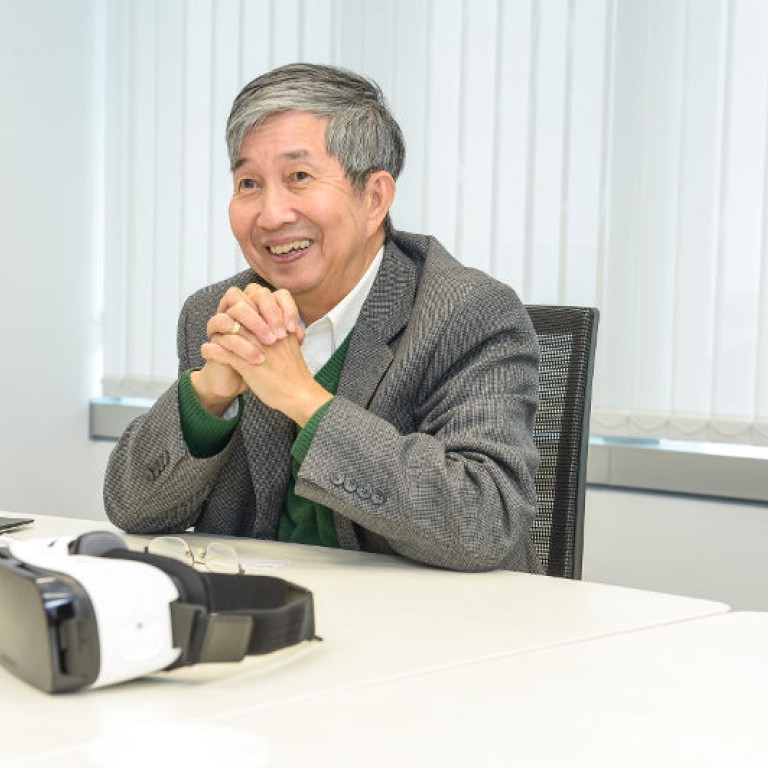 Professor Ching W. Tang has changed the way we look at television
Ambition is the path to success, and you need persistence to stick to that path. No one understands this better than Professor Ching W. Tang, the inventor of the organic light-emitting diode (OLED), an eco-friendly invention which gives a refined viewing experience by delivering extraordinary crispness and visual quality. Tang realised the possibilities of OLED in the 1980s, but it took over a decade of hard work for his research to come to fruition.
The uninitiated may regard OLED as an interesting invention that's confined to university laboratories. But that's far from the truth, as there are many real-world applications for the technology. Now that a television screen can be made of an ultrathin "wallpaper", mounted on a wall, and curved to give a range of viewing angles, the invention can be applied widely.  
OLED offers superior light and colour expression because it's based on self-emitting light sources. Its flexibility and transparent nature helps designers to innovate.  As it doesn't need a backlight or other auxiliary layers, the OLED display is fundamentally less complicated than liquid crystal display (LCD), and in time, it will become less costly to manufacture. That's why it's starting to replace LCD in smart phones, computers and televisions.
Tang, who was born and raised in Hong Kong, is known internationally as the "Father of OLED".  He received his PhD in Physical Chemistry from Cornell University in New York in 1975, and joined Eastman Kodak, the famed film manufacturing company, as a research scientist that year. Tang was named Distinguished Fellow of the Kodak Research Laboratories in 2003.
He joined the University of Rochester as the Doris Johns Cherry Professor of Chemical Engineering in 2006, and became part of the HKUST Jockey Club Institute for Advanced Study in 2013. He was the first Chinese recipient of the renowned Wolf Prize in Chemistry, an award considered second only in prestige to the Nobel Prize, which he received in 2011 for his discovery of OLED.
The OLED story was not written in a day. Its origin dates back to the 1980s, when Tang started working on organic electronics at Eastman Kodak. His seminal paper on OLED technology was published in 1987 in Applied Physics Letters. With over 10,000 citations, it is the most cited paper in the history of this highly regarded journal, which is published by the American Institute of Physics.
But the growth of OLED was not as fast as expected. "We had to overcome many technical hurdles, especially regarding the efficiency and lifespan of the device. There was no real-life application of OLED at that time," says Tang. "But I just kept trying, and carried on publishing articles about OLED."
Tang's perseverance started to pay off in the 1990s when he was invited to deliver a speech in Japan. After that, all the major Japanese technology companies attempted to apply the superior flat-panel display OLED facilitates to their products. Pioneer led the way in 1996 by developing a monochrome OLED display, and this was subsequently incorporated into commercial car stereos.
The first-generation products were all passive-matrix OLEDs. Although they were easy and cheap to make, they were inefficient, and the OLED materials had a low lifespan due to the high voltage needed. Displays were also restricted in resolution and size.
The need for higher density and a better resolution drove the development of a totally different type of OLED – active-matrix OLED (AMOLED), which has no restriction on size or resolution. In 2003, Kodak released the world's first AMOLED product, a digital camera.
AMOLED has since been widely used in a variety of electronics products such as smartphones, tablets, and televisions, in which it has improved the resolution of the display. In 2013, LG launched the world's first commercially available curved and foldable OLED TV, which creates a panorama effect that would be impossible with flat-panel TVs. This gives viewers a more immersive viewing experience.
In spite of its successes, Tang says that the OLED story is far from over.  "The next big wave will be virtual reality," he notes, holding the latest OLED VR video glasses. These combine high-quality 3-D movie images with impressive stereo sound which emits from a head-mounted micro-display. "Believe it or not, this new-generation gadget has achieved an extremely high resolution of 20 million dots. The ultra-high speed of OLED also guarantees a seamless display," says Tang.
Virtual reality applications will ultimately extend past   entertainment into many other areas, the professor notes. "The day will come when virtual reality is widely adopted in medical applications to save more lives, as well as in areas we've never dreamed about. That's all because of OLED," Tang notes. He quotes the example of photodynamic therapy, which combines light with chemicals to derive medical benefits.
The invention of OLED holds some life lessons, too. "We only live once, and there is no life afterlife," says Tang. "Our days are limited, so we must do our best to experience life, and we must always try something new." That's why Tang always insists on sampling famous local delicacies when he travels.
Along with sharing his knowledge and experience as a professor at HKUST, Tang is helping to develop the newly established State Key Laboratory on Advanced Displays and Optoelectronics Technologies at the university. He wants to make further advances in OLED technology, and create more new technologies for the world.
So what does Tang think about Hong Kong students? "Local students are nice, but they only seem to follow instructions, especially when they are doing their assignments," he says. Tang thinks that students need to get more involved with their subjects and develop a passion for them. "But of course, before we can get beyond the box to explore the world, we have to know what is inside the box," he adds.
OLED is an example of a revolutionary technology. It's going to change the way that we see things, and give us a greener world to live in. Tang and his invention should inspire us to look into future and dream.