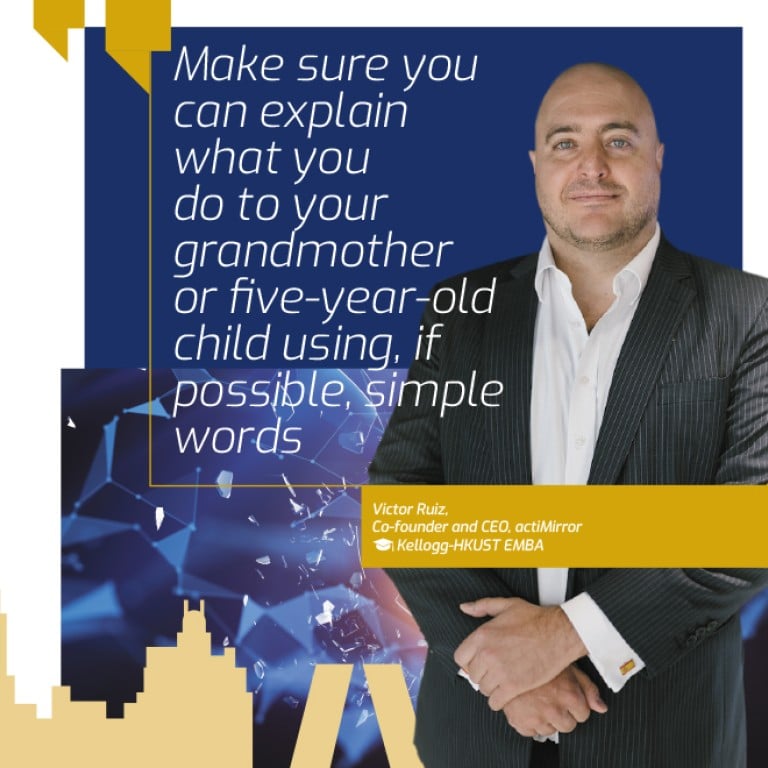 HKUST EMBA alumnus Victor RUIZ revolutionizes shoppers' experiences with smart mirrors for fitness, retail, smart living, and other verticals. His company actiMirror evolved from a Hong Kong startup to the world's leading company in its segment.  He advises against designing a product to do everything. 
Paid Post:
HKUST Business School
[Sponsored Article]
Tech entrepreneurs often have ambitious personalities and big imaginations. They want to develop products with many functionalities to serve different customer segments.
But according to seasoned entrepreneur Victor Ruiz - Co-founder and CEO of actiMirror, and an alumnus of the Kellogg-HKUST Executive MBA (EMBA) Program - it's better to "keep it simple". Although it's tempting to design a product which solves multiple problems, successful products are usually highly focused, he says. 
Ruiz speaks from experience. At the beginning, Ruiz and his co-founder Fulvio RIVA had the idea of developing smart mirrors to offer real-time personalized consumer experiences and data analytics insights. They obtained financing, and formed an advisory board and a team. But there were many different uses for smart mirrors, and their initial business model featured too many functionalities. "It was too complicated", he recalls. 
"Always aim for simplicity," Ruiz says. "Make sure you can explain what you do either to your grandmother or to your five-year-old child using, if possible, simple words." 
Get the MVP right
It is crucial to get the minimum viable product (MVP) right, Ruiz says. Ruiz's startup actiMirror offers smart mirrors which are enabled by Artificial Intelligence, Data Analytics, apps, cloud technology and content management systems. In a retail setting, smart mirrors can deliver personalized consumer experiences to increase in-store traffic and sales. For example, it takes less than two seconds for the mirrors to estimate the shopper's age, gender and even mood to show customized products, promotional videos or advertisements targeting the shopper's demographics.  And all is done in a 100% General Data Protection Regulation (GDPR) compliant manner.
After working on the right MVP, Ruiz was able to describe his smart mirror in a very clear and succinct manner as "an oversized smartphone" offering five key product features: a scalable open platform, a combination of digital technologies, innovative customer journeys, a true mirror [very important indeed according to Ruiz], and a truly scalable price point [even more important]. 
Ruiz's business grew from that first MVP, and the company has become an established technology provider in the retail sector. The company now has a portfolio of renowned clients and brand partners. Recently, actiMirror helped AW Rostamani, the Dubai-headquartered conglomerate, with product availability and inventory tracking in different retail locations. AW Rostamani's brands include American Rag, Angels, Vhernier and Georg Jensen. 
Ruiz's smart mirror startup is now ready to expand to different sectors, and as such the company is currently raising its pre-Series A fundraising round. The proceedings will be used to consolidate its recently launched "Fitness" line that is already getting considerable traction in the European Union, with Ruiz personally leading the company expansion. 
When using the smart Fitness mirrors, customers enjoy Artificial Intelligence personal trainers. They can take à-la-carte tutorials or compete in real-time from your home, gym and hotel with users in other locations through an interactive display with an embedded camera and speakers. All they have to do is to get a yoga mat to start a high-energy workout!
The company also plans to use pre-Series A proceedings to launch its "Smart Living" solutions in 2020 offering smart mirrors for bedrooms and bathrooms with infotainment functions, home automation controls and personalized health functions. 
A holistic view of business
Born in Madrid, Spain, Ruiz is grateful with the Kellogg-HKUST EMBA Program for providing him with a holistic view of business. 
The EMBA also boosted his Asia network, and added credibility to his startup at a time when he and his business were new to the Asia market.  His company evolved from Hong Kong, and today has offices in Silicon Valley, Europe, and a network of international distributors. 
Ruiz already had an extensive international career in mechanical and manufacturing engineering, sales and business development, and product management, before he studied his EMBA. He says the EMBA Program helped him to connect the dots among different professional disciplines.  
"It was necessary to connect the financial, legal and human resources dots to get a truly holistic view of a business," he says. 
The Kellogg-HKUST EMBA Program also helped Ruiz to build a strong network in Asia. "When I moved to Hong Kong in 2011, I had a strong network in Europe and North America, but I didn't know anyone in Asia," he says. "Now my most developed network, without a doubt, is in the Asia-Pacific region."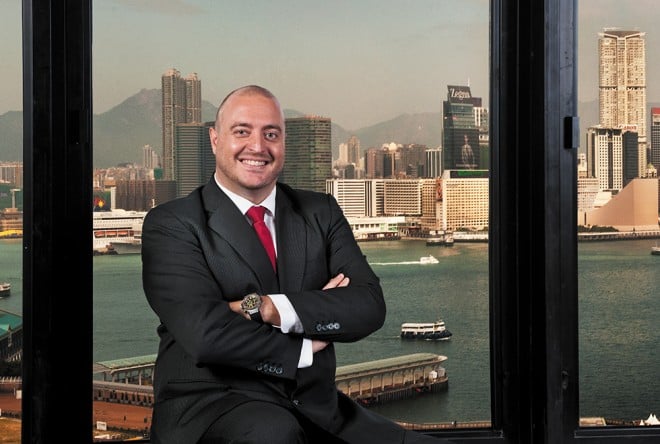 This content has been created under the direction of an advertiser. It contains no editorial input or review from the South China Morning Post (SCMP), nor does it reflect the position of, or the editorial standards used by, the SCMP. The advertiser has paid for and approved the content.