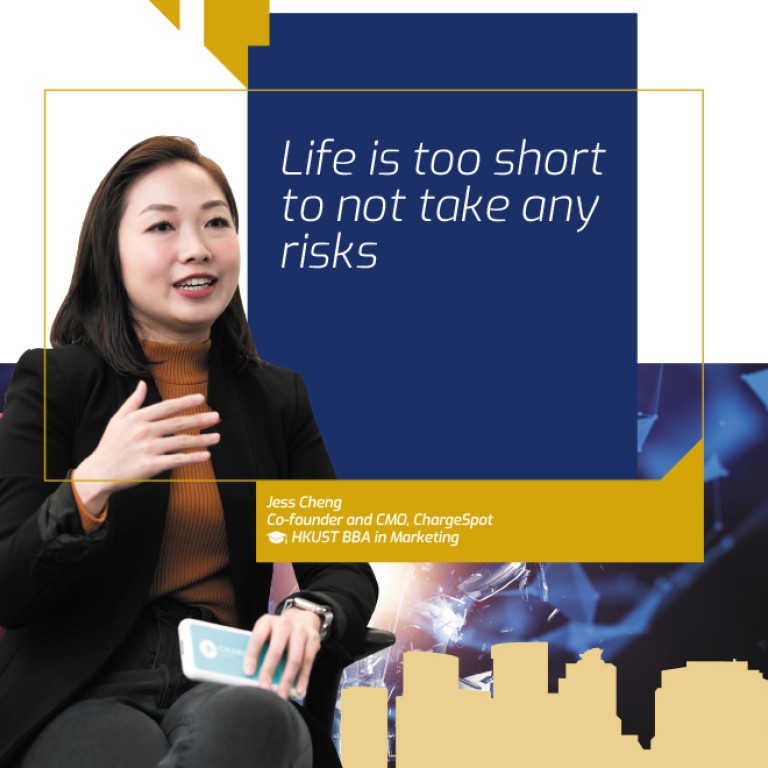 HKUST alumna Jess CHENG founded the world's largest transnational power bank sharing platform. A dedicated entrepreneur with fast track business growth, Cheng talks about her entrepreneurial journey.
Paid Post:
HKUST Business School
[Sponsored Article]
Innovation does not necessarily mean cutting-edge technology. A scalable, monetizable business model could also be described as innovation at its finest. Jess Cheng, an HKUST BBA alumna, co-founded ChargeSpot, the world's largest transnational power bank sharing platform. The economies of scale that ChargeSpot managed to build have been essential to its success. 
Cheng co-founded ChargeSpot in Hong Kong in 2018, and the service has since expanded to cities in Taiwan, Japan, Thailand, Malaysia and other countries and regions. 
ChargeSpot offers a convenient service. A smartphone user can rent a power bank from one location and return it in a different city or country. The two-year-old startup has 500,000 users in Hong Kong alone, and has built a network of 15,000 spots worldwide, including over 4,000 in Hong Kong. 
Driven by a sharing economy business model
There is an environmental purpose behind the speedy growth of ChargeSpot. The company aims to reduce the need for lithium battery power banks. 
"According to our research, 70 per cent of interviewees have power banks, but only 10 per cent of them carry charged power banks and cables with them on a regular basis," Cheng says. 
ChargeSpot is a sharing economy business model powered by data-driven value-added services. This kind of startup can only stay sustainable and profitable if the sharing economy it creates reaches economies of scale that give it the ability to monetize its services.   
ChargeSpot's revenue comes mainly from power bank rental fees and from marketing services offered to retail and hospitality locations which host the ChargeSpot unit.  
"We can identify the preferences of our users in terms of location, the types of shops they have visited, their payment methods, and their interest in different brands and marketing offers," Cheng says.  
This helps shopping malls, convenience stores, hotels, and tourist destinations target their marketing based on user location and the consumer's shopping preferences. 
The international scale of ChargeSpot helps drive up the volume of rental fees and ensures the relevance and richness of the captured user data. A sharing economy startup must have the ability to scale up to succeed.  
Trial-and-error approach 
Decisions are often based on experience or research, but a surprising number of business decisions are "trial-and-error", she says. 
These trial-and-error decisions are shaped by intuition and skills learned over the years. Cheng says her business intuition and critical thinking skills were shaped during her formative years studying at HKUST. 
"These trial-and-error decisions do not come out of nowhere. They are made after much consideration, after actively seeking advice," she says. Cheng adds that it's useful to think out of the box, make changes, and fine-tune at the end if necessary. 
"We all acquired these skills at school when we participated in organizing activities for societies, group projects, or simply took part in class discussions. We may not be aware that we are gaining these skills at school, yet when we need them, they are there," she says. 
An accessible network
Cheng credits HKUST for providing a readily accessible network of professionals and advisors that helped grow her business. 
"During my studies at HKUST, I was lucky enough to have classmates and friends from different majors who covered a range of services which proved to be essential to my business. These included accounting, finance, marketing and management," she says. 
Cheng continues that aspiring entrepreneurs studying at HKUST Business School should take heart. They should not be afraid to take prudent, calculated risks, she adds. 
"Life is too short to not take any risks," Cheng says. "Before you start your entrepreneurial journey, you will encounter both supporters and naysayers. Listen to both sides, think deeper, ask for advice and be open-minded and flexible. Make changes to your plans if needed. You don't know what will work unless you try it," Cheng advises other budding entrepreneurs.