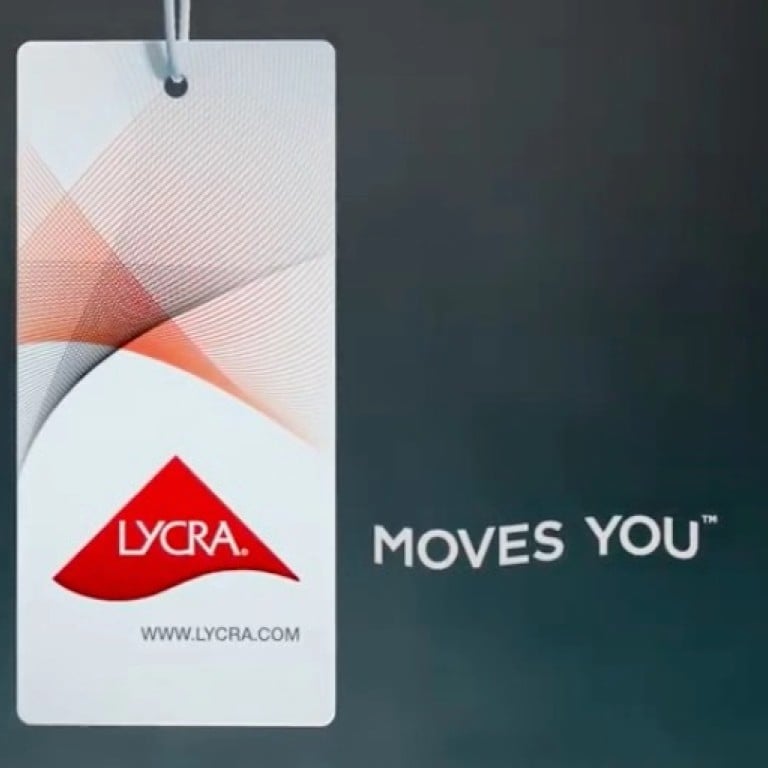 LYCRA® Stretches the World with Ease and Freedom
You might not be familiar with its name, but chances are the highly elastic synthetic fiber called LYCRA® is ubiquitous in your daily wardrobe.
Paid Post:
The LYCRA Company
[Sponsored Article]
An essential part of everyday life
Defined by its stretchability, wearability, performance and innovation, LYCRA® fiber has revolutionised apparel since the 1950s.  It is the first and original spandex, an anagram of the word 'expands'. In fact, the high-end LYCRA® fiber can be stretched up to six times its original length without breaking. Once stretched, it returns immediately to its original length – over and over again.
These remarkable properties of stretch and recovery enhance all fabrics and garments in which LYCRA® fiber is used, adding easy comfort and freedom of movement while improving fit, shape retention, drape and crease recovery at the same time. Even all types of hosiery become softer, smoother-fitting and more durable due to the LYCRA® fiber.  Never used alone, the LYCRA® fiber is always combined with other natural or man-made fibers, with the type of fabric and its end use determining the amount and kind of LYCRA® fiber required to ensure optimum performance and aesthetics.
Top that off with easy maintenance, and the LYCRA® fiber literally stretches the world.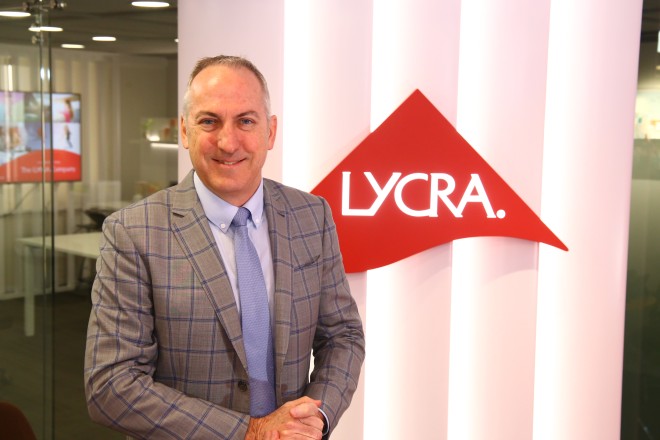 The Science of Fit™
Fit, comfortable, sleek, snug and stretchy best describe a garment made with LYCRA® fiber. More than ever now, consumers seek out garments that feel like they were made just for them. With that in mind, the world leader in fit solutions constantly invents new technologies that deliver the perfect fit. Leveraging apparel market research, The LYCRA Company has integrated technology innovations with fabric lab testing and body 3D-scanning, and developed a variety of fibers to deliver greater shape tolerance and a customized fit experience for a range of body shapes. 
Steve Stewart, The LYCRA Company's Apparel Vice President for Asia, explains how some of the newest innovations help to deliver an optimal amount of 'give' or a 360-degree stretch.
"LYCRA® MyFit™ fiber is a revolutionary technology engineered with a new polymer designed to deliver greater shape tolerance and a customised fit experience for a range of body shapes within a size. It has the exact capabilities to help satisfy consumers' perception on size, comfort, support and durability," he says.  
"Transforming shapewear, activewear and athleisure apparel is the LYCRA® FitSense™ technology. The patented water-based dispersion adds lightweight power and targeted support without sacrificing comfort. It is screen printed onto fabric containing LYCRA® fiber to deliver targeted lightweight support that can be combined with visual effect designs, enhancing the possibilities of fashion and moving the industry forward.
"With these newest innovations like LYCRA® FitSense™ technology and LYCRA® MyFit™ fiber, The LYCRA Company truly demonstrates the power of The Science of Fit™. Our collection of fit technologies empower mills, brands and retailers to create fabrics and garments with lasting flexibility, comfort and shape," adds Stewart.
The LYCRA Company gives China a good stretch
As with most industries, the China market is an important one for The LYCRA Company. Over recent years, the demand for LYCRA® fiber has shifted from a primarily export one to being more domestic driven.
"A large percentage of our growth is now related to what I call China-For-China brands who are making fabrics that will never leave the country," comments Stewart. "But, sometimes domestic and export customers are the same people – today making fabrics for an oversea international brand, tomorrow working with a local brand looking for something special. Our understanding of mills, the market, and innovative capabilities can really help them on their journey to make quality apparel for China's exploding consumer base."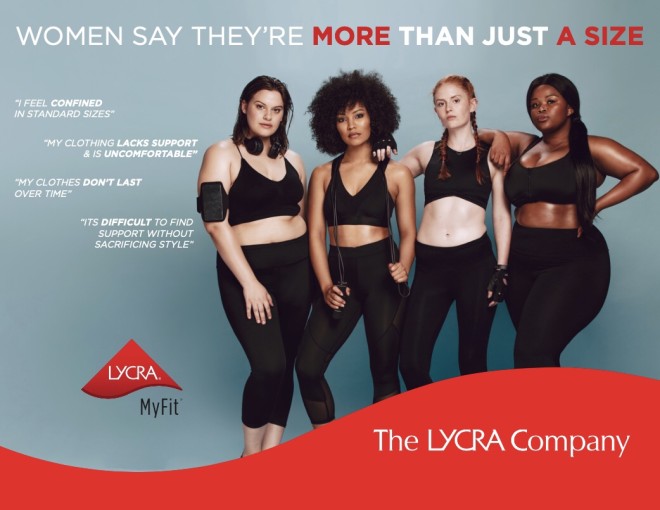 New innovation centre in Foshan
The increasingly important domestic consumer base in China spurred The LYCRA Company to open its fourth innovation centre, The Advanced Textile Innovation Center (ATIC) in Foshan In May 2019.
Stewart explains that the centre's location was picked after an extensive internal review and market research. "As a global company, our business spans across most parts of the world.  However, China remains one of our most important growth regions.  This is not only a result of the strong export business but also the increasingly important domestic consumer base in China. Within China, the HK-Guangdong area has our largest customer base among western brand sourcing and domestic brands and mills.   The Sanshan New Town in Foshan offers outstanding facilities and environment, convenient transportation both by air and high-speed train.  This location is also close to our manufacturing facility in Shanshui, Foshan, which now focuses on our premium LYCRA® fiber manufacturing.  We found this location at Sanshan to be very helpful in attracting new talents."
Countering economic headwinds
While the downward pressure on China's economy remains relatively large, The LYCRA Company is faring well in the world's second-largest economy with its unique product. 
 
"We offer differentiated fiber solutions to the world's most premium fashion and apparel brands.  This is achieved through decades of fundamental material science and engineering innovations.  As a result, our products are not being viewed as easily substitutable as most commodity products are.  More importantly, our global footprint and diverse customer base help us to weather the downturn in any specific region or market.  So there may be some short-term pressure in China, but we have strong confidence in the long-term growth of China as a manufacturing region and a domestic consumption market.  The strong synergy created through the Guangdong-Hong Kong-Macao Greater Bay Area can only further help our business in China," says Stewart.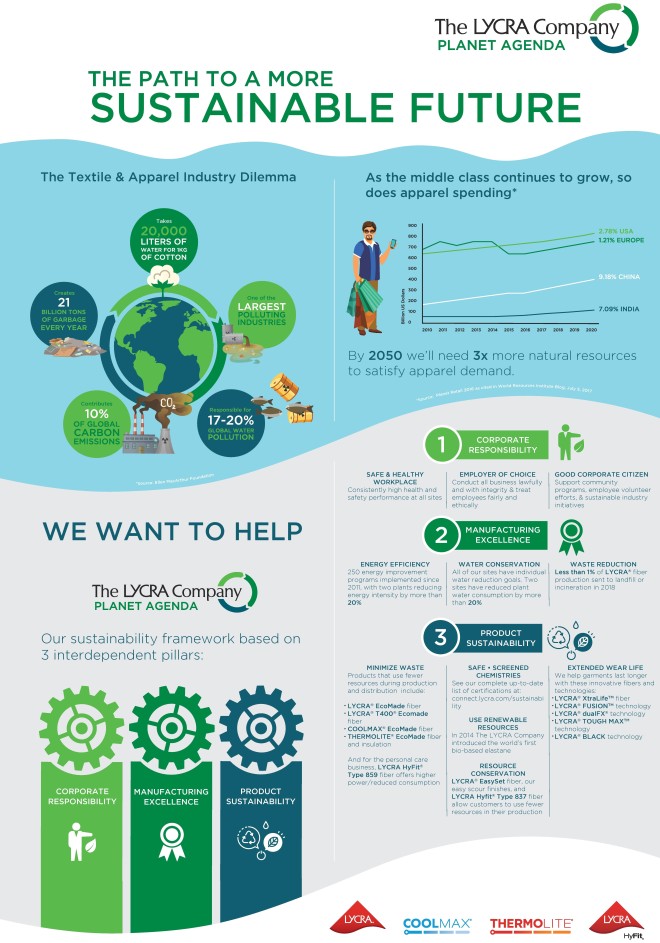 Planet Agenda addresses the sustainability challenge
Sustainability continues to be a critical subject line for many industries - none more so than the apparel industry that produces about 53 million tons of fiber every year. According to "A New Textiles Economy: Redesigning Fashion's Future" presented by  Ellen Macarthur Foundation and Circular Fibers in 2017, over 70 per cent of that got sent to landfills or for incineration, with less than one per cent being reused to make new clothes. 
As part of the industry's efforts to  address this challenge, The LYCRA Company created Planet Agenda, a sustainable operating framework that touches every aspect of the company's  business. "It is based on the belief that we can contribute to a more sustainable apparel industry by delivering insights, technology, processes, and products that add value while conserving resources. Planet Agenda is built around three interdependent pillars: product sustainability, manufacturing excellence, and corporate responsibility," states Stewart.
Under the platform, The LYCRA Company offers a variety of innovative fiber and fabric solutions that reduce or divert waste and recycle materials. For example, LYCRA® EcoMade fiber is its first branded spandex made with pre-consumer content. LYCRA® fiber waste is collected from manufacturing sites and blended with virgin content at specific concentrations, bringing eco-friendly solutions to brands and retailers looking for such options.