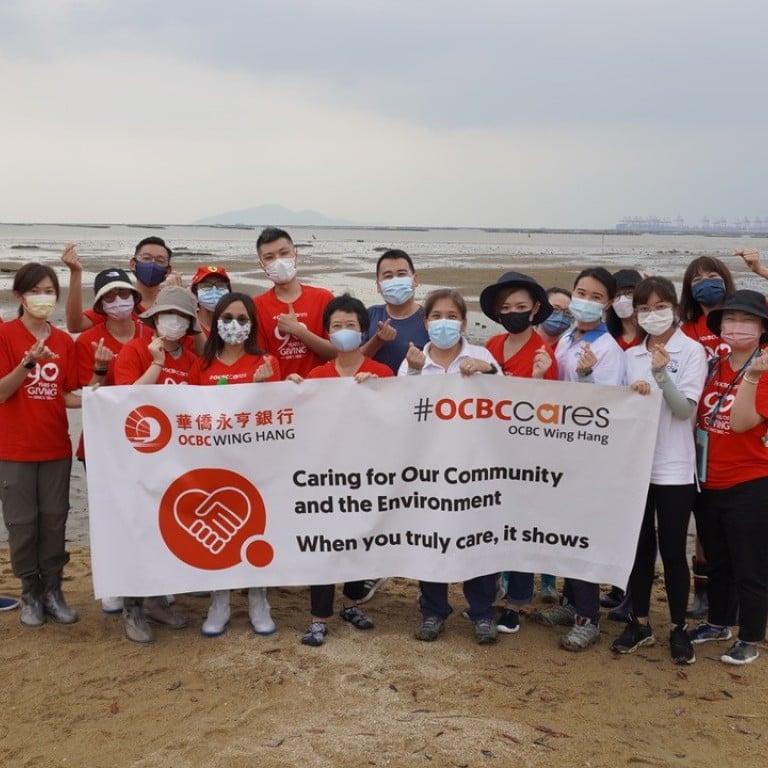 OCBC Wing Hang Bank completed 90-days of Juvenile Horseshoe Crab Rearing Programme in partnership with Ocean Park Conservation Foundation, Hong Kong
Honoring OCBC Bank's 90th Anniversary
Paid Post:
OCBC Wing Hang Bank
[The content of this article has been produced by our advertising partner.]
OCBC Wing Hang Bank ("OCBC Wing Hang") recently completed a special conservation programme in partnership with the Ocean Park Conservation Foundation Hong Kong ("OPCFHK") to educate internal staff on wildlife protection and natural habitats conservation.
This 90-day Juvenile Horseshoe Crab Rearing Programme was curated to promote conservation messages honoring its parent Group OCBC Bank turning 90 this year. 20 staff volunteers joined the programme as dedicated fostering parents and took turns to take care of the baby horseshoe crabs upon training and support from OPCFHK. The programme period was set as 90 days to signify OCBC Bank operating and serving the communities for 90 years. Echoing OCBC Bank's strong commitment in giving back to the community and sustainability advocacy in Singapore, this programme has enabled OCBC Wing Hang, as OCBC Bank's subsidiary to contribute to raising the awareness of conservation of engendered species and protecting biodiversity of the local community. 
A wild release and mud-flat clean-up activity was organised at the end of the rearing programme at Ha Pak Nai in Yuen Long West, Chief Executive of OCBC Wing Hang Bank Ms Ivy Au-Yeung, together with the staff fostering parents joined the activity. Ten baby Chinese horseshoe crabs were released back to their natural habitat after spending 90 days at the OCBC Wing Hang Bank Tower.
Ms Ivy Au-Yeung, Chief Executive of OCBC Wing Hang Bank said, "Both OCBC Wing Hang and our parent Group OCBC Bank endeavour to create a sustainable world for our next generation, and we take initiatives in driving environmentally friendly programmes. The launch of 'Juvenile Horseshoe Crab Rearing Programme' at our Bank is a step we take to educate our staff to protect wildlife and preserve natural habitats, and they can be ambassadors and influence their family and friends. We call for small steps by our staff to make a difference to the environment."
Horseshoe crabs are known as "living fossils" as they have lived for more than 450 million years. Unfortunately, among four horseshoe crab species around the world, three of them already listed as "Endangered", whereas Chinese horseshoe crab is one of them. The major threats facing by horseshoe crabs are due to human activities. Over 90% of juvenile Chinese horseshoe crab population in Hong Kong were disappeared due to pollution and destruction of their spawning grounds, meanwhile, they are also harvested for their blood to produce biomedical testing agent. Immediate actions shall be taken to protect the remnant population before they go to extinct.
OCBC Bank celebrated its 90th anniversary on 31 October 2022, a series of giving back activities are arranged in its core markets including Singapore, Malaysia and the Greater China. At OCBC Wing Hang Macau, 27 volunteers completed a coastal clean-up activity near Tam Kung Temple in Coloane this September, echoing the Group in caring our environment. 
Recently, OCBC launched a video story - titled "90 Years of Giving" for the remarkable and memorable 90 years on how the bank builds a culture of giving. Click below link to view it now!
https://lnkd.in/g74TxJJX