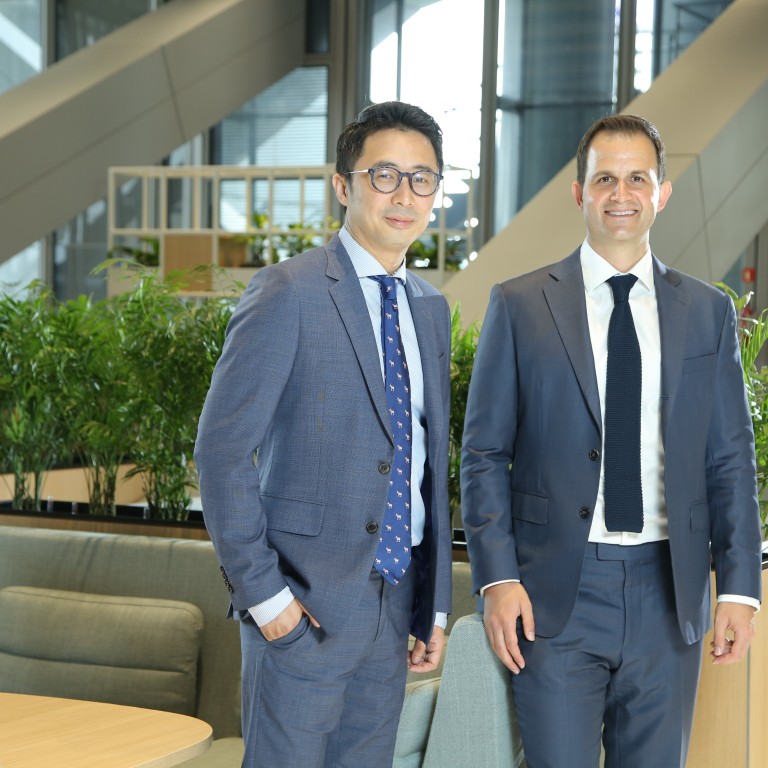 Catering to the changing needs and lifestyle of affluent families in Hong Kong
HSBC Premier has continued introducing new service offerings to meet the ever-changing needs of its growing base of young, tech-savvy clients
[Sponsored Article]
NFTs offer an alternative way for creators of art to showcase their collection. But if this practice sounds distant, how about trying it out with your favourite family photo and having the chance of getting it minted into an NFT?
HSBC Premier has launched a new partnership with Hong Kong-based tech accessories brand CASETiFY. Customers can pixelise their family photos on a dedicated platform to stand a chance to have these family portraits transformed into exclusive non-tradeable NFTs printed on mobile phone cases. Demonstration of the phone case samples with pixelized photos printed is now available at CASETiFY Studio Landmark from May 16.
The HSBC Premier and CASETiFY partnership follows the strong growth of the former's digital-savvy millennial customers. According to the bank, the growth from this group of customers in HSBC Premier has quadrupled relative to growth of the overall Premier portfolio. HSBC Premier is a market-leading proposition to support the wealth aspirations of families in Hong Kong.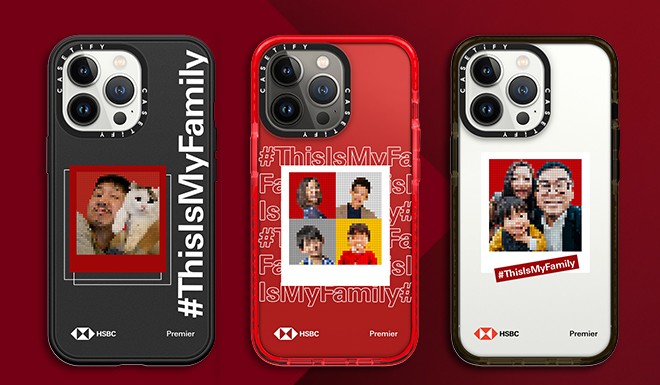 Recently refreshed with the introduction of a series of new-to-market services, HSBC Premier is ever a staunch supporter of innovation and has made the most of digital applications across waves of the pandemic. Its customers can conveniently contact their relationship manager using the HSBC HK Mobile App with platforms like RM Chat and ZOOM video conferencing. It is revealed that the RM Chat usage of HSBC Premier and high-net-worth customers has increased by more than 200% since the start of the fifth wave of Covid-19 early this year. 
The customers' portfolios are as well taken cared of outside office hours. Advanced tools such as Wealth Portfolio Intelligence Service (WPIS) employ advanced risk analysis to model how the customer's portfolio may change in different market conditions. Customers can also carry out various wealth transactions on their mobile phone, anywhere and with ease.
For those in the know, HSBC is not new to NFTs and the metaverse. Early this year, it partnered with the decentralised gaming virtual world The Sandbox on virtual real estate in the metaverse. It has also collaborated with New World Development's K11 Musea to become the title sponsor of the leading museum-retail complex's most diverse NFT art exhibition in Hong Kong. While HSBC customers benefited from private NFT art tours at the venue, the bank turned the exterior wall of the HSBC Main Building into Hong Kong's largest outdoor NFT art gallery.
The refreshed HSBC Premier follows its encouraging performance of last year. In 2021, the net investment amount by HSBC Premier customers more than doubled compared to the preceding year. The latest service upgrade focuses on maximising investment opportunities for its customers as they continue to move up the wealth ladder. By leveraging the strength of the bank's wealth and international banking services, the reinvented proposition helps drive wealth creation for its customers.
This is best explained by Brian Hui, Head of Customer Propositions, International and Marketing, Wealth and Personal Banking, Hong Kong, HSBC. "As customers' banking needs continue to evolve with time together with the changing concepts of family," he said, "we have reimagined our service offerings by leveraging HSBC's global presence and connectivity and solid wealth credentials."
 
Sami Abouzahr, Head of Investments and Wealth Solutions, Wealth and Personal Banking, Hong Kong, HSBC, added: "Our customers have their unique ambitions at different stages of their lives, whether it's building a safety net in uncertain times, making major lifestyle or career changes, preparing for life after work, or taking care of the next generation. The refreshed proposition brings together the investment and insurance solutions, through digital and human channels, to support them on their journey."
Targeting customers with a total relationship balance (TRB) of HKD1 million or above, the refreshed Premier banking proposition also introduces the HSBC Prime Club, the first ever wealth and international education engagement program with a series of exclusive offers and privileges for customers with TRB of HKD 3 million or above. This includes exclusive wealth offers, such as best-in-town take up offers for unit trusts, bonds and structured products, and international education support for the younger generation. Thanks to its recent refresh, Premier customers can benefit from more comprehensive digital banking services, international support, and first-to-market privileges. 
For more information on HSBC Premier visit
https://grp.hsbc/SCMPPH
and the HSBC Hong Kong Facebook page for the CASETiFY NFT activation. 

This content has been created under the direction of an advertiser. It contains no editorial input or review from the South China Morning Post (SCMP), nor does it reflect the position of, or the editorial standards used by, the SCMP. The advertiser has paid for and approved the content.