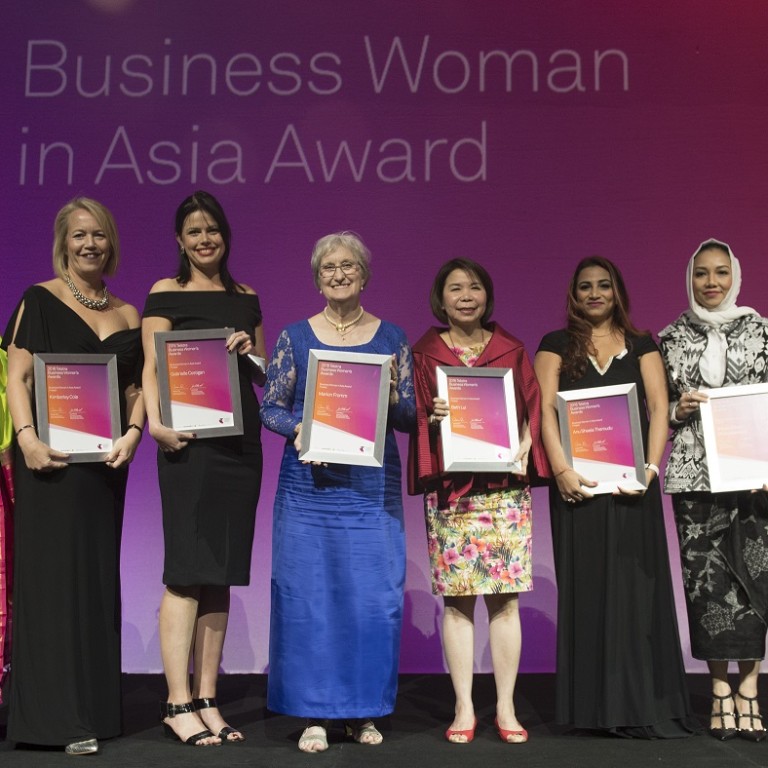 Striving for equality and diversity
Role models, a genuine push from the top as well as flexibility are the ways to achieve workplace equality, according to Telstra Business Woman in Asia Award 2016 finalist Kimberley Cole.
In Partnership With
Telstra
[Sponsored Article]
Last year, Australian telecommunications and technology company Telstra introduced the longstanding Telstra Business Women's Award to Asia to celebrate outstanding female in the region. Cole was one of the finalists in the debut Telstra Business Woman in Asia Award.
With Asia undergoing profound transformation driven by economic and technological developments, and the coming of age of large, young populations, there are opportunities for positive change and an immediate need to address the under representation of women in senior leadership roles in business and government.
Indeed, gender equality in the workplace remains a work in progress across the region. As the current Head of Solutions Sales, Financial & Risk, Asia Pacific Thomson Reuters, Cole has moved across borders eight times and worked in three continents. Her cross-cultural perspective has given her unique insights into gender imbalances in the workplace. She believes that to create an environment where everyone is able to fully contribute, a push from the top is needed.
Some multinational companies have taken the lead. Thomson Reuters announced recently that the company targets to have 40% female executives in senior leadership roles by 2020. Investors like BlackRock and AMP Capital have also demanded diversity in the boardroom when evaluating companies.
"You then need to think about processes and procedures to put in place. There should be internal mentorship and sponsorship programmes and efforts made to address biases that can be both conscious and unconscious," said Cole.
Job descriptions, for example, often contain unconscious biases that should be looked at and eliminated. Setting clear targets and using objective benchmarks such as Key Performance Indicators (KPI) are also useful for measuring performance without bias.
Flexibility is for everyone
Flexibility in the workplace should be viewed in a broader sense, especially given the ageing population. Cole said: "Childcare and elderly care are a concern for everyone, not just women. With the technology available today, people can work with more flexibility without necessarily working less."
As with anything new, education is needed to create a flexible, collaborative workplace. Hong Kong is lagging behind in this development as managers are often uninformed and have misunderstandings about issues such as flexible working hours.
Cole cited the example of an account manager who requested to work four days a week to make time for childcare. Her client objected but Cole suggested a trial period of three months. The client was later convinced and satisfied because the account manager documented everything so well that good support was given any time it was needed. This is also where outcome measures like KPI can help gauge the viability of flexible work arrangements.
Role models to help women realise their potential
Championing female talent is crucial for business success and achieving gender equality. Cole feels honoured to be shortlisted for the Telstra Business Woman in Asia Award among a group of inspiring women. "This is a fantastic alumni network and the Asian award has such a broad geographic reach, with the winner from India and finalists from Hong Kong, the Philippines, Cambodia, Malaysia, Thailand and Indonesia."
Cole recently met with Rituparna Chakraborty in Bangalore, co-founder of TeamLease in India and winner of Telstra Business Woman in Asia Award in 2016. Through TeamLease, Chakraborty has developed over 30,000 apprentices who went on to have enduring careers. She is a true inspiration and role model for young women in India.
Through honouring successful women who have pioneered many paths, the award shows that gender should not be a limiting factor and that women have the ability to achieve their goals. Role models like Cole and Chakraborty help accelerate the pace of change by showcasing the many facets and talents of women.
Women in Finance Asia, co-founded by Cole in 2009, continues to thrive with over 1,500 members. More recently she founded the Risky Women Network that offers business opportunities for women across the risk, regulation and compliance sectors, operating in nine cities and rapidly expanding. Through these organisations, she has cultivated a global network connecting women across industries and championed her passion for gender equality.
Lesson for Hong Kong
Comparing to places like the Scandinavian countries and Australia, Hong Kong women are clearly under-represented in the broad room. A Hong Kong Stock Exchange (HKEx) consultation paper revealed that the average board size for all issuers is 8.6 directors, comprising 7.68 male directors per issuer, but only 0.92 female directors. In a responding letter to this paper, Women in Finance Asia applauded the HKEx for promoting board room diversity by conducting this study and offered some important observations and suggestions, e.g. by setting a quota within a time frame.