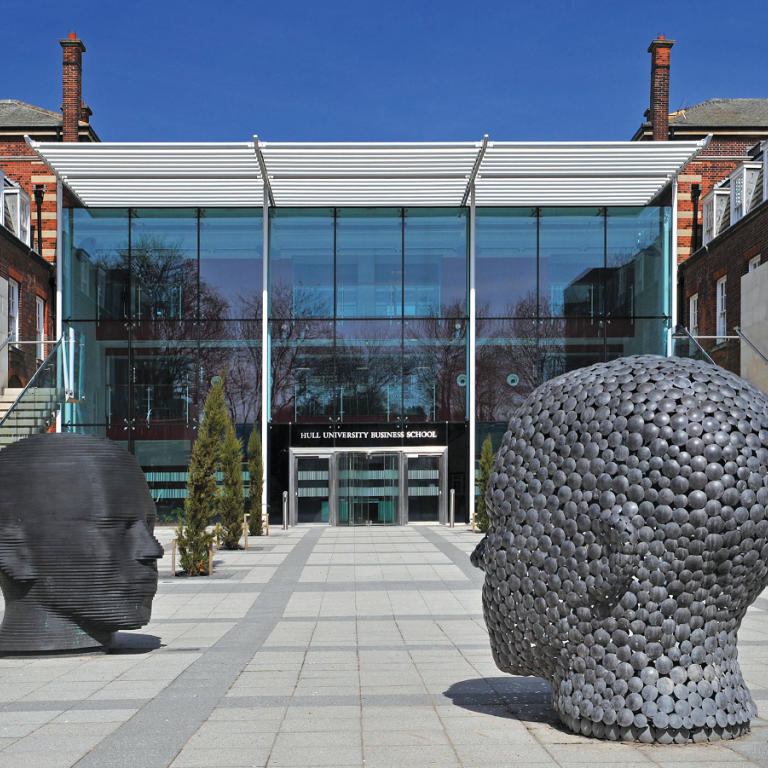 Hull University Business School offers Executive MBA programme for aspiring business leaders
In Partnership With
Kaplan Higher Education
[Sponsored Article]
Hong Kong is a place where "East meets West". How does this cultural mix benefit education and enable enthusiastic learners to pursue their dreams and achieve success in their careers? "Only by widening our visions can we stay competitive," says Jerry Yu, who graduated last year from the University of Hull Executive MBA (EMBA) programme offered by Kaplan Higher Education.
A native Chinese born, brought up and educated overseas, Jerry obtained his Bachelor's Degree abroad and has worked as a financial information technology consultant in various locations globally spanning from the Middle East to Asia to Dublin, London and New York before moving to Hong Kong four years ago. While serving as an IT project manager in HSBC, Jerry was eager to pursue higher education, especially in the executive management area, to advance his career. 
"I was looking for a programme that is competitively priced, ideal for English speakers like me and has a flexible learning cycle to balance my career, studies and social life." The EMBA programme by Hull University Business School turned out to be the best option.
"The two-year, part-time programme has broadened my horizons in various areas of running a business, including human resources, operation management, strategic management, marketing and new market exploration," says Jerry. "It equipped me with a holistic vision of marketing from an IT perspective, enabling me to see both the internal strengths of my company and the external demands for the market."
After graduating from the programme in 2016, Jerry has taken up a bigger role of Global IT Program Manager of HSBC which required him to focus not simply on operations and delivery but also strategy formation.
100% face-to-face teaching by Hull University Business School creates an effective learning environment
During his study, Jerry also had the opportunities to be exposed to both Asian and Western cultures. Although the programmes were taught by professors from Hull University Business School in the UK, coursework focused on the Asian environment and took local business factors into account, with equal emphasis on practical case studies and theoretical understandings. The assignment-based teaching style encouraged students to explore real-life cases and learn from examples, instead of merely focusing on theory.
Jerry is also impressed by the networking opportunities at Kaplan. "My class consists of more than 20 students coming from all walks of life, covering junior, middle and top management levels. We gained a lot of insights through direct discussions and sharing with each other, which added value to my learning experience."
Kevin Ord, programme director for the overseas EMBA programme at Hull University Business School, further elaborated on this point. "Face to face teaching is one of the primary reasons that students choose to study with Hull. We offer the best learning environment by facilitating dynamic interaction between lecturers and students, and between the students themselves," says Ord.
Rich in tradition, the University of Hull has a proud heritage of academic excellence, and a history of creating and inspiring transformative impact. The university was established in 1927 and granted a Royal Charter in 1954, making it England's fourteenth-oldest university. The university has been recognised by Times Higher Education (THE), which placed it among the top 3 per cent of universities in the world two years running.
Hull University Business School, which was established in August 1999, provides a distinctive and inspiring environment for its 3,000 students and 100 full-time academic faculty members. The school is proud of its undergraduate and postgraduate programmes, which are delivered on-campus in the UK, and by distance learning in Hong Kong, Bahrain, Romania, and Singapore. The school was ranked 37th among 101 UK business schools for research power. Notably, 49 per cent of its submitted research papers were graded as internationally excellent or world leading, with a further 42 per cent judged to be internationally recognised.
In 2016, the Business School appointed a new Dean of the Faculty of Business, Law and Politics, Professor Kathryn Haynes, who is giving new impetus to continuing to bring the vision of the School to life. In addition, Professor Haynes continues to work on her research interests which include the role of accounting in society, with a particular interest in sustainability, accountability and social responsibility.
Ord goes on to explain the EMBA's flexible delivery and wider benefits of the programmes.
"Students also derive maximum benefit from online learning, as well as telephone and email support from the UK and Hong Kong. As classes take place in the evening and during weekends at Kaplan's modern teaching facility in Wanchai, students can easily fit the programme around their work commitments."
Ord reiterates that many of the lecturers are leaders in their field of study, contributing to world-class research published in the top internationally recognised journals. Some have held senior positions before entering academia, while others are actively involved in delivering consultancy services to the international business community. This ensures that the knowledge taught to students is at the leading edge in all disciplines covered by the programme.
"The mission of the business school is to equip managers and business professionals to succeed in our interconnected world," says Ord. "This is achieved by maximising the connections that exist in excellent research, teaching and learning across disciplines, corporate engagement, and working with partners who share the school's aspirations and values." These values include quality, innovation, partnership and inclusivity. They derive from a belief in responsible management education, ethical behaviour, professionalism, and a culture of continuous improvement.
Assignment-based programme allows for breakthrough advances in career
With a strong focus on "connected thinking" – a distinctive holistic approach that facilitates communication across cultural and organisational boundaries – the EMBA develops experienced managers into effective leaders capable of transforming organisations through management excellence, and thinking creatively to bring about change responsibly.
"Our graduates come out thinking very differently about their work. The programme encourages students to challenge the status quo and contextualise their strategies and processes. Several of the assessments require students to apply these ideas to their employer's businesses or their role in those businesses. Many use the final dissertation to conduct research into issues which are of particular importance to their employers," Ord adds.
With a distinct mark of quality, the programme benefits from AMBA accreditation, and the Business School also has achieved AACSB, held by less than 5 percent of the world's 13,000 business programmes. Having a world-renowned EMBA assures graduates to progress up the career track towards top management positions and paves the way for broader business networks. The practical and comprehensive management skills essentially equip students with the capability to embrace responsibilities at higher management levels and become more effective leaders.

This content has been created under the direction of an advertiser. It contains no editorial input or review from the South China Morning Post (SCMP), nor does it reflect the position of, or the editorial standards used by, the SCMP. The advertiser has paid for and approved the content.