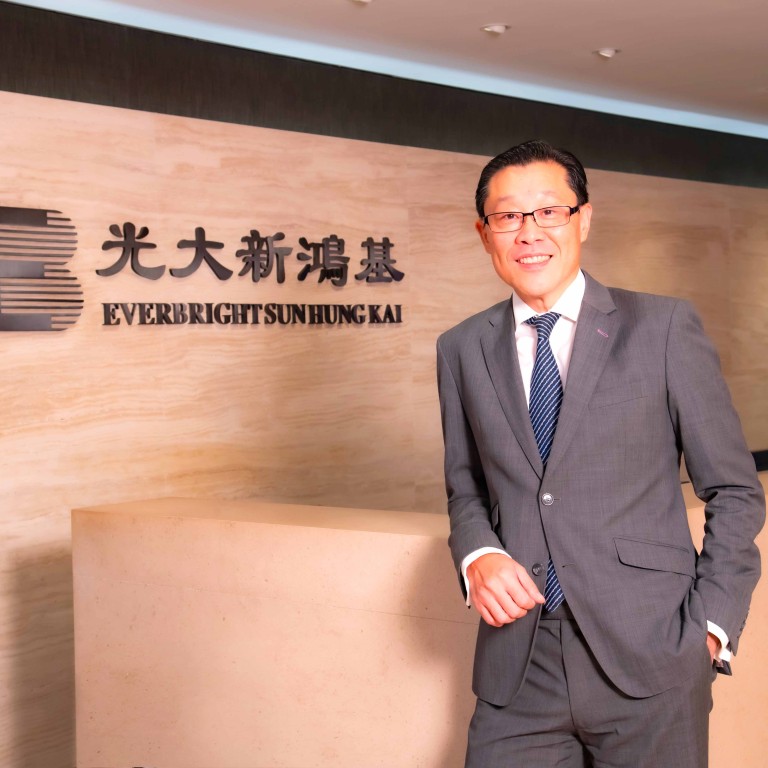 Wealth management solution for mass affluent
Paid Post:
Everbright Sun Hung Kai
[Sponsored Article]
2019 marks the 50th anniversary of Everbright Sun Hung Kai ("EBSHK"). Over the past five decades, it has grown from a traditional brokerage firm to one of the leading financial service institutions in the region, providing one-stop services from broking, wealth management to financing for local and overseas investors.
"There is one thing that has never changed – client focus always stays in the core of our business," says Kevin Tai, Deputy Chief Executive Officer at EBSHK.
The company's client-first culture has made it stay at the forefront of the industry as the team continues looking for ways to serve clients' changing needs.
FILLING THE GAP
Last year, EBSHK rolled out a new wealth management solution – "Asset Power" – which is designed specifically for wealthy individuals seeking a holistic and service-led approach to wealth management. Clients simply need to create an investment portfolio valued at least HKD 3 million (including cash) in their Asset Power account to enjoy the customized investment services.
"As investors become more financially savvy, they demand an ever wider selection of investment products and sophisticated wealth management services. In addition, investors are looking for solutions that are tailored to their specific needs," says Tai.
However, he points out that there has been a gap between this rising demand and wealth management products offered in the market, as customized investment solutions are typically available only to larger investors, such as institutional investors or private bank clients.
He continues, "while these wealthy individuals have investable assets worth several millions dollars, retail banks which focuses more on transactional types of investment services without a long-term holistic planning may no longer be able to fulfill their needs."
Indeed, based on Citibank's telephone survey and interviews with 4,192 Hong Kong residents earlier this year, the number of respondents worth HKD 10 million or more in total assets – including property – rose by 3% in 2018 to a record 511,000. Those with at least HKD 10 million in liquid assets – bank deposits, mutual funds, stocks and bonds – grew 1.5% to 69,000.
"Asset Power was therefore launched to fill the gap," says Tai. This move has already proven successful, with this new wealth management solution attracting more than HKD 1 billion of assets in less than 12 months since its launch mid last year.
QUALITY SERVICE IS KEY
Tai considers the success is largely attributable to the company's emphasis on quality investment services and continuity, which form the foundation for long-term business relationships.
"Every client will be assigned a dedicated wealth manager to help tailor their investment strategies. To maintain the quality of service, each of our wealth managers will not serve more than 50 clients. Hence, they can have sufficient time and resources to truly understand each client's long and short-term goals as well as their risk appetites in order to develop individual solutions that best suit their needs," says he.
"The stability of the team, that I am proud to say with only low single digit turnover rate, is also essential for establishing trust and maintaining long-term relationships with our clients."
According to Tai, the wealth management team at EBSHK comprises more than 400 experienced wealth managers who have all gone through a stringent recruitment process for making sure that they are qualified to meet the high standards. These carefully selected professional advisors work closely with investors to understand their needs, assess their risk profiles, review existing portfolios, adjust investment priorities and strategies, and create a roadmap to the future.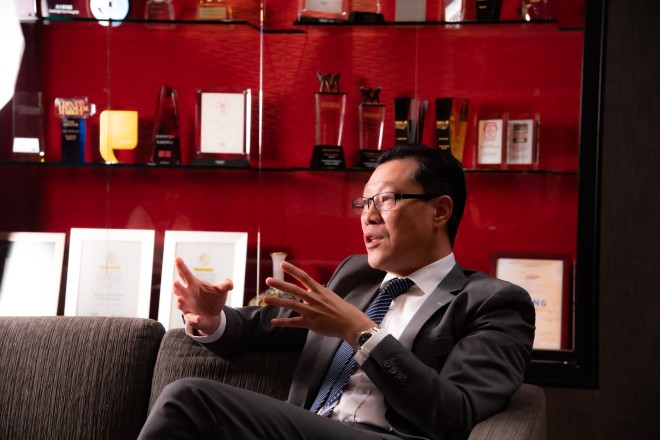 As a multifaceted professional financial services company established for 50 years, Tai expresses confidence that EBSHK is very well positioned to help its clients capitalize on the compelling growth opportunities.
"Our broad spectrum of investment products provides multi-asset investment options from equities, bonds, mutual funds, insurance to structured products such as equity-linked investments (ELIs) and equity-linked notes (ELNs), etc."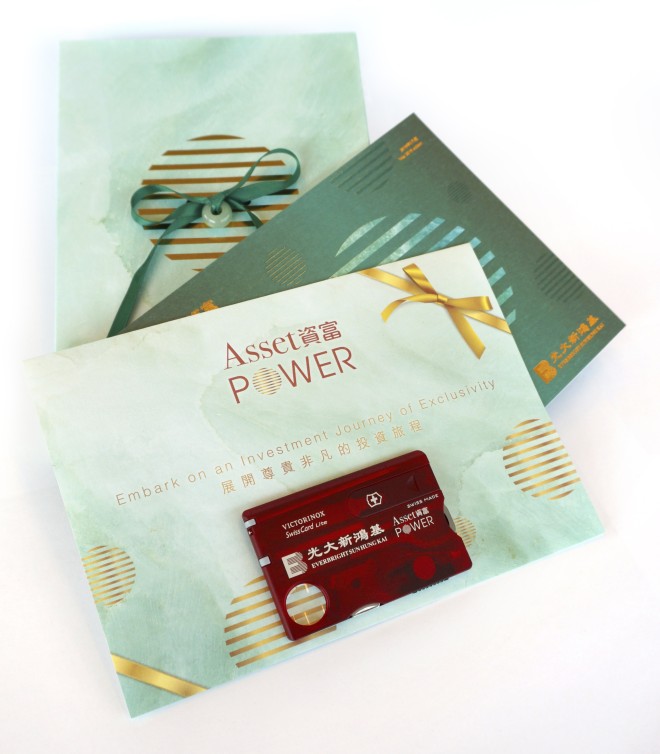 "For instance," adds he, "in the current low interest rate and low growth environment, insurance saving plans that provide guaranteed returns of 3-5% per annum have been very attractive as investors are looking for regular income or stable returns. Availability of financing facilities at competitive rates also allows investors to potentially maximize their investment yields."
SERVING FROM THE HEART
Tai, who joined EBSHK back in 2000 and has served in a number of different positions during his 19-year tenure with the company, understands well a good customer experience cannot be solely relied on the frontline, but back-end support is equally important.
"This is why we allocate a considerable amount of resources to our product development and research team who provides timely market updates and views to frontline wealth managers and their clients. Technology is another area that we continuously invest in for the present and future."
"We strive to create the best-in-class customer experience for our clients, and we manage it at every step," concludes he.

This content has been created under the direction of an advertiser. It contains no editorial input or review from the South China Morning Post (SCMP), nor does it reflect the position of, or the editorial standards used by, the SCMP. The advertiser has paid for and approved the content.