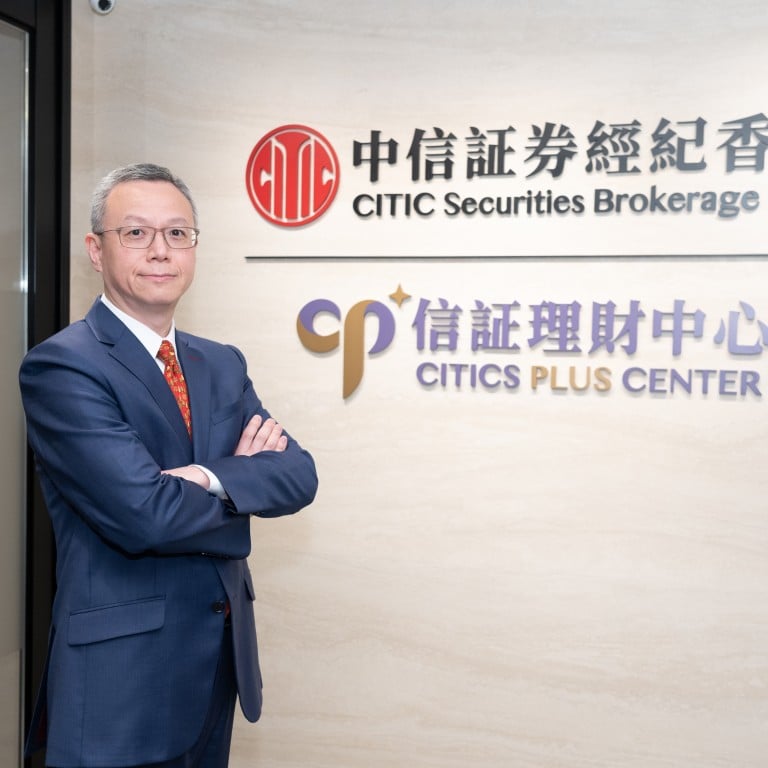 CITIC Securities Brokerage HK strengthens its wealth management platform
The opening of the new CITICS Plus Center in Admiralty earlier this month marks an important milestone as CITIC Securities Brokerage (HK) Limited ("CITIC Securities Brokerage HK") expands its wealth management business.
Paid Post:
CITIC Securities Brokerage (HK) Limited
[Sponsored Article]
"In the past six months, we have shifted our focus towards wealth management services," says Tony Leung, Chief Executive Officer of CITIC Securities Brokerage HK.
"As the market evolves, we have seen growing number of clients with greater demand on sophisticated wealth management products.  As such, client demands lead us to gradually transform the company from traditional securities brokerage business to wealth management."
Strong demand for wealth management services
Late last year, CITIC Securities Brokerage HK rolled out a new wealth management platform - CITICS Plus, to provide highly customised solutions to investors. Each CITICS Plus client is assigned a dedicated relationship manager or portfolio advisor to help tailor their investment strategies.
"For years, we have provided wealth management services to corporates and high-net-worth investors (HNWI). With the launch of CITICS Plus, we extend our service offering to a broader base of clients," adds Leung.
This move has already proven successful. He shares, "more than 100 HNWI have chosen our one-stop wealth management solutions with total investment exceeding HK$1.2 billion." On this sound basis, the company will continue to leverage on its global vision and deep understanding of clients from Mainland China and Hong Kong to offer flexible and goal-oriented investment services, with an ultimate goal of achieving wealth protection and capital appreciation.
Flexibility amid uncertainties
Leung considers the success is largely attributable to the company's flexibility, cost efficiency and the full support from its parent company, CITIC Securities Company Limited ("CITIC Securities"). "As our company is still in its growth phase, we are highly flexible and therefore can capture market opportunities when they emerge. In addition, our operational cost is low compared to international brands thanks to our streamlined processes in client onboarding, dealing and trading, product development, etc. Also, our parent company, CITIC Securities, strongly supports our growth strategy. Our securities brokerage business has laid solid foundations for the development of a broader wealth management business."
Matthew Chan, Head of Product Management of CITIC Securities Brokerage HK, elaborates on how the company's quick actions can add value. "In the fourth quarter of last year, in response to market volatility, we launched a '90% Equity-linked Capital Protection Certificate with Leveraged Upside' and a '100% Fund-linked Capital Protection Certificate with Leveraged Upside', with an aim to help customers seize low-entry opportunities with these products providing  partial downside protection while allowing investors to enjoy potential leveraged upside. Later when the market bounced back and US equities reached historical highs, we introduced a 'Special Margin Interest Rate Programme' for a list of investment grade rated bonds, helping investors lock in profits and benefit from potential rate spread."
While uncertainties persist, most recently with the unexpected twist in US-China trade talks, Chan says their wealth management platform currently focuses more on shorter-term returns. "We see increasing demand for cash management solutions as investors are generally cash rich. These include certificates of deposit and short-term liquidity funds without penalty terms such as time deposits, which offer greater capital flexibility."
Diversified, tailored solutions gaining popularity
In addition, Chan comments that investors are now more open to a wider range of assets and vehicles. "Investors nowadays have a better understanding about diversification and they look for investments in equities, bonds, funds and structured products to seek better, more stable returns."
He adds "portfolio-based solutions, which involves more active and timely advice, and better tailored portfolios, is another area gaining popularity."
Speaking about new plans or initiatives, Leung reveals, "We are thinking of launching a surplus cash facility, which will let investors enjoy higher interest rates than time deposits while retaining some flexibility in terms of investment time horizon. Investors will be able to switch between different investment vehicles if they identify good market timing. On the business front, we have established a long-term business development plan. To support further growth and expansion of our wealth management business, we will continue to hire CITICS Plus relationship managers with wealth management and financial planning experience dedicated to provide quality investment advice and help clients build optimal portfolios."