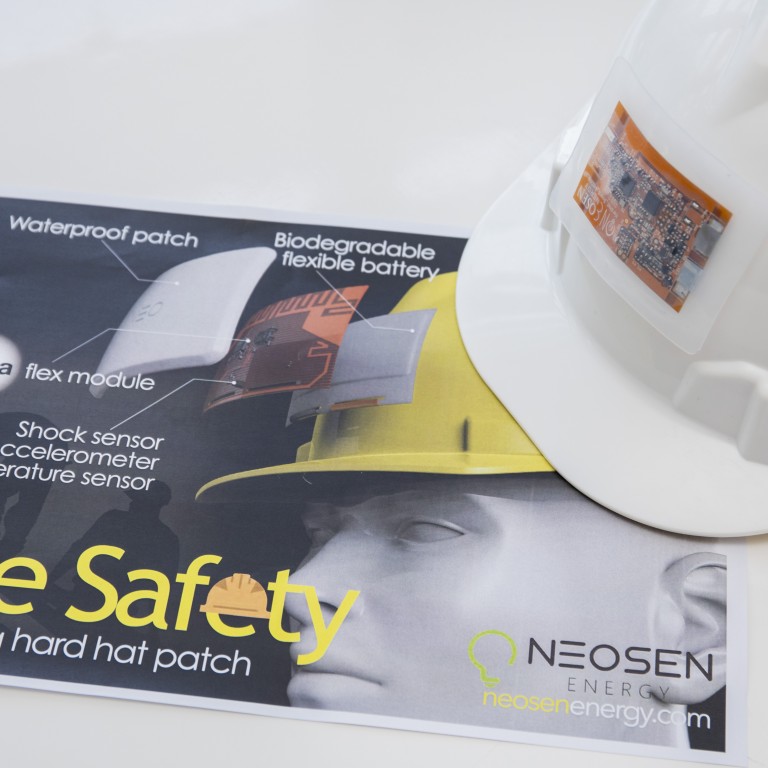 Powering a green future with groundbreaking smart technologies
Paid Post:
Intellectual Property Department
[Sponsored Article]
Hong Kong is at the forefront of the research and development of nanotechnology and advanced materials.  In celebration of World Intellectual Property Day 2020 "Innovation for a Green Future", we highlight some NAMI award-winning green tech designs. 
Groundbreaking flexible ultra-thin battery leads high power solutions
An environmentally-friendly and low-cost 'Green Battery Printed on LoRa IoT Devices' has scooped numerous international awards since its debut last year. The pioneering technology, co-developed by the Nano and Advanced Materials Institute (NAMI) and Neosen Energy HK Limited, is the first of its kind in the world and has the potential to change the way we live and work smart.  Designed for high power pulsing applications like LoRa IoT devices, the battery uses materials optimised for printability and comes with high electrochemical performance and stability. Such is the ingenuity of its design that the flexible battery won a coveted R&D 100 Award and a Gold Medal with Jury Commendation at the 47th International Exhibition of Inventions in Geneva in 2019. At the same time, it was named a CES Innovation Awards Honoree.  In March 2020, the innovative battery was recognised with a Gold Award at the Edison Awards.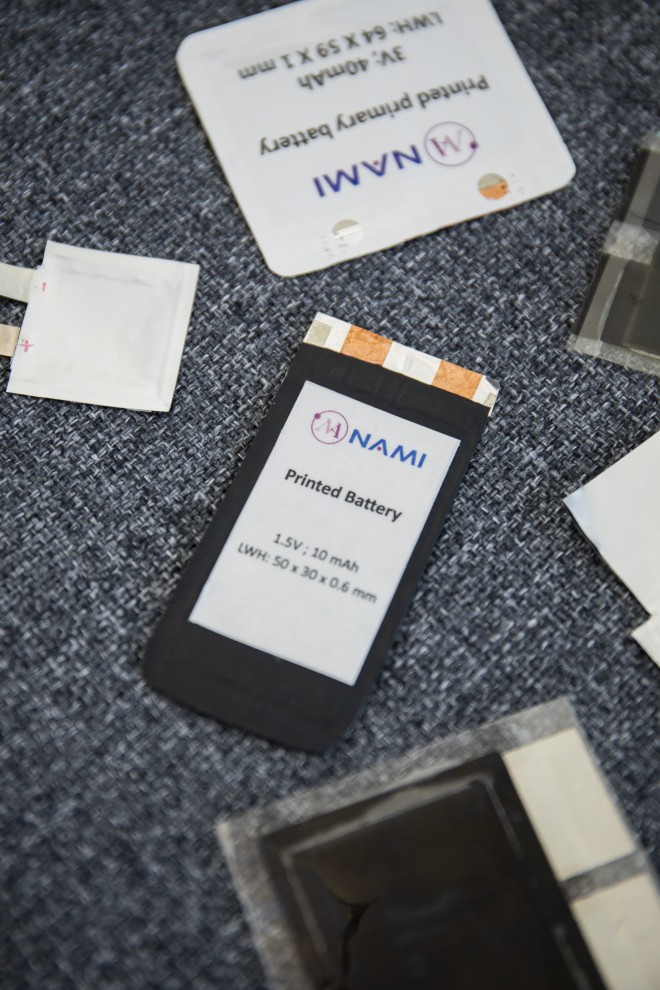 Explaining why NAMI came up with the concept of the battery, Technical Manager Dr. Ellie Fu, says: "Our sponsor came to us with three criteria. Environmentally-friendly; small, thin and flexible enough to be integrated into many products like loT applications; plus capacity for high power output. To achieve that, we developed a new technology that optimises the materials and fabrication processes we have in the past to reduce the internal resistance of the battery. It took us a year to do so. Our green battery is the only one in the world that meets all the requirements, especially the high power output. It also has an operating temperature range of  -20 to 60 degrees Celsius, making it ideal for use in cold chain logistics and asset tracking. The longevity of the battery life depends on the power consumption of the device using it. For a LoRa IoT type, we can achieve over 3,000 pulse each which is a long time. If it's integrated into a wearable device like a temperature sensor, it can last for two weeks or so."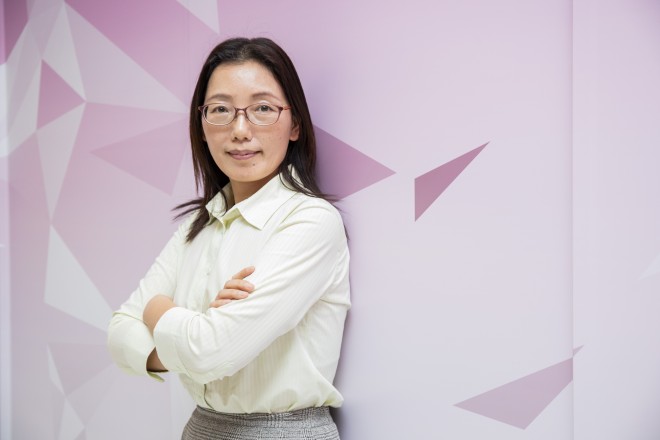 Intellectual property protection is a key asset
As a research institute, NAMI regards intellectual property (IP) protection as fundamental to its work. "It is essential because IP protection ensures that our collaboration with industrial partners is straight forward. We have a lot of background IPs filed constantly, and we use them and the requirements from sponsors to incubate further developments of existing technologies.  Then we come up with full-blown IPs for the new technologies together with our sponsors. IP protection also facilitates the commercialisation of products at a faster pace.  Take, for example, the green battery. We were able to quickly optimise the product in a year because we have a foundation working on similar batteries that did not require such a high power output in the past. We have filed patent applications in the U.S. and mainland China for the green battery, with our sponsor currently scaling up production of devices integrated with the battery in the U.S.," says Fu.
Eco-friendly sanitising nanotech 
NAMI has fortuitously developed award-winning new nanotechnologies with partners that meet the demand for sanitising products. Dr. Peter Lee, Director of Research and Development (Environmental) introduces three that will be making their commercial debut later this year. "We have a high-performing and water-conserving Zero Waste Compact Water Dispenser for domestic use.  It uses our core nanofibre technology which comes with four IPs to build a good filtration cartridge that traps a high level of contaminants while achieving a high water flux. The performance of this dispenser is as good as a conventional reverse osmosis one which generates a good deal of waste water. Mind Body (Asia) Limited, our partner for this project, owns the IP for the filtration system of the dispenser and is gearing up for mass production."
Also related to water is a cost-effective nanobubble technology.  It uses nanobubbles of oxygen species to turn normal water into functional water with extremely strong oxidising and sanitising power.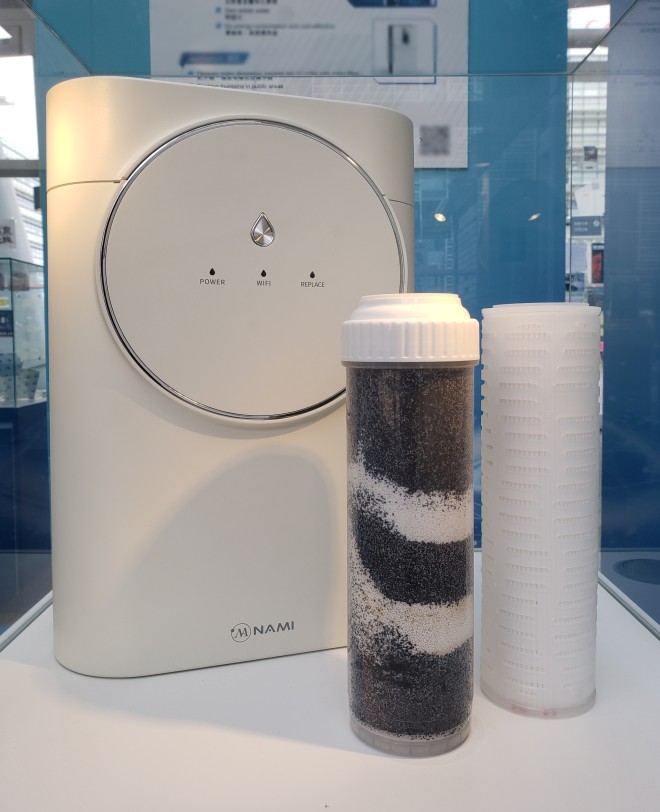 "Another sanitising product is an anti-microbial nanocoating that prevents bacteria and viruses from adhering to surfaces without the use of biocides or UV light.  It is very environmentally friendly, effective, safe and durable.  This nanocoating has already been used on escalator handrails in two shopping malls, with usage extending to taxi and minibus seats as well as other public places.  This Hong Kong developed and manufactured product will be commercialised by our partner Blue Plus Technology Limited around September," Lee adds.
Market-disruptive biodegradable materials 
A significant contribution towards a sustainable future comes in the shape of biodegradable materials for applications such as packaging and single-use items. Lee reveals that NAMI is taking a leadership role to bring novel, market-disruptive products to the world from Hong Kong in 2020.  "There is nothing in the market right now that are comparable to the two game-changing materials we are developing.  The first one is a NAMI biodegradable composite. We use a breakthrough new technology and equipment that can mix up to 50 per cent of low-value agricultural waste materials with traditional but expensive PLA biobased material. This process reduces the cost of the composite correspondently while producing better mechanical properties at the same time.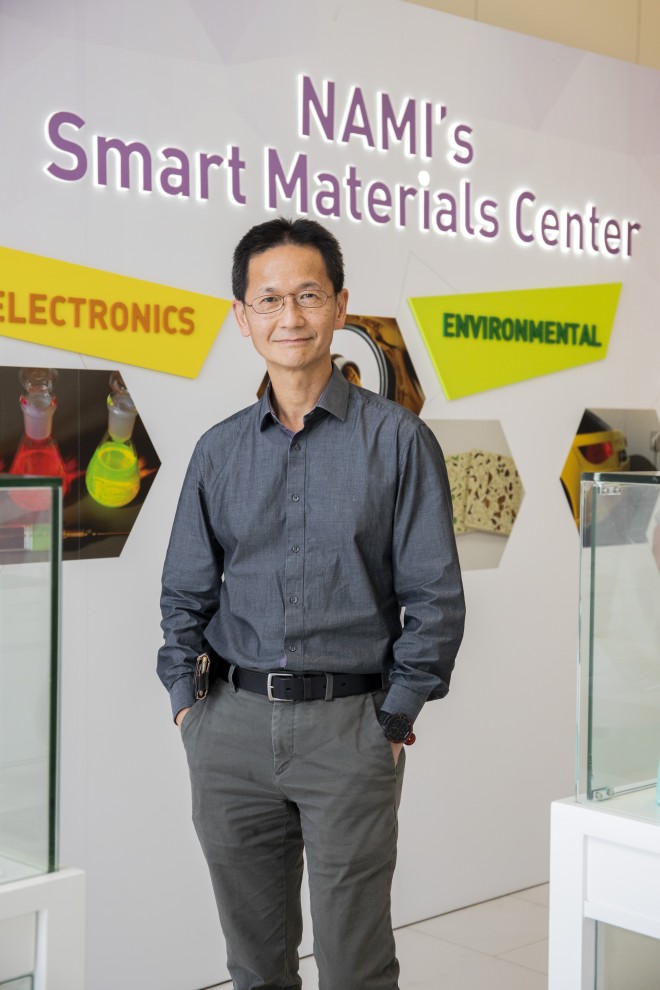 "The second concept is a new addictive that can be added to common plastic materials to accelerate the biodegradable rate to 10 years, instead of the hundreds of years the process usually takes.  Since we only need to add a few per cent, both the cost increase and effect on the mechanical properties are minimal," Lee concludes.