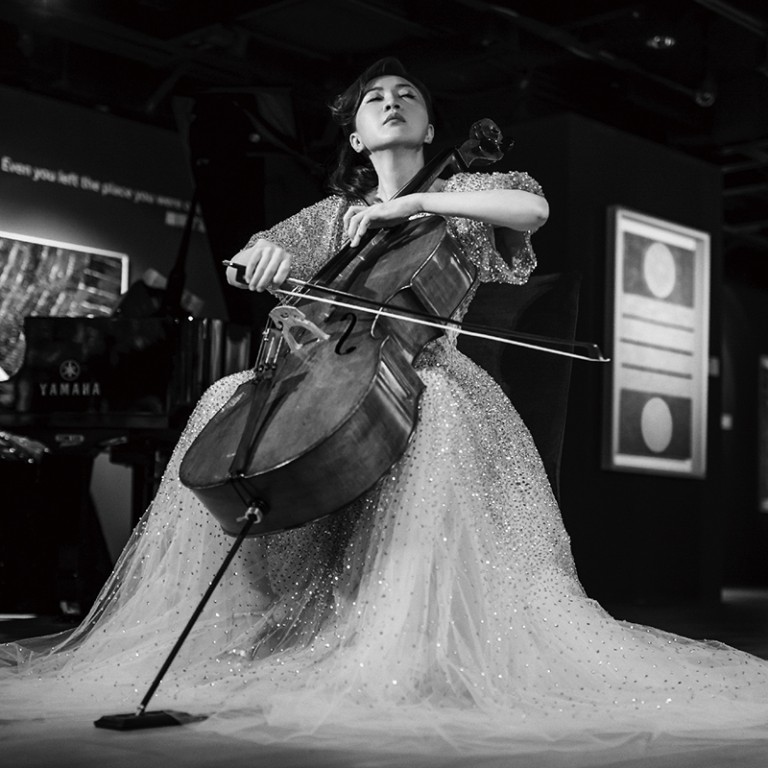 Anna Hu channels music and art in a symphony of giving
[Sponsored Article]
When melodious music meets dazzling jewellery, alchemy happens. They become forms of art. And when they come together with benevolence, they lift the spirit and remain in the heart forever.
Jewellery uplifts the human spirit
"Jewellery touches the soul; it's a work of art that can uplift and heal the spirit," Anna Hu, the acclaimed classical musician-turned-jewellery-artist, once shared in an interview. So what is art?  To Leo Tolstoy, art is a means to communicate emotion. Franz Joseph Haydn thinks art makes people feel happy. For Rabindranath Tagore, it represents eternity and immortality.  And in Anna's heart, art is a touching melody, a cultural exchange. It entrances like movements after movements of a poetic, bejewelled symphony.  
 
From playing the cello to toying with gems, music and jewellery art have been an integral part of Anna's life since childhood. She took to the cello to strengthen herself, while her fondest childhood memories came from having fun with gems in her father's office. Whether as a cellist or a jewellery artist, she never forgets the spiritual richness and joy that they have brought her. It was perhaps due to this beautiful life course that Anna was able to instil a unique touch of warmth in the jewels she creates. Infused with her lovely thoughts, these gems become not just heirlooms that can be passed down from generation to generation but also a brilliant medium that brings hope to people. 
 
A harmonious cultural exchange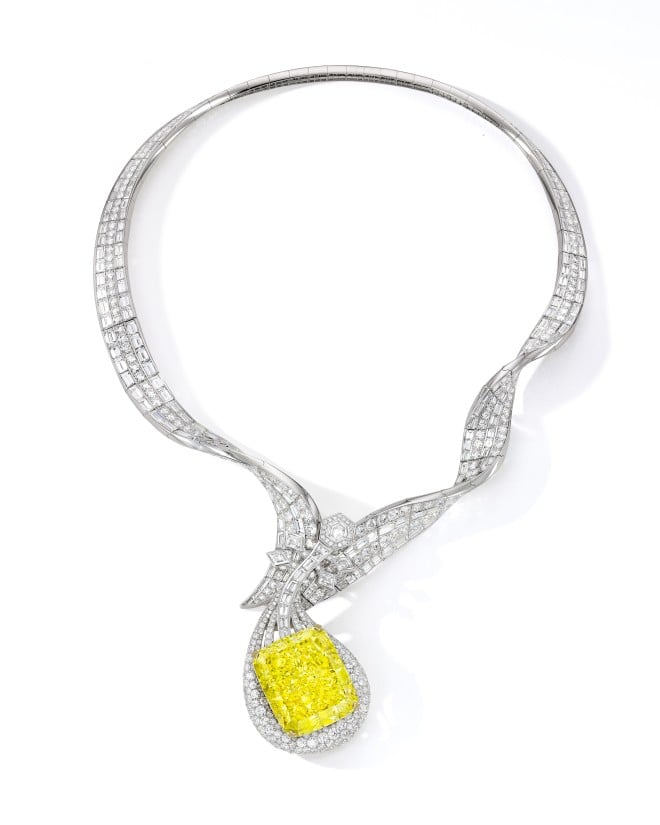 To say that Anna, who has been engaged in jewellery design for more than ten years, is just a jewellery artist, is inadequate. She melds the deep foundation and artistic concepts of Eastern culture with traditional Western craftsmanship to achieve the harmony of 'form' and 'meaning' in her jewellery.  By blending distinctly different Eastern and Western aesthetics and cultural connotations, Anna becomes a cultural ambassador of contemporary jewellery.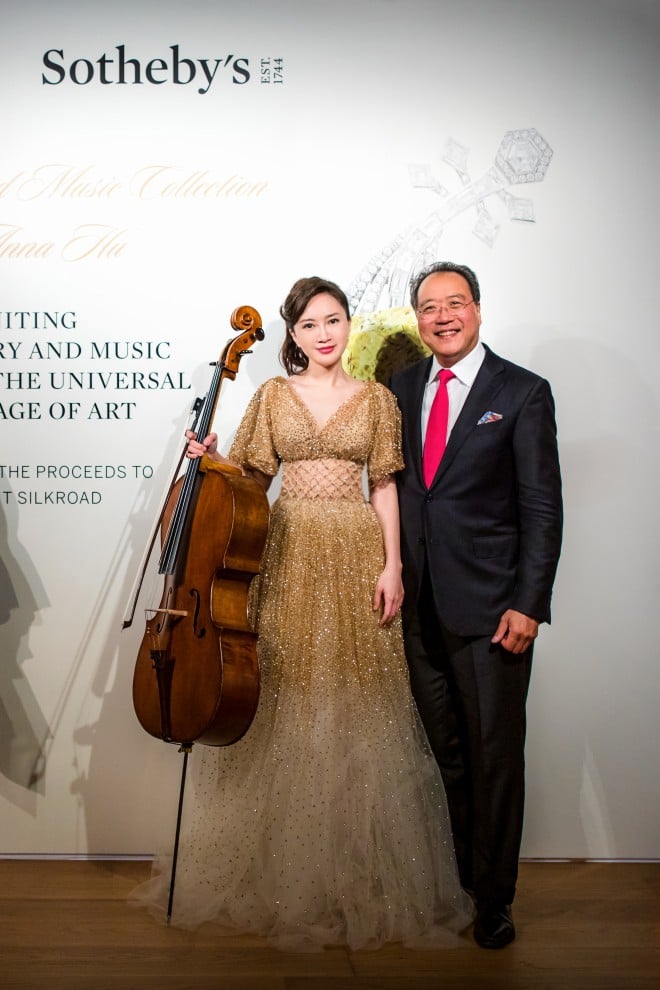 Over the years, she has also been passionate about promoting various forms of cultural exchanges through music and jewellery. At the Sotheby's Autumn Auctions in Hong Kong in November 2019, Anna created the five-piece 'Silk Road Music Collection' for auction and invited world-renowned cellist YoYo Ma, founder of the non-profit organisation Silkroad, to perform together. The soaring music took the audience on an imaginary trip to the culturally fascinating and prosperous Dunhuang on the fabled Silk Road, facilitating a meaningful cultural exchange through music.
 
Supporting the global ocean
Jewellery is usually considered 'pricey', but the benevolence that Anna has infused in her jewellery is 'priceless'. In recent years, she has been committed to supporting different charities through jewellery art, using the art and beauty of jewellery to convey her care for the world and to heal the hearts of people. Take, the example, the Monte-Carlo Gala for the Global Ocean held in Monaco in October 2019. Hosted by Prince Albert II of Monaco and founder of the Monaco Foundation whom Anna met at the Monaco Red Cross Gala, the charitable event shined the spotlight on the protection of the global marine ecology. Upon learning about the meaningful initiatives of the Monaco Foundation, Anna specially created a one-of-a-kind 'Leaping Koi Necklace' with an aquamarine as the main stone and donated it for the charity auction.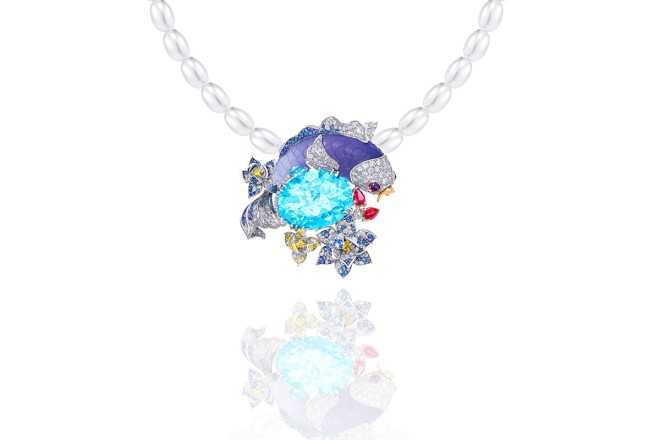 Made of pearls that can only grow in clean waters, and surrounded by elegant and blooming lotus, the necklace symbolises the beautiful vision of protecting the purity of the marine ecology. 
Diamonds that care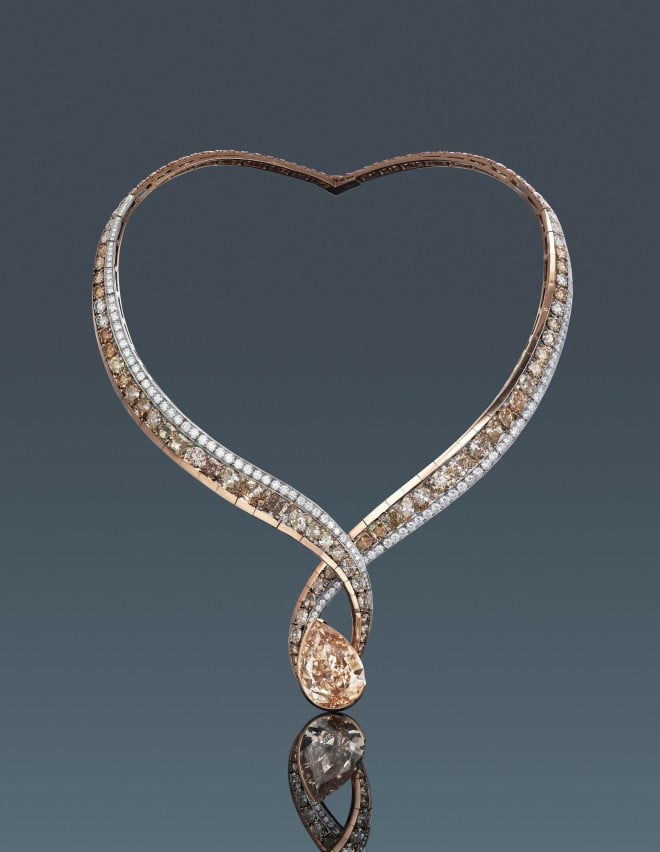 Faced with the impact of the COVID-19 pandemic this year, entrepreneurs, philanthropists, and artists in various fields around the world have also contributed their efforts to helping humankind work together through this severe time. At the invitation of Alrosa, Russia's largest diamond mining group, Anna created three heart-shaped jewels using brown diamonds mined by Alrosa. "When Alrosa asked me to collaborate on the 'Diamonds That Care' charity, the image of a heart appeared immediately in my mind. I think the best symbol of expressing 'care' is a 'heart'.   And by linking diamonds with love and care, I sincerely hope that my creations can elevate the image of diamonds with philanthropy."  Co-organised by Christie's and the international non-profit organisation Diamonds Do Good, the online auction took place in July 2020. And for the first time in auction history, the entire auction proceeds were donated to charity.  The funds raised from the charity auction went to help frontline healthcare workers to fight the pandemic.   
In Anna's eyes, jewellery are not just glamorous accessories or works of art to be displayed in museums.  They are symbols of love and giving that will stay in people's hearts for eternity.