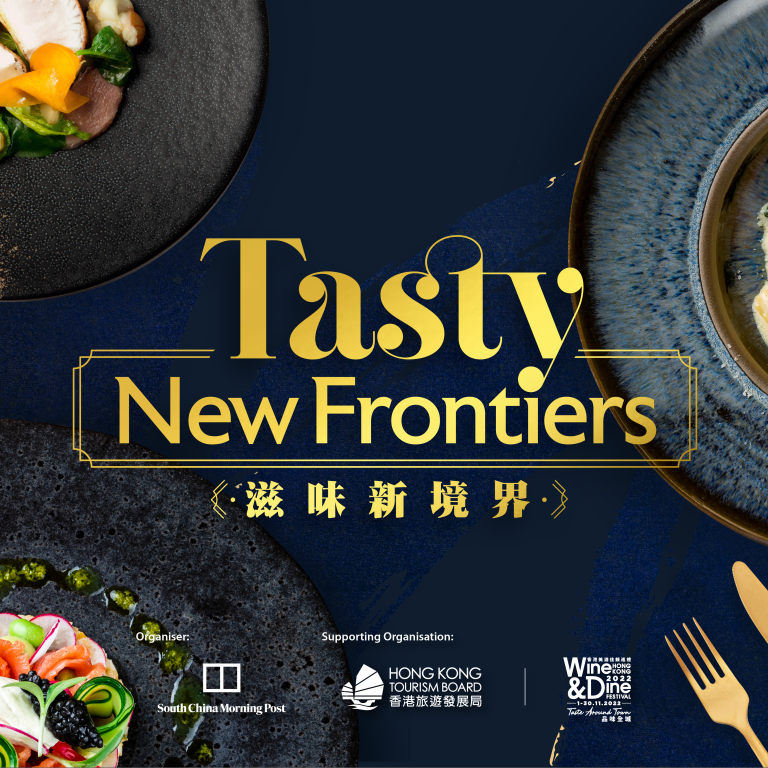 Explore fresh frontiers in food at the Hong Kong Wine & Dine Festival
This year's New Frontiers theme highlights restaurants that focus on using local, sustainable produce and farm-to-table dining experiences
Tasty New Frontiers showcases top chefs creating trends and setting standards, while cocktail and wine lovers can enjoy the Creative Cocktails Citywide and Wine on the Waterfront programmes
Paid Post:
Hong Kong Tourism Board
[Sponsored article]
The annual Hong Kong Wine & Dine Festival, the city's most comprehensive celebration of noted chefs, leading restaurants, creative mixologists and chic bars, is back this November.
The 2022 Hong Kong Wine & Dine Festival will encompass a series of gastronomic experiences and exciting foodie events. Indulge in inventive cocktails, enjoy delicious wine and food pairings with mesmerising waterfront views, and sample exclusive, good-value dishes and special menus crafted by Hong Kong's talented creatives.
This year's festival includes restaurants that form part of the Tasty New Frontiers programme - restaurants that focus on local, sustainable produce and farm-to-table dining - as well as the city's taste shapers, chefs who are creating green trends in the ever-evolving Hong Kong food scene. Plus there will also be a spotlight on chefs making waves by focusing on the cuisines of their homelands.
Going green
In line with global trends, Tasty New Frontiers will highlight a host of restaurants that are committed to sustainability using local produce to create farm-to-table dining.
This includes fine-casual Cultivate by chef Leonard Cheung, who focuses on a tasting menu that changes daily, based around what is in season. Each dish is created with what Cheung refers to as humble ingredients, such as root vegetables. He then innovates with these ingredients, taking them to new heights with advanced cooking techniques and unconventional flavour combinations.
Also presenting elevated dishes is Aulis, a concept from famous British chef Simon Rogan, helmed by Hong Kong chef Fai Choi. Every dish from this restaurant is founded on a philosophy of originality and innovation using the highest quality ingredients.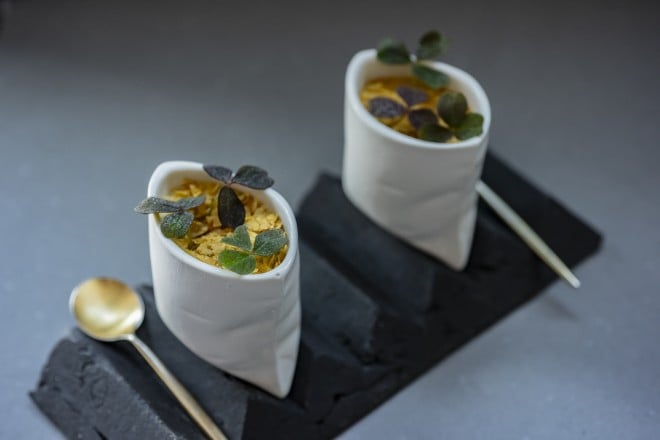 Auntie Āyi will also be taking part. This restaurant celebrates homestyle Cantonese dishes often considered family treasures, having been passed on from generation to generation, while paying homage to the history of "ma jie". While dishes are homely in inspiration, the final results are contemporary and appealing to the modern diner.
A modern approach is also being taken by Haku, a restaurant that refuses to be defined by a single cuisine. Led by chef Rob Drennan, it serves highly creative dishes that combine premium seasonal ingredients from near (and far) prepared with cutting-edge techniques and presented as culinary art.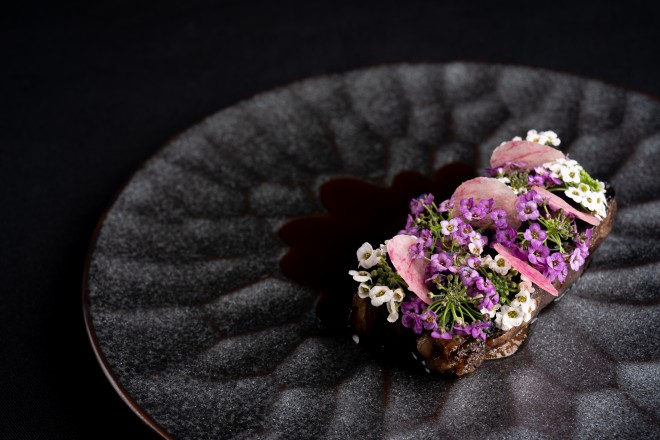 Joining this line-up is a range of restaurants presenting specially created tasting menus and special offers exclusively for the festival across a wide variety of cuisines. This includes two of the most popular cuisines in Hong Kong – Italian and Japanese.
Italian restaurants taking part include Giacomo, Sabatini Ristorante Italiano, Spiga, and Theo Mistral by Theo Randall, while the Japanese contingent includes Kushiro, Shikigiku Japanese Restaurant, Sushi Wadatsumi and Hasibami.
Causing a stir
Restaurants that are making waves thanks to their focused European culinary offerings will also be taking part.
This includes recent opening Bianco & Rosso. Inspired by the small bars and roadside bodegas found along the cycling routes in Europe, the restaurant and bar specialises in fortified wine and cocktails paired with enticing sharing plates.
Then there's the cuisine of Germany at Heimat by chef Peter Find, which is redefining the cuisine in a contemporary way. The casual fine-dining restaurant offers a multi-course chef's tasting menu in addition to an à la carte menu.
Also introducing Hong Kong diners to an authentic taste of home is Castellana Restaurant. Here 29-year-old chef Romeo Morelli is giving diners a taste of the cuisine from his native region of Piedmont, Italy. Morelli is also sustainably minded with a guiding principle of using ingredients in their entirety.
Taste shapers
Tasty New Frontiers will also be presenting dishes and special menus from some of the city's most talented chefs – those that could be considered taste shapers when it comes to setting trends. 
These chefs are also often among the vanguard of sustainability in Hong Kong, with a myriad of sustainable practices in place, and visitors to these restaurants during the New Tasty Frontiers programme can expect to experience some of the best dishes on offer in Hong Kong.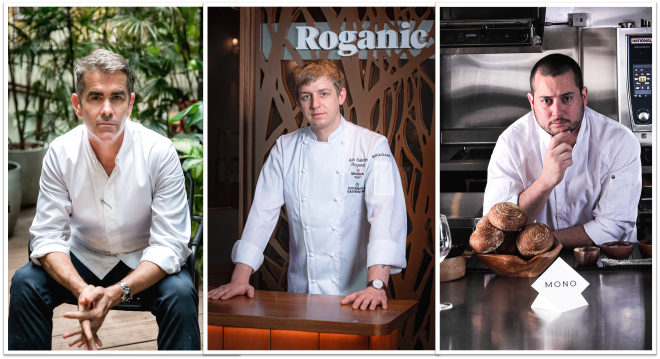 For example, Shane Osborn, a competitor on Netflix's The Final Table and founder of The Arcane Collective, which includes one-Michelin-starred Arcane, plant-based Moxie and all-day bistro Cornerstone. All of Osborn's restaurants serve exemplary dishes with ingredients sourced directly from local or regional sustainable farms, and ethical seafood and meat suppliers.
Also working directly with farms is Ashley Salmon of one-Michelin-starred Roganic Hong Kong, which presents a city-centric take on a farm-to-table dining experience. Passionate about sustainability, Salmon grows his own microgreens, works with the restaurant's building management to grow vegetables on the rooftop, and is also largely responsible for the restaurant achieving a green Michelin star in recognition of these efforts.
Another taste shaper is chef Ricardo Chaneton, of one-Michelin-starred Mono, which serves refined Latin American cuisine. Presenting a single tasting menu centred around seasonal ingredients, Chaneton also works with Hong Kong farms, sourcing a variety of ingredients from herbs and edible flowers to root vegetables. He even uses a local breed of chicken which is raised in a sustainable and ethical manner.
Wine and cocktails
Completing the festival is a programme for cocktail aficionados and wine lovers. Throughout the month there will be two programmes, Creative Cocktails Citywide and Wine on the Waterfront.
The Creative Cocktails Citywide programme features over 200 of the city's top bars offering specially created cocktails, with cocktails and gourmet snacks price at HK$100 each.
The Wine on the Waterfront programme brings together over 150 noted restaurants, gathering in six harbourfront districts and two buzzing food hubs, offering you unique wine and food tasting combos priced at HK$150.
 
For more information about all of the exciting happenings at the 2022 Hong Kong Wine & Dine Festival visit DiscoverHongKong.com/WineDineFestival.