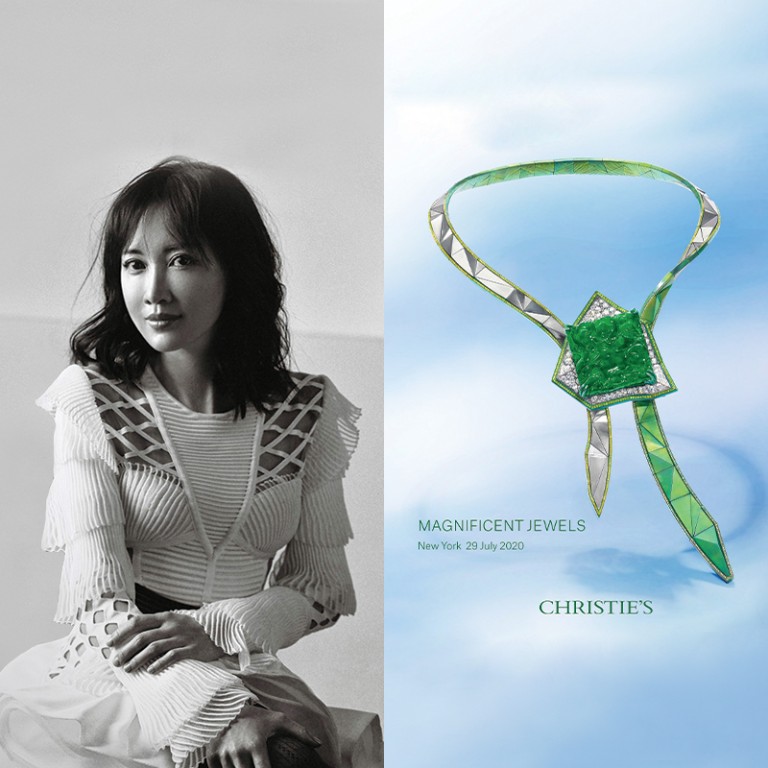 Contemporary high jewellery artist Anna Hu masterpiece goes to block today at Christie's New York's Magnificent Jewels sale
[Sponsored Article]
The spectacular "Sky Tower" jadeite necklace, created in collaboration with Christie's, breaks new ground in art history and is set to realise an outstanding price.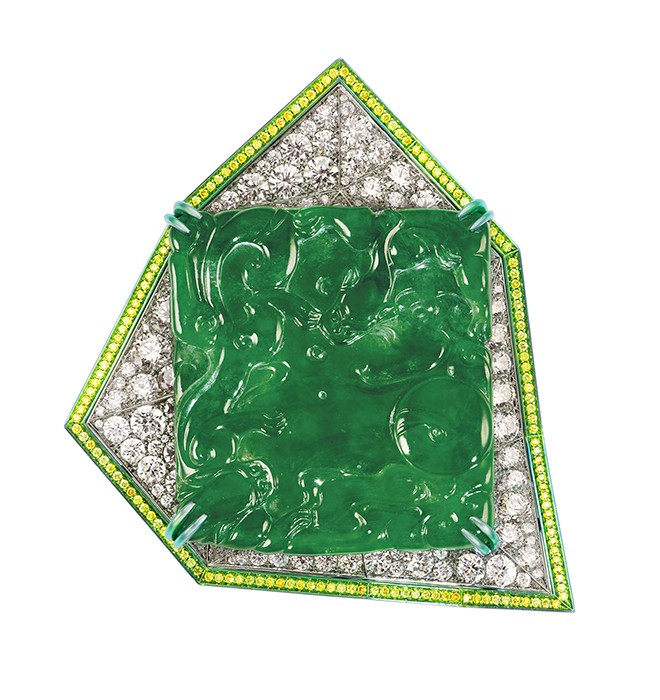 A cover lot like no other
A fusion of Eastern and Western culture, contemporary aesthetics and vintage jadeite, the "Sky Tower" graces the cover of Christie's auction catalogue for the Magnificent Jewels sale to be held in New York today, July 29. This new masterpiece by Anna Hu, a Taiwanese native and longtime resident of the "Big Apple", makes history by being Hu's first jewellery and the first jadeite piece to be selected as the cover piece for the famed auction house's New York sale. 
A symphony of geometric shapes and curvaceous lines
The acclaimed classical musician-turned-jewellery-artist took inspiration from the brand new supertall skyscraper 53 West 53 - the MoMA Expansion Tower located in midtown Manhattan.  Designed by Pritzker Prize-winning architect Jean Nouvel, the project is like no other building in the world. Its unique silhouette tapers as it rises to a 1,050-foot-tall distinctive spire, while its striking metal and glass façade expresses the building's structural system with its many diagonal and geometric elements.
Already revered as a site of artistic excellence and a new landmark in Manhattan, 53 West 53 is also where Anna Hu's global headquarter will soon reside, with the official opening slated for late 2020 to early 2021.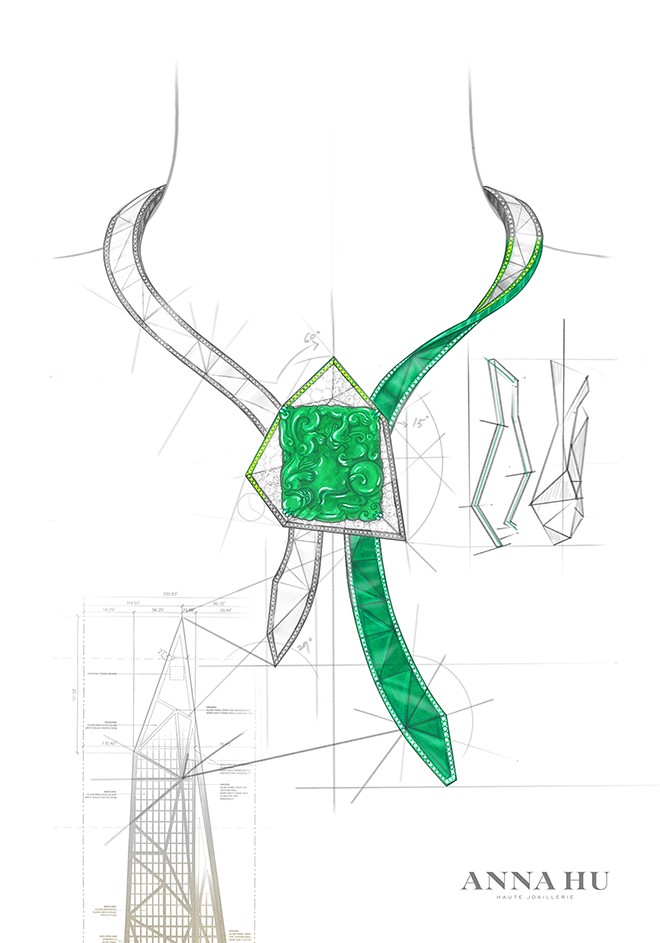 Influenced by the powerful aesthetic possibilities of the building's Nouveau Arts style, Anna introduced these ideas into her artistic conception of the equally elegant and sophisticated jadeite necklace.
The curvaceous ribbon-like body of the necklace, shaped like a scarf, is made of 18K white gold and titanium in graduated shades of green, yellow and white to complement the jadeite centrepiece.  The intricate triangular patterns evoke the geometric elements of the towering glass façade of 53 West 53.
The pièce de résistance of the necklace is the magnificent 126.80-carat jadeite plaque carved with animal figures believed to be from 1970s or 1980s, courtesy of Christie's.  Measuring 1.4 by 1.6 inches, the imperial jadeite is set as centre stone of the pendant shaped like a propitious shield from the ancient Chinese Royal Army that protects its wearer symbolically. Detachable, the pendant can also be worn as a brooch.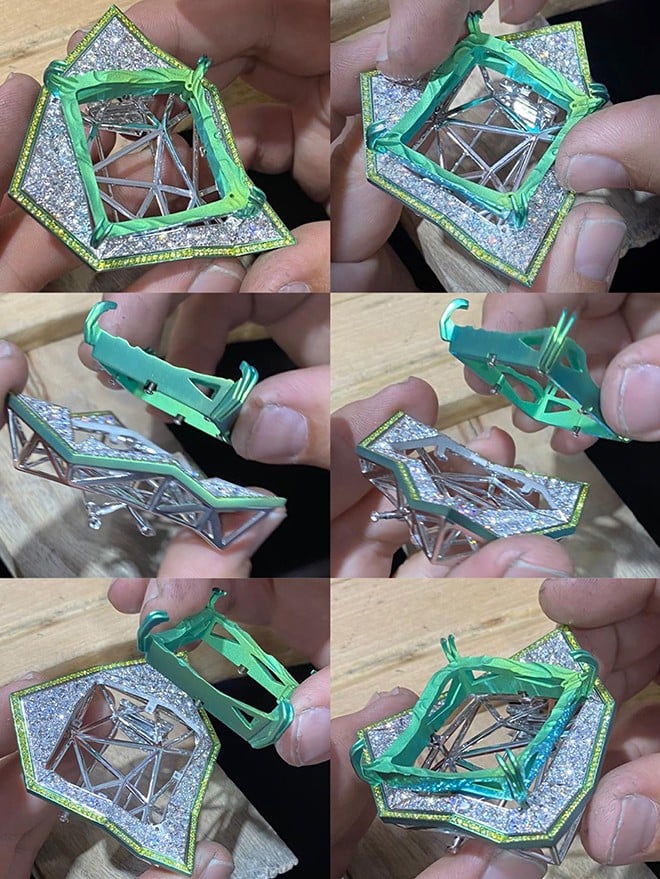 Adding scintillating sparkle are 417 round brilliant cut diamonds (10.73 carats) and 1,201 fancy intense yellow diamonds (4.15 carats) that are mounted in the pendant and lined the edges of the necklace.
Hu's ingenuity and superb craftsmanship are also in full display on the back of the necklace. She continues the story with intricate engravings reminiscent of the auspicious clouds that symbolise blessings, joy, safety, and health in Chinese culture, as she works around the flowing and vivid metallic curves and hollow-carved mounting for the jadeite.
Designed and crafted in Hu's atelier in Paris from January to July, "Sky Tower" represents a significant turning point in her contemporary aesthetics.  Combining solid geometric patterns with fluid lines, Eastern with Western sensibilities, Hu proves that tradition is immortal in this timeless masterpiece.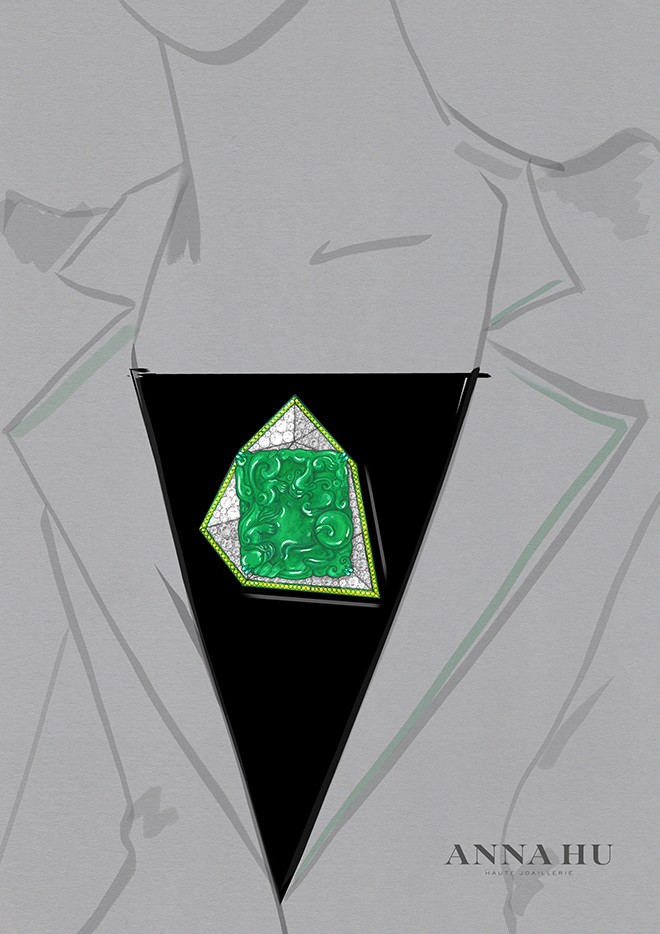 A prized collectable to own
Estimated at US$1 to 1.5 million, "Sky Tower" is one of the highlight lots of the Magnificent Jewels sale and a stunning collectable for any jewellery connoisseur.
Hu's jewellery has a track record at auctions, with the jadeite "Orpheus" ring setting a world record at that time for a Chinese contemporary jewellery artist by selling for HK $20,030,000 at Christie's Magnificent Jewels auction in Hong Kong in May 2013.