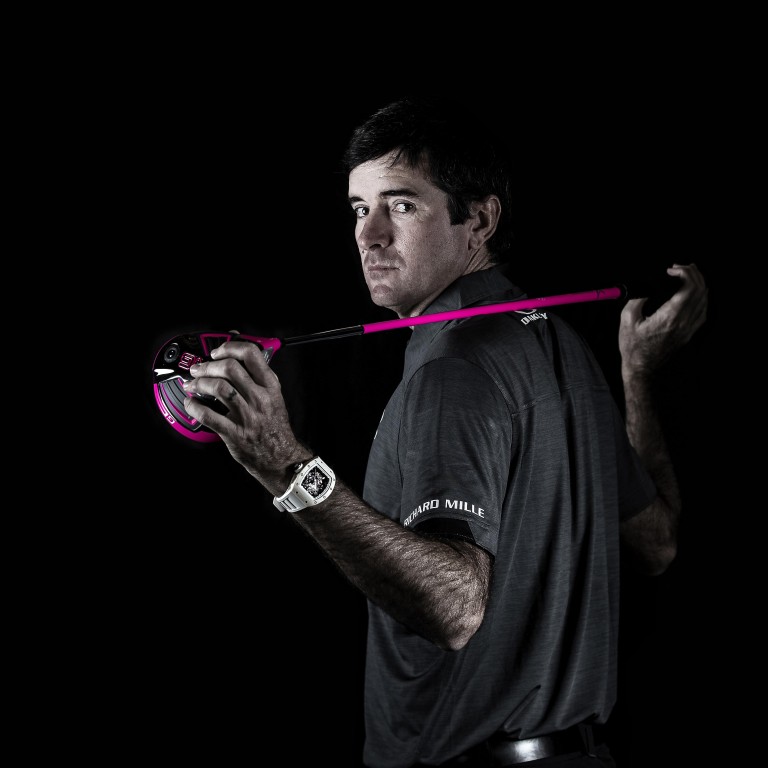 Precision, innovation and intelligence
The Richard Mille RM 38-01 G-Sensor Bubba Watson is the latest technological marvel that is designed to withstand the rigours of the champion golfer's powerful drive while offering him valuable insights of his game.
In Partnership With
Richard Mille
[Sponsored Article]
Bubba Watson, two-time masters' winner with a career high ranking of 2, is known for being one of the world's longest drivers. He stands out from the crowd with his unique physique, personality and self-taught golf skills, epitomising the high performance and precision seen only in the world's top sportsmen. At 38 years old, he is considered one of the best golfers of this generation with a powerful drive, establishing him consistently as the longest hitter on the PGA tour since 2006, followed by his first 1st US PGA Tour event in 2010.
One of the rare left handed players on the circuit, Bubba likes to wear wristwatches while playing, so they must complement his game and not hinder. Richard Mille, an innovator who likes the challenge of creating exclusive timepieces for elite athletes, has collaborated with Bubba since 2010, when he was an emerging star. 
With the rigours and needs of the golfer's environment in mind, three highly technical, tough and stylish timepieces have since been created for Bubba using new movement concepts, materials and designs: the Tourbillon RM 038 Bubbba Watson, the highly skeletonised RM 055, and most recently the Tourbillon RM 38-01 G-Sensor. The most notable new feature of the latest creation is its ability to measure Bubba's powerful swings, while its distinctive green ceramic bezel echoes the second green jacket that Bubba received at the Augusta Masters in 2014.
After the successful release of the golfer's first Tourbillon RM 038 in 2010, Richard Mille has undertaken the development of yet another specific Tourbillon watch for Bubba, this time with added functionality. The result is the RM 38-01 Bubba Watson, a timepiece that combines a patented G-sensor with a Tourbillon mechanism, thus providing new insights for golfers of their game.
Patented G-sensor to record swing strength
The mechanical G-sensor, a Richard Mille world first containing more than 50 moving parts within a mere 17mm, allows the user to see the accumulated motion of their swing in G's. The sensor, placed under 12 o'clock, is able to record the force generated by a swing, specifically during the last segment.
This means that the RM 38-01 can record up to 20-G's of acceleration, a vital piece of information for a golfer like Bubba, who is able to hit a ball at more than 310 kilometres per hour. Resetting the sensor back to zero for the following swing is done by simply pressing the aerodynamically formed pusher at 9:00 once.
The G-sensor mechanism is integrated into the heart of a manual winding Tourbillon movement with 48 hours of power reserve. The movement is a technological marvel with its highly skeletonised, asymmetrical flying bridges and plates machined from grade 5 titanium with PVD treatment. This choice of materials and finish ensures rigidity, flatness and resistance for all the moving parts, simultaneously allowing the movement to effortlessly express its architectural aspirations of air and form.
Matte green bezel in high tech ceramics
The RM 38-01 Bubba Watson stands out at first glance with its unique green case–Bubba's favourite colour–which upon closer examination demonstrates the mastery and insight of Richard Mille in the revolutionary application of industrial materials for 21st century watchmaking.
The front and back bezels of the RM 38-01 are created in TZP-G, a ceramic class of material based on microscopic tubes of alumina oxide powder injected with green colorant at a pressure of 2,000 bars. This is followed by an arduous machining and grinding process with diamond tooling in order to obtain the exact complex curves and arcs typical of Richard Mille's designs. The resulting material offers 20 - 30% more stiffness in comparison to traditional ceramics. At last, the material is delicately worked to create an attractive matte surface finish and further complemented with a central caseband in grade 5 titanium molded with white rubber, thus ensuring comfort and lightness under all conditions.
Released in an edition of 50 pieces worldwide, the RM 38-01 G-sensor Bubba Watson provides golfers with valuable insight about the strength of their swing and thus allows them to better adapt their technique for each course they compete on. It is the perfect synthesis of haute horlogerie and 21st century innovation, comfort and utilitarianism, designed specifically for today's golf enthusiasts with the highest aspirations.

This content has been created under the direction of an advertiser. It contains no editorial input or review from the South China Morning Post (SCMP), nor does it reflect the position of, or the editorial standards used by, the SCMP. The advertiser has paid for and approved the content.