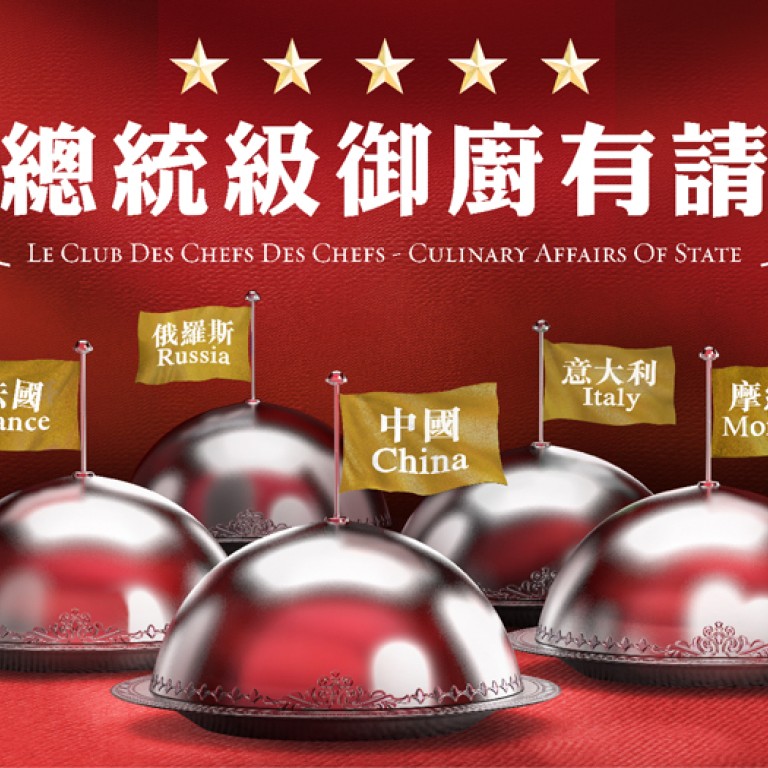 In Partnership With
Galaxy Macau
[Sponsored article]
A Stately Dining Experience Awaits You
It is not everyday that you get to dine like a head of state, a queen or prince. Galaxy Macau is offering you a once in a life time opportunity this October.
Le Club des Chefs des Chefs (CCC) is the world's most exclusive gastronomic society whose members are chefs who cook for heads of state. They do not meet frequently but this stately culinary experience is being brought to Galaxy Macau this month to offer a dining experience to savor and remember.
Four "jewels in the crown" of the culinary world will be offering their unique expertise in their own specialties in a series of dinners to be held in restaurants in Galaxy Macau. They include Christian Garcia, current CCC president and executive chef to Prince Albert II of Monaco; Jerome Rigaud, former chef to the President of the Russian Federation, Fabrizio Boca, chef to the Italian president; and Julien Dugourd, chef-pâtissier de La Chévre d'Or.
Enjoy this regal touch with exclusive menus at Terrazza Italian Restaurant, Belon, Festiva and Sugar Art Show & Cooking Class at CHA BEI. On 29 October, a Gala Dinner featuring a menu fit for a king prepared by the five visiting Chefs des Chefs, in collaboration with some of Galaxy Macau's own award-winning chefs, promises to be a gastronomic highlight of the year! Part of the proceeds will go to Orbis to help fight blindness.
Price: MOP 2,888+ per person
Venue: Grand Ballroom, The Ritz-Carlton, Macau
For booking and enquires: +853 8883 2221 /
[email protected]
Christian Garcia: Executive Chef to Prince Albert II of Monaco
Christian Garcia has worked for the Royal Household of Monaco for 30 years, and is currently the President of Le Club des Chefs des Chefs. Trained in classic brasserie cooking at his father's restaurant in the Centre-Val-de-Loire region, since moving to Monaco at the age of 18 he has become one of the great exponents of Cucina Della Riviera, which combines elements of the French and Italian traditions of Mediterranean gastronomy. He emphasizes simplicity, authenticity and the use of healthy ingredients and methods of preparation in his kitchen. He also has an interest in the spicy elements of Asian and South American cuisines, which informs but does not compromise the authenticity of his Southern European style.   
Event period: 27- 28 Oct
Venue: Belon
Price: 5-course dinner set menu at MOP 788+ per person 
Jerome Rigaud: Former Chef to The President of The Russian Federation
In addition to his time in charge of the Kremlin's kitchens, where he cooked for many heads of state and to which he brought considerable French savoir-faire, French chef Jerome Rigaud has worked under several of the greatest European chefs, including Joel Robuchon and Michel Troisgros. He is also knowledgeable about Japanese and Lebanese cuisines, in addition to French and Russian. After three years in his position in Moscow during Dimitry Medvedev's presidency, Chef Rigaud moved to Mauritius, and further developed his skills cultivating an interest in Indian cuisine using local ingredients. In 2009 he received a Diploma of Honour from the Toques Blanches du Monde.
Event period: 27 - 28 Oct
Venue: Festiva
Price: Russian dinner buffet at MOP 438+ per person
Fabrizio Boca: Chef to The President of The Italian Republic
As Executive Chef Fabrizio Boca is in charge of the kitchens of the Quirinale Palace, which, as he describes, is a unique place to work. "The only comparison that comes to mind would be to compare it with Buckingham Palace or the White House." He started working there at the tender age of 23, and over the years has learned the favorite Italian dishes of several heads of state. Britain's Queen Elizabeth, for example, is partial to his Risotto with Herbs and Roast Lamb. His cuisine at the palace is, he stresses, "100% Italian", and based on the best available fresh market ingredients. He is strongly influenced by the principles of the slow food movement.
Event period: 27 - 28 Oct
Venue: Terrazza Italian Restaurant
Price: 4-course set menu at MOP 888+ per person
Julien Dugourd: Chef-pâtissier for Château de La Chèvre d'Or
Chef-Patissier of a legendary 2 Michelin starred restaurant on the French Riviera, where he works with Head Chef Arnaud Faye, Julien Dugourd had already completed his chef's training when he discovered his passion for patisserie, strongly influenced by aesthetics as well as the inclination of the palate. He has also worked with Chef Jean-Georges Klein in Alsace and Chef Alain Ducasse at l'Hôtel de Paris in Monaco, and was particularly inspired working under the great Chef Patissier Christophe Michalak, at the Plaza Athénée in Paris. He is a key member of the French Pastry Olympic team, and winner of prestigious awards such as European Vice Champion for Sugar Design in 2011 and a second place as a member of the French Team at the World Cup of Pastry in 2009.
Event period: 28 Oct
Venue: Cha Bei
Sugar Art demonstration and Private Cooking Class