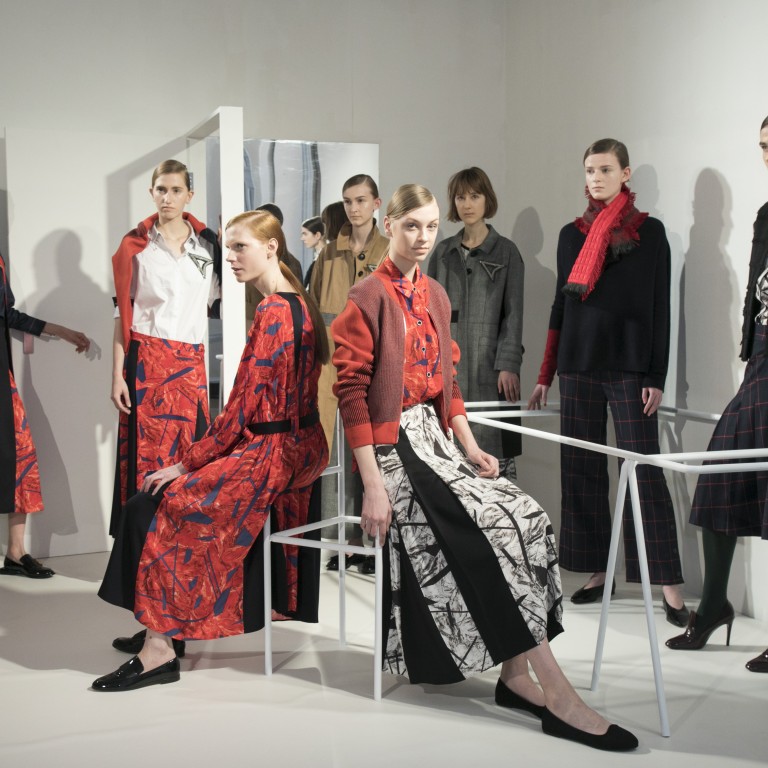 Hong Kong designers made successful debut presentation at London Fashion Week
  [Sponsored Article]
London, the world's foremost creative hub known for its avant-garde styles, open-mindedness and cultural diversity, is the natural home to a fashion event that champions these qualities. To take advantage of the promotional opportunities offered by London Fashion Week, the Hong Kong Trade Development Council (HKTDC) for the first time brought four leading Hong Kong labels to London to promote the city's design prowess this past February.
The Fashion Hong Kong Fashion Presentation and Cocktail Reception was held on February 16, the first day of London Fashion Week at Somerset House which is a cultural hotspot in London for art and fashion-related events and activities, attracting more than 600 buyers, media representatives and fashion experts from the UK and beyond. Celebrities and fashionistas were in attendance, including Mathew Anderson, CEO of the esteemed British designer label Jenny Packham.
The Hong Kong fashion designers featured in London were: Yi Chan and Lary Cheung of HEAVEN PLEASE+, Vickie Au of HOUSE OF V, Dora Chu of Maison Vermillion and Glori Tsui of METHODOLOGY. By incorporating installation art elements into the fashion presentations, each label exuded its own unique flair with a strong brand identity and this diverse mix illustrated the varied characters of Hong Kong fashion. Offering a contemporary take on fashion from the vantage point of Hong Kong, the show successfully attracted coverage from British fashion bloggers as well as international fashion media, including WWD, Business of Fashion, Wallpaper*, Wonderland and more.
During February 16-20, the four designers also participated at London Fashion Week's official Designer Showrooms, where they explored business, collaboration and partnership opportunities with buyers and industry players from all over the world.
Crossover projects to promote London debut worldwide
Fashion Hong Kong partnered with several lifestyle brands to promote the London event - they included CHOCOLATIER, Daycraft, Everyday is chill out day, Klook, Lomography HK, Luen Hing Paper Limited, Mira Place and received sponsorship from Chow Tai Fook Jewellery Co Ltd. The Hong Kong team of renowned creative photography brand Lomography invited Hong Kong photographer Max Chan, the photographer for the award-winning Hong Kong movie "Mad World", to do photo shooting for the fashion presentation. Lomography Hong Kong also provided instant cameras and lenses for designers to capture and share fashion snapshots from the streets of London.
In addition, Fashion Hong Kong also collaborated with a Hong Kong travel start-up Klook which spread the word to lifestyle travellers worldwide. With a focus to promote local fashion labels, shopping mall Mira Place relayed the latest Fashion Hong Kong news at London Fashion Week on its social media platform, and showed highlight reels and designers' collections from 2 March to 30 April at the mall for supporting Hong Kong original fashion designs.
Hong Kong illustrator Joe Lam, the brain behind the brand  "Everyday is chill out day!", created an exclusive illustration for the event, while Daycraft, a local brand that advocates original designs and has a passion for the arts, design and lifestyle, collaborated with Fashion Hong Kong to produce limited-edition diaries celebrating this momentous debut. The diary covers featured graphics created by the participating fashion designers specifically for this crossover project. Other famous Hong Kong brands also generously sponsored the event, namely Chow Tai Fook Jewellery Co Ltd, CHOCOLATIER and Luen Hing Paper Ltd.
Fashion Hong Kong is a series of international promotions organised by the HKTDC to raise the global profile of Hong Kong designers and labels. Since 2015, Fashion Hong Kong has staged world-class runway shows at major international fashion events, including New York Fashion Week, Copenhagen Fashion Week and Tokyo Fashion Week, in a sustained effort to create awareness for Hong Kong fashion on the global stage.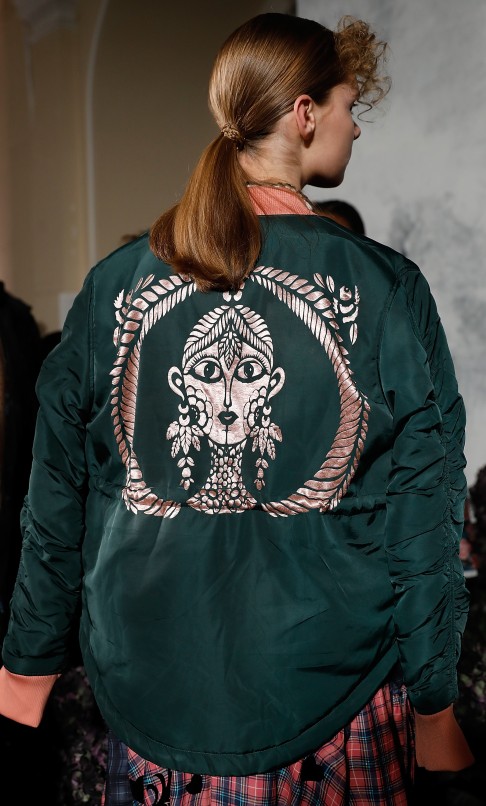 Maison Vermillion: a dramatic royal love affair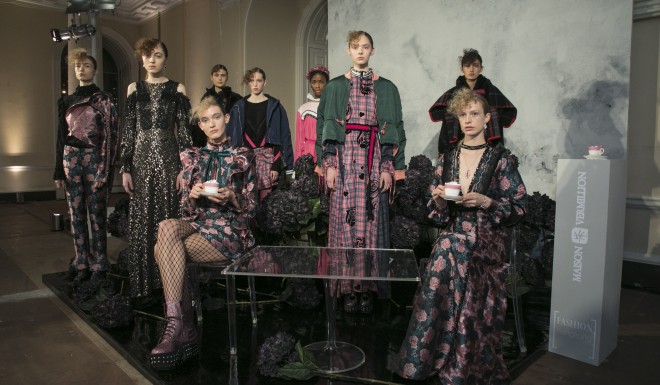 Inspiration for the label's A/W 2018 Collection "The Greatest of Thee" came from the famous royal love affair between Henry VIII and Anne Boleyn in the 15th century. Maison Vermillion was supported by Chow Tai Fook Jewellery Co Ltd which provided stunning jewellery to enhance the dramatic looks. It also partnered with noted Chinese paper- cutting artist, Li Yunxia, to infuse the Chinese paper-cutting art into the Western lace, with the use of laser cut and special weaving techniques— to create one-of-a-kind, modern art pieces for the presentation.
HOUSE OF V: an architecturally inspired study in contrasts
Vickie Au, head designer of HOUSE OF V, showcased the label's A/W 2018 collection, Unexpected/Habitual, which was inspired by an extract from the speech of renowned Polish- American architect Daniel Libeskind made in 2009. The collection is rich in contrasts—Expressive vs Neutral, Complex vs Simple, Pointed vs Blunt.
METHODOLOGY: juxtaposing colours and textures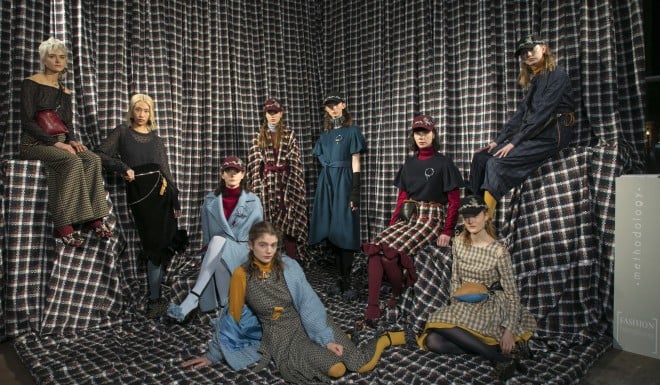 Designer Glori Tsui studied illustration at the Art Center College of Design in Southern California. She then pursued her interest in sustainable fashion design by obtaining a master's degree in fashion design at Nottingham Trent University in the UK. Her A/W 2018 Collection "Plaid Block" celebrates the brand's signature silhouettes by presenting stark contrasts in plaid patterns, solid colours and layered textures in the identical plaid pattern background, making the models blend in with the surroundings for creating some playful optical illusion effects.
HEAVEN PLEASE+: Hong Kong high fashion with mixed cultures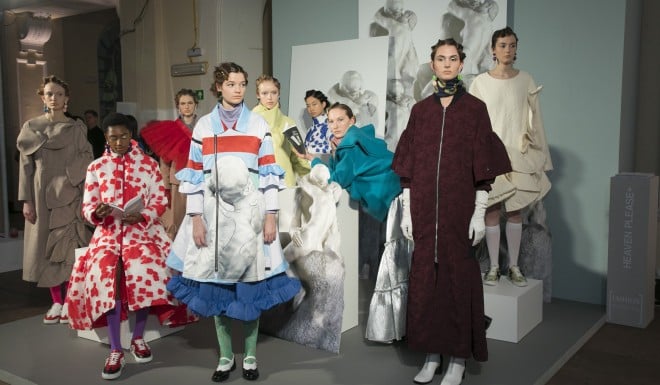 Launched by the design duo Lary Cheung and Yi Chan, HEAVEN PLEASE+ has been searching for an alternative narrative using the language of design details and silhouettes. The novel by noted Hong Kong writer Liu Yichang, Wrong Number, was the inspiration behind the label's second-half A/W18  collection DăCuòLe Vol.II (English: Wrong Number) following their A/W 2018 Collection in New York, which is a re-mix of 1950's  Hong Kong high fashion with Western taste.

This content has been created under the direction of an advertiser. It contains no editorial input or review from the South China Morning Post (SCMP), nor does it reflect the position of, or the editorial standards used by, the SCMP. The advertiser has paid for and approved the content.