Paid Post:
Singapore Tourism Board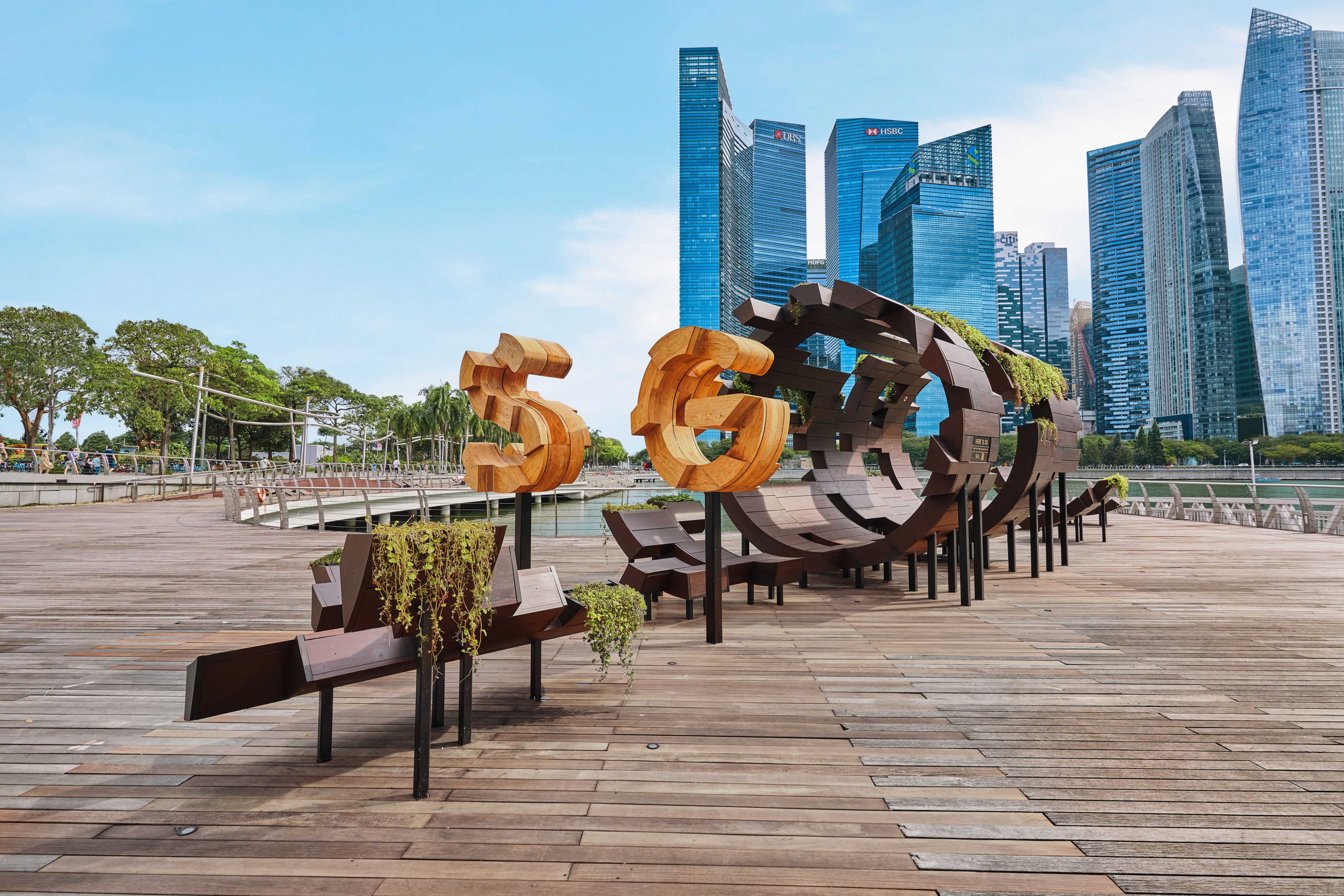 Singapore's latest public sculpture, Here Is SG, is said to be sustainable – but is it really?
Paid Post:
Singapore Tourism Board
The new, Instagrammable steel and wood artwork, made by Singapore-based creators and designers, is located along the city state's Marina Bay promenade
Artist Alvin Tan of Phunk and Emily Sim of design-and-build consultancy Superstructure say sustainability has driven every creative and practical decision
[Sponsored article]
Be it environmentally conscious buildings with verdant green walls, shoes made from recycled plastics or upcycled furniture crafted out of surplus materials, there currently seems to be no shortage of projects out there touting themselves as eco-minded creations.
The same goes for Singapore's latest and possibly most Instagram-friendly public artwork, Here Is SG. Located along the scenic Marina Bay promenade, home to many of the city state's iconic landmarks that shape its unique skyline, the sculpture's distinctive design – which incorporates the letters S and G to represent Singapore – is certainly hard to miss.
Here Is SG is a collaboration between three Singapore-based creators: Alvin Tan, co-founder and creative director of design studio Phunk; Emily Sim, who co-founded and directs design-and-build consultancy Superstructure; and Veera Sekaran, who runs the urban greening consultancy Greenology. Tan and Sim talk to the Post about their thought processes for taking the sculpture from concept to reality.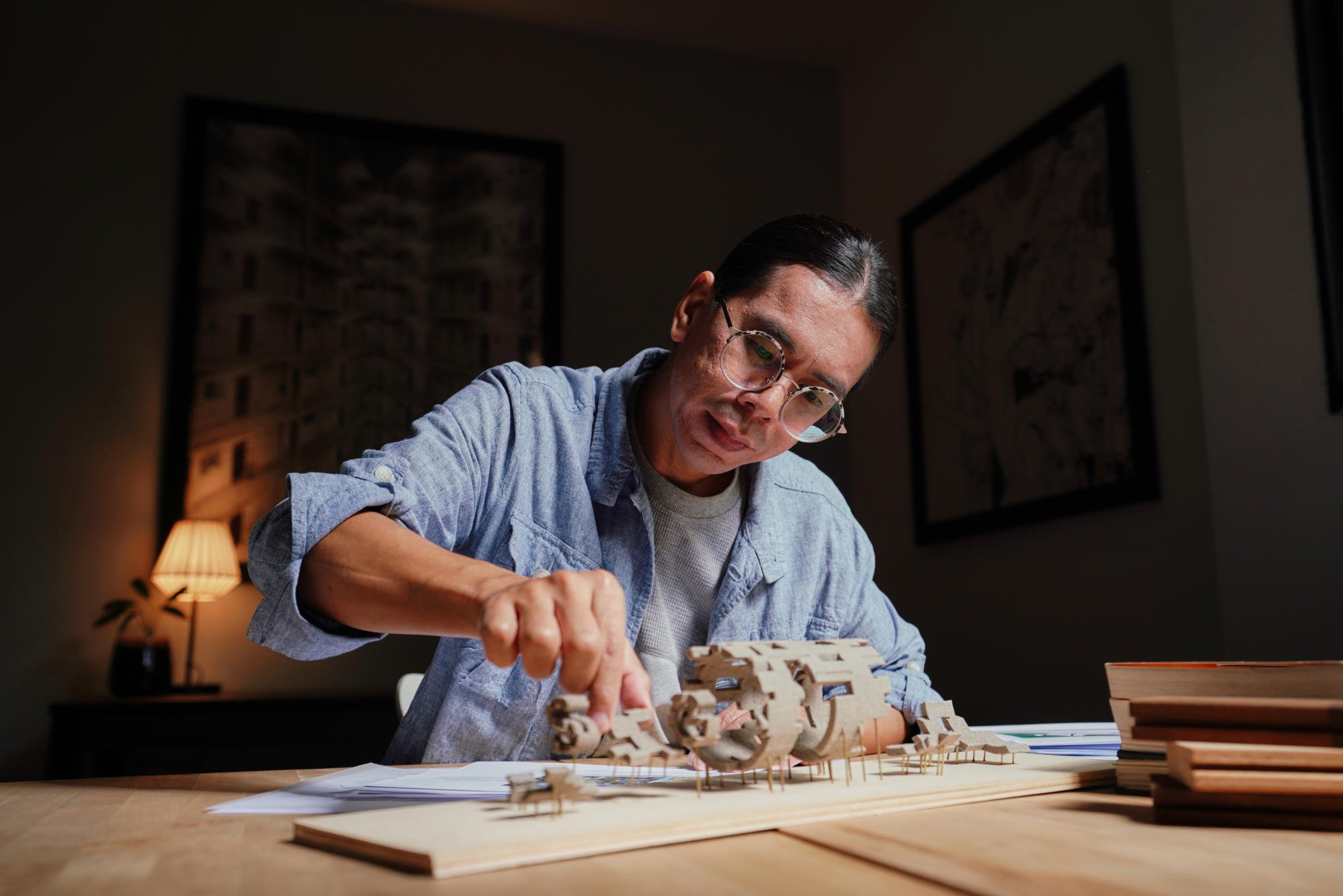 "The idea of the sculpture is really about Singaporeans coming together to form a unit, to form a country," Tan says of the interactive installation. "This is especially meaningful seeing as we have just been through the [Covid-19] pandemic together."
Just how sustainable is it?
For Sim, sustainability has been a key consideration since the very first stages of conceptualising the sculpture. It was created using algorithm-powered computational design, as well as digital fabrication techniques that help promote efficiency and prevent material wastage.
"We really got together, sat down and explored so many options of how we could make it more sustainable," Sim says. "Having various sustainable features is one thing, but being a beacon of sustainability is just as important."
One of the sculpture's most prominent sustainable features is its construction in a durable, reconstituted timber called Onewood, instead of natural timber harnessed from conventional sources. Onewood is sourced from fast-growing and sustainable plantations – which means it does not contribute to deforestation – and is harvested in a way that minimises wastage.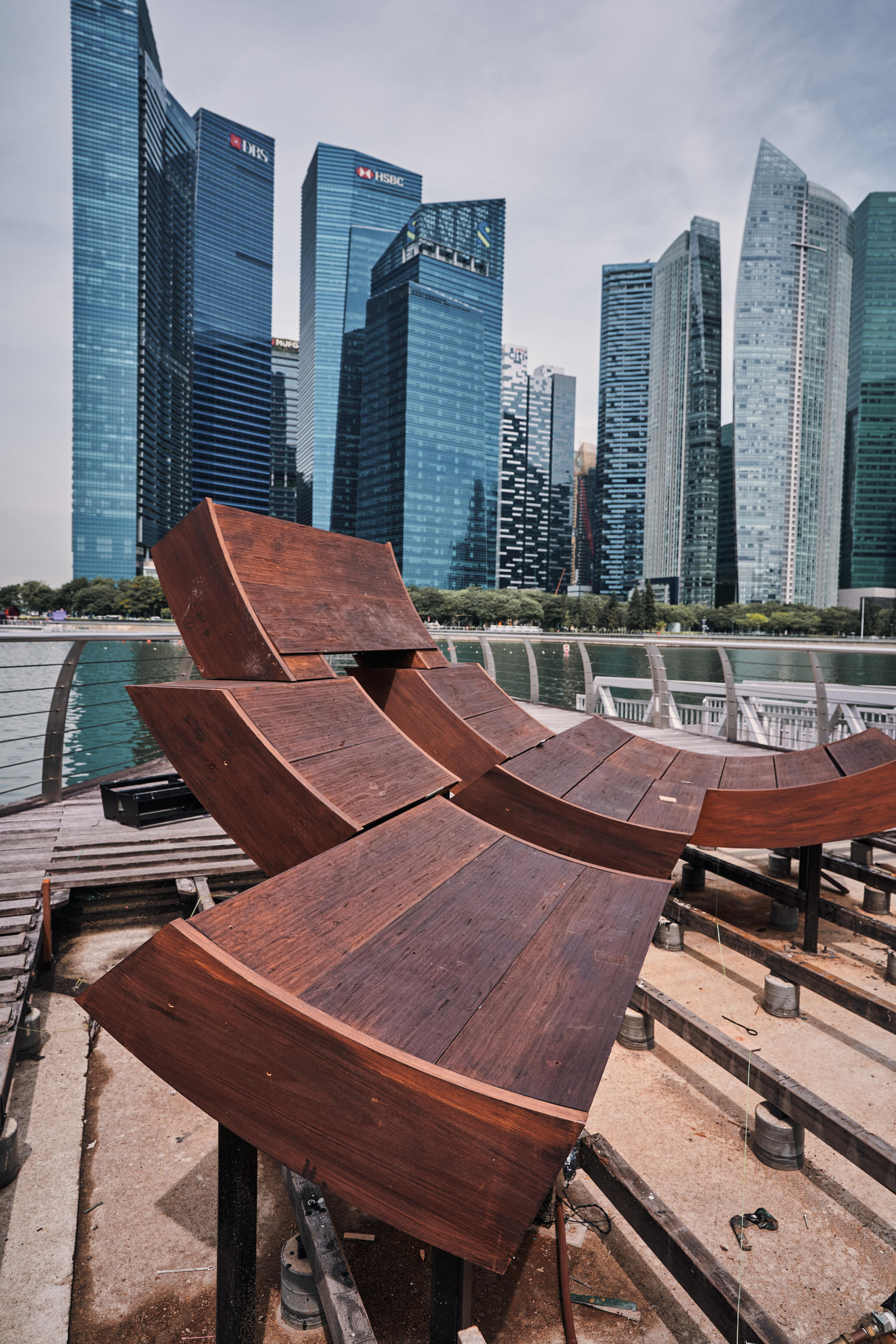 "To take this one step further, we are also intending to let the wood weather naturally and beautifully over the years, without any varnishing or touching up," Tan reveals. "It will create a striking contrast against Singapore's sleek and shiny skyline."
In addition to the use of sustainable Onewood, Here Is SG is outfitted with a network of solar panels to power all of its energy needs. At night, energy-efficient LED lights illuminate the sculpture using minimal electricity, resulting in a daily power consumption of just 7.2 kilowatt-hours.
Another sustainable feature is mindful landscaping in the form of native Pilea plants, which are maintained using a smart irrigation system. These hardy plants absorb carbon dioxide from the atmosphere, while helping to reduce the sculpture's surface temperature in hot weather conditions. Visually, they add lush and pleasant pops of green to the wood-brown facade.
"For me, sustainability is a philosophy. You have to practise it throughout your life in order to manifest its benefits," Sim says. "Artistic or design projects such as this can remind people of how they can be sustainable or apply sustainability in their daily lives."
The artwork's eco-conscious elements are very much aligned with Singapore's identity as a Garden City, and its ongoing transformation into a City in Nature. The latter is a key pillar of the ambitious Singapore Green Plan to develop a greener and more sustainable city by 2030.
Coming together
Beyond its environmentally friendly features, Here Is SG evokes the endless possibilities that can emerge when Singaporeans from all walks of life unite together as one. To convey this, the creators chose to use smaller pieces of timber in the assembly of the installation, including its prominent SG mark.
"The sculpture's deconstructed, smaller fragments coming together to form a bigger picture symbolises people working together to make something out of nothing," Tan explains. "This really struck a chord with me, as I had to work with many different people in making this piece come alive – from various authorities and experts in their fields to contractors and steel engineers."
Sim points to the use of Singapore-made Onewood as another aspect of the construction that reflects this sense of local pride. "It's a fitting choice, as we are able to encapsulate the spirit of this sculpture being an embodiment of what Singaporeans can do," she says. "I believe in collaboration, and especially within Singapore, where it's such a small market, this project brought together people from niche industries and with different passions."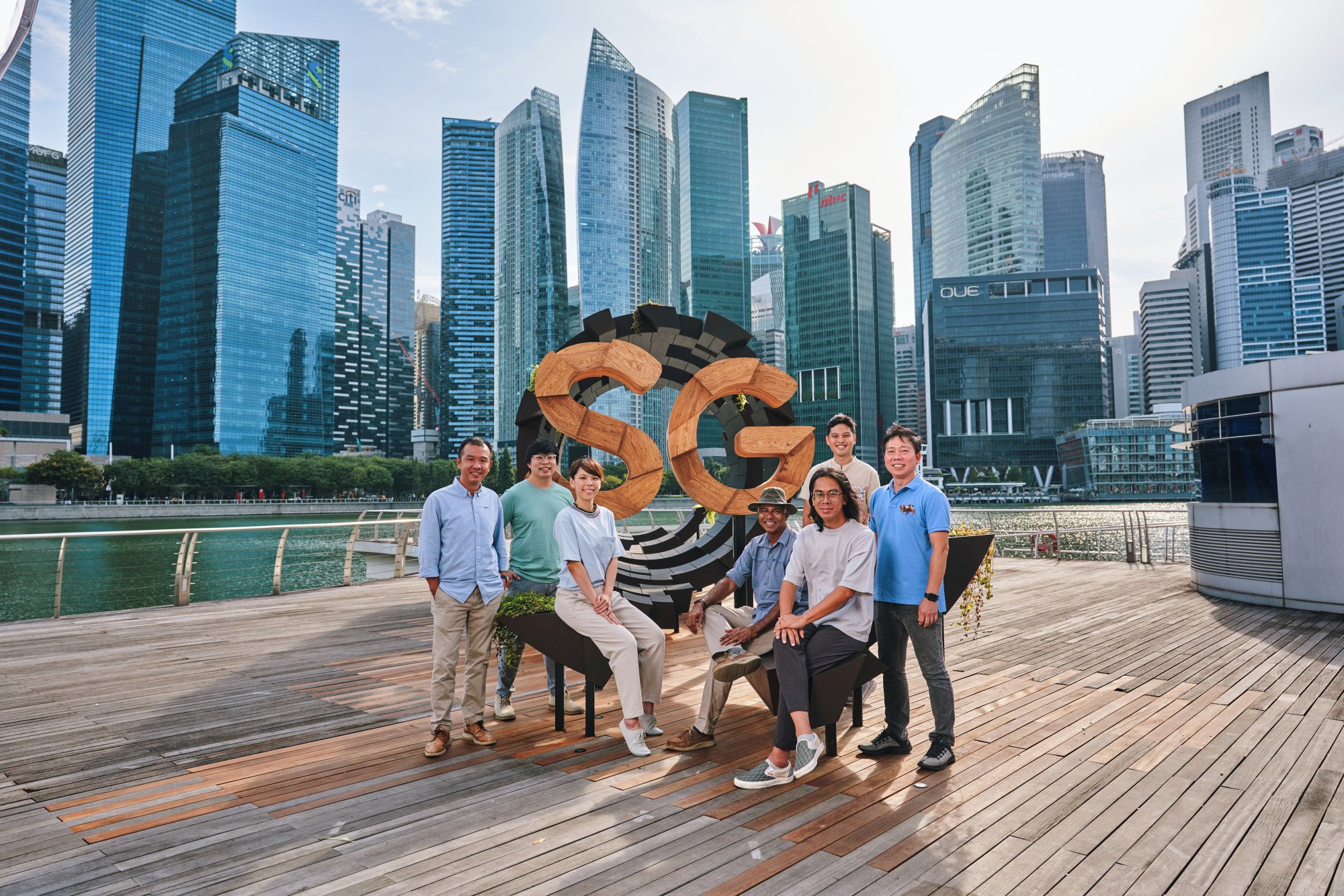 As tourism returns to the city state and more residents are out and about again, Here Is SG stands as a striking emblem of the Singapore spirit, and offers yet another reason to visit the picturesque Marina Bay waterfront district.
"I hope the sculpture can be a sanctuary for people to rest and relax under the shade it provides," says Tan, who adds that he aspires for it to help foster a sense of community. "It's not just a static piece – you can really engage with it, and bring a friend along to enjoy the space. It can serve as a conversation starter for people to interact with one another and make friends while they are there taking photos."
Sim also hopes that the project will spur similar efforts by her fellow local creators. "I hope that this sculpture can encourage other start-ups or people trying to do creative, against-the-grain things to be more courageous in their pursuits," she says.
"There is always room for more public artwork in Singapore – be it monumental and in your face, or something that is subtle but inviting and harmonises with the environment," Tan adds. "It's never enough."
Find out more about the Here Is SG sculpture
here
.