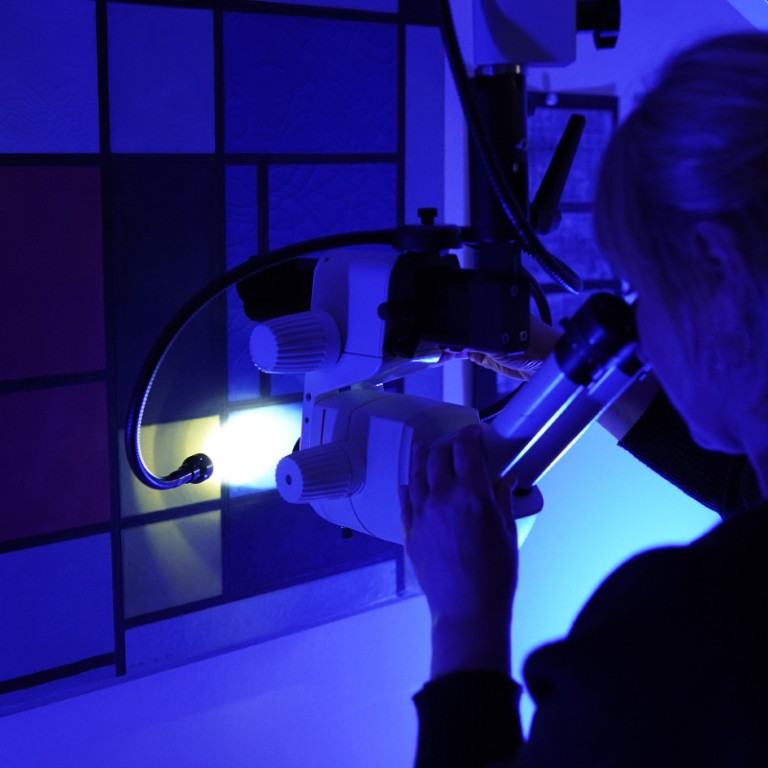 The fine art of timeless beauty: La Prairie decodes Mondrian for posterity
[Sponsored Article]
The Swiss brand renowned for its high-performance luxury skincare that turns back the ravages of time takes its pursuit of timeless beauty and engagement with art to another level with the ongoing conservation of four masterpieces by Piet Mondrian at Fondation Beyeler.
Elevating luxury with a higher meaning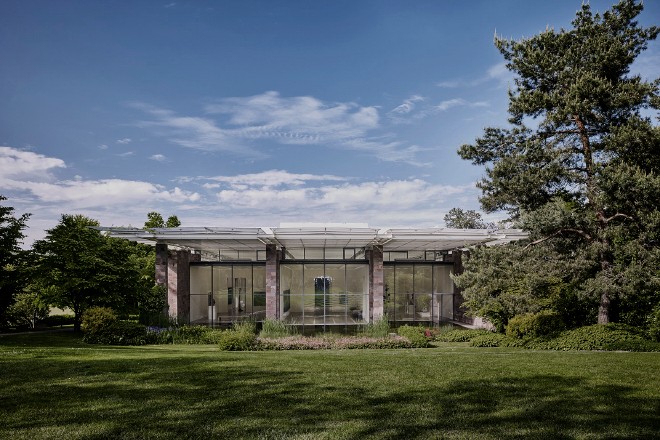 The Piet Mondrian Conservation Project, La Prairie's two-year patronage with Fondation Beyeler, the most visited museum in Switzerland, resonates with its values of Swissness, science and art and culture. 
The brand always has art at its core, from its translucent cobalt blue jars inspired by the work of French-American sculptor Niki de Saint Phalle to collaborations with world-class art fairs such as Art Basel in Basel, Hong Kong and Miami with artist commissions. At the same time, its approach to the science of beauty is also heavily influenced by the audacious spirit embraced by artists – pioneering, explorative and adventurous.
Piet Mondrian, famed for his iconic geometric paintings composed of black lines framing rectangles of white, blue, red, and yellow, is widely considered one of the greatest artists of the 20th century.  His minimalist approach and dedication to purity and precision have long influenced the world of design, culture and fashion, including the expressions of La Prairie with their clean geometric lines, symmetry and harmony. Fondation Beyeler, which holds a prestigious collection of Mondrians, is now well into its second year of the Piet Mondrian Conservation Project, with a major exhibition of the artist planned for 2022.
Exploring Mondrian's intent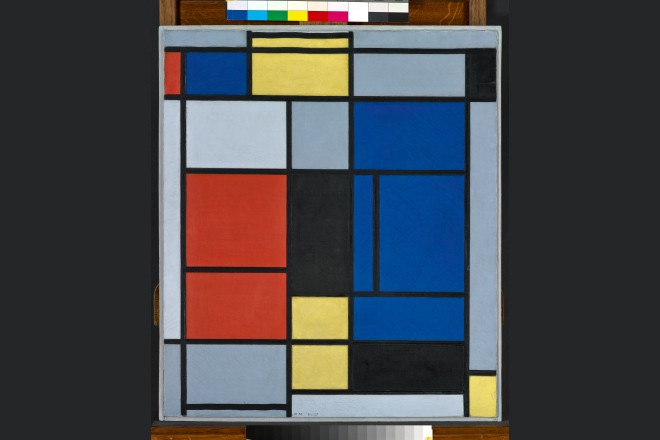 The conservators' painstaking research and analysis of four iconic paintings created between 1921 and 1938 - Tableau No. I; Composition with Yellow and Blue; Composition with Double Line and Blue; Lozenge Composition with Eight Lines and Red – have already yielded some compelling discoveries. 
Through using scientific techniques and technology-based methods such as X-radiography, infrared reflectography, material analyses and high magnification, they uncovered how Mondrian painted and his original intention for his work.
Revealing a process of evolution and experimentation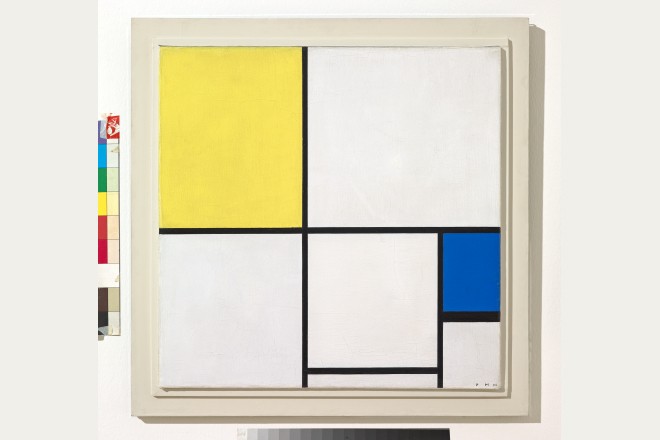 Mondrian appeared to regard stylistic development as fundamental to his art, revising his paintings repeatedly to better capture new ideas and meet his own elevated standards of art. While researching Tableau No. 1 which features the visible signature "P M 21-25.", the conservators uncovered a third date under the top paint layer using   infrared reflectology.  This finding indicates that the painting was first made earlier, most likely in 1920, and that Mondrian's dating signposts singular working phases rather than an ongoing span of time. 
They also found the same evolution of style and pursuit of perfection through experimentation in Composition with Yellow and Blue. The overlaying of paintings using a digital imaging processing programme revealed that Mondrian used the same compositional structure in three different paintings between 1930 and 1932, hiding fine adjustments, and resulting in three completely different effects.
Displaying intuition and precision in harmony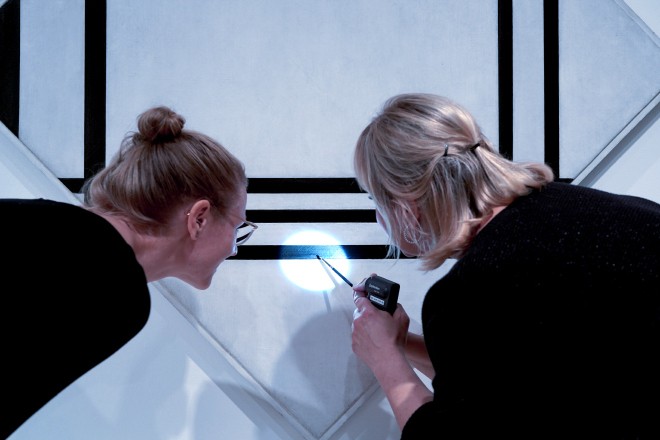 In another finding, the conservators uncovered that Mondrian hid a lot in the details of his paintings. He worked out his ideas of colour and line directly on the canvas, as evidenced by many examples of paint wiping, scratching, and scraping. In Tableau No. 1, infrared reflectology shows a clear grid drawn with a ruler and pencil beneath the paint, where an obvious relationship between the composition and the underlying grid emerges. 
The idea that Mondrian might have used precision tools to achieve perfect harmony and balance is also substantiated in Composition with Double Line and Blue, where all lines are almost exactly even in width, and every angle is a perfect 90 degrees. 
Preserving a lasting legacy
Lovers of art and beauty can follow this complex and fascinating conservation project as it unfolds via The Art Journal, available exclusively on laprairie.com.  
Witness the journey of the art preservation of Mondrian's iconic works and see how La Prairie's mission of celebrating timeless beauty is mirrored in this project. 
By better understanding the artist's pursuit of purity, we get a better experience of the essence of beauty.  And by going on a journey through the past, we will head towards a future that reveals the true timelessness of beauty.