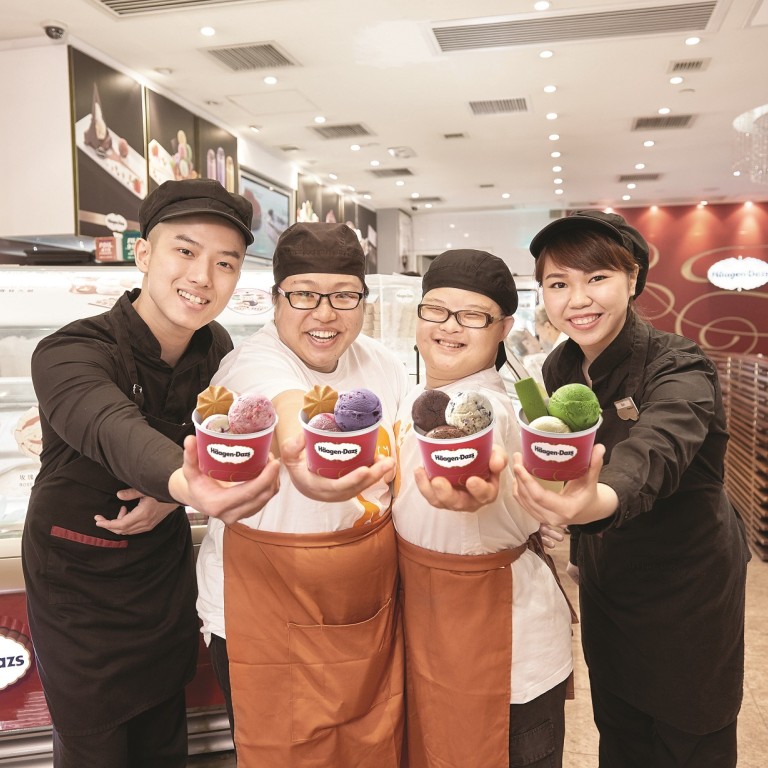 Celebrating inclusion at Mid Autumn Festival
Häagen-Dazs™ joins hands with social enterprise iBakery and i-dArt to create mooncake gift sets to celebrate inclusion and the diversity of talents.
In Partnership With
Häagen-Dazs
[Sponsored Article]
Mid-Autumn Festival is one of the most romantic dates on the lunar calendar. For all Chinese people around the world, this day is about reunion, love and compassion. Inspired by its French origin, Häagen-Dazs™ will be offering a contemporary take on this age-old tradition with a new series of ice-cream mooncakes under the theme "Twinkle Night," while allowing diverse talents from these two local organisations to shine.
iBakery is a social enterprise under the Tung Wah Group of Hospitals that trains and employs people with physical and intellectual disabilities. Some are trained to bake, while others work at various bakeries and cafes across Hong Kong. Offered an outlet to excel, make a reasonable living and develop their careers, iBakery employees have been consistently lauded by customers for their dedication and great service. Their daily interaction with colleagues and customers also helps with their personal growth.
This special "Inclusion · Twinkle" collection will comprise six Häagen-Dazs™ ice cream mooncakes and handcrafted cookies from iBakery. This collaboration represents the shared commitment of the two organisations to create top-notch delicacies to people who appreciate quality and a sincere heart.
Apart from drawing public awareness towards iBakery, the collaboration also gives recognition to i-dArt, an art education institutions that empowers people across all ages with varying levels of abilities. The "Inclusion · Twinkle" collection will come with a cold storage bag featuring illustrations by i-dArt artist Chan Sze-man, Vicky who creates stunningly colourful drawings of flowers. She also works as a baker at iBakery and is particularly adept at decorating cookies with colourful chocolate and cream for different occasions.
The illustration, entitled "The Beauty of Rose" depicts warmth and love for others. The nutrient in the soil is like people's support, which helps these talents grown beautifully like the rose.
As for the mooncakes themselves, Häagen-Dazs™ has brought an exotic style to this Chinese tradition. Each collection is a treasure chest filled with delightful surprises. With an elegant yet modern packaging and luxurious mooncake designs, each collection combines a touch of French allure with flavours from the Orient such as summer berries and cream, and mango. There is also an alternative crispy ice cream collection, with flavours such as matcha and caramel.

This content has been created under the direction of an advertiser. It contains no editorial input or review from the South China Morning Post (SCMP), nor does it reflect the position of, or the editorial standards used by, the SCMP. The advertiser has paid for and approved the content.