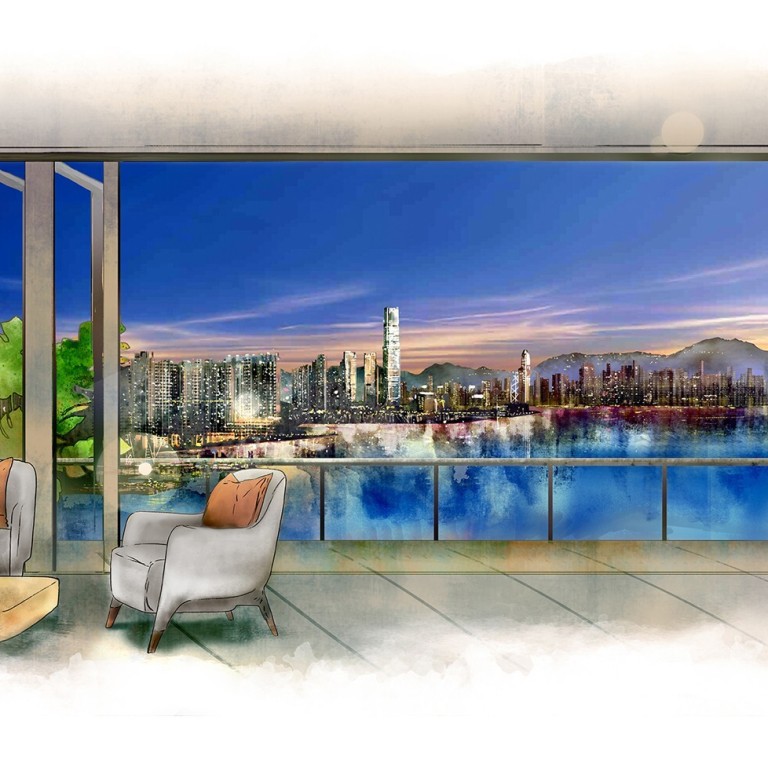 South West Kowloon's grand plans – Hong Kong's waterfront residential and business area the place to be
District, which looks out over Victoria Harbour towards Hong Kong Island, home to many luxury hotels and grade A commercial buildings
Its thriving international-standard arts and cultural quarter served by extensive transport network, including high-speed rail links to mainland China
[Sponsored article]
Over the past decade, South West Kowloon has developed into the new jewel of Hong Kong. Its strategically central position on the city's map has seen it benefit from successive government development projects, transforming it into an ideally connected, visually dynamic, world-class destination.
This extensive investment has led to South West Kowloon becoming one of Hong Kong's most appealing waterfront neighbourhoods.
This stretch of the Kowloon Peninsula – created principally from reclaimed land and boasting stunning views looking out across Victoria Harbour towards Hong Kong Island and The Peak – is home to the iconic 484-metre (1,588-foot)-tall International Commerce Centre (ICC), one of the most recognisable features of Hong Kong's skyline.
South West Kowloon, which was chosen as the location for the terminus of the high-speed Guangzhou–Shenzhen–Hong Kong Express Rail Link (XRL) into mainland China, also has excellent transport connections to Hong Kong's many stations – and the rest of the world, thanks to its high-speed Airport Express rail link serving Hong Kong International Airport.
The area is making its mark as a thriving new cultural quarter, too, following the creation of the West Kowloon Cultural District (WKCD), one of the largest cultural projects in the world offering numerous features such as museums, theatres, concert halls and other performance venues, which will serve as an international-standard arts hub.
South West Kowloon's waterfront has already attracted a wide range of high-class hotels, grade A offices and architecturally stunning commercial buildings – with others on the way – which will make the area an even more vibrant place to live, work and play.
Great travel connections – by air, land and sea
The area of South West Kowloon offers enviable transport connections. It is easy to reach via a number of different Hong Kong MTR stations, including the ground-level Nam Cheong station, a bustling interchange of two railway lines beneath the West Kowloon Highway.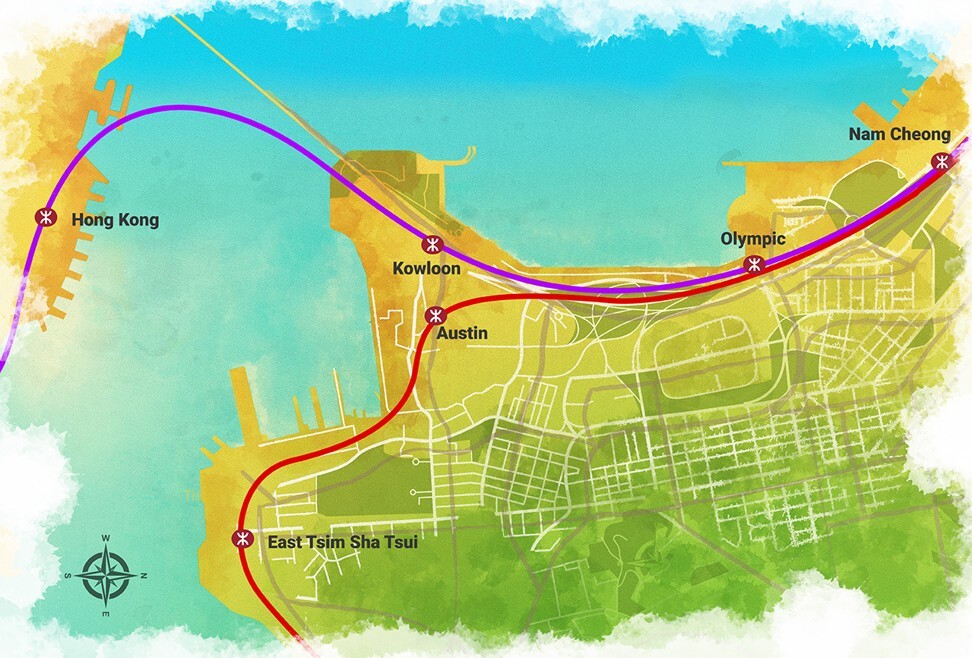 It is served by the Tung Chung Line towards Hong Kong's central business district, which can take passengers to Hong Kong station in only nine minutes. The Tung Chung Line also links directly to Kowloon station, which is served by the Airport Express, with its rapid, direct rail link to the airport, in Chek Lap Kok.
The West Rail Line links to Austin station, providing seamless access to the XRL West Kowloon Station, which offers services to 58 mainland Chinese stations.
There are also plans for the area to be served by a new water taxi service, featuring a fleet of 130-seat ferries linking West Kowloon to Central, Tsim Sha Tsui, Hung Hom and Kai Tak, which is expected to launch by the end of this year.
The area's many significant new development projects will be among the key landmarks linked to a network of pedestrian walkways providing a convenient and pleasurable way for people to navigate their way around the area on foot.
Height of refined hospitality
South West Kowloon's stunning waterfront views have attracted numerous high-end hotels to the area, making it a prime location for tourists, high-net-worth individuals and staycation-loving Hongkongers.
From The Ritz-Carlton, which occupies the uppermost floors of the ICC, to the stylish W Hong Kong and the old-world elegance of The Peninsula Hong Kong – dubbed the "Grande Dame of the Far East" – which first opened to guests in 1928, there is no shortage of Michelin-starred restaurants, glamorous bars and luxury spas to savour.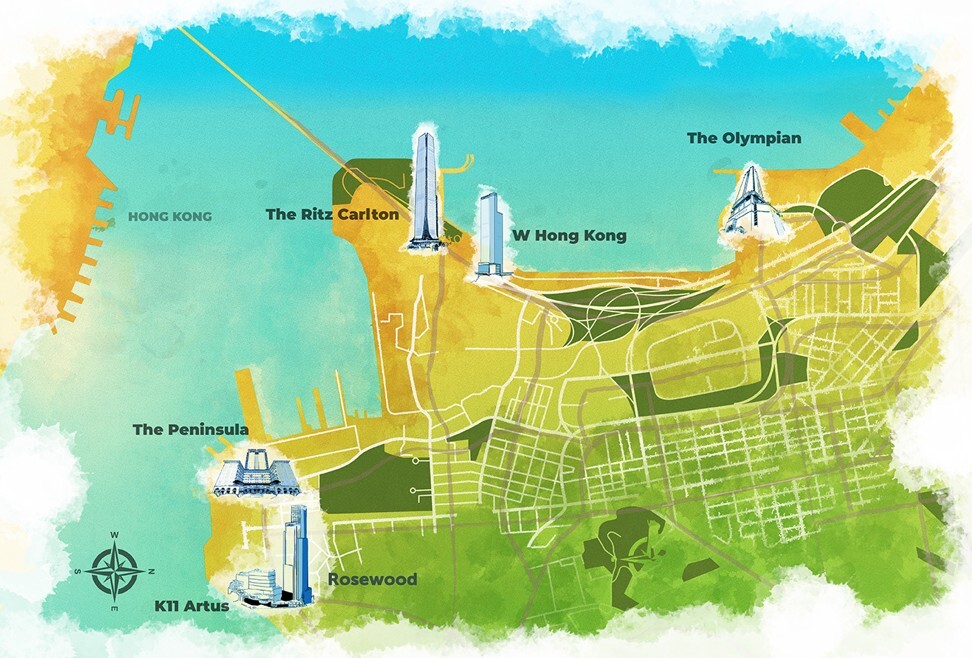 The area is set to further cement its place as a renowned hospitality destination with the completion of a new 975-room hotel on a waterfront promenade close to Nam Cheong station.
The 25-storey building, which features a cascade design and offers basement and sky garden floors and a stunning rooftop pool, is being built on what's been purported as the most expensive plot of land ever occupied by a hotel in Hong Kong.
There are also long-term plans to further enhance the area's leisure appeal by building hotels, offices and residential buildings, along with retail, dining and entertainment facilities, in the WKCD.
Work on one development, located on top of the WKCD's Integrated Basement, which accommodates traffic, the loading bays, plant rooms and utilities, is expected to begin in 2025.
Area already means business
The ICC – which is now the widely used name for the landmark South West Kowloon tower block – is one of the most significant commercial skyscrapers in Hong Kong. The building – located on top of Kowloon station – which offers 2.5 million square feet (232,000 square metres) of prime office space, was the world's fourth highest building when it was completed in 2010.
Other nearby grade A office complexes include The Gateway – an eight-minute walk from Tsim Sha Tsui station – and K11 Atelier, a stylish 15-storey tower block at the Victoria Dockside development in Tsim Sha Tsui.
The district's importance as a business area is also increasing, with more upmarket offices on the way. Plans are under review for a large-scale development on land above West Kowloon station, which could include two tower blocks offering more than 2.5 million sq ft of office space, 600,000 sq ft of retail space and 38,000 sq ft of open public space, with private rooftop areas on top of the towers.
If approved, the complex will be connected to the West Kowloon Harbourfront through a 1.5km (one mile)-long green trail. The development – with its shopping mall and open space likely to be completed by 2025, and the rest of the project by 2028 – is expected to serve as another crucial commerce and retail hub in the area.
Stunning waterfront views
Panoramic views of Hong Kong's iconic skyline require a prime vantage point, and South West Kowloon offers exactly that – unobstructed, breathtaking views of Victoria Harbour.
Its location on the edge of the harbour means that the public has access to many waterfront activities, with others to be added following the completion of the new waterfront promenade, which will extend from the existing cultural hub all the way to Tsim Sha Tsui.
A smaller waterfront promenade, planned near Nam Cheong station, will create an additional public area that enhances the appeal of the area.
With everything from world-class cultural attractions, high-end hotels and restaurants and seamless connectivity to the rest of Hong Kong and beyond, South West Kowloon is the place to be.