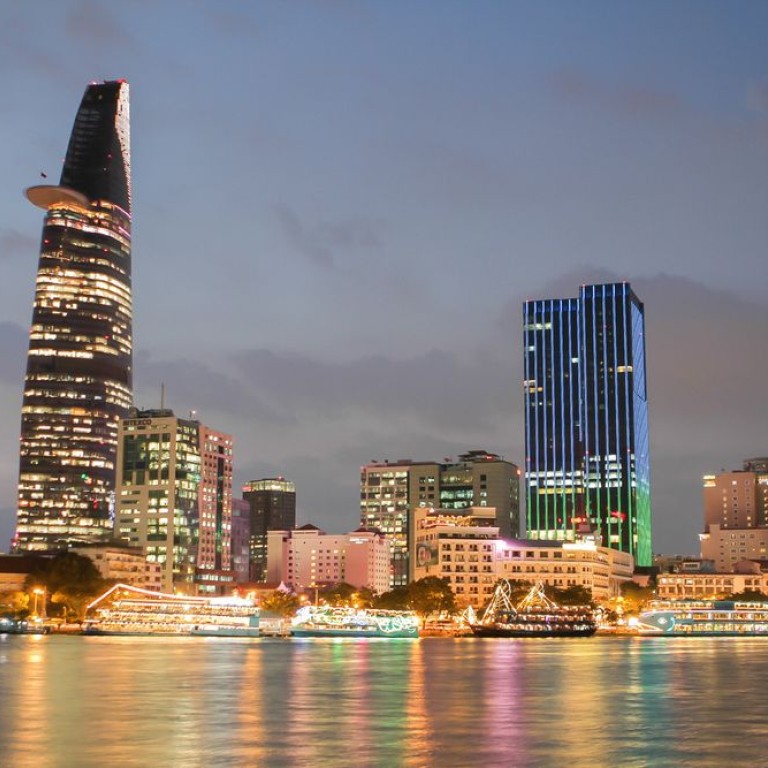 Country enjoys strong growth
Economy shifts from crops to manufacturing and tech in the post-war years, writes Ed Peters
In Partnership With
Go Asia-Vietnam
Forty years after the end of a war, which was one of the defining events of the 20th century, Vietnam is emerging as a force to be reckoned with in Asia and on the world stage.
Much of the country was laid waste by years of conflict; however, by adopting a succession of five-year development plans, Vietnam has made its way along the long road to recovery.
In August, Vietnam reached an agreement in principle with the European Union (EU) for a ground-breaking free-trade deal. The aim is to eliminate nearly all tariffs, which will gradually be liberalised over the next decade. The agreement also covers non-tariff barriers to trade such as public procurement, regulatory issues, competition, services, investment, intellectual property rights and sustainable development.
EU exports to Vietnam are mainly electrical machinery and equipment, aircraft, vehicles and pharmaceutical products. Vietnam's exports to the EU include telephone sets, electronic products, footwear, textiles and clothing, coffee, rice, seafood and furniture. Crucially, the EU has a negative balance of trade with Vietnam. Last year, EU-Vietnam trade in goods was worth more than Euro28.3 billion (HK$249 billion), with Vietnam dispatching Euro22.1 billion of goods and importing Euro6.2 billion worth in return.
One of the main spurs to concluding the free-trade agreement is the EU's role as one of the largest foreign investors in Vietnam. In 2013, EU investors committed a total of US$656 million in foreign direct investment, placing it as Vietnam's sixth-largest foreign investor partner.
Another landmark deal was the Trans-Pacific Partnership, anchored by the United States and opening the markets of a dozen Pacific Rim countries to each other. Vietnam, with its booming garment and shoe industries, is expected to be one of its big winners.
In general, analysts agree that Vietnam's recovery remains on track, with real GDP growth improving to more than 6 per cent year-on-year in the first half of this year. It is expected that full-year growth will pick up from 6 per cent last year to 6.5 per cent next year, principally driven by stronger domestic demand. Next year is likely to be dominated by the ruling party's 12th National Congress, and economic liberalisation is likely to accelerate, while ties with the EU and other Western entities will strengthen if reformists secure more top positions.
Vietnam's economic progress is all the more remarkable for the fact that for much of its history, it has been a predominantly agricultural country principally based on wet-rice cultivation. The bauxite mining industry, providing an important material for the production of aluminium, is a comparatively recent innovation. The Vietnam war negated much of the country's agrarian economy, so the post-war government needed to implement a planned economy to revitalise agriculture and industrialise the nation. 
Such industries as manufacturing, information technology and hi-tech now form a large and fast-growing part of the national economy. Though Vietnam is a relative newcomer to the oil industry, it is currently one of the largest oil producers in Southeast Asia, with a total output last year of more than 340,000 barrels per day. Like its neighbour China, Vietnam continues to use centrally planned economics, and continues to prosper.
Since the start of this century, Vietnam has applied sequenced trade liberalisation, with a two-track approach opening some sectors of the economy to international markets while protecting others. Landmarks have included updating its intellectual property legislation to comply with the Agreement on Trade-Related Aspects of Intellectual Property Rights, and becoming a member of the World Trade Organisation. Vietnam rates as one of Asia's most open economies, with a two-way trade valued at around 160 per cent of GDP. Vietnam's chief trading partners include China, Japan, Australia, the Asean countries, the United States and western Europe.
Vietnam is now the one of the world's largest producers of cashew nuts, with a one-third global share. The statistics for black pepper are similar, and last year it exported US$1.8 billion worth of rice. Vietnam is the world's second-largest exporter of coffee, shipping 1.65 million metric tonnes a year. Other primary exports include tea, rubber and fishery products. 
In the past few years, the government has successfully shifted away from policies aimed at achieving a high rate of economic growth, which had an effect on inflation, to those aimed at stabilising the economy through tighter monetary and fiscal control. Vietnam unveiled a broad, three-pillar economic reform programme in early 2012, which embraced restructuring public investment, state-owned enterprises and the banking sector, and is proceeding steadily towards its goals.
Fast Facts
Official name The Socialist Republic of Vietnam
National day September 2
Area 331,000 sq km 
Capital Hanoi
Official language Vietnamese
Population 90.73 million (2014)
GDP (nominal) US$184 billion (2014)
GDP per capita (nominal) US$2,028 (2014)
Administrative units 63 provinces and cities