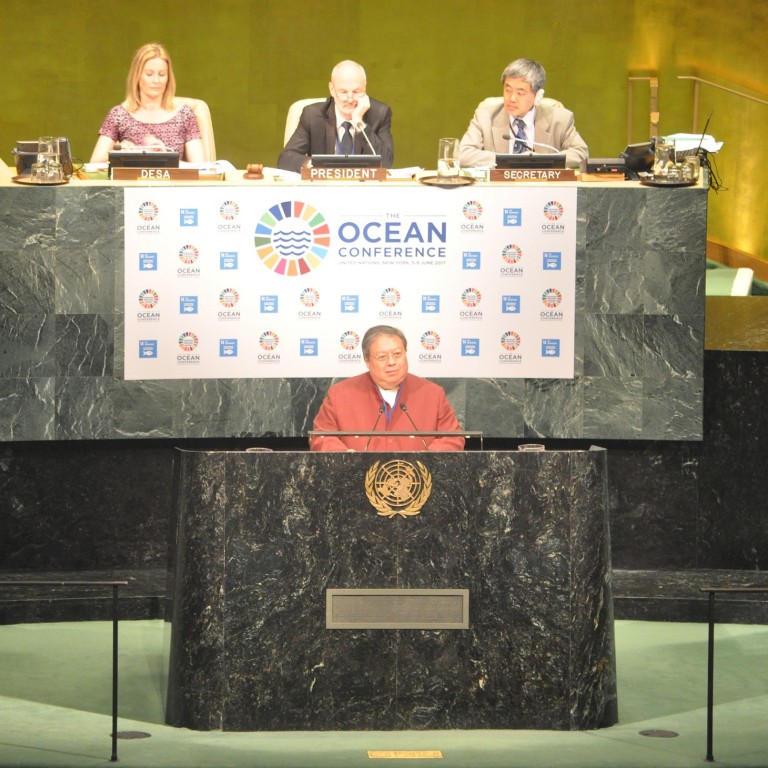 China Energy Fund Committee (CEFC) plays an active role in Blue Partnership
Although the world's vast oceans are immensely rich in natural and renewable resources, which could be used to help mankind, we humans – for countless decades, have used the seas as a sewer for our waste products.
In Partnership With
China Energy Fund Committee
[Sponsored Article]
Although the world's vast oceans are immensely rich in natural and renewable resources, which could be used to help mankind, we humans – for countless decades, have used the seas as a sewer for our waste products.
The result: All of the oceans (which cover more than 70 per cent of the Earth's surface) have now been subjected to so much reckless abuse by human activities, that our oceans are now in a grave state of poor health.
But, just as it has been we humans who have created this alarming situation, the key to halting and even reversing this dire condition is in our own hands as well.
This is the vital message of hope, from both a top UN official, and China Energy Fund Committee (CEFC).
The current president of the UN General Assembly, Peter Thomson, recently paid a visit to Hong Kong where he met leading academics and research professionals involved in oceanology, conservation and development. Thomson was also able to experience first-hand what the territory has to offer when it comes to educating the wider public on the vital importance of our life-giving oceans.
Thomson, who was born in the island-nation of Fiji, spoke highly of the impressive research projects carried out by various local universities, and experts. While here he commended on the fact that Hong Kong people "are becoming ever more environmentally conscious," and was appreciative of the exceptional welcome received from Hong Kong people.
Yet, Thomson did not make his trip to Hong Kong just to shower praise.
The top UN official was invited to speak at a luncheon on the United Nations Sustainable Development Goal 14, themed 'Our Ocean, Our Future: Call for Action.' The main aim of the SDG 14 is the pledge to conserve and sustainably use all of our oceans, our seas and our priceless marine resources for sustainable development.
Supported by Hong Kong- and US-based think-tank China Energy Fund Committee, the luncheon was attended by high-ranking officials of the Office of the Commissioner of China's Ministry of Foreign Affairs in Hong Kong, and the Hong Kong SAR Government, along with top-level representatives of foreign consulates and other authorised offices, as well as respected academics and conservation professionals from all across the territory.
During the lunch, Thomson shared with the VIP guests that how the health of all the world's oceans have greatly deteriorated, directly due to the impact of human activities – including ever increasing pollution, and excess pressure on marine ecosystems (over fishing). This, Thomson said, has even led to the rapid emergence of hypoxic 'dead zones' where insufficient oxygen has killed off much of the once abundant marine life.
But Thomson, whose own home-country is one of the Small Island Developing States (SIDS) in the Pacific Ocean, which has been affected by the ocean's poor health is also optimistic that the future of the Ocean lies in our hands.
"For every human-created problem there is a human solution," the world's top diplomat said. "It is therefore upon us all to take responsibility for our past behaviour, and to act decisively to save the Ocean's health."
During his two-day visit, the President of the UN General Assembly was accompanied by his senior advisors Abdelghani Merabet, and Zhang Yi, as well as by the UN Department of Economic and Social Affairs's Director of the Division for Sustainable Development, Zhu Juwang. The delegate met with the Chief Executive of the Hong Kong SAR, Carrie Lam Cheng Yuet-ngor.
Playing a central role as a super-connector during the event was Deputy Chairman and Secretary General of the China Energy Fund Committee (CEFC), Dr Patrick Ho Chi-ping.
As a non-government, non-profit civil society organisation, CEFC prides itself on being a high-end strategic think-tank engaged in a range of research, notably geopolitics to promote peace and harmony for mankind. But the Committee also deals with energy strategy, and public diplomacy, as well as global cooperation and cultural exchanges.
The Committee also holds a special consultative status with the UN Economic and Social Council, while Deputy Chairman Ho has been actively involved in a range of UN affairs over the years, even since the Committee was established in 2010.
For example, at the Ocean Conference convened in June [co-hosted by the Governments of Fiji and Sweden], Ho was an invited speaker at a plenary meeting and a partnership dialogue session, in addition to playing host to a side event.
At the Conference which drew some 6,000 participants, including heads of various international governments, and high-level representatives from the UN, as well as members of civil society, the global scientific community, and the business sector, Ho shared his research-backed information on a wealth of topics, ranging from the need to support artisanal fishers (small scale fisheries) to the idea of a holistic development of the ocean resources.
In his remarks at the side event discussion on the Blue Economy, an economy that is based on the resources of our oceans and seas, Ho noted that "2.8 billion people around the world lack access to modern energy services, with enormous consequences for development," adding that the oceans likely hold the key to a range of solutions.
Dr Ho strongly believes in what he calls Blue Partnership — whereby countries join hands to unlock the potential of the 'Blue Economy' but without compromising the sustainability of the oceans themselves.
The former Secretary for Home Affairs of the Hong Kong SAR Government cited the willingness of Philippines President Rodrigo Duterte to engage in dialogue with his counterparts in China for the prospect of joint-exploitation in the contested South China Sea as a possible audacious sign of future cooperation leading to a successful Blue Partnership.
It must be added, however, that the two countries are yet to come up with an arrangement.
Making reference to the peculiar challenges faced by SIDS, of which there are 37 UN members and 20 non-UN members or associate members of regional commissions, Ho is fully aware of the states' struggles to harness investments for infrastructure, their lack of the capacity to mobilise and leverage available resources, and the necessary networking to form strategic alliances efficiently and effectively.
A strong advocate of the 21st century Maritime Silk Road, Ho believes the China-initiated inter-continental infrastructure development could well prove to be an answer to a range of challenges faced by many developing countries today.
To play a role in enhancing the sustainable development of the world, just like the 'Our Ocean, Our Future: Call for Action' speech delivered by the president of the UN General Assembly in Hong Kong, CEFC promises to offer technological and knowledge-based links to different international parties through a Blue Partnership. This partnership will develop into platforms on which international bodies can connect with each other, fostering mutual understanding and harmony, and where no one is left behind, and no one has to take second place, said Ho.