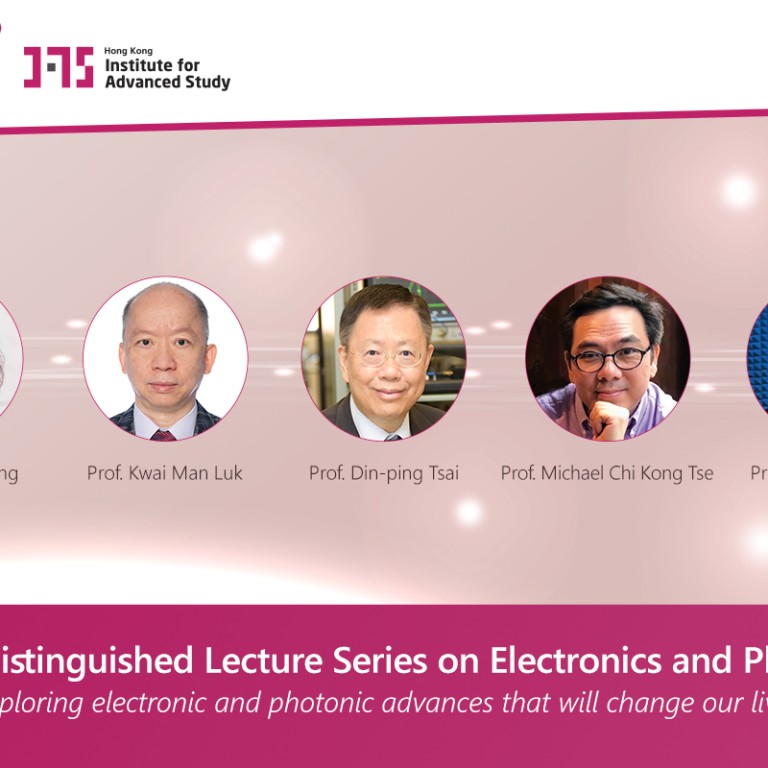 Advances in electronics and photonics herald a new era
Paid Post:
City University of Hong Kong
[Sponsored Article]
The Hong Kong Institute for Advanced Study (HKIAS) at City University of Hong Kong (CityU) continues to connect scholars around the globe, allowing them to explore interdisciplinary ideas and address real-world issues. 
The most recent HKIAS Distinguished Lecture Series on Electronics and Photonics, held in March and April, was  supported in part by Kwang Hua Educational Foundation. The discussion topics covered nanotechnology, antenna design, 6G networks and much more, with five leading scientists outlining the latest research and potential applications of breakthrough technologies. The series attracted an international audience of over 2,000 scholars and guests. 
 
The power of plasmonic biosensors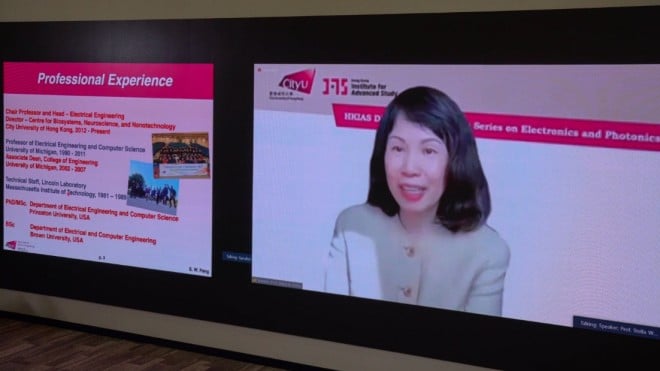 Nanotechnology and its biosensor applications are becoming ever more prevalent in the field of biomedical microsystems. 
Kicking things off on March 1, Professor Stella W. Pang, Head of the Department of Electrical Engineering and Director of the Centre for Biosystems, Neuroscience, and Nanotechnology at CityU, spoke about "Nanotechnology for High-Performance Devices and Sensors".   
Noting the increased use of plasmonic sensors, she explained the ability of nanoimprint technology "to generate a large area of nanostructures within a few seconds", showing high reproducibility and throughput. The novel 3D multiple layer plasmonic biosensors exhibit enhanced electric fields and a much higher sensitivity. This made it possible to detect lung cancer A549 live cells and nanoscale DNAs at very low concentrations by monitoring the highly sensitive resonance peak shift. 
Also, hybrid coupling of plasmonic and photonic crystal modes leads to a record high sensitivity of 1376 nm/refractive index unit. "Combining these biosensors with 3D engineered platforms, we can separate cancer cells from normal cells for identification, which will further improve the sensitivity such that cancer patients could be diagnosed at a much earlier stage, potentially saving millions of lives," Professor Pang said. 
The magic of antennas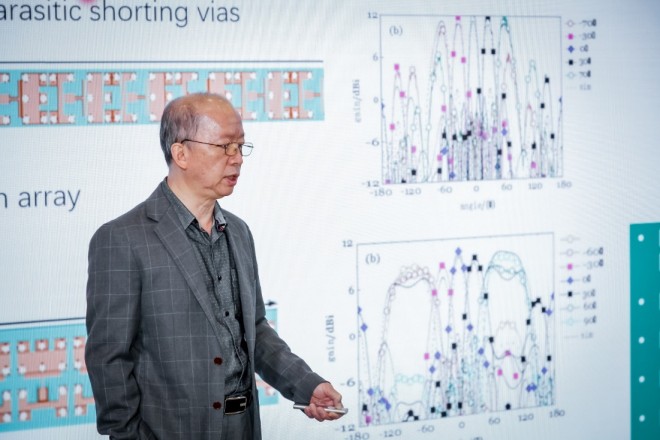 On March 17, Professor Kwai Man Luk, Chair Professor of the Department of Electrical Engineering and Founding Director of the State Key Laboratory of Terahertz and Millimeter Waves at CityU, spoke about "Antenna Scientists - Magicians in the Era of Wireless Connectivity". 
He looked first at the simple structure and popularity of the microstrip antenna over the past four decades, while also noting its very narrow bandwidth and high cross polarization, which pose limitations.  
Over the years, Professor Luk and his team have developed many techniques to improve the bandwidth, either by adding "parasitic" elements, using a U-shaped slot or combining both methods. In 1998, they proposed an L-probe patch antenna, which couples the energy electromagnetically to the patch, enabling the antenna to radiate a wider bandwidth of over 30 per cent. 
In 2006, they came up with the magneto-electric (ME) dipole structure, which has since been used in mobile communications and is being investigated for medical imaging applications. "Used to detect brain haemorrhages, the antenna's directional pattern functions over a wide frequency range," Professor Luk said. "A high percentage of the energy passes inside the human head with very little radiation outside."
Seeing with metalenses
On March 30, Professor Din-ping Tsai, Chair Professor of CityU's Department of Electrical Engineering, delivered a talk on "Meta-Devices: From Sensing and Imaging to Quantum Optical Chip", which focused on his research n developing high-dimensional optic meta-devices and their applications. He outlined steps in the design and fabrication, also citing the case of a continuous broadband achromatic metalens in reflection mode. 
"We integrated the differential phase equation and the edge alignment method with the Berry phase effect," he said. "And we used multiple resonance antennas to form the integrated-resonant unit instead of a single, narrow antenna." 
As a key emerging technology, meta-lens, with their large larger depths of field and high sensitivity in light field imaging, can improve robotic vision, nano robots, drones, AR/VR/MR, and autonomous driving. 
Future power grids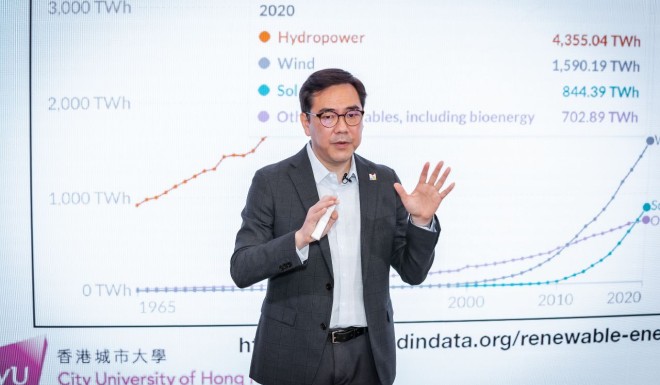 Professor Michael Chi Kong Tse, CityU's Chair Professor of the Department of Electrical Engineering and Associate Vice President (Strategic Research), shared his recent research on power systems in an April 12 lecture titled "Challenges of Modern Power Grid in the Midst of Deepening Power Electronics Penetration and Increasing Renewable Energy Use".  
A reliable power grid, he noted, is indispensable for modern society. But there are potential problems to consider, as a result of rapidly increasing use of power-electronics based systems. 
"Conventional power systems are synchronous-machine based where significant inertia in the system provides the key mechanisms for control," Professor Tse said. "However, when a power converter plugs on to the grid, it assumes the grid is a voltage source and does not contribute to any inertia. It also operates in rather complex switching mode." 
Engineers are now tackling the design challenges that come with the increasing deployment power electronics due to the inherent nonlinearity and unwanted forms of instability. 
Pushing for 6G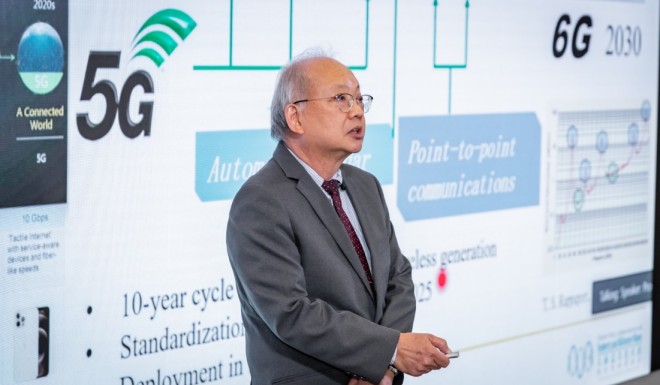 On April 22, Professor Chi Hou Chan, Chair Professor of the Department of Electrical Engineering, and Director of State Key Laboratory of Terahertz and Millimeter Waves at CityU, asked "Are We Ready for 6G?" 
He addressed the deployment of high data-rate 6G, expected by 2030, and important applications which include holographic telepresence, tactile internet, and future chip-to-chip and machine-to-machine connections. 
In collaboration with others, Professor Chan has developed the Space-Time-Coding Metasurface Antenna (STCMA). It can control output beam directions and spatial periodicity by using a 1-bit ON-OFF switch and can be extended to on-chip integration, "This is exciting progress for 6G development," he said. 
The next HKIAS event is the First International Conference on Heterostructured Materials on July 12–15, 2022.
This article appeared in the South China Morning Post print edition as: Advances in electronics and photonics herald a new era