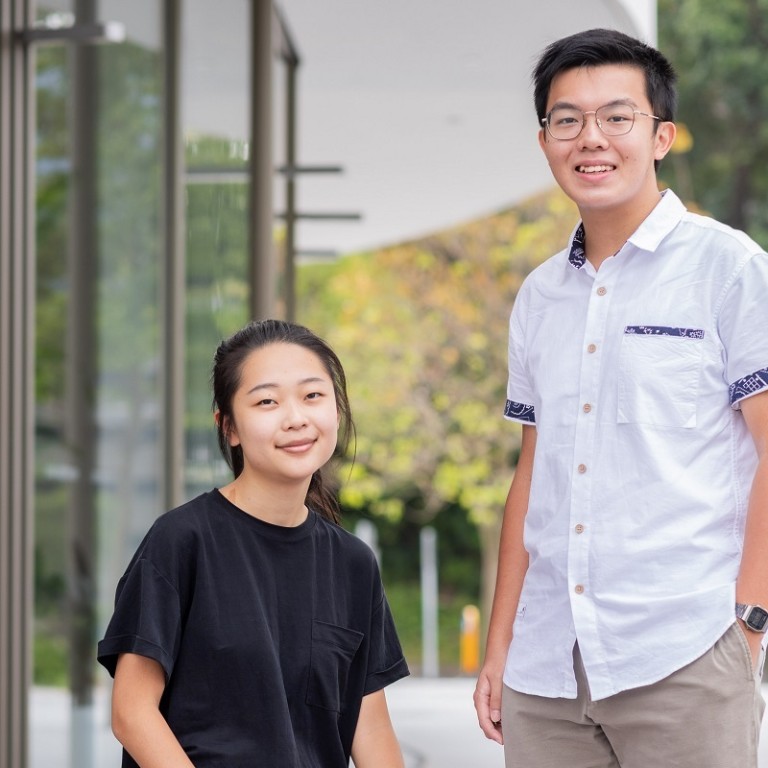 HKUST award scheme looks beyond academic excellence
[The content of this article has been produced by our advertising partner.]
At The Hong Kong University of Science and Technology (HKUST), a recently introduced scholarship programme is helping students develop a diverse range of talents and interests outside the classroom.    
The Beyond Academic Admissions Scholarship (BAAS) recognises achievements to date. But its specific purpose is to see first-years realise their potential by getting into different activities, building on existing skills, and playing an active part in the life of the university and the wider community. 
Each of this year's initial group of 20-plus awardees received a one-off subsidy of HK$50,000 to offset tuition fees or support their pursue of non-academic excellence. But, in encouraging recipients to go "beyond academic excellence", the university will also provide support and advice to help them seize new opportunities, balance the commitments involved, and pursue their dreams.  
For one scholarship holder, Jerry Li Ho-ming, those dreams currently centre on turning innovative ideas into reality. He is taking a degree in engineering with an extended major in artificial intelligence (AI), and has long been fascinated by STEM subjects and ways in which technology can change the world.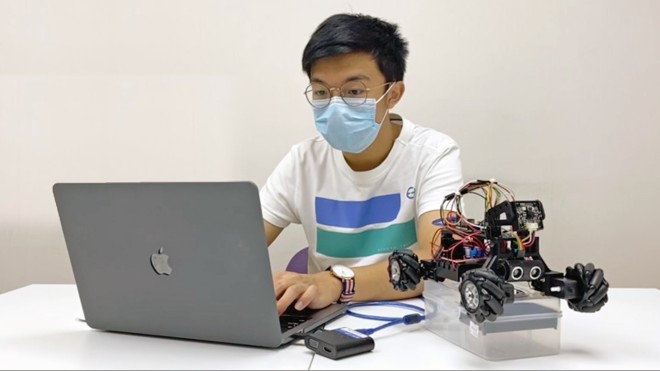 In particular, he has a passion for robotics and believes that his generation can make its mark by using the power of innovation to solve real-world problems, whether that happens through traditional business channels or via social entrepreneurship. 
"At school in Cheung Sha Wan, I really got into STEM and was invited to join a special programme for secondary students by HKUST's Center for the Development of the Gifted and Talented," says Li whose science teacher nominated him for a BAAS scholarship in the scheme's innovation, creativity and entrepreneurship category. "There were classes on HKUST campus on Saturdays and, during the course, we learned about underwater robots, how to manage data, and how engineers use mathematics in real-life applications."     
Inspired by that, Li went on to pick up numerous prizes at both local and international competitions for programming and robotics. He was admitted to the long-term Global Talent Mentoring programme in which he is paired with a professor based in Ireland to learn about machine learning and the power of data. 
And, following on from a case competition, in 2020 he became a co-founder of Incipe Technologies, a start-up project, though not yet a business, where a team of students and friends works on a development kit related to "edtech" and internet of things (IoT). 
"One of the aims is to have an educational kit for smart homes and to help kids understand programming and design," Li says. "We want to learn, inspire, innovate and explore. That is the key to creating a better world."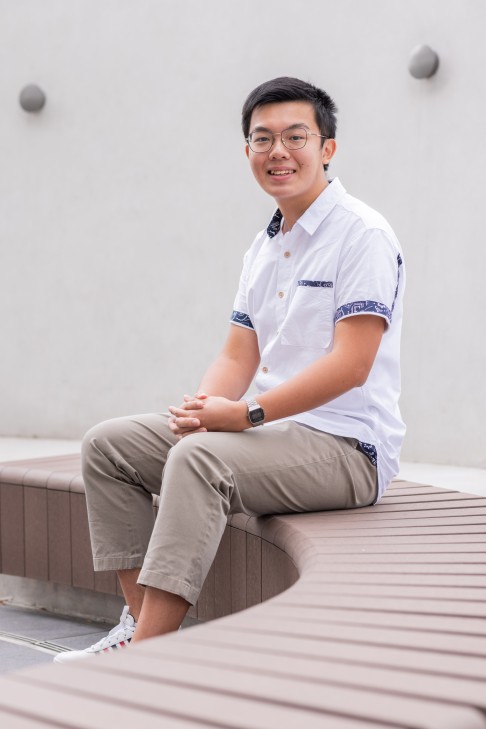 During his time at HKUST, Li hopes to serve as a student ambassador, visiting secondary schools and outlining everything the university has to offer. He intends to join the table tennis club and robotics team. And as an accomplished pianist and singer, whose musical repertoire ranges from Bach and Mozart to Taylor Swift, he may well find himself in demand for stage productions - and karaoke night. 
"I can do all that if I manage my time well," he says. "I'm self-disciplined and use a timetable to organise academic and non-academic activities. That gives you a sense of what you need to do and when."   
Fellow BAAS scholarship winner Zoelle Suo, who is taking a BBA in global business, is similarly intent on getting as much as possible out of the next few years.  
Though a scientist and mathematician at school, her interest in taking a business degree was sparked by an HKUST information session for prospective students, which was built around a case study.  
"I was very impressed by how well the speakers presented the information and made it interesting and easy to understand," says Suo, who hopes to add a second major in finance or marketing. "I wanted, one day, to have the same level of knowledge and confidence that they had."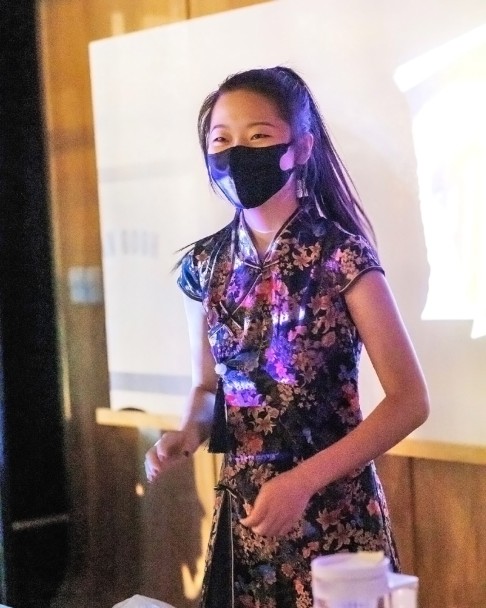 To that end, she was quick to join a case analysis team, with a view to taking part in future competitions, while also juggling the first-year workload that comes with compulsory courses in accounting, statistics, economics, academic writing, and Chinese.    
For Suo, some of the basics are already familiar thanks to the internships she did last summer - one with a start-up cryptocurrency firm, the other with a multinational - generally working on PR and marketing strategies, designing social media posts, organising Web3 events, and doing "shoots" for ongoing projects.     
The latter were an opportunity to show her creative side as a freelance photographer, using skills she first learned during Covid lockdowns by experimenting with the effects of light and colour and different types of composition.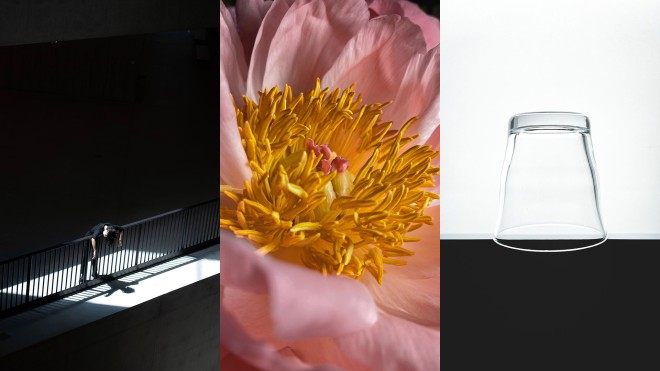 In fact, it has gone so well that Suo is building a name for herself as an event, wedding and portrait photographer and has a growing client portfolio. This provides practical know-how of running a business and a useful contrast to life on campus.  
"I'm really interested in the world of finance, but will also try to get more experience in the marketing and creative industries," Suo says. "It is important to have all kinds of skillsets and be open to options." 
Are you a passionate individual like Zoelle and Jerry? HKUST may be the university for you as well. The Beyond Academic Admissions Scholarship is now open for application.
More details 
For the first time in four years, HKUST is holding its in-person Information Day on Saturday 5 November. Get the latest on 2023 Admissions and experience HKUST on its picturesque Clear Water Bay campus.
Register now