Experiential learning, interdisciplinary approach at The Harbour School unlock students' best
Interdisciplinary teaching at The Harbour School (THS), supported by tech-focused learning facilities, equips students with future-proofing skills.
Motivated students embrace experiential learning through collaborative projects that inspire design-thinking and creative problem-solving.  
Paid Post:
The Harbour School
[The content of this article has been produced by our advertising partner.]
 
In the award-winning The Grove campus of THS, a palpable sense of vibrancy emerges not only from its unconventional designs, but also from the students energised in their exploration of knowledge and mastering of skills.
By harnessing the infinite possibilities of media and technologies, the innovative approaches to teaching and learning at THS inspire and motivate its students to collaborate, create and unlock their full potential.  
Within and outside classes at the campus, which reminds people of a dynamic co-working space, students immerse themselves into project-based experiential learning, covering such disciplines as science, history and arts, at the Centres of Excellence featuring cutting-edge technologies and equipment. They include: Marine Science Centre; Media Tech Centre; Blackbox Theatre; recording studio; The Foundry (purpose-built makerspace); and the Black Dolphin sailboat. Student-centred experiential learning complements and enhances THS's structured teaching of mathematics, reading and writing.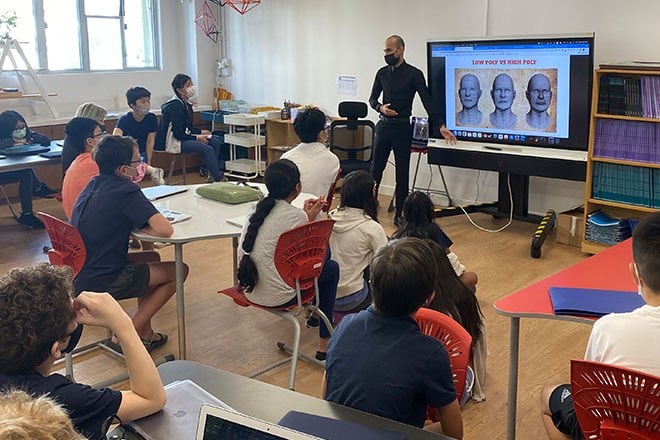 "Students from Grade 1 to high school have access to these centres, in or outside classes," says media tech teacher Husain Al-Khuzaie, adding that the access encourages students' creative problem-solving through collaborative projects.
Echoing his sentiment is music tech teacher Neil Patrick O'Hagan. "The project-based learning intertwines different technologies together. For instance, Husain, the music teacher Melody and I collaborate on creative projects for students to work together over a period of time, in which they gain skills in specific areas and draw these skills together."
The goal is that students will become proficient and independent users of these skills, such as video editing and graphic design, when they advance to university or a professional career, Al-Khuzaie notes. "As we also want them to develop these skills to help others, we are flexible in our teaching based on individual student's needs. For instance, we gave students a topic of creating a 3D model of an object. A student suggested linking this to his brother's birthday. [For added motivation] we let him have the option to create what he wanted."
Every class at THS has a production element, allowing media tech and interdisciplinary approach to go hand in hand in helping students build their skills. For instance, in a Grade 6 project of claymation video, students first learn to create clay models. In the music class they learn about music skills, O'Hagan says. "They will then bring over the knowledge and put together a sequence of chords and melodies with sound effects, using music production software Logic Pro X in my class. Many disciplines are merged together to produce the final projects, which can ultimately go into the portfolios of individual students."
The holistic approach is also applied to literature study. In an English adaptation class at high school, O'Hagan cooperates with the English teacher so that students of the music production class at high school compose music for the adapted play of Romeo and Juliet. "Once the adaptation of the play and the music composition is finished, we will pass them to the middle school students to perform," O'Hagan adds.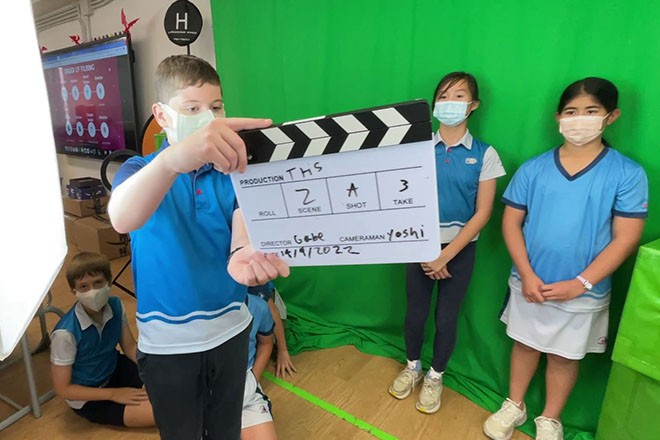 THS motivates its students to explore and deepen their understanding of how devices and tech work and to identify possible problems and then develop creative solutions. "We aim to encourage students to utilise their skills to make things for others to experience," Al-Khuzaie says. "Like creating 3D models and virtual reality (VR) experiences for their VR headsets." 
Mixing different grades, personalisation
In addition to interdisciplinary teaching, many projects at THS engage students from different grades. One example is its "Full Steam Ahead" projects for gifted students. "In media tech, students from different grades are tasked with creating 3D building models that reflect their individual characters," Al-Khuzaie says. "Then we bring all buildings together to create the "Full Steam Ahead" city for viewing via VR. We also produce small structures via 3D printing. In this project, students of different ages interact and share feedback. They learn from each other. Older kids are gentle to and mentor the younger ones, while the little ones learn through observation."
Mixing students of different grades contributes to future-proofing. "This reflects a real-life workplace," says O'Hagan. "It's about teamwork with individuals across different age groups and diverse experiences."
Because students learn at different paces and their ability levels vary, teachers of various disciplines at THS meet regularly to personalise teaching for individual students so that their specific needs are accommodated. Al-Khuzaie is involved in clusters of meetings where teachers share their individual teaching plans and experiences in different classes and subjects throughout the term. "Together we explore how we can effectively channel our expertise towards individual students' learning," he notes.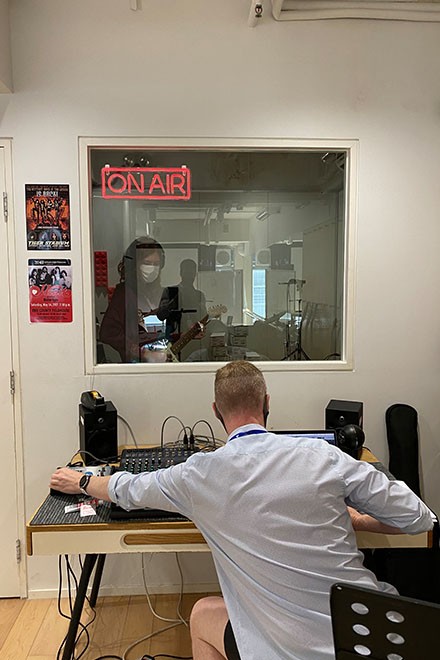 O'Hagan adds that the teachers also look at individual students' strengths and areas that require extra teacher's assistance. "If a student is found to have a special gift in music, we will try to push and nurture him to be more creative in my class," he says. "It's important to know what happens in other classrooms so that we can enrich students' learning."
Through collaborative projects, THS shapes its students' mindset of diversity and inclusivity. For instance, a recent interactive school announcement video features a student with special education needs (SEN) from The Children's Institute of Hong Kong and Christine Greenberg, Principal of THS. "The student with SEN was put into a team with our students and collaborated on the video,"  Al-Khuzaie says. "This helps our students develop empathy towards those with SEN at a young age."