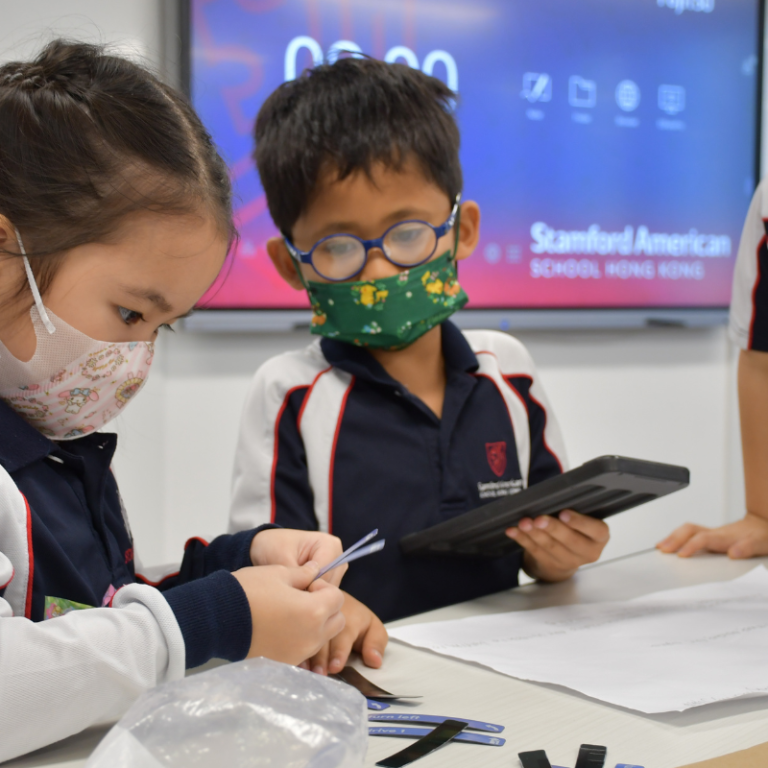 Meet the Expert STEM Faculty at Stamford American School HK: Inspiring Passionate Innovators Ages 5-18
Paid Post:
Stamford American School Hong Kong
[The content of this article has been produced by our advertising partner]
The STEM program at Stamford American School Hong Kong, known as "STEMinn" (science, technology, engineering, math, and innovation), is delivered under the guidance of 8 full-time expert faculty with an average of 10 years of experience. The unique STEMinn program at Stamford caters to students ages five until graduation, fostering STEM skills that benefit all careers. Combining innovative projects and purposeful curriculum planning, students build critical thinking skills using the design thinking process adopted by globally successful companies such as Apple, Microsoft, and Nike. The combination of passion, experience, and application makes the Stamford STEM curriculum come alive. Let's meet three of the expert STEM faculty.
"The Creative Designer" Mr. Ayesh De Alwis - Elementary STEMinn Coordinator, B.A., PGCE
Mr. De Alwis began his career as a product designer before stumbling on his passion for education. As the Elementary STEMinn Coordinator, he combines his love for all things STEM with his work experience in the design and technology field to inspire young learners to embrace STEM in their formative elementary years. Under his guidance, students use the design thinking process to solve challenges such as living on Mars, flooding worldwide, products inspired by animal features (biomimicry), and many more. Mr. De Alwis enjoys seeing students experience that passion for STEM and learning. He is often found in Stamford's 602 square-foot elementary Innovation Centre, which has been purposefully designed and stocked with the latest in coding and robotics such as VEXGO, VEX123, Dash and Bluebot, 3-D printers, laser cutters, and other handheld tools.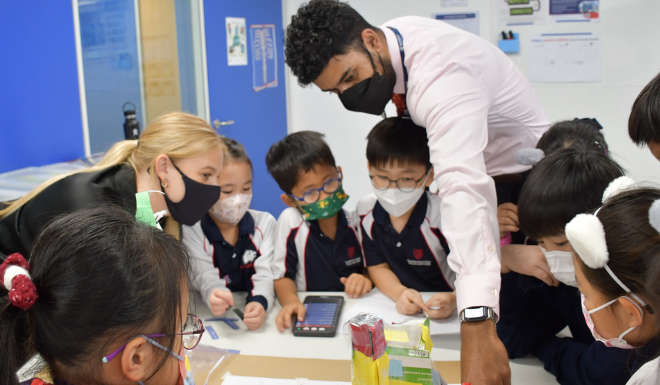 What is Mr. De Alwis's favorite elementary STEMinn project at Stamford?
The creation of a moon rover for a lunar base. Students were challenged to use the design thinking process to ideate and create their rover and program it to accomplish specific tasks around their lunar base using their iPads. This project incorporated many skills, including design, teamwork, creativity, math, problem-solving, and technology.
Stamford American School - Mission Inspire 2022
"The Sustainable Scientist" Ms. Justine Tizzard - Secondary STEMinn Teacher, BSc, MRes, PGCE
Ms. Tizzard is originally from London, UK, and grew up in Barcelona, Spain. She received a Bachelor of Science Degree in Chemistry from the Queen Mary University of London and a Master in Research in Catalysis (Chemical Engineering) from Imperial College London, where her final research project focused on renewable resources with non-hazardous by-products. Although passionate about her research, Ms. Tizzard discovered a greater desire to spark a passion for STEM in the next generation. Throughout the secondary years at Stamford, the curriculum builds transferable STEM skills for any career, whether engineering, business, or athletics, through fostering design thinking. Some projects that developed these skills include using 3-D modeling and rendering software to design a STEM lab by creating a portfolio, coding with JavaScript and Python to create a game, and using UI/UX techniques to develop an App from scratch. Ms. Tizzard is often found in one of Stamford's three flexible-use laboratories working with students on automated robotics projects, or the well-stocked secondary STEMinn Lab building and coding with VEX IQ robots, designing gliders or using 3D printers and software.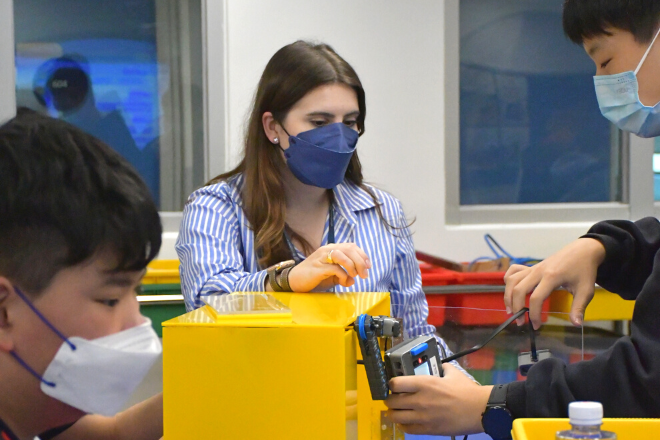 What is Ms. Tizzard's Favorite middle school project at Stamford to date?
Creating an automated food delivery robot using VEX IQ Robots to compete with other teams in a game-based engineering challenge. Classroom STEM concepts are put to the test as students learn lifelong skills in teamwork, leadership, communications, and more to solve real-world problems of food delivery to dangerous or remote areas.
"The Engineering Rockstar" Mr. Dennis Ming Nichols - Secondary STEMinn Leader, B.A., MA, PGCE
Originally from the U.S., Mr. Nichols joined Stamford as a founding faculty member in 2017 and holds thirteen years of international teaching experience. Since joining Stamford, he has been instrumental in building the middle and high school STEMinn program, which has led to some of their most significant projects, including boat building, manufacturing electrical musical instruments, and hosting sustainable fashion shows. An avid musician and designer, Mr. Nichols' passion is helping students weave their personality into their projects and assuring STEMinn is accessible to all students regardless of their interests. Students are challenged in high school through advanced coding in Python and JavaScript, design software in CAD, and well-versed in sustainable engineering and design practices. Mr. Nichols teaches his high school classes in the Design Technology Workshop, one of the newer facilities located on Stamford's campus. Mr. Nichols often works with students in the Design Technology Workshop, solving real-life engineering and design problems, building smart homes and circuits, or constructing sets for the school's theater productions.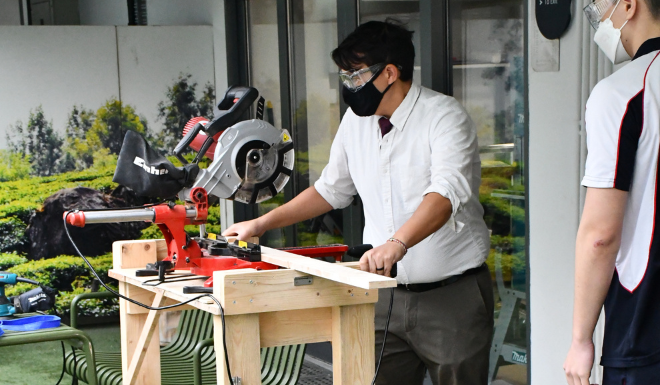 What is Mr. Nichols' favorite high school project at Stamford to date?
Combining shop tool skills with sound physics and engineering knowledge to build Diddley Bows, one-string guitars. This project brought a unit of music history to life, allowing students to get hands-on with our design tools and apply engineering skills.
To know more details about Stamford and its outstanding STEMinn Education, please check out the website 
https://www.sais.edu.hk/

This content has been created under the direction of an advertiser. It contains no editorial input or review from the South China Morning Post (SCMP), nor does it reflect the position of, or the editorial standards used by, the SCMP. The advertiser has paid for and approved the content.