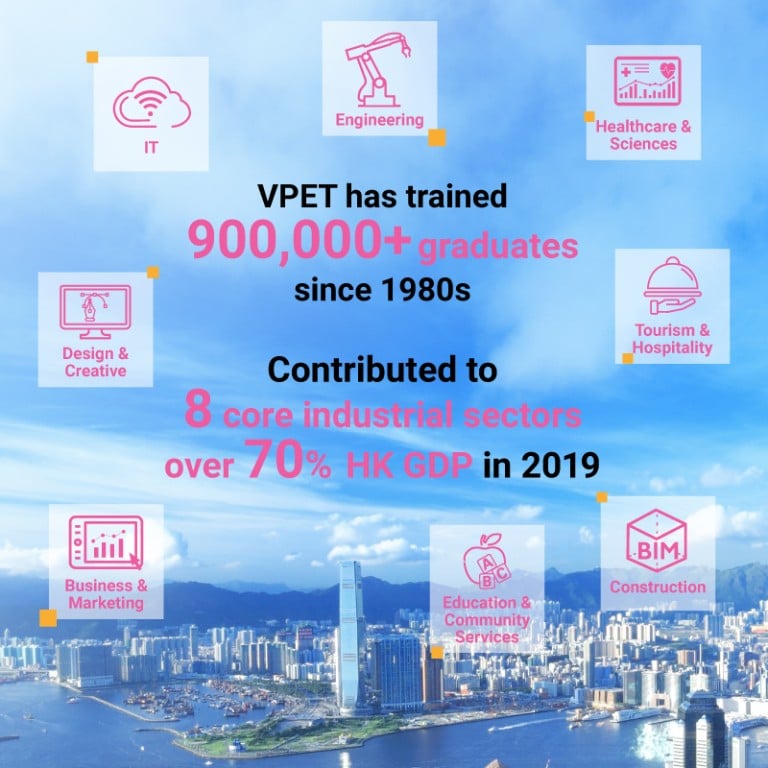 Rediscover the Possibilities of Vocational and Professional Education and Training in Hong Kong
VPET is key to maintaining the city's competitiveness
Over 900,000 graduates have been trained by VPET, accounting for nearly 24 per cent of Hong Kong's workforce since the 1980s.
VPET has made significant contributions to Hong Kong's eight core industrial sectors which have accounted for over 70 per cent of Hong Kong's GDP in 2019. Youth employability has been enhanced over the last 20 years with unemployment rates remaining low at 6 per cent for youth aged 20 to 29; and dropping from 31 per cent in 2002 to 10 per cent in 2019 for those aged 15 to 19.
 
Paid Post:
Vocational Training Council
[Sponsored Article]
A recent study published by PwC has shown that Vocational and Professional Education and Training (VPET) has made significant contributions to Hong Kong's economy and society. 
"VPET deserves strong recognition in Hong Kong," said Mr. Simon Booker, Partner of Advisory Services at PwC Hong Kong. "VPET graduates play an invaluable role in performing essential and professional roles to meet the daily needs of society."
Titled "Vocational and Professional Education and Training – Shaping the Future of Work", the study covers all 50 local VPET statutory bodies and institutions, giving an overview of VPET developments in Hong Kong and setting out the way forward for VPET. 
"The study references successful models from other parts of the world to provide future directions to strengthen the VPET system in Hong Kong and build a competitive workforce for the new digital era," Booker added.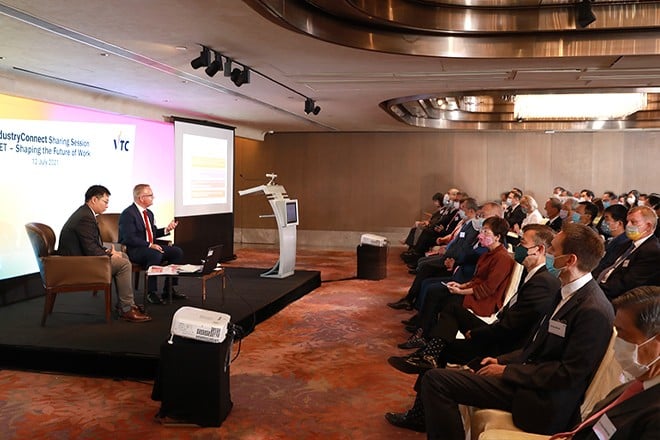 Upskilling and reskilling the workforce 
VPET is more important now than ever. The World Economic Forum estimates that automation and digitalisation could eliminate 85 million jobs while creating 97 million new emerging jobs in the "new economy" – many requiring practical and vocational skills.
To cater for this need, Hong Kong needs to encourage and foster a lifelong learning culture for skilling, upskilling and reskilling the workforce. As technical and practical skills are essential for Industry 4.0, VPET providers can help bridge the skills gap by providing up-to-date training to equip industry practitioners with new skills and knowledge in high demand areas such as artificial intelligence, big data and analytics. This will also help build a stronger talent pipeline to meet demand and support the development of a smart economy.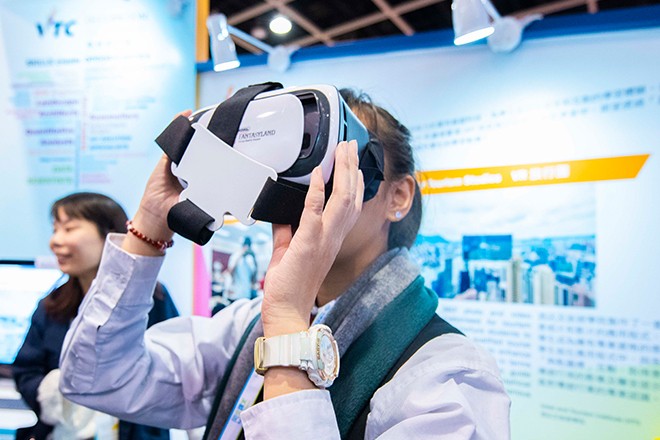 Building a comprehensive VPET system
Other key findings also suggest that VPET should be positioned on a par with conventional academic routes in Hong Kong. In economies such as Germany, Switzerland and Finland, VPET pathways are available from the secondary to degree level, as well as being highly accessible to the general public. VPET students can attain degree level qualifications offered by Universities of Applied Sciences (UAS) that are well regarded, consistent with conventional academic universities. 
Looking closer to home, the Mainland Government has also set sights on developing undergraduate vocational education under its 14th Five-Year Plan with the vision of advancing vocational education by building a comprehensive VPET system.
According to the PwC study, Hong Kong could draw from international trends and build a comprehensive VPET system, potentially including the establishment of a publicly funded UAS for students to attain qualifications, i.e. applied degrees equivalent to conventional academic degrees offered by UGC-funded universities. 
Soliciting wider support for holistic development
When benchmarked with other jurisdictions, support for VPET in Hong Kong could be further strengthened. The PwC study suggests that funding policies and financial incentives could be considered to encourage corporates and VPET providers to work together to groom a skilled workforce. 
By way of an example, the Singapore Government's commitment to advancing VPET is well demonstrated through its support to enhancing VPET facilities and offerings. Its SkillsFuture initiative, which promotes mastery of skills nationwide, is also a good example that ensures a skilled workforce supply is available to sustain a prosperous digital economy. 
Strengthening linkages with industry
To enhance the quality and attractiveness of VPET, active involvement by employers, professional bodies, industry chambers and associations is crucial. Top performing countries in VPET, such as Germany and Switzerland, tend to involve employers in various aspects from programme design to delivery and assessment. 
Referencing the Swiss and German dual-track approach, which integrates workplace
training with classroom learning, the Vocational Training Council (VTC) of Hong Kong launched the Earn & Learn Scheme in collaboration with the Government and industry, setting an example of how to train skilled professionals across a wide spectrum of industries. 
Currently, Earn & Learn degree programmes are offered at VTC's Technological and Higher Education Institute of Hong Kong (THEi), though it is not yet at a scale comparable to those in other countries, like the United Kingdom, which has over 13,000 degree apprentice starters in 2018-19. 
PwC suggests that dual-track programmes could be extended to a wider range of industries, educational levels and qualification types in Hong Kong, so that companies can be better engaged in developing future employees. 
The study also suggests that a "Meister" qualification be introduced, like in Germany, to certify occupational competence and allow more highly skilled workers in their fields to attain higher qualifications.
To engage industry partners and strengthen joint efforts in promoting VPET's development, VTC has recently organised a sharing session on the future outlook of VPET. At the sharing session, VTC's Chairman, Mr. Tony Tai stressed that "the tripartite collaboration between the Government, industries and VPET providers is the cornerstone of the future development of VPET."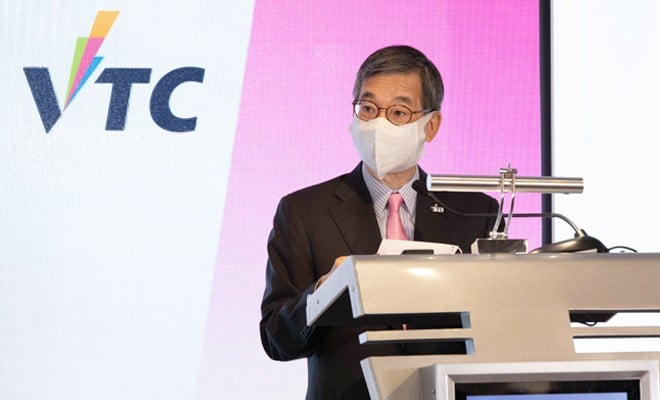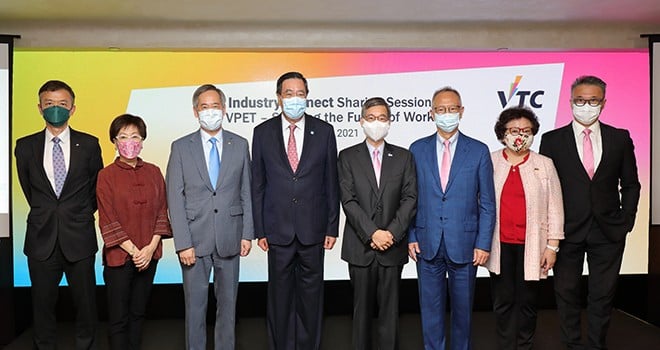 On the same occasion, Dr. Daniel Yip, Chairman of Federation of Hong Kong Industries and Steering Committee on Promotion of Vocational and Professional Education and Training and Qualifications Framework welcomed closer academia-industry ties to advance VPET in Hong Kong. "I think VPET has made immense contributions to Hong Kong's society, but is being slightly undervalued." He further added, "Turbo-charged by Industry 4.0 and digitalisation, industries are transforming fast with new, emerging skill and technological needs. VPET can readily adapt to such changes with industry input."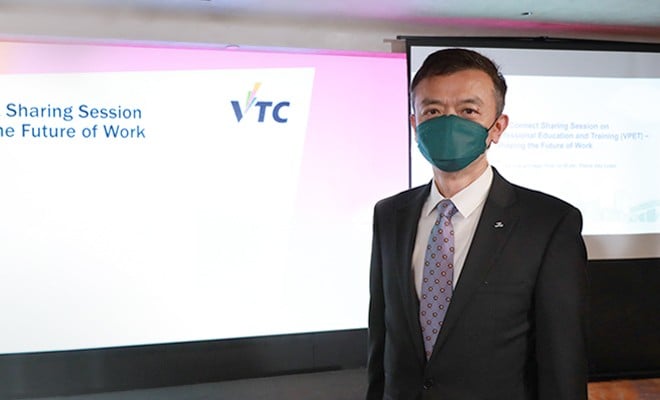 Gaining regional and international recognition
Aside from employers, the Government and VPET providers also play critical roles as change agents to facilitate regional and international recognition of VPET in Hong Kong. 
According to PwC's findings, more could be achieved by establishing long-term partnerships and strengthening collaborations with international VPET institutions and leading stakeholders. Together, they can benchmark good practices, establish mutual recognition of VPET qualifications, organise exchange programmes, and enhance recognition of specific programmes that Hong Kong has an edge on, such as Chinese culinary arts. Opportunities closer to home are to work with stakeholders in the Greater Bay Area to develop partnerships in promoting VPET. 
Shaping the future of work and Hong Kong
While affirming the achievements of VPET, it is vital that Hong Kong fully unlocks the possibilities of applied education to chart a new way forward. 
"With concerted efforts, we are in a position to drive applied education further, embracing new opportunities. VPET graduates will be a core driving force in shaping the future of work and Hong Kong for the new era", said Mr. Tony Tai.