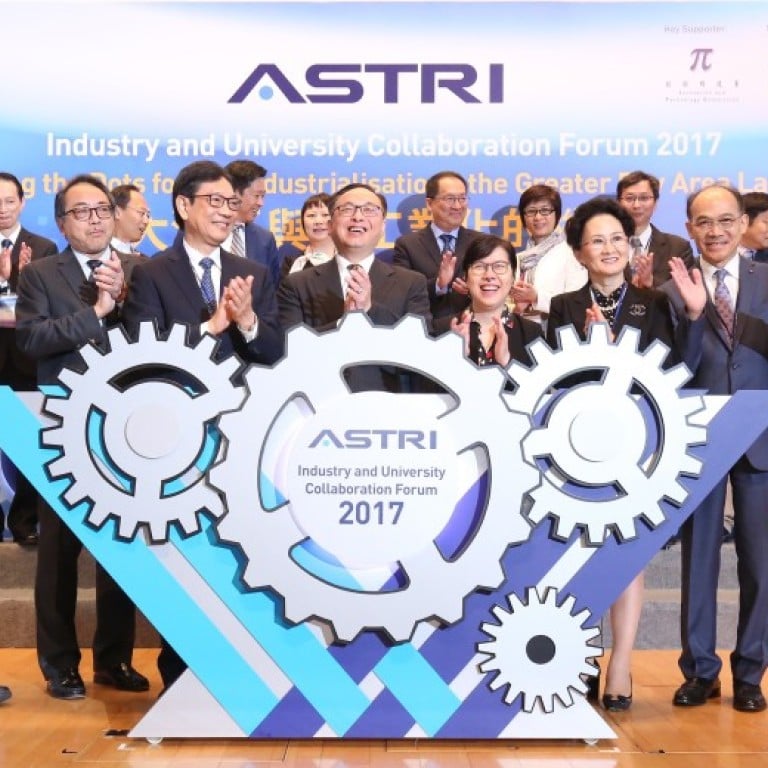 Connecting the Dots for Re-industrialisation: The Greater Bay Area Landscape
[Sponsored Article]
In a 2016 study, researchers at McKinsey reported a 20% improvement in Operational Equipment Efficiency (OEE) in factories that embraced smart technologies. They also suggested that factories using virtual prototyping or augmented reality enjoyed a 5-10% higher productivity level. Another study, by the International Data Corporation (IDC), predicts that by 2020, 60% of factory workers in the world's 2,000 biggest manufacturers will work alongside automated assistance technologies such as Robotics, 3D Printing, artificial intelligence, and augmented or virtual reality. It is clear - a colossal transformation of the global manufacturing sector is underway.
A global leader in manufacturing, China has an ambitious plan to revamp its manufacturing sector. Its 'Made in China 2025' plan rides on the concept of Industry 4.0 - upgrading China from a manufacturer of big quantity to one of high quality. The ambitions involve innovation-driven development, application of smart technologies, a highly trained and skilled workforce, and green development. Hong Kong, with its strategically important geographic location next to Southern China's vibrant manufacturing cluster, has much to gain from this transformation. With massive development efforts underway across the South China Greater Bay Area, Hong Kong must adopt a tailored approach to enhance the city's competitiveness and power its economic growth in the next decade. As Asia's global city, and also an SAR of China, Hong Kong must grab these phenomenal opportunities and re-examine the potential of reindustrialisation.
Speaking at the recent 'ASTRI Industry University Collaboration Forum 2017' event, Mr Nicholas Yang, Secretary for Innovation and Technology of the HKSAR Government, reinforced the importance of diversifying Hong Kong's economy in the face of global competition, citing the development of high value-added industries as a potential driver. By actively participating in the Greater Bay Area development, "the Government will create favourable conditions for diversifying the economy, in particular for promoting innovation and technology development," Mr Yang said. The event's speakers discussed future economic growth powered by innovation and technologies, in the context of re-industrialisation of Hong Kong, Made in China 2025, and the Greater Bay Area. Talking about the city's past heritage of industrial development, Mr Wong Ming-yam, Chairman of ASTRI, referred to "Hong Kong's industrial sector that went through a golden era back in the 1950s through the 70s." Almost a quarter of the population was engaged in manufacturing which contributed around 30% of Hong Kong's GDP in the 1970s. "The recent decades saw factories migrating to Southern China as Hong Kong excelled in financial and professional services. However, we see a growing opportunity to explore and drive re-industrialisation in Hong Kong, thanks to our strategically advantageous location, the emergence of smart factories powered by cutting-edge technologies, and a burgeoning market for advanced tools, technologies and solutions.", Mr Wong added.
For its part, the SAR Government has established a high-profile Committee on Innovation, Technology and Re-industrialisation, chaired by the Financial Secretary. The committee is taking a multi-pronged approach to promoting innovation and technology development and re-industrialisation in Hong Kong. Mr Wong, a member of that committee, believes that "for successful re-industrialisation of Hong Kong, the Government's policy initiatives and infrastructural support must be met with a sharper focus on basic as well as applied research, stronger collaboration between academia and the industry, and a new generation of technology-savvy workforce." Mr Wong added that "The opportunities stemming from Industry 4.0 and the Bay Area development can be realised by breakthroughs in emerging technologies, such as artificial intelligence, robotics, the Internet of Things (IoT), smart transportation, 3-D printing, nanotechnology, biotechnology, materials science, energy storage, and quantum computing."
With innovation and technology being rightly identified as one of the drivers of Hong Kong's future growth, the city's technology ecosystem - including universities, R&D institutions, and the industry – needs to embrace the opportunities presented by the Greater Bay Area development initiative. By itself, the Bay Area is already an important economic region at a global scale. According to a 2017 Colliers report, it is the 5th largest economy in Asia, has the highest seaport throughput in the world and one of the highest per capita export value in Asia, and is home to 19 'Fortune 500' companies. Integrating Hong Kong's proven strengths with the manufacturing hub in Guangdong will form a polycentric region with huge growth potential. The Colliers report predicts the total GDP for the Area to increase from USD 1.3 trillion in 2015 to USD 3.6 trillion by 2030, representing an annual growth rate of 7.5%. As smart factories drive digitalisation, Hong Kong can benefit from the huge demand for advanced technological solutions and complimentary products and services. That opens up opportunities for Hong Kong's entrepreneurs to thrive in light and technology-intensive, high value-added manufacturing ventures.
Touching upon the role ASTRI plays in Hong Kong's endeavour to promote Industry 4.0 R&D, Mr Wong said, "intelligent manufacturing is one of the five cornerstones of ASTRI's R&D strategy, which leverages our proven competence in Internet of Things, Robotics and Automation, Augmented/Virtual Reality, Big Data, and Machine Vision." Over the years, ASTRI has partnered with major industry players, developing innovative solutions that range from glass-free 3D vision to new generation power cells to artificial intelligence. For example, Mr Wong mentioned an automatic defects inspection system which led to faster, cheaper, and more accurate quality control system in the production line of lens and cover glasses. The innovation won the '2016 Hong Kong Awards for Industries - Equipment and Machinery Design' last year.
Dr Daniel Küpper, a Senior Partner at the Boston Consulting Group, estimates that by 2024, smart technologies will lead to the creation of 22,000 new jobs He predicted the overall manufacturing output to be up by as much as US$26 billion, with productivity increasing by up to 28%. With this world of potential awaiting Hong Kong, it will take a concerted effort from all players in the city's technology ecosystem to connect the dots and unlock the potential of successful re-industrialisation. Hong Kong's world-class infrastructure and institutions, and the enterprising spirit of Hong Kong's people, harbour a natural breeding ground for innovation. Complementing its existing strengths with innovative technologies, Hong Kong can boldly write the next great chapter of its growth and prosperity.