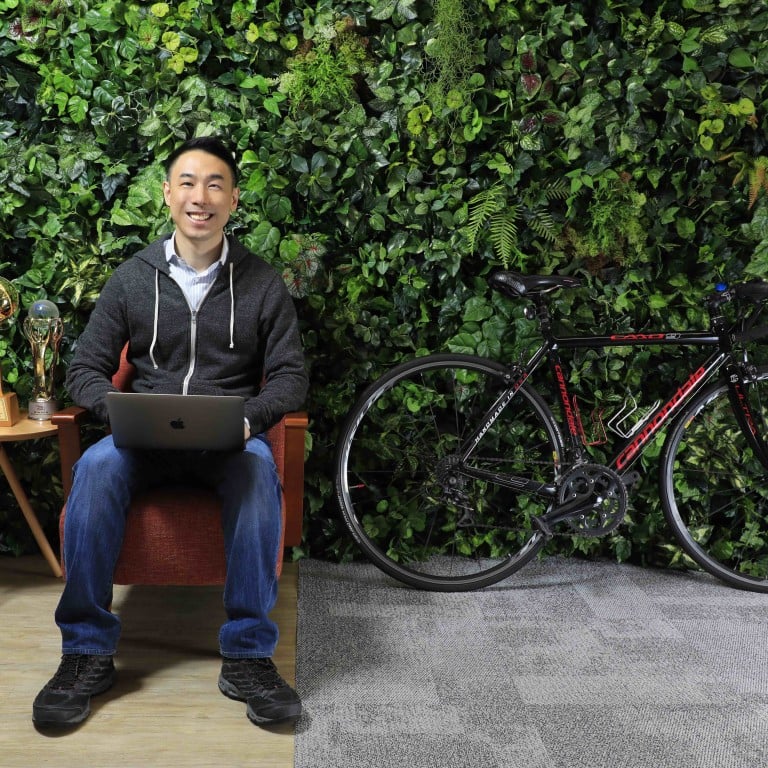 Bringing your business to life with world-class videos
[Sponsored Article] It was a decade ago that Alvin Hung tried hard to find top-class online software to help him transform his business ideas into powerful and engaging video content. And when he couldn't find any company that was doing this, he launched his own software firm to take on the challenge.
Paid Post:
Hong Kong Trade Development Council
[Sponsored Article]
It was a decade ago that Alvin Hung tried hard to find top-class online software to help him transform his business ideas into powerful and engaging video content. And when he couldn't find any company that was doing this, he launched his own software firm to take on the challenge.
Today, as founder and CEO of Hong Kong-based GoAnimate, the hard-working Hung has helped businesses, both large and small, to develop high-quality "do-it-yourself" (DIY) videos quickly and easily. And in doing so, he has happily gained the loyalty of more than eight million registered customers—not only in Hong Kong and across Asia, but from all around the world as well.
Since founding GoAnimate in 2007, Hung's staff has grown to 50 at the company's R&D office in Hong Kong, plus a team in Taiwan, as well as sales and marketing staff in California's famed Silicon Valley.
Today the company offers a wide range of pre-designed web-application animation tools tailored for different industries and users. To date, it is estimated that more than 22 million animated videos have been made by thousands of companies — all using GoAnimate's easy-to-use interface.
"GoAnimate is one of the first do-it-yourself (DIY) animation platforms to extend the power of animation into an enterprise-focused productivity tool," explains CEO Alvin Hung. The main aim, he says, is to simplify the process of creating an animated video without the need for specific software, technological expertise and the intensive amount of time and expense it takes to create professional-quality videos.
Hung gives credit for some of his company's striking success to the fact that his start-up was Hong Kong-based and the city was his critical creative hub where GoAnimate's first products were conceived and created.
"Hong Kong," Hung says, "is the brain that builds the products that sell to the world." And he strongly believes that Hong Kong was a key differentiator that first drove and continues to drives GoAnimate's success. "Whether it is online, offline, in person or from a qualitative or quantitative perspective, we here in Hong Kong have the tools, and we have the people with the know-how to solve customers' problems."
Hung explains that the GoAnimate platform is widely used by customers ranging from corporate learning and development centres, to content creation makers at large marketing agencies. Moreover, he says many SMEs and start-ups are using GoAnimate to introduce their products and services to targeted audiences. GoAnimate is also a preferred platform for teaching professionals as they implement such new initiatives as flipped classroom and micro-learning.
Hung says as a truly global-minded metropolis, Hong Kong is the place where the type of top talent the ambitious companies require can easily be found. And the professional skills and products produced here are comparable to the best found anywhere in the world.
"The fact that the products we design and produce in Hong Kong are marketed all over the world, demonstrates what a top-notch place Hong Kong is for our business, as well as many other businesses."
As a rich melting pot of creative ideas drawn from all over the world, Hong Kong is viewed by Hung as a key to his company's success in terms of sales and marketing — because Hong Kong's renowned business strength is its ability to understand the ever evolving global markets and the specific needs of businesses in different parts of the world.
For example, with a rapid uptick in the number of business choosing to use video content as a major part of their marketing strategy, Hung says businesses in virtually any sector can engage their audiences by choosing from GoAnimate's editable scenes that represent hundreds of industries allowing business professionals to effectively communicate through video content that complements their core message.
"A video can often produce high levels of emotional engagement that can't be equalled by even the most eloquent text," notes Hung. Who then asks: "If one picture is said to be worth a thousand words, imagine how many words a video is worth!"
As the Hong Kong Government continues to boost its efforts to foster closer co-operation between creative innovation and technological research, Hung believes new opportunities are being created to develop and market products and services similar to GoAnimate's.
Says Hung: "There is always more that can be done to support business like ours. But overall I would say that the government is doing a good job." And he would like to see more Hong Kong success stories like his own being celebrated in order to inspire the younger generation to go bold, and go big in developing their natural entrepreneurial instincts and capabilities.
Like many successful business, GoAnimate was founded by necessity. "I wanted to turn an idea I had into a video. But I soon discovered that to create the animation, I would need to learn a lot of complex software," Hung explains. "I tried various options, but none of them were easy to use. So I decided I had no choice but to develop my own solution."
For its efforts and achievement, GoAnimate has won a raft of awards including the 2017 APICTA (Asia Pacific Information and Communications Technology Alliance) Gold Award for the Best Application Tools and Platform; the 2017 HK ICT Award of the Year; the 2017 HK ICT Grand Prize for Best Business Solution, as well as the 2017 HK ICT Gold Prize for Best Business Solution (Products and Services). "These awards are a great testimony of the company's achievement in innovation through design," says Hung.
GoAnimate will be one of the digital marketing and innovation companies to exhibit and demonstrate Hong Kong's marketing prowess at the MarketingPulse on March 21. The one day conference, organised by the Hong Kong Trade Development Council (HKTDC), will feature world-renowned brand owners, marketing and advertising experts and top creative minds. One-on-one meetings will be arranged for brands and exhibiting marketing agencies to explore collaboration opportunities.