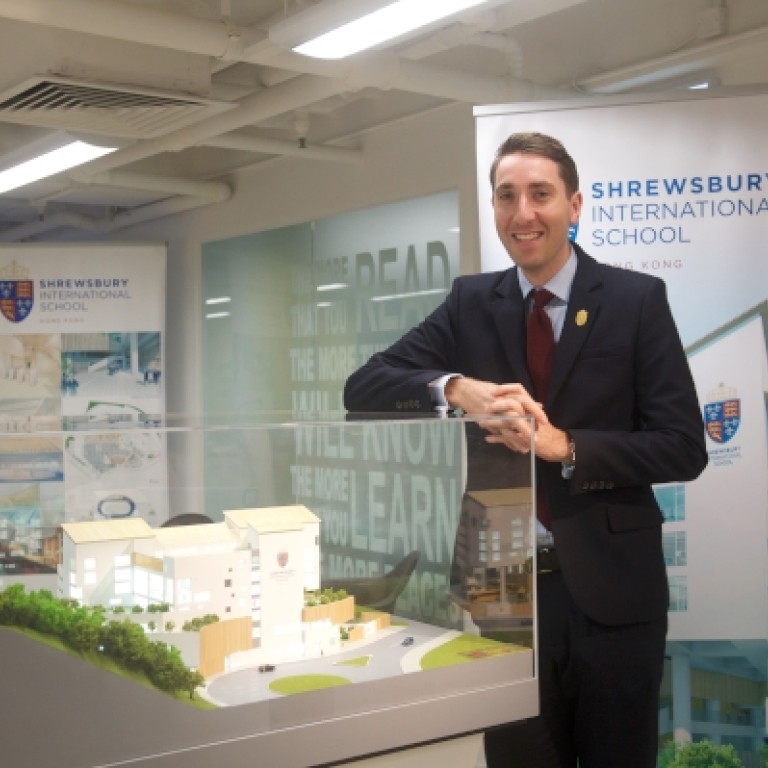 Starting an educational journey off right
In Partnership With
SCMP Education
[Sponsored article]
Shrewsbury International School Hong Kong is set to open in just over a year in Lohas Park, Tseung Kwan O. It will be the second Shrewsbury School in Asia after Shrewsbury International School Bangkok, and will welcome close to 1,000 students into its top-class purpose-built facility that includes a drama studio, a dance room, an aquatic centre, gym, football pitch and other sporting facilities designed to provide a premium learning experience for young children.
"We will offer six classes in each year group, and we want to have small classes," says principal Ben Keeling, explaining that they accept students starting from age three for nursery, age four for reception and ages five to 10 for primary one to six.
Keeling, who has already spent four years working in Hong Kong's education sector, hopes to build Shrewsbury into a large, vibrant community with students coming from a variety of different backgrounds.
"The basis of this arrangement is our recognition that children learn from other children," he says. "We want to provide them a breadth of opportunity to engage with other learners."
At the time of graduation, children will have good academic and social skills and a breadth of experience
Shrewsbury UK was founded by Royal Charter in 1552 and has been on its present campus of historic red brick buildings since 1882, while the school in Thailand is coming up to its 15th anniversary.
Keeling believes the academic structure of the English National Curriculum, offered by Shrewsbury, is more beneficial to small children than the International Baccalaureate Primary Years Programme.
"Primary education requires a balance between academic rigour and inspirational, inquisitive, self-motivated learning," he says. "The national curriculum offers the best possible balance."
Teaching at Shrewsbury utilises this structure but also allows the children to enjoy learning and stay motivated. The curriculum is divided into themed units delivered six weeks at a time, and has been localised to best cater for the schools international students. Key learning concepts are embedded in different classes, be it English, maths, drama or science. 
"At the time of graduation, children will have good academic and social skills and a breadth of experience," says Keeling, adding that using the nationally standardised programme provides a structure that makes performance comparison easier and reporting to parents more accurate.  
Putonghua is taught at native, near-native and non-native levels. As a primary specialist school, Shrewsbury takes language studies seriously, and offers a bespoke programme at the three levels with classes held five times a week, each placing a strong emphasis on listening, speaking, reading and writing.
According to Keeling, by the time they graduate at age 11, the intensive learning will have taken complete beginners to approximately IGCSE level, which is equivalent to that of a 16 year old student, giving them a strong background to retain and continue building on their knowledge of the Chinese language.
While some Hong Kong parents prefer the through-train model, Keeling sees a shift on the horizon.
"There used to be huge pressure on parents to grab a school place at any cost. But there is a new dawn, which places the power for such decision making in the hands of the parents. It means that parents will be able to select schools with increasingly personalised goals," Keeling says, encouraging parents to engage.
It is difficult to know what educational pathway a child should embark on at 2 or 3 years old. To help parents with these decisions, Shrewsbury offers a unique bespoke "student transition" service. Teachers have formal meetings with parents starting in Year Four, where they objectively review circumstances and opportunities. By the end, the school will help to make clear recommendations regarding secondary school application and support in the process of application.