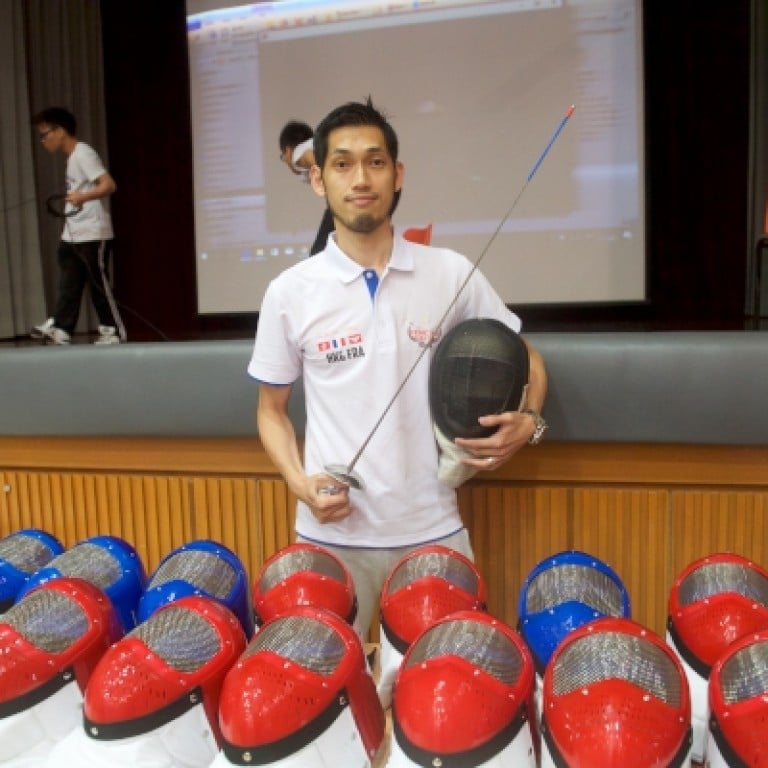 Not Just Sports: the benefits of fencing for youngsters
Paid Post:
Stamford American School Hong Kong
[Sponsored article]
When Stamford American School Hong Kong officially opens next month, besides setting high academic standards, it will also offer a diverse variety of co-curricular activities, ranging from science and coding to sports and the performing arts.
This supports the school's guiding vision, which is to give children the opportunity to develop new interests and discover new talents, thereby inspiring them to achieve more than they believe they can.
At a recent introductory session focused on fencing, parents and youngsters had the chance to see just what that sport offers in terms of fun, teamwork, physical training, mental discipline – and all-round excitement.         
Showing the way was Lau Kwok-kin, fencing master and two-time Olympian, who represented Hong Kong in the men's foil at Athens 2004 and Beijing 2008, as well as numerous other international championships and regional games.
He is now a key member of Stamford's Global Mentor Program, in which inspiring individuals in different fields pass on to pupils their enthusiasm, insights and experience. And he was quick to do that in taking the group of high-spirited kids, aged five to 12, through the basic moves and principles of fencing.
"As a coach teaching youngsters, the most important thing is to make sure they are interested and having fun," says Lau, who retired from competition after the Guangzhou Asian Games in 2010 and subsequently completed a master's in sports science and physical education at the Chinese University of Hong Kong. "If you can do that, they will come to love fencing and will want to train more and continue to improve."
To this end, he incorporates various games in each lesson, which help to build strength and physical fitness. They often include an element of competition, which serves to motivate.
"Whether they win or lose, and whatever their level, introducing a competitive aspect is a meaningful step," Lau says. "It helps kids to set initial goals, become more self-confident and, as they progress, to deal with failure and success and see where they need to try harder."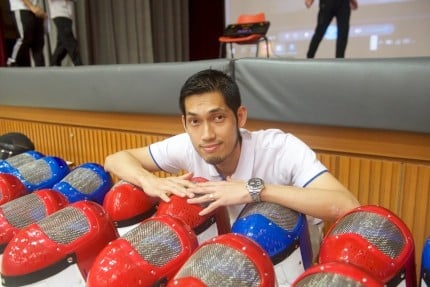 Understandably, the youngest groups start out with plastic swords of suitable size and weight, and safe practices are observed at all times. They learn the fundamentals of assuming the en garde or ready position, the steps to advance and retreat, and how to make an effective lunge. Training exercises would go from striking at the centre of a plastic ring and catching a glove thrown in the air to practising step patterns, changes of direction, and correct sword techniques.   
The objective is to develop not just speed and muscle strength, but also better eye-body-hand co-ordination, mental concentration and, in due course, tactical awareness.    
"Overall, fencing offers so many benefits," Lau says. "It is often known as the 'chess of sports' because it provides both physical and mental training. And that, of course, makes it a great sport for any kid to take up."    
Integral to his approach to coaching, Lau looks to keep parents involved, explaining in particular how fencing helps kids to focus, be active and make new friends, while getting them away from iPads and smartphones.
"Nowadays, parents are very keen to communicate about their kids, for example their emotions and how to stop them from feeling nervous," he says. "I'm fine with that; it's all part of offering the right support. But I also suggest that the parents themselves should try fencing too."   
Indeed, if time allows, he would like to start separate classes for parents to give them a first-hand experience of the challenges and thrills of the sport.
Working with the Hong Kong Fencing Community Outreach (HKFCO), Lau is already running free fencing programmes for children from low-income and underprivileged families. In due course, he has every hope that pupils from Stamford will choose to get involved with this programme as adjunct coaches and student ambassadors. 
Once term begins at Stamford, the intention is to offer co-curricular fencing classes for different age groups up to three times a week at the school campus. As individuals develop the necessary level of skills and experience, they can then expect to take part in local inter-school competitions and even international age-group events.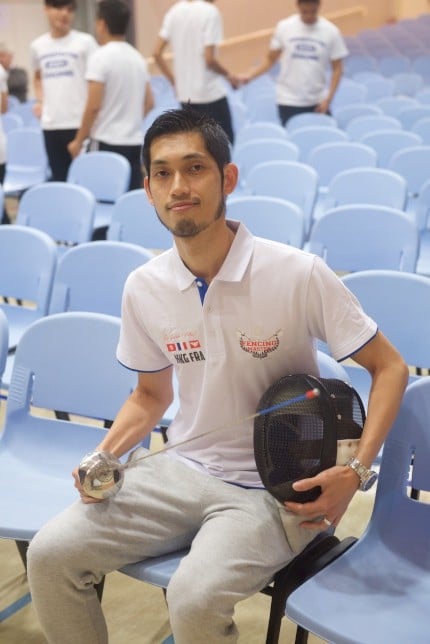 ​ 
In this respect, the sport is well organised locally, and standout performers in their teens might even be invited to train with clubs or at the Hong Kong Sports Institute, with a view to making the cadet or youth teams.     
"There is a clear plan for each lesson, and I observe the boys and girls very closely," says Lau, who started fencing as a 13-year-old and progressed rapidly through the ranks. "I explain the rules when necessary and look at things like their style and timing, so they can see steady improvement and reach their potential. The most valuable thing fencing taught me was to do my very best in every situation and not to be afraid in any new environment."      
Lau Kwok-kin, the first Hongkonger to be ranked in the top 16 at the World Fencing Championships, recently won a silver medal at the over 40 individual event and a bronze medal at the team foil event from the 2017 Asian Veteran Fencing Championships. The competition was held in early September in Bangkok and was one of events organised to mark World Fencing Day. Lau's outstanding performances over the years have helped to inspire many junior fencers.