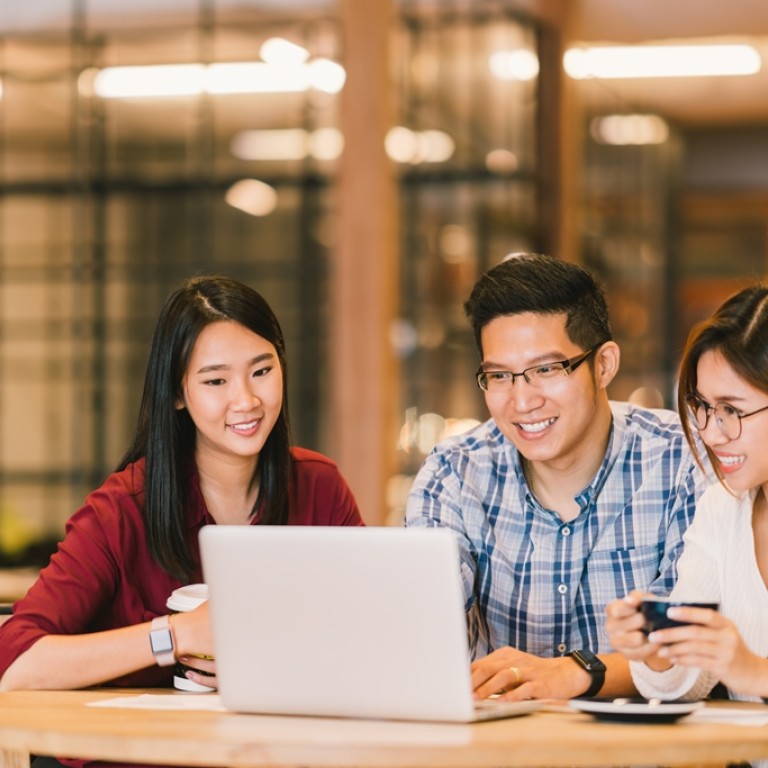 Start young to enjoy lifelong protection with Voluntary Health Insurance Scheme
Paid Post:
Voluntary Health Insurance Scheme Office
[Sponsored Article]
Many young people are healthy and perceive that they have a slim chance of getting serious illness. They tend to ignore the need for hospital insurance with this mindset.
Nonetheless, life is full of uncertainties. Without hospital insurance, you will miss an extra protection in case of having the need for hospital admission or surgery. Worse still, when you apply for insurance coverage afterward, it is more likely that the insurance companies will reject your application, impose premium loading or exclude particular illness from coverage because of your pre-existing health conditions. Conversely, if you smartly plan ahead and buy the Voluntary Health Insurance Scheme (VHIS) Certified Plan in advance, your insurance coverage will be guaranteed up to the age of 100 years, meaning that your protection will continue without re-underwriting even if your health condition changes or you make claims after buying the plan.
Disclosure of health conditions
When you apply for health insurance coverage (including VHIS Certified Plan), the insurance company concerned will normally conduct underwriting by assessing the health conditions of the insured person, for which the applicants are obliged to disclose honestly on the application form.  It is important to note that the insurance companies do not guarantee acceptance of application.  Based on the underwriting results, the insurance company will decide whether to accept an application or not, or to accept subject to special conditions such as premium loading / case-based exclusions or not.  If an applicant engages in material non-disclosure, misrepresentation or fraud, the insurance company may have the right to void the insurance policies and the applicant will lose the protection as a result.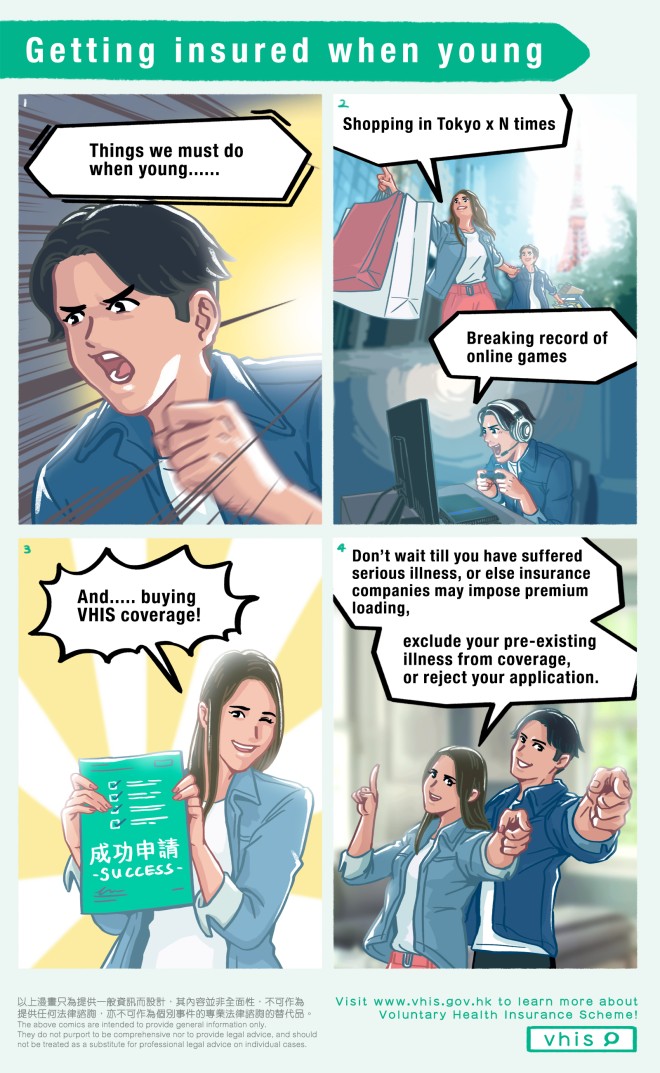 Diversity of VHIS Certified Plans
There are two types of Certified Plans, namely Standard Plan and Flexi Plans. A Standard Plan offers basic hospital insurance protection.  Flexi Plans offer Standard Plan-equivalent protection plus flexible top-up protection such as higher benefit amounts, more benefit items and supplementary major medical; their premiums vary depending on the benefit coverage.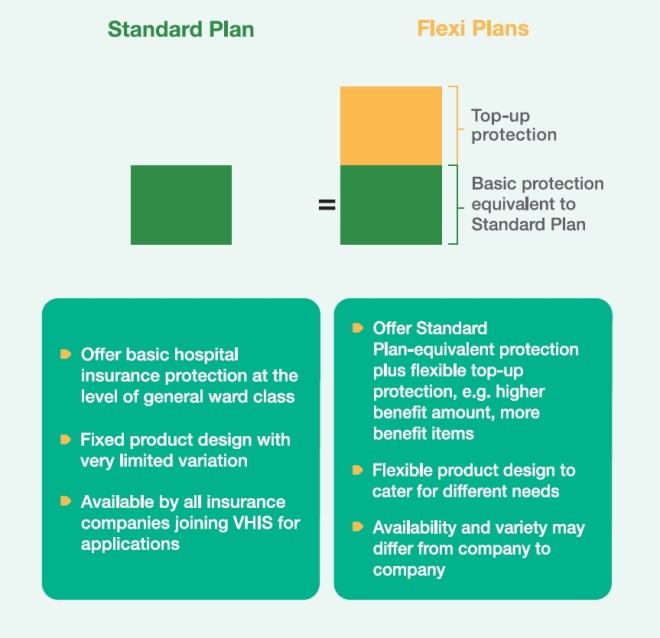 No "lifetime benefit limit" - benefit limit is counted afresh annually
VHIS Certified Plans have no "lifetime benefit limit".  This means that when the benefit amounts have been used up in a policy year, they will be counted afresh in the next policy year and will not be affected by the previous claims.
Some Flexi Plans that meet specified criteria (i.e. the annual benefit limit being at least HK$5 million) can impose "lifetime benefit limit", yet the "lifetime benefit limit" must be at least HK$20 million (i.e. the claimable amount after policy inception must be at least HK$20 million). Nevertheless, even if the "lifetime benefit limit" is reached in the above case, the policyholders of the Flexi Plans concerned can continue to enjoy protection under Standard Plan up to the age of 100 years.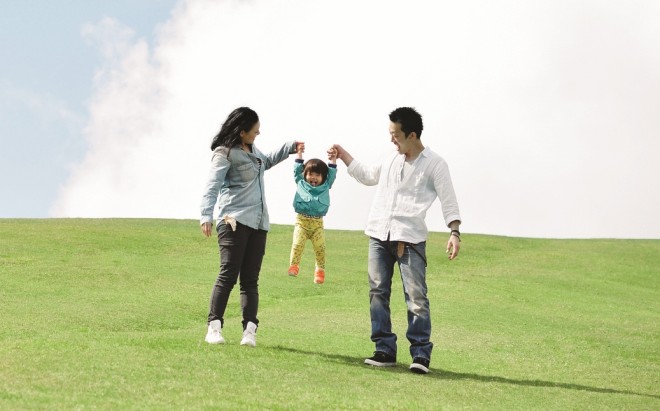 Early migration to Certified Plans to avoid lapse of insurance coverage upon claims
Most hospital insurance plans available in the market entail policy renewal annually.  Some of them have policy terms and conditions that allow the insurance companies to refuse policy renewal when claim has been made, rendering the protection lapse in effect.  Nevertheless, VHIS Certified Plans guarantee policy renewal up to the age of 100 years, during which insurance companies cannot reject renewal requests, or apply new exclusion or premium loading due to change in health conditions of the insured persons upon policy renewal.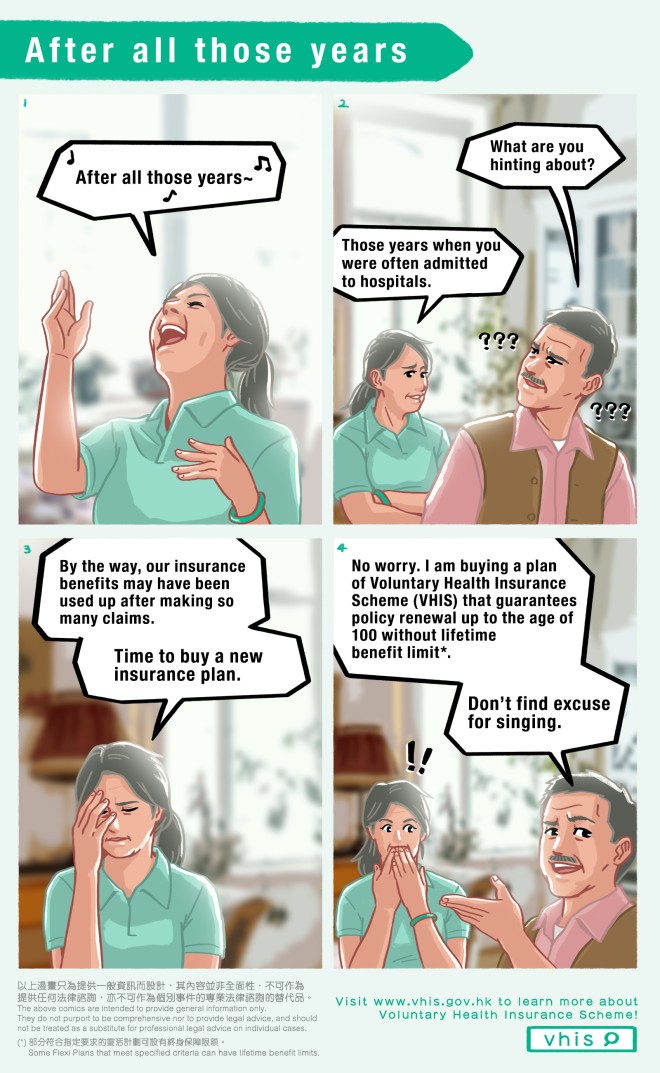 To enjoy this promising protection, act now and visit the VHIS official website (
www.vhis.gov.hk
). To select from the numerous insurance plans offered by different insurance companies, you may also make use of the "Plan Search" function on the VHIS official website that can help you find and compare insurance plans and product features for a wise choice that suits your needs and budget.