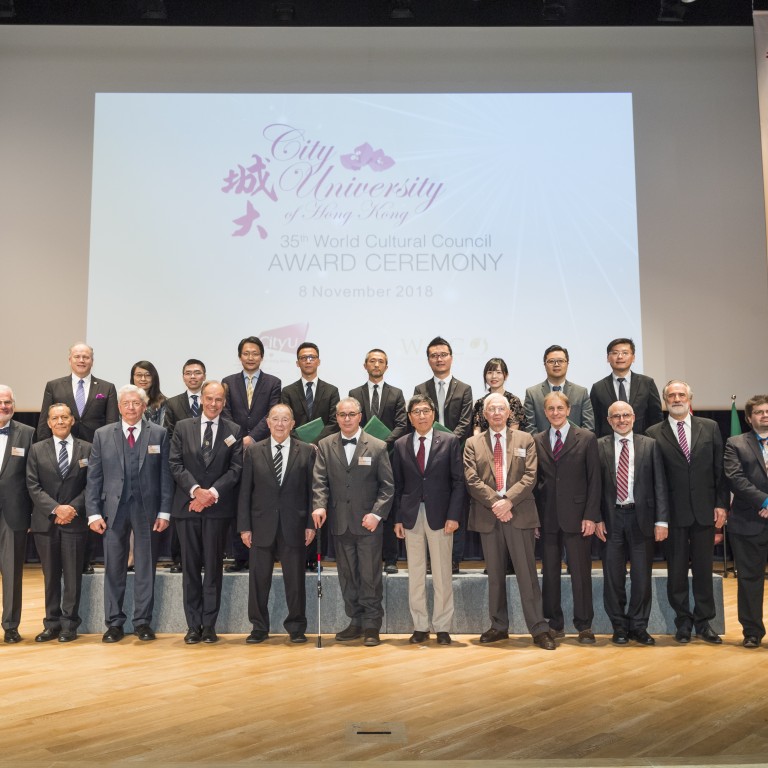 World-acclaimed achievements honoured at WCC Award Ceremony held at CityU
Hundreds of distinguished educators, scientists, researchers and guests gathered at City University of Hong Kong (CityU) in early November witnessing the conferment of the 35th World Cultural Council (WCC) Award on two world-class scholars.
Paid Post:
City University of Hong Kong
[Sponsored article]
The prestigious WCC Award Ceremony saw French scientist Professor Jean-Pierre Changeux receiving the 2018 "Albert Einstein" World Award of Science in recognition of his contributions in the field of neuroscience for over 50 years, while the 2018 "José Vasconcelos" World Award of Education went to Algerian-born Professor Malik Mâaza for his commitment in nurturing young scientists in Africa.
Also at the ceremony, which was officiated by the President of CityU, Professor Way Kuo; the President of WCC, Professor Sir Colin Blakemore and the Under Secretary for Education Dr Choi Yuk-lin, nine young CityU researchers were recognized for their outstanding achievements. "It is our great honour that CityU has this opportunity this year to host this influential academic award ceremony. We are proud that we are the first university in Hong Kong, and in the Greater China region in fact, to host such a major event," said Professor Kuo.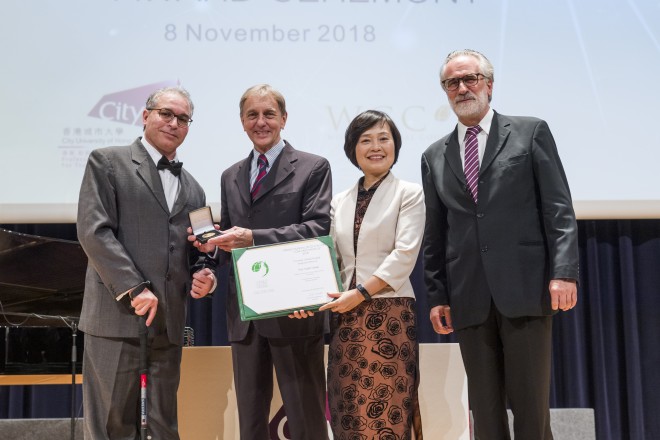 ​
Professor Jean-Pierre Changeux, Emeritus Professor of Neuroscience at the Institut Pasteur and Collège de France, and the International Faculty of Kavli Institute for Brain and Mind at the University of California (San Diego), is renowned for his contributions to the understanding of neuroreceptors. His breakthrough discovery in the 1970s of the acetylcholine receptor as a model membrane receptor was ground-breaking and has since proven to be a general model of chemical modulation of the brain.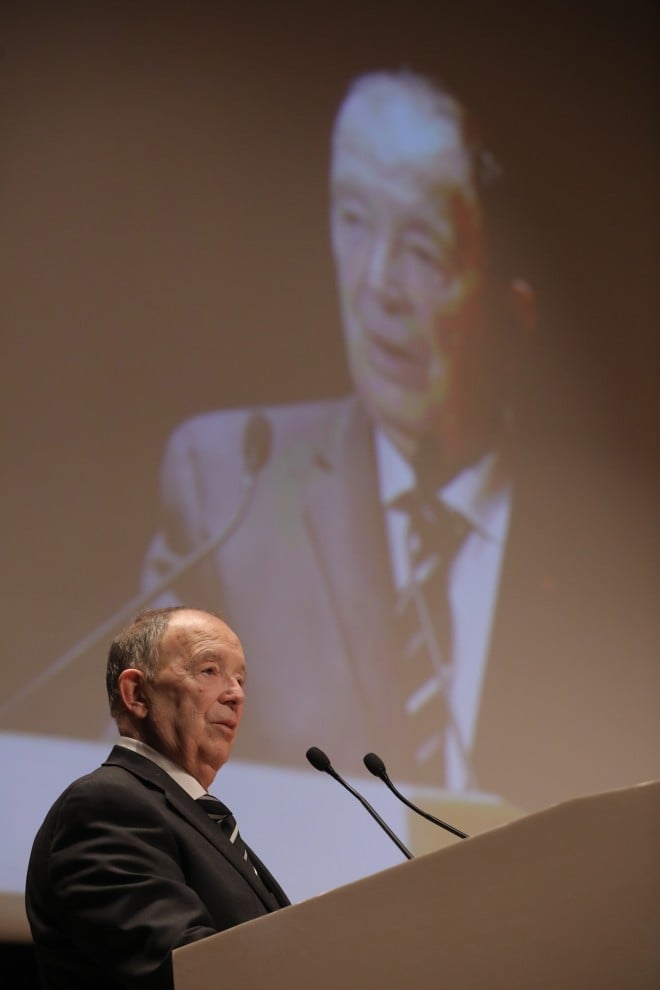 ​
Describing the brain as the most complex physical object on earth, he has shown unwavering dedication to uncovering its intricacy. One of the reasons for his dedication is the huge medical and human costs of disabling diseases related to the brain. Alzheimer's disease, schizophrenia, depression and autism are just the more common examples of the illnesses. "In Europe, the conservative estimate is that about 165 million people yearly will experience fully developed brain diseases, with a total estimated cost of 800 billion euros in 2010; there is absolutely an urgent need and it is also our first ethical duty to find efficient treatment for such diseases," said Professor Changeux, adding: "This requires a deeper understanding of the brain as a chemical system and this should be the way to the design of novel medicine."
The WCC jury acknowledged the significant impact that Professor Changeux's research has had on healthcare and our understanding of human neural processes. His work on the mechanism of neural networks has narrowed the gap between molecular biology and cognitive sciences.
"Chemistry is the universal key to understanding brain function," said Professor Changeux, the winner of the 1982 Wolf Prize in Medicine. He expressed gratitude to his supportive parents and mentors including Jacques Monod, the Nobel Laureate in Physiology or Medicine of 1965.
Despite the rapid progress in innovation and technology in recent years, he warns against a blind pursuit of technological advancement disregarding the ethical issues related to negative impacts of scientific developments. "I have always thought that scientific research is a responsible research strongly linked to major ethical questions," he said. Such conviction led him to accept the invitation to become Chair of the French National Bioethics Committee in 1992, and to educate the public about the human brain and related ethical issues by writing books such as "The Neuronal Man: The Biology of The Mind", and "What makes us think?" co-authored with philosopher Paul Ricoeur.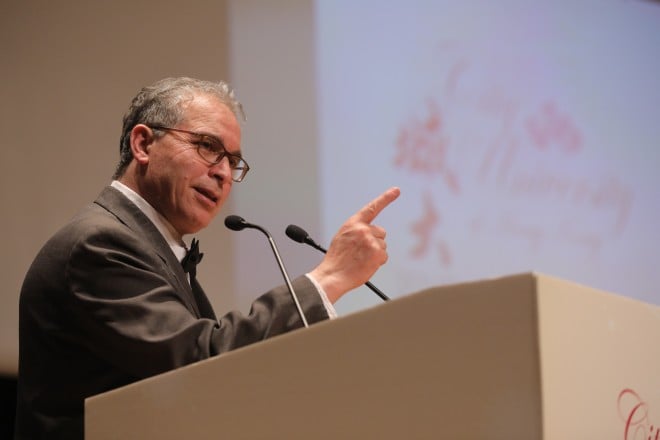 ​
The winner of the "José Vasconcelos" World Award of Education -African physicist, researcher and educator, Professor Malik Mâaza of the University of South Africa, is equally concerned about humanity. He fully embraces the United Nations' Sustainable Development Goals, particularly that of achieving quality education and gender equality globally by 2030.
However, Professor Mâaza noted that in 2017, 57 million children of primary school age still did not have access to school. "Most of them are in Africa and with the rise of artificial intelligence, it is a must for them to be educated," he said.
As a pioneer of nanoscience and nanotechnology on the African continent, he has significantly contributed to the education of numerous PhD students and postdoctoral researchers, playing a key strategic role in developing South African research programmes and research grant proposals. UNESCO appointed him to be the first South-South Chair in Nanosciences and Nanotechnology: the UNESCO UNISA Africa Chair in Nanosciences and Nanotechnology, also known as U2ACN2.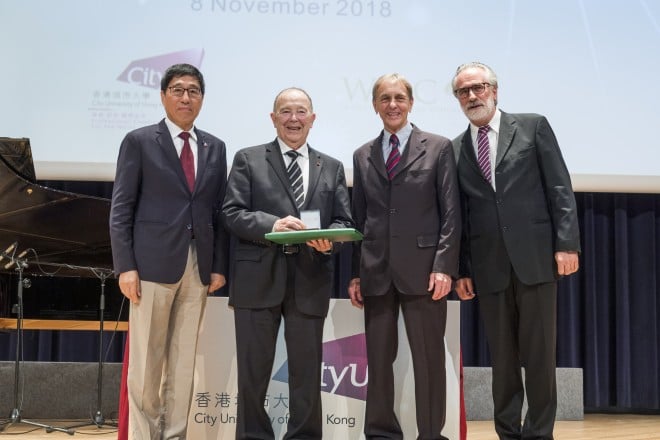 ​ ​
He has also created platforms for the introduction of emerging areas of education like materials science, space science and laser science.
To nurture talents, he has helped scientists from war zones in Africa and the Middle East pursue their research and has organized periodic exchanges between renowned scientists of Israeli and Arabic origin, seeking to build bridges through science. With his help, women from ravaged countries such as Rwanda and Libya received training opportunities at high quality and large research facilities that do not exist in their own countries.
"Education is pivotal to any quality of life of any society," he said. "We need to support sisters and daughters in the field of science because they can make contributions."
Noting the tiny investment in science and technology in many African countries, he said: "Hopefully this award will move the South Africa government, the University of South Africa and national foundations to invest more in research and education."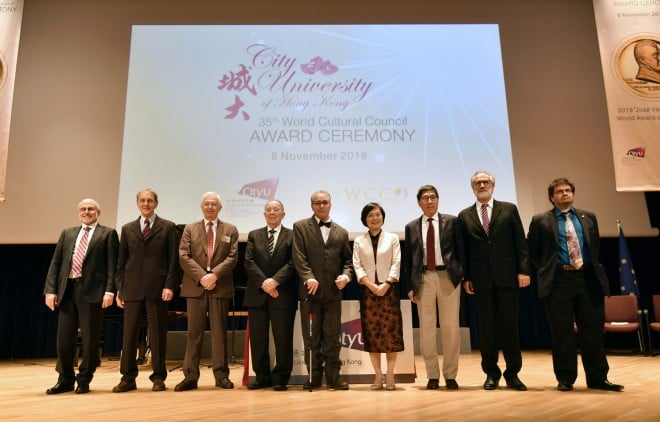 ​ ​
Nine promising young CityU research leaders also received special recognition from the WCC. They are Dr Ray Cheung Chak-chung, Associate Professor, Department of Electronic Engineering; Dr Johnny Ho Chung-yin, Associate Professor, Department of Materials Science and Engineering; Dr Lam Miu-ling, Associate Professor, School of Creative Media; Dr Patrick Lee Kwan-hon, Associate Professor and Associate Dean, School of Energy and Environment; Dr Eddie Ma Chihim, Associate Professor, Department of Biomedical Sciences; Dr Shi Peng, Associate Professor, Department of Biomedical Engineering; Professor Wang Zuankai, Department of Mechanical Engineering; Dr Zhang Xiaoling, Associate Professor, Department of Public Policy; and Dr Zheng Bo, Assistant Professor, School of Creative Media.