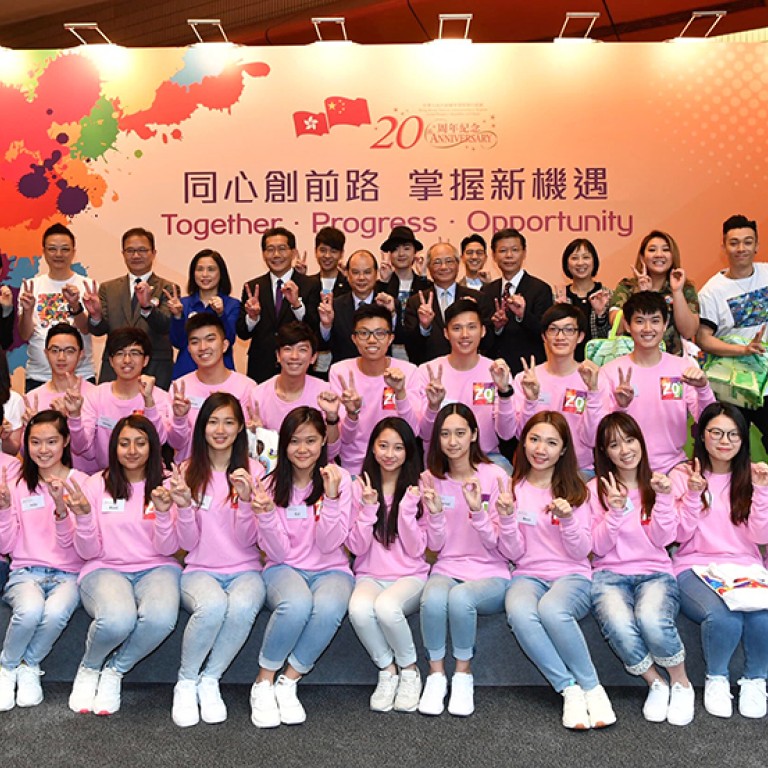 A celebration for all in Hong Kong
Celebrations for the 20th anniversary of the establishment of the Hong Kong Special Administrative Region (HKSAR) are being taken forward under the theme "Together • ​Progress • ​Opportunity".
In Partnership With
Information Services Department
[Sponsored Article]
On a recent Sunday in April at the Hong Kong Museum of History, the queue was exceptionally long for a late afternoon entry. The line included different ages, with a significant number of young children. All these patient people were waiting to be admitted into the "Legend of Hong Kong Toys" exhibition.
Inside the packed exhibition halls, there was something for everyone: toddlers romped in the play zone with colourful toys; teens were awed at collections of comic statues; and, grown-ups became nostalgic when sighting their favourite toys from years past. Those reading the wonderfully detailed information plaques also had much to appreciate, as they learnt about the history of toys, from early beginnings in Europe, to the development of Hong Kong as the world-leader in toy making.
A multi-partite initiative involving the Leisure and Cultural Services Department, the Hong Kong Toys Council and the Toys Manufacturers' Association of Hong Kong, this unique exhibition attracted over 140,000 visitors within the first month of an exhibition scheduled to last until May 15.
This highly popular exhibition is just of more than 300 events being organised by various government departments to celebrate the 20th anniversary of the establishment of the HKSAR. In addition, more than 300 community-organised activities will be staged across the city, as well as dozens in the Mainland and overseas.
These festive events serve to unite Hong Kong people, foster social cohesion and build a caring society, says Matthew Cheung Kin-chung, Chief Secretary for Administration.
The first focus of 20th anniversary events and activities is to provide an opportunity for everyone to join the celebrations, said Mr Cheung. Senior government officials will be closely involved in the Celebration for All project which will include visits to households of the elderly and people in need to distribute gift packs.
But celebration events are not just the only focus. The government is keen to use the anniversary to "build on past success, scale new heights, seize opportunities and pass the torch" – as well as showcase Hong Kong's strengths and advantages to audiences in the Mainland and overseas. In other words, the anniversary provides an opportunity to cherish previous accomplishments as well as embrace the future with confidence.
Various anniversary projects are designed to appeal to a wide audience and create a lasting impact. Already, people are appreciating the "Blossoming Stairs" – giant artworks on outdoor staircases – as part of the City Dress-up programme. In July, the Seats • ​Together public art project will brighten up selected locations with contributions by local creative talents.
Hong Kong people have every right to be proud of the city's achievements over the past 20 years. For example, GDP has grown 82 per cent to reach $2.5 trillion (US$320 billion) by end-2016.  Total employment has reached a record high of 3.78 million – or 620,000 more compared to 1997. And fiscal reserves have risen from $370.7 billion at end-March 1997 to $935.7 billion by 31 March 2017.
Many of the achievements over the past two decades are featured in a roving exhibition to be staged at six major shopping malls from mid April until September. The exhibition features giant LED touch-screen information panels, an interactive game for families and friends, and the winning entries of 20th anniversary poster and video competitions.
With hundreds of events planned until the end of the year, the best way to keep track of everything on offer is to regularly visit the dedicated website
www.hksar20.gov.hk
, or to keep an eye on the 20th anniversary Facebook page
www.facebook.com/HKSAR20
.
In the meantime, here's a sample of what is on offer now or coming up soon …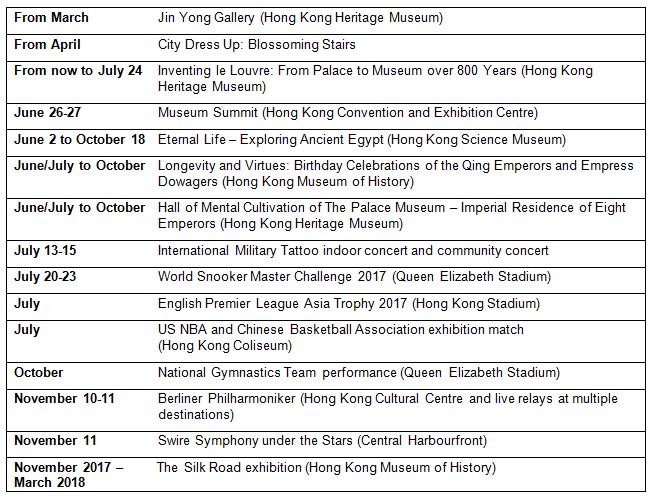 Youth Ambassadors eager to contribute their energy and ideas
The Youth Ambassadors in Celebration of the 20th Anniversary of the Establishment of the HKSAR Programme
Alice Tsang Lai-kwan and Steven Yiu Cheuk-fung learnt about the programme organised by the Home Affairs Bureau and Commission on Youth last year. Eager to explore the prospect of meeting other active youths in Hong Kong – and meet people from outside the city – they decided to apply.
The programme attracted strong interest from young men and women aged 19 to 27. But even those with a proven record of youth-centred activities found the competition for places quite competitive. Tsang and Yiu both underwent a vigorous selection process, which included multiple rounds of written proposals and interviews.
Tsang came up with a plan to promote culture and art to overseas visitors, while Yiu hit upon the idea of organising a city-wide 'treasure' hunt across the districts.
Their efforts and perseverance were rewarded by being selected and taking part in their first scheduled reception – to meet delegates at the ICAC International Seminar on Financial Investigation in May.
Tsang said: "We were given multiple training sessions by professionals, including a day's outing in Ocean Park, plus a two-day training camp."
Added Yiu: "We were given etiquette training, from dressing to greeting manner, presentation to stepping out of our comfort zone." Yiu is now well prepared to shake hands with sincerity and confidence.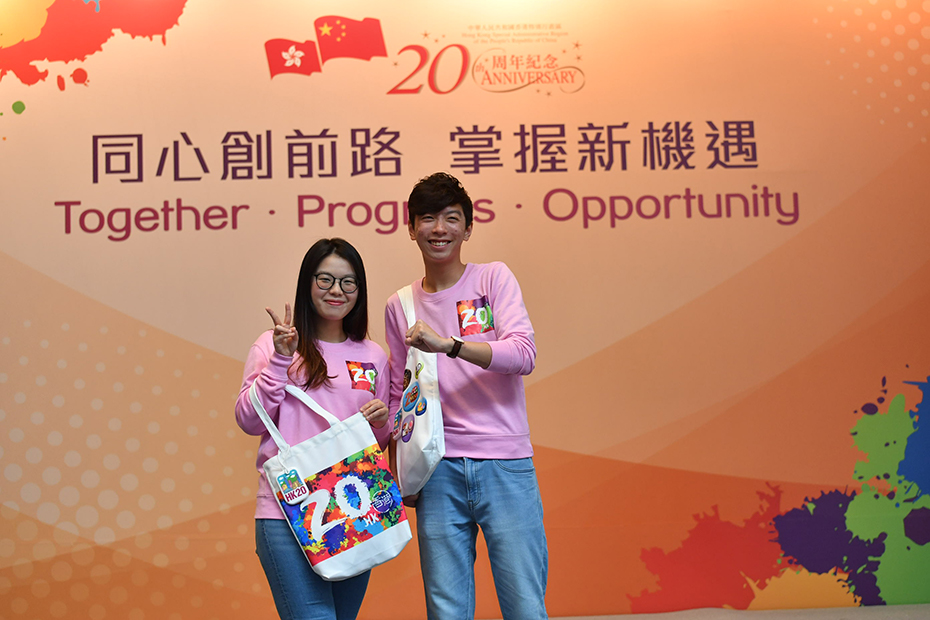 Asked how they would promote Hong Kong to young people from other parts of the world, both are keen to introduce overseas young people to the lesser known facets of Hong Kong.
"People have no problem associating Hong Kong with an international financial centre, and the glamour that goes with it," said Tsang, who is studying Chinese Language and Literature at the University of Hong Kong. "But I'd like to show them the wonderful island of Cheung Chau. It is small but has 30,000 inhabitants, and there are many interesting customs and street foods unique to the island."
Meanwhile, Yiu, a Marketing student at Hong Kong Baptist University, chose Grass Island, or Tap Mun as it is known to locals.
"There, you can set up a tent and spend a night on the island looking up at the stars. It's beautiful," she said.
The Youth Ambassadors programme consists of 100 young ambassadors with the same enthusiasm and dedication to serve the community as Tsang and Yiu.

This content has been created under the direction of an advertiser. It contains no editorial input or review from the South China Morning Post (SCMP), nor does it reflect the position of, or the editorial standards used by, the SCMP. The advertiser has paid for and approved the content.